Caleb Westphal hasn't missed a Friday fish fry since 2013. In April 2017, he began writing a weekly column documenting and reviewing his latest fish fry destinations. Here are his top places for 2018 (presented in alphabetical order), with excerpts from the full reviews. [Even though Caleb is taking the week off from writing, fish fry #257 was a return visit to Fritz's Pub.]
CAFE EL SOL (Milwaukee)
As I finished my third plate of food, I sat back and took in some of the live music. It's not out of the ordinary to hear accordion playing and polka music at many Milwaukee fish frys, but at Café el Sol one hears Latin music with Spanish vocals. How great it is to know that people are enjoying fried fish and music of different flavors and varieties throughout the city. Here's looking at you, Milwaukee.
Takeaways: Fish fry buffet!; a darn good margarita; a little heat in the coleslaw; the tartar and fish seemed meant for each other; served from 5-8:30 p.m. with live Latin music beginning at 6:30 p.m.; you aren't in the wrong place, the restaurant is in the basement; no need to wait until Cinco de Mayo, this fish fry is worth checking out any time of the year.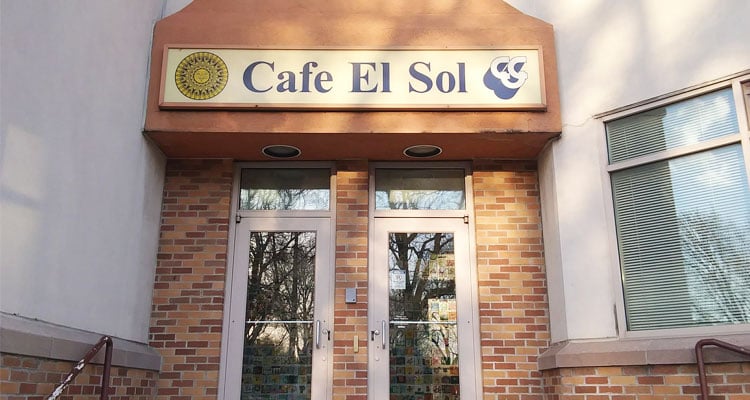 THE CELLAR PUB & GRILL (Oak Creek)
As of late I've realized I'm usually a bigger fan of breaded fish than beer battered, but The Cellar has some excellent beer battered fish, of which I was given three loins of. Just as the coleslaw was reminiscent of an earlier time for my friend, the fish reminded me of some homemade fish I had as a child. The batter wasn't too thin or too thick, or too soft or too crunchy, and had a great flavor on its own, even without the tartar.
Takeaways: Homemade slaw and fish that elicits memories and tastes great; solid potato pancakes; chowderberg; a building that dates to the time of the Civil War; the place is known for its pizzas, and they are probably good on days of the week that don't start with an "F," while it's no Clifford's, Pat's, or Randy's, and there is no all-you-can-eat option, I still think I'll recommend it.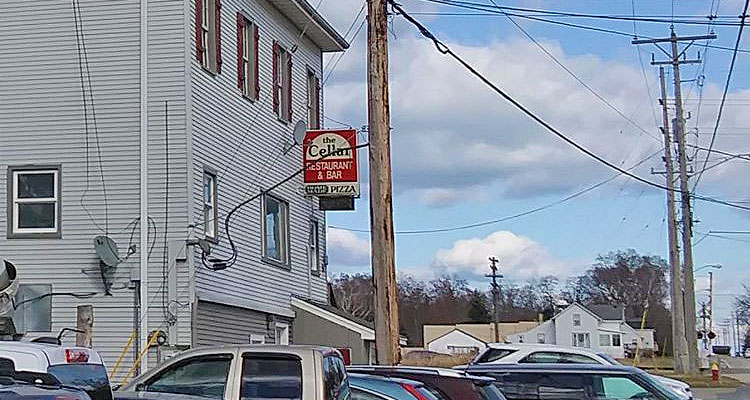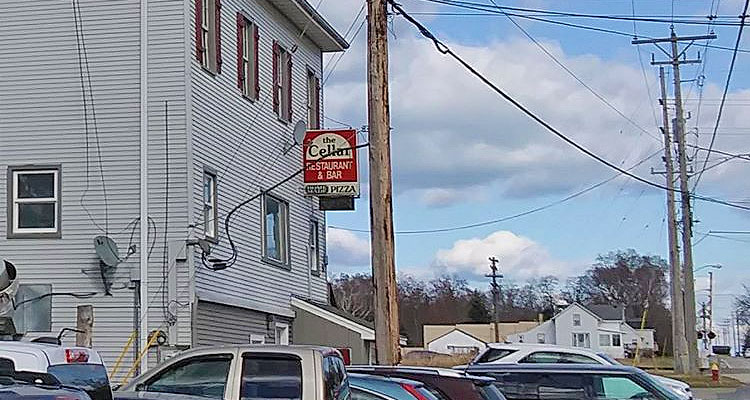 CLIFF'S BOATHOUSE (Racine)
From the moment I spotted the building, I had a feeling it had been a good choice. On one hand it is unassuming, with its diminutive size, solid-white paint job, and hand-painted signs, but at the same time the red-lettered signs loudly proclaim the goodness within: "HOME OF THE SECRET RECIPE POTATO PANCAKES" and "FISH FRY ALL-U CAN EAT." Inside, mounted fish such as perch, salmon, and blue marlin cover the wood-paneled walls, as does a patchwork of other things, like sports memorabilia, an advertisement for a lost dog, some old pictures, a piece of paper reminding everyone that drinking during a pregnancy can cause birth defects, and a chalkboard sign saying "CASH ONLY." A large bell hangs on the door and rings when a customer comes in. The place actually feels like a boathouse, or maybe a juke joint, and there are less than 10 tables in all.
Takeaways: What a home cooked fish fry should taste like; family owned and they've been doing it for over three decades; amazing all-you-can-eat potato pancakes—I think the secret recipe mainly includes butter; above average fish; cash only; open Thursday-Sunday; the place is small, which means you may need to put in your name and wait, but it is a pretty cool building to get a fish fry in.
FIRESIDE THEATRE (Fort Atkinson)
After finishing my meal off with a dinner-included coffee, my companions and I began wandering around The Fireside like children at Willy Wonka's Chocolate Factory. We found a room which I will call the Forest Room, as well as a Fire Room, and a few rooms upstairs inside the original pyramid, where miniature, model hot-air balloons hung from the ceiling. Finally, we settled into the sunken-down lounge area and pulled up a seat at the bar. I saw a lady having a cocktail with a colorful fan in it, and asked the bartender to make me whatever she was having. So it was I ended my slightly psychedelic evening with a Mai Tai and a giant colorful fan. Who would have thought that journeying to Fort Atkinson would have been a trip in more ways than one?
Takeaways: It used to be a cornfield, and it's in a city with less than 13,000 people, but it showcases professional theater productions and people come from miles around; there is a room that looks like an ocean, and one that looks like a forest, and one that looks like a fire, and they are given boring names like "room G"; there were some crazy frequency lights by our table and I couldn't tell if I was tripping or having a stroke—it turns out it was just the lights; Baby Bear's chowder; super crispy pancakes; tastily greasy beer battered cod; cinnamon stick in the Old Fashioneds and multicolored fan in the Mai Tai; unlimited top-notch bread and coleslaw; bread and other fresh baked good available for purchase at bakery; multiple gift shops that I avoided, so you'll just have check them out yourself.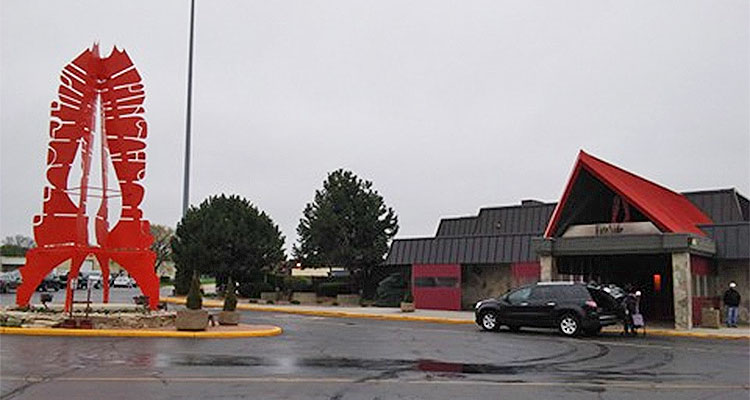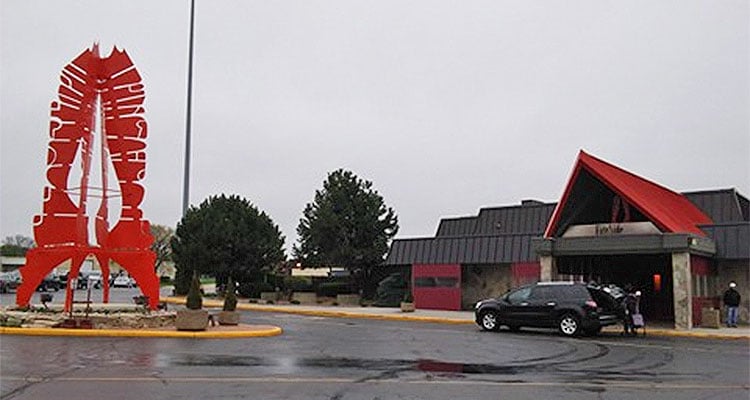 FRITZ'S PUB (Milwaukee)
Fritz's has some of the best beer battered cod you will find anywhere within the city limits of Milwaukee. The fish is cut before deep frying, so when it is served to you it resembles a butterfly fillet, even though that is not the case. The quality, well-coated fish wasn't overly greasy, but you could still tell there was no way you were eating something that was healthy. This isn't the kind of fish you cut with a fork, this is the kind that you pick up and rip apart with your hands before dipping in tartar.
Takeaways: It's a family-run business, started by Fritz, and now operated by his children—Maria, Stephen, and Joseph; they are closing exactly 40 years to the day after when they opened; the food is homemade, and the flavors are of high quality and distinct; especially high marks for the fish and tartar pairing, as well as for the coleslaw; you may have to wait awhile for a table, or to get your food, but it's worth it; they make comedic posts about this and other things on their Facebook.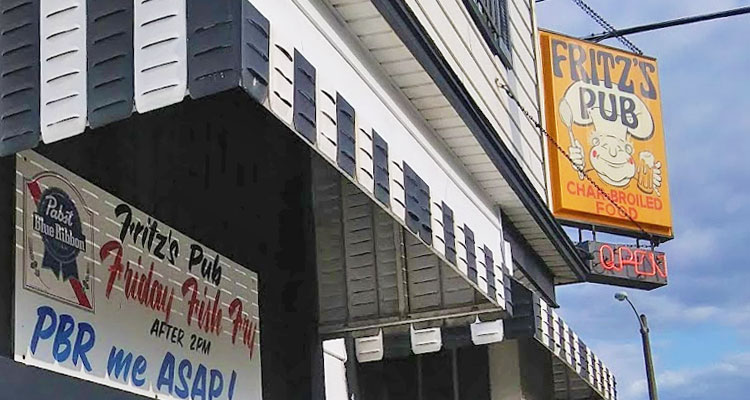 JACK PANDL'S WHITEFISH BAY INN (Whitefish Bay)
The fish had a light flavorful breading, and the fish itself had a nice, flaky texture. To me, whitefish has a flavor not unlike catfish, which would not be my first choice. I'm more of a perch or cod kind of guy, but considering the circumstances of where I was, I felt I had to do it. It was paired with some great homemade tartar, which I asked about, and was told, "Well, there is some carrot…and pickle…and the rest is a secret."
Takeaways: Hearty chowder; delectable rye breadsticks; coleslaw made with care; solid potato pancakes; friendly service; the price is a few dollars more than many fish fry places, but besides a solid meal you get to dine in a refined, historic setting and get multiple forks; one of their specialties are German pancakes, which I may need to come back for at some point; the waitstaff wears matching white shirts; my waitress boxed up and let me take home all the extra bread chips; stay strong old tree; although I'm not particularly a fan of whitefish, this place has enough charm, history, and solid food that I feel it deserves a recommendation.
NITE CAP INN (Palmyra)
All of the food together had an understated magnificence to it—a certain balance. Each part seemed to complement the other, and the setting seemed to perfectly match the food as well. In total I had seven pieces of fish and five potato pancakes. I was offered a dessert on the house, and although I was appreciative of the offer, I didn't want any special treatment, and I turned it down. In hindsight I should have seen if I could have just gotten some more fish and pancakes to take home as my dessert. I could sure go for some right about now.
Takeaways: Everything is homemade; top notch potato pancakes with fish that is not too far behind; AYCE for a reasonable price ($12.95); family owned and operated for 30 years, and has been the Nite Cap Inn for even longer; timeless ambiance; get there early and plan on a somewhat long wait (I left my house in Milwaukee at 3:45 and got home around 7:45); they found out I was a "food critic" and I was startled enough to forget to order clam chowder or take better pictures of the food; besides fish and pancakes they are known for German cuisine; I saw a horse walk by outside while I was eating; this place is the real deal, folks—it's totally worth the drive.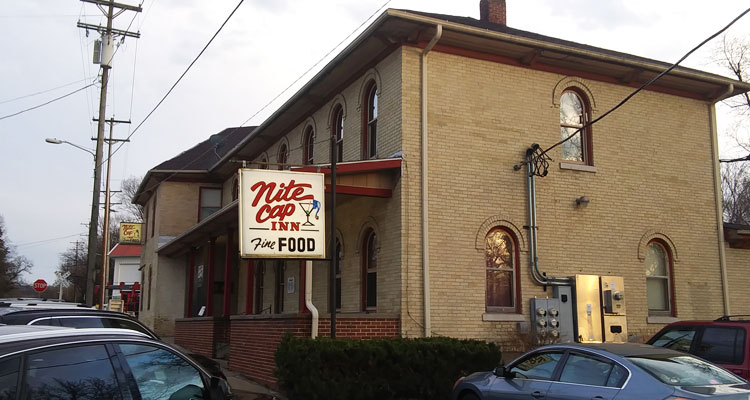 PAT'S OAK MANOR (South Milwaukee)
Pat's Oak Manor is an excellent all-around fish fry experience that I highly recommend. The cod is great, you can eat as much of it as you want, and it is reasonably priced. An old hall that once housed a bowling alley, a guy playing a keyboard—these things are pure Wisconsin, and there is a certain warmth and familiarity that you feel when you are dining there. The only downside is that it takes a little while to get moving again after eating so much good food.
Takeaways: Top-notch all-you-can-eat fish; creamy and crunchy slaw; the clam chowder had a lot of clam; Tony plays the keys, make sure to tip him; excellent for families, just don't let your kids eat pizza on Fridays; there is a chapel in the basement for weddings, and if anyone wants to marry me we can have this fish fry for our rehearsal dinner; I sat in a chair for an hour and a half without moving when I got home, but then I forced myself to walk up and down Kinnickinnic Avenue for a full hour to try to burn off some calories; the overall experience of Pat's Oak Manor is what you want for a Wisconsin Friday night fish fry.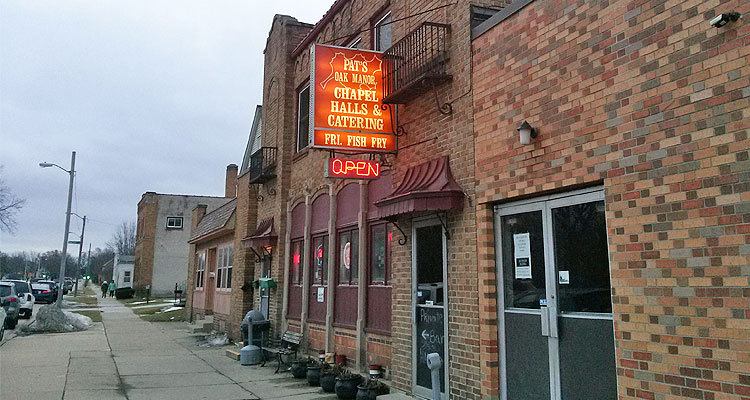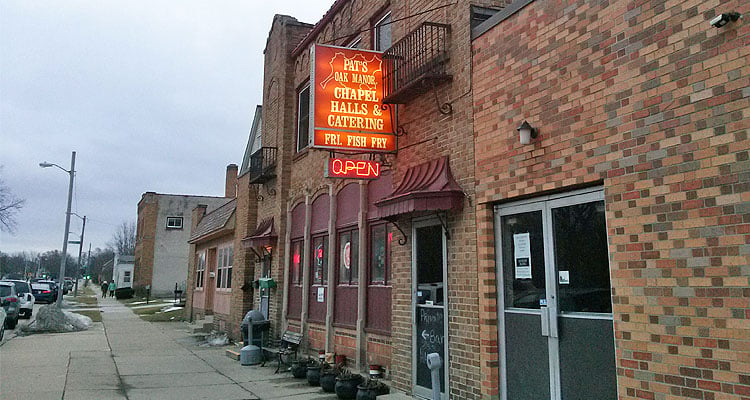 RANDY'S NEIGHBOR'S INN (West Allis)
What makes Randy's Neighbor's Inn a true gem is its fish. This is some of the best cod you will find anywhere, and you can eat as much of it as you want. It had a light breading but was strong enough to hold the fish together, had an excellent flake, and great flavor. It was good enough to eat plain, although the endless supply of tartar complimented it well. It turned out that Randy himself was in the back cooking the food, so you know that the fish leaving the kitchen had his own blessing.
Takeaways: Randy's Neighbor's Inn has some of the best AYCE fish around and they'll bring it to you on a giant platter; get your kids started on fish frys young—ages 5 and under eat for free; ALL YOU CAN EAT—OF EVERYTHING; really awesome coleslaw; nothing too exciting with the potato options, but fries and potato salad are bottomless; great prices on food and drinks; down-to-earth working class vibe; bring cash to avoid ATM fees; someone recognized me from a movie about fish frys I was in while I was getting a fish fry and that was fucking interesting.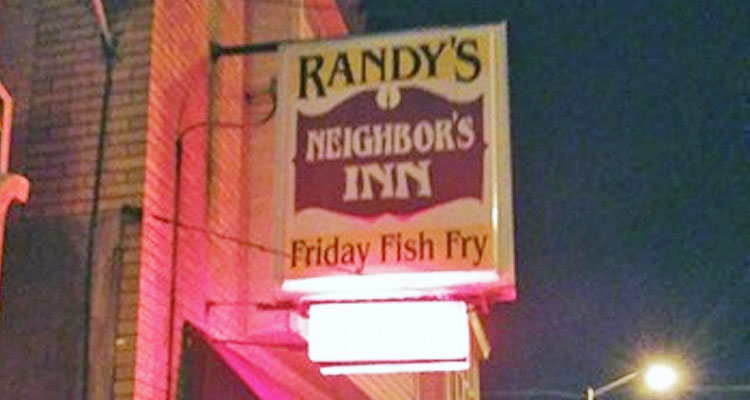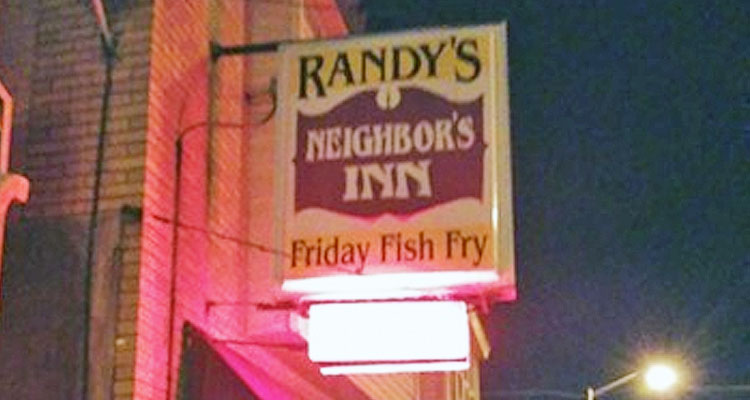 ST. PAUL FISH COMPANY (Milwaukee Public Market)
It was just about the perfect late-summer weather for eating outside, and we found a spot along the building on St. Paul Avenue. I opened the bag and was pleased to find both a fork and a soup spoon, some napkins, and some ketchup packets. The heavy bag did not disappoint. When I opened the box of food I found four butterfly fillets of perch. There was a hefty mound of fries, but for once they were buried under the fish, as they should be, instead of on top of it. I was also pleasantly surprised to find two containers of tartar. Hooray!
Takeaways: There is a bunch of fresh seafood in a case and I want to try all of it; also, you can buy fresh perch and cod and put it in your freezer just in case you ever need to make an emergency fish fry; they have an oyster bar and an outside bar; if you don't have time to get a table in the dining room, you can sit upstairs or go outside; hefty portion of fish and fries; high quality perch; I got two tartars; you don't get rye bread; very "Milwaukee"—I escaped that Hoan Bridge smell and saw a streetcar and the Milverine.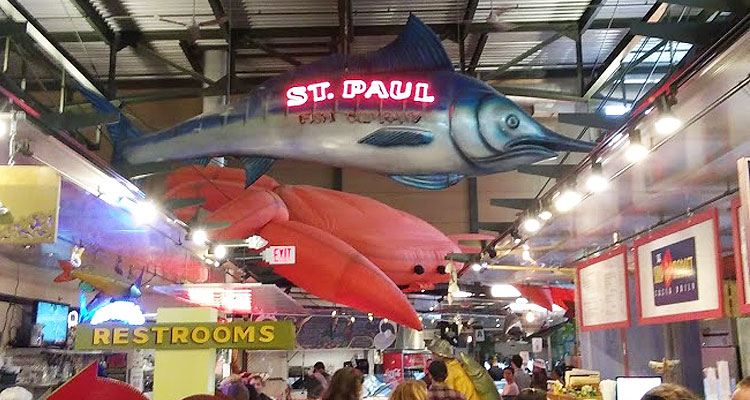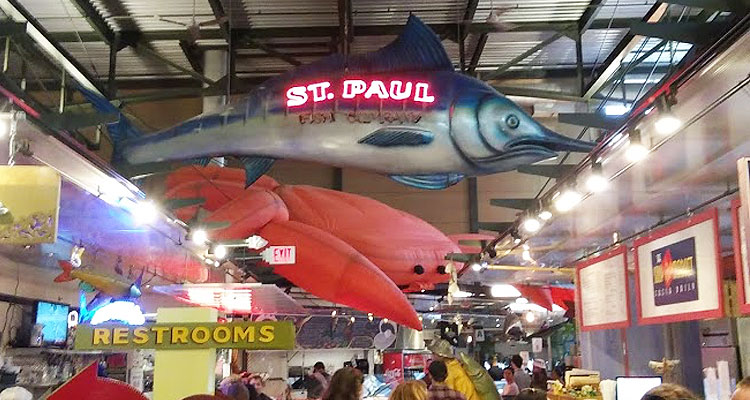 HONORABLE MENTION
5 O'Clock Club (Pewaukee)
Cafe Centraal (Milwaukee)
Carl's Catering (Greendale)
Country Lanes (Franklin)
Crawfish Junction (Milford)
Jim Dandy's (Oak Creek)
Juice's Ghost Town (Grafton)
Landmark Inn (Mequon)
North Shore American Legion Post #331 (Shorewood)
Serb Hall (Milwaukee)
Slick Willies Bar And Grill (Milwaukee)
Victor's (Milwaukee)