Caleb Westphal hasn't missed a Friday fish fry since 2013. Follow along with his never-ending adventures here.
With so many places serving Friday night fish frys, having a close call and almost not getting one is a rarity. I think the latest in the evening I've ever gotten a fry was about 9:30 pm, and that was in Illinois. I sat down at this week's fry with just four hours left to spare, after an adventurous and frightful journey that took me to multiple locations.
As I was going to be joined by a few different people—some friends I hadn't seen in 18 fish frys, as well as Walt Hamburger (who claimed to have flown back from L.A. just to eat fish, but more likely showed up just to get his name dropped in this column again)— I thought I'd find a classier place for the evening. Although the Jackson Grill doesn't have a fish fry listed on their online menu, the menu does say they have "specials," and on a Friday in Wisconsin that almost always means fish. I also found an online article from 2016 that said they had a fish fry. I called and made a reservation for 6:30 pm.
It was almost silent inside the Jackson Grill as we took our seats at the bar. I perused the specials menu and didn't see fish listed, and then asked the bartender and was told they do not serve Friday night fish frys. Then, at what was probably the classiest restaurant I've ever been to, I walked over to the host and canceled my reservation. In hindsight I was an idiot not to confirm they had fish when I called for a reservation, but it was a Friday, I was in Wisconsin, and I was going to a supper club. Was I missing something here? Although they don't have the most important food of all time on the menu, the Jackson Grill looks really awesome, so I suppose I'll come back on a Saturday at some point.
After some quick thinking, we took a jaunt over to Kegel's Inn. I got there first and walked into the packed front bar area. In the five minutes or so I was there, I pushed my way through the crowd, but it was so packed that I couldn't find who it was I was supposed to talk to. At one point I think I caught sight of someone with a clipboard, but never did make it to them. I talked to someone who had a reservation, and even they had concerns about how long they were going to have to wait. I've had Kegel's Friday night fish fry before, and it is excellent; sometime I'll return, after making a reservation first, or arriving super early.
By this point it was well after 7.p.m., my body was starting to go into a panic, and the fish fry pangs were sharpening. When things get tough you think of what you know, and of what has sustained you in the past. I had been to Randy's Neighbor's Inn (6922 W. Becher St., 414-545-8738) twice in 2015 and once in 2016. I always imagined that I would go back at some point, but never envisioned it would happen like this—but that's where we headed next. We put our name in and were told it would probably be an hour wait, but we weren't about to move again. Walt ran out of time and had to take off.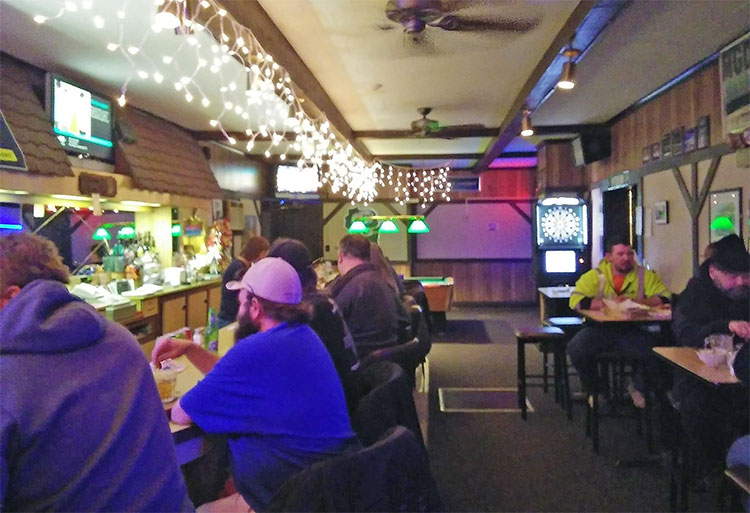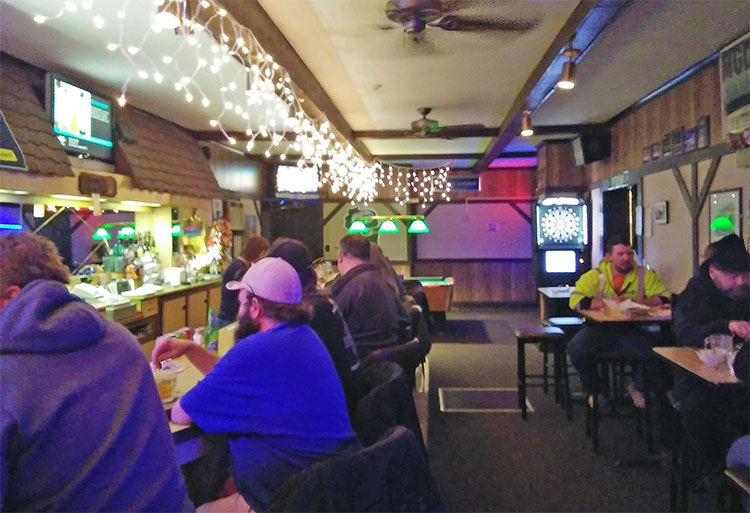 Celebrating its 40th year, Randy's Neighbor's Inn is owned by Randy Katzuba. The establishment consists of two rooms: the bar area where you enter, with a pool table in the back and some table seating along the wall; and a small adjacent dining hall. The workers are friendly and unassuming, and it doesn't take long to realize that the word "neighbor" is a really fitting name for the place.
My fish fry nerves had been through the roof, and my blood pressure had been higher than the temperature in a deep fryer, but I thought I was about to finally start relaxing. Then it happened. Two guys sitting at the bar started looking at me really strangely, and then talked between themselves before looking back at me. One of my friends ordered some drinks and they asked her, "Is that your friend? Was he in that fish fry movie? We think we saw him on Channel 10." Yep, they got me. Ron Faiola's We're Here For a Fish Fry! made its television debut on Milwaukee PBS last month, and I'm in it, eating and talking about fish. I didn't ask the guys how they ended up at Randy's, a place I have talked about before, but I did try to deescalate the excitement, because I didn't want the whole place to start looking at us. One of my friends told them that since they had recognized me it was their job to write this week's review, and he started asking them how their meal was. Meanwhile, I shakily guzzled down an Old Fashioned, in a desperate attempt to finally wind down.
We sat down just before 8 p.m., and although I was hoping we would be in the dining hall to get the full experience, we were seated at one of the tables lining the wall in the bar room. Like all good restaurants, Randy's has a two-sided menu: one side is the regular menu, and one side is the fish fry menu. The last time I was at Randy's the all-you-can-eat fish price was $8.95, but now it has been upped to $10.25. For ages 6-11 the cost is $7.25, and for those 5 and under it is FREE. Oh, and it's technically not just all-you-can-eat fish, it's all-you-can-eat fish, coleslaw, bread, and choice of fries or German potato salad. I ordered my meal with fries, one of my friends ordered theirs with potato salad, and one of them paid an extra $2.75 for potato pancakes.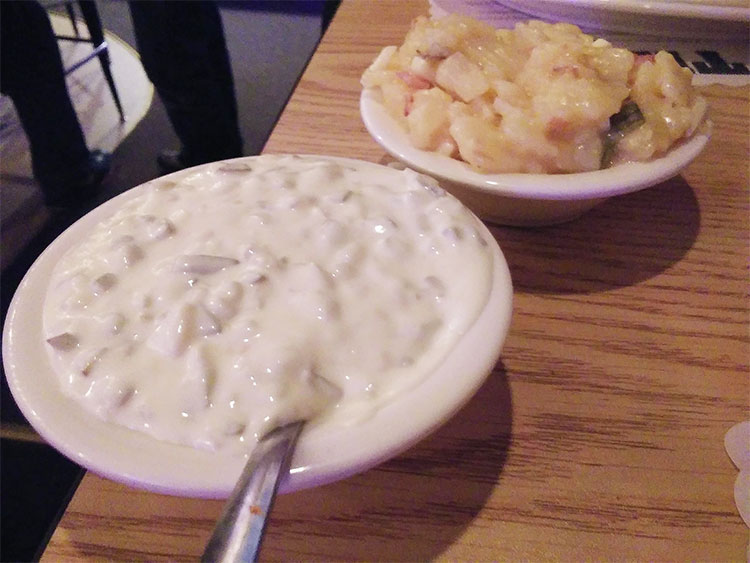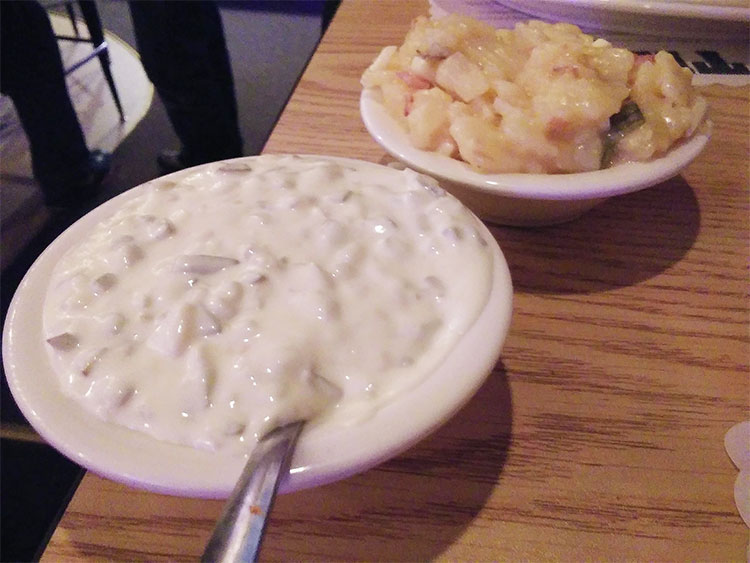 Everything is served family-style at Randy's. The coleslaw came in a soup bowl and was crunchy and creamy. It was almost all green cabbage and had a zing to it, possibly from the cabbage itself. The bread was a very mildly flavored marble rye. We finished both of these and ordered more, and the rest of the food soon arrived.
We were brought a full platter of cod, along with some lemon wedges (my friend noted that these were some of the best lemon wedges he'd ever had at a fish fry), a basket of fries, a dish of tartar, a dish of German potato salad, and an order of potato pancakes. There was nothing particularly special about the potato offerings—they were all fine, but none were exceptional. It was nice to have the chance to have some German potato salad, though, which is something you rarely see at a fish fry.
What makes Randy's Neighbor's Inn a true gem is its fish. This is some of the best cod you will find anywhere, and you can eat as much of it as you want. It had a light breading but was strong enough to hold the fish together, had an excellent flake, and great flavor. It was good enough to eat plain, although the endless supply of tartar complimented it well. It turned out that Randy himself was in the back cooking the food, so you know that the fish leaving the kitchen had his own blessing.
What started as a frenetic journey to find fish ended with me staring at another empty platter with satisfaction. Sometimes you just have to put your trust in the fish gods and let them lead you where they will. They haven't let me down yet.
Takeaways: The Jackson Grill does not have a fish fry; Kegel's Inn gets super packed; Randy's Neighbor's Inn has some of the best AYCE fish around and they'll bring it to you on a giant platter; get your kids started on fish frys young—ages 5 and under eat for free; ALL YOU CAN EAT—OF EVERYTHING; really awesome coleslaw; nothing too exciting with the potato options, but fries and potato salad are bottomless; great prices on food and drinks; down-to-earth working class vibe; bring cash to avoid ATM fees; someone recognized me from a movie about fish frys I was in while I was getting a fish fry and that was fucking interesting. RECOMMENDED.