Caleb Westphal hasn't missed a Friday fish fry since 2013. Follow along with his record-in-the-making here.
For what was at least my 200th consecutive Friday fish fry, I decided to invite people who have been with me along the journey, and chose Dobie's (4136 S. Kinnickinnic Ave.; 414-744-9064) as the destination. I wanted to spend the evening at a place that would have a familial and warm atmosphere, and to share the celebratory moment with those close to me. As we drove down Kinnickinnic Avenue towards Dobie's, I thought of, or could see, places I had gotten fish on previous Fridays: Cafe Centraal, Honeypie, Little DeMarinis, Crabby's (their light was actually on!), Landmark Family Restaurant, and St. Francis Brewery. Driving down that little stretch of road illustrated to me why I want to keep this going. It's not about checking off another week. It's about finding new places. It's about memory. It's about always moving forward while at the same time being rooted in tradition. It's about Milwaukee, and it's about the best damn state in the Union: Wisconsin.
Dobie's was started by Austin—who went by Dobie— and Alma Doberstein in 1954, when they built a house to raise their family, and began serving custard out of their kitchen window. A decade later they added a dining room to the back of the house, and it became a steakhouse. Dobie's is still in the family, and you still feel like you are dining in someone's house when you visit. It calls itself a steakhouse, but it could also be defined as a supper club, one indicator being that it doesn't open until 4 p.m. each day, and is closed Mondays and Tuesdays.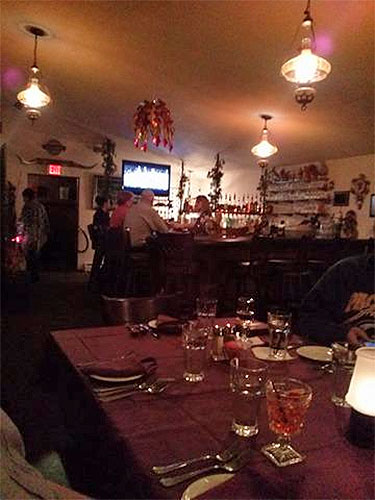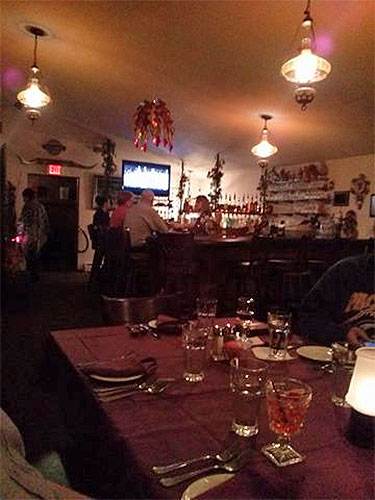 We came upon an expansive coat room before entering the dining area, which has a bar to the immediate left, an angled ceiling with dangling lights, and a large window that makes up almost the whole far wall. Red tablecloths with red folded cloth napkins neatly covered the tables, and autumnal decorations added a sense of time to the atmosphere. The most noticeable characteristic beyond this was the striking age difference between members of our party and people at the other tables. Generally speaking, it looked as though decades divided us—with us being on the younger end. I'm sure most everyone was there for the same reason though, being that it was a Friday.
Although most of the steak and seafood entrees on the menu could have made for a pretty expensive evening, the fish fry at Dobie's is comparable to or cheaper than similar fish frys. Two pieces of "beer battered fish" is $9.95, and for just another dollar a third piece can be added. I wanted to make sure that Dobie's wasn't trying to pull a fast one by only letting us know that we would be receiving "fish", with no indication of what kind it was. What if we ended up getting three pieces of smelt, or three fish sticks? Or what if we were given three pieces of paedocypris progenetica, the world's smallest fish?  I asked and was told that the beer battered fish was cod, so I ordered the three piece.  Breaded lake perch and beer battered pike are also available as part of the Friday fish fry special.
A cherry and orange slice rested atop the ice in the ornate Old Fashioned glass my cocktail came in.  One of my friends exclaimed, "What do we do with all these utensils?" I looked down and saw two forks, two spoons, and a knife, and scratched my plebeian head. Shortly after, when the meals arrived, the cutlery was joined by a serrated knife. This was all another indication that we were in a supper club, not a greasy spoon. We were brought a basket with dinner rolls, crackers, and garlic butter chips. The chips are made in-house; they were so good I asked for more, and was brought a dish of them. The fish fry special comes with an option for soup, salad, or a glass of tomato juice. I went with soup of course, because they had clam chowder. The chowder had a unique taste, and there was a good amount of corn in it, but maybe it could have used more clam and other vegetables. When I say the flavor was unique, I will just say that one person in my group thought it was so unique that they didn't want to finish theirs. I was indifferent to its flavor.
The cod came on its own plate with a lemon slice. The pieces were large and mild in flavor; they were pretty standard, but still enjoyable. Many times establishments use tap beer for their beer batter, but as Dobie's has no taps, this was not the case here. Potato pancakes were not an option, but instead of fries or a baked potato I paid an extra dollar for hash browns. There was a striking difference between the consistency of the top crisp layer and the lower softer layer, which was a deliberate touch. Coleslaw was not included in the meal—unless it was one of the salad sides that could have been chosen, but I was so focused on getting clam chowder at that time that I didn't even think of it.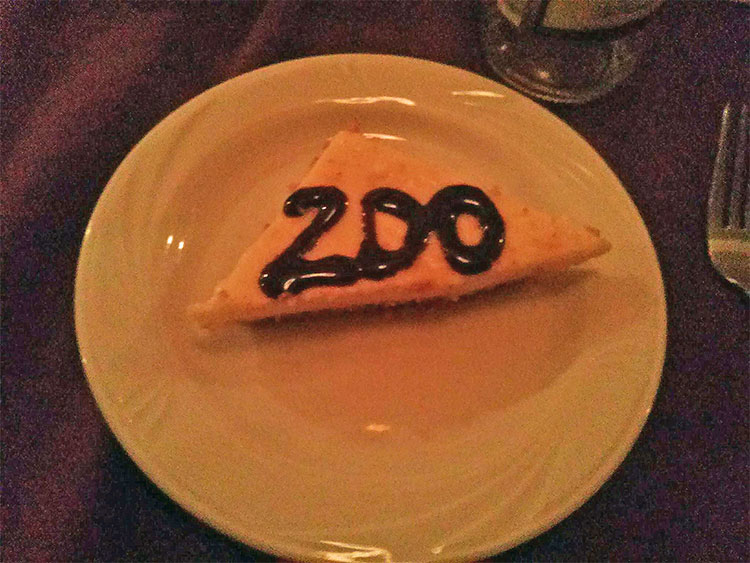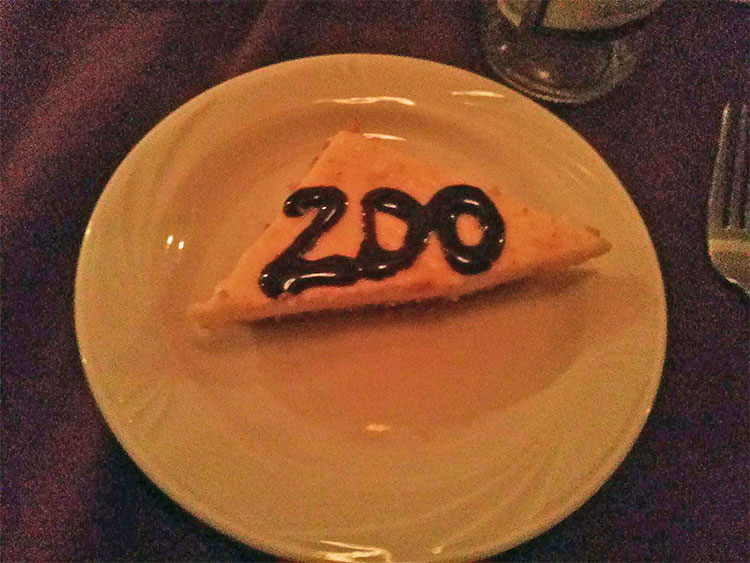 As we finished our meals, a friend had me open a bag they had conspicuously brought into the restaurant, and I found a Canfora cookie with "200" written on it in frosting. At this point it started to feel like I was at a birthday party, except better. I am always discreet when going out for fish, but my guests started telling the waitstaff that it was my 200th consecutive Friday doing this. Before I knew it, the workers at Dobie's had brought me a piece of cheesecake with "200" written on top of it. I heard someone say they felt as though they should be singing, but didn't know what the song should be. Of course, if everyone could just learn the lyrics to Mel Waiters' "Friday Night Fish Fry," we'd all be in a good place. But since that would take some time, I have written a verse to the "Fish Fry Day" song that can easily be adapted to the "Happy Birthday To You" melody, and is so simple that any child can learn it. Feel free to substitute "Kiddie Cocktails" in place of "Old Fashioneds" for all child fish fry moments:
Happy Fish-Fry Day to You
Happy Fish-Fry Day to You
Happy Fish-Fry Day Wisconsin
Old Fashioneds Too
Rating: Average beer battered cod; excellent presentation; warm environment; very good service; tons of cutlery; excellent homemade garlic butter chips; okay clam chowder; unique hash browns; why wasn't there coleslaw?; I got a piece of cheesecake. 3 out of 5 stars.