Now that the dust from an especially active (and very short) Bucks offseason has settled and Giannis Antetokounmpo has returned to Milwaukee, the time has come. The reigning MVP and otherworldly talent is entering the final year of his contract with the Bucks, leaving both the team and the long-term fate of basketball in Milwaukee in limbo. The Bucks have until December 21 to ink Antetokounmpo to a five-year Designated Veteran Player Extension (or "supermax contract") worth at least $225 million to stay in Milwaukee. He's expected to sign. However, if an extension isn't signed by that time, other teams have the opportunity to court The Greek Freak next summer and the likelihood of Antetokounmpo shrinks considerably.
Naturally, there has been a ton of speculation as to whether he'll remain with the Bucks, as well as the reason(s) behind his decision to either stay or eventually depart in free agency. Some of that speculation makes sense. Some relies on strained logic and desperation to make sense. As Antetokounmpo's representatives and the Bucks front office reportedly try to strike a deal this week, here are five fairly logical reasons we believe Giannis will stay in Milwaukee…and five batshit crazy reasons he could possibly decide to leave.
5 totally realistic reasons he stays
1. He legitimately likes it in Milwaukee
Throughout his career, Giannis has made no secret about his love for Milwaukee. Perhaps he feels loyalty (a rare thing in professional sports these days) for the team that reached in the first round to pluck a scrawny and unproven teen from Greece out of obscurity and gave him the time and space to develop. Maybe he likes the people in Milwaukee and the way Milwaukee media and locals have respected him and have embraced him and his family. It's possible he wants to cement his status as the greatest Bucks player of all time. Whatever his mindset might be, Giannis legitimately seems to like it in Milwaukee and seems poised to stay here.
2. The Bucks got better this offseason
Even with the botched Bogdan Bogdanović sign-and-trade (more on that later), the Bucks made some serious moves to improve this offseason. Among them: Jrue Holiday is a huge upgrade from Eric Bledsoe. D.J. Augustin and Bobby Portis also offer lots of depth. With the already formidable foundation they had in place and the new additions, the Bucks remain the favorite to emerge from the Eastern Conference this season.
3. He can put all his focus on winning a title
With two should-be title runs cut short due to postseason collapses, it's getting more important than ever to focus on winning now. With Giannis' future hanging in the balance, Milwaukee's window of Eastern Conference dominance is shrinking. That window flies back open if he re-signs. Wouldn't it be nice for Giannis to go into this season knowing everyone's attention is set on winning a championship, instead of on him and his future with the team? Also, the possibility of [knocks on wood] serious injury and/or a down year for the two-time MVP are there, so why not cross some Ts and dot some Is to make sure affairs are in order to get PAID for five more years?
4. (At least) $225 million is a lot of money
At some point, money doesn't matter. When an amount of money is so impossibly massive that it's just a number in a bank account that would take multiple lifetimes (or a bunch of horrendous investments) to spend in its entirety, there probably isn't much of a difference between a five-year deal in the neighborhood of $225 million and a contract worth, say, $250 million or whatever from another team. Especially when you've already made roughly $110 million on the court, plus tons of money from endorsements. Other than the possible ego boost of knowing he's the highest paid player in league history or that he's making more money than [insert any number of players], you have to imagine that any potential income that might be left on the table by Giannis signing the supermax and foregoing free agency next summer doesn't matter at some point…especially if it means staying in a situation where he's comfortable and happy.
5. He has a brother who plays on the Bucks
Last season, Milwaukee's front office used a roster spot on Thanasis Antetokounmpo. Giannis' older brother played in 20 games, averaged 6.5 minutes per contest, and made over $1.4 million. Not bad for 129 minutes on the court! He'll return to Milwaukee for the second year of that two-year $3.15 million deal. While he's not exactly the player his brother is (lol), what fan wouldn't keep another Antetokounmpo on the roster for the long haul if it means Giannis stays. Hell, Veronica Antetokounmpo can suit up if it means her most talented son stays with the Bucks.
5 entirely speculated reasons he leaves
1. He has a brother who plays on the Lakers
Oh no! Giannis also has ANOTHER BROTHER who plays on, gulp, the Los Angeles Lakers. Kostas Antetokounmpo scored only seven points over 20 minutes (in five combined games) last season, but he still won a ring before Giannis. Those less-than-astounding numbers didn't stop the reigning NBA Champions from re-signing the younger brother of Giannis to a two-way deal for this upcoming season. That probably means they're keeping Kostas in the fold, just in case they have the opportunity to go after his big bro next summer.
2. The whole Bogdan thing
Regardless of who is to blame for it, the embarrassing implosion of the Bogdan Bogdanović sign-and-trade probably didn't help things. If Giannis were a prototypical star player, the supermax might be dead in the water now. Thankfully, he appears to be level-headed and aware that the flurry of other roster moves the team has made in the last two weeks leaves Milwaukee in better condition than they were at the end of last season.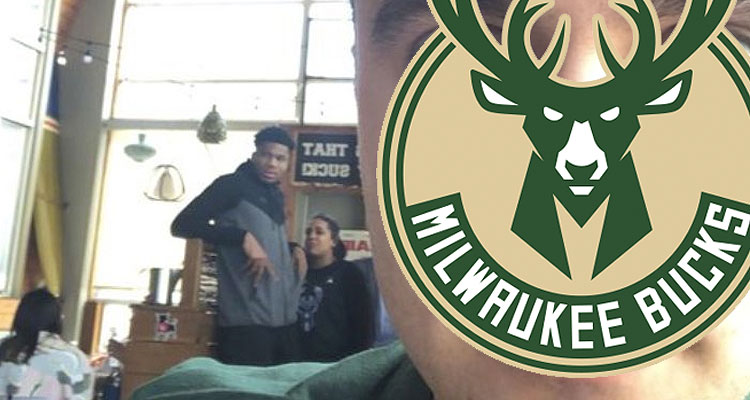 3. BelAir Cantina didn't immediately seat him that one time
Remember when this saga about not getting seated at an East Side BelAir (which Giannis says he didn't even care about) was the biggest news in Milwaukee for a few days? Simpler times. There's no way this factors into The Greek Freak's decision to stay in Milwaukee. We just wanted to remind you about this incredibly dumb news item from almost three years ago.
4. The Vanguard just got rid of his sausage
Speaking of perceived restaurant slights that have exactly zero bearing on whether Antetokounmpo stays or goes, The Vanguard officially phased out its "Giannis" specialty sausage earlier this week. WHAT COULD IT MEAN?!? Do they know something we don't?!? Absolutely not. They took that sausage and six other offerings out of circulation because they were making room for some new menu items, which look incredible, by the way.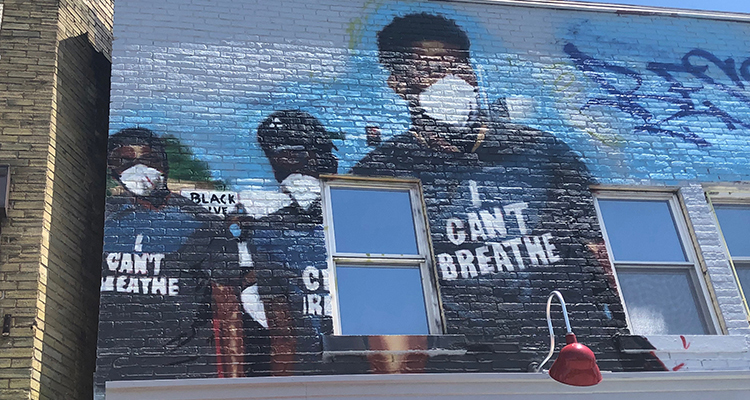 5. Not enough murals in Milwaukee that honor him
What are there, like, five Giannis murals in the city right now? Six? Whatever the number is, it's not nearly high enough. DO BETTER, MILWAUKEE!!! More murals ASAP or Giannis might be walking. Get painting!
At the end of the day, none of the 10 reasons that make a case either for or against Giannis' likelihood to stay in Milwaukee really amount to anything. Antetokounmpo possesses free will and once his deal is up, even if the Bucks did almost everything right, he might want to experience life in a different city and play with different players. After all, he's earned that right. He's given Bucks fans more than we ever could have anticipated and, though his departure would have a terrible impact on the city and a Bucks franchise that's only a few years removed from its rock bottom, he doesn't owe Milwaukee a damn thing.
All of that being said, we're thinking he signs the supermax, stays with the Bucks for the long haul, and gets back to work on bringing a title to Milwaukee.