If you've ever been an American, you've probably been inside a Blockbuster video store. At its peak in 2004, the rental chain had 9,000-ish stores worldwide, all offering a variety of movies, TV shows, and video games at prices that couldn't compete with the gas station on 92nd and Burleigh, but still weren't too bad. During the ensuing years, however, numerous outlets began offering easy and affordable ways to watch Weekend At Bernie's II without having to leave home. Some people started going to Redbox, too. (Those early Redbox discs always looked like someone ate pancakes off of them.)
This paradigm shift changed the way we all looked at Blockbuster. What was once an affordable convenience had become a chore. Streaming services like Netflix, Hulu, Amazon Prime, and those weird public domain channels you can get on your Roku offer so many more titles at the click of a button, and at comparable prices. As a result, Blockbuster eventually closed all of its locations, and independent franchises all closed with them (including the ones in Alaska that got the weird Russell Crowe stuff from John Oliver).
Save for one.
In Bend, Oregon—a lovely town of 90,000-ish lovely people—there are 90,000,000-ish lovely things to do outside. Bend is a destination for hikers, mountain bikers, fisherpeople, campers, rock climbers, rafters, golfers, and those who just enjoy impossibly beautiful scenery and/or good beer. They also have a Blockbuster video store.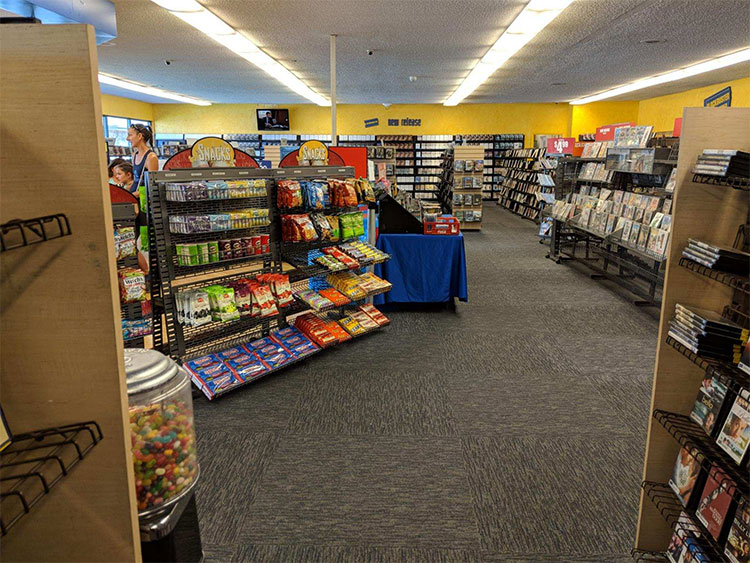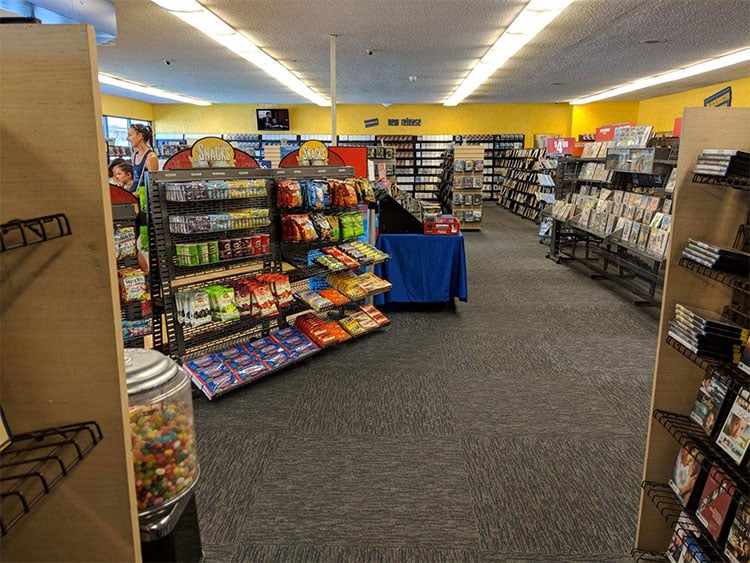 We visited the lone surviving Blockbuster on a sunny Friday afternoon in early August 2018. From the outside, the store appeared perfectly normal—without any signs of the endless stream of fireworks or free hair transplants that we assumed would be necessary to keep a place like this in business. Friendly teenage staff members greeted us as we walked into the store and into yesteryear.
On one display stand near the cash register there were Red Vines and Reese's Pieces and all that stuff, just as we remembered. On the next stand there were Clearance Sale DVDs available for purchase, also as we remembered. Then, of course, there was aisle after aisle of classic flicks available for rent. Titles like The 'Burbs and Cabin Boy and Fear And Loathing In Las Vegas brought us right back to 1999. Ah, nostalgia. This felt juuuust right.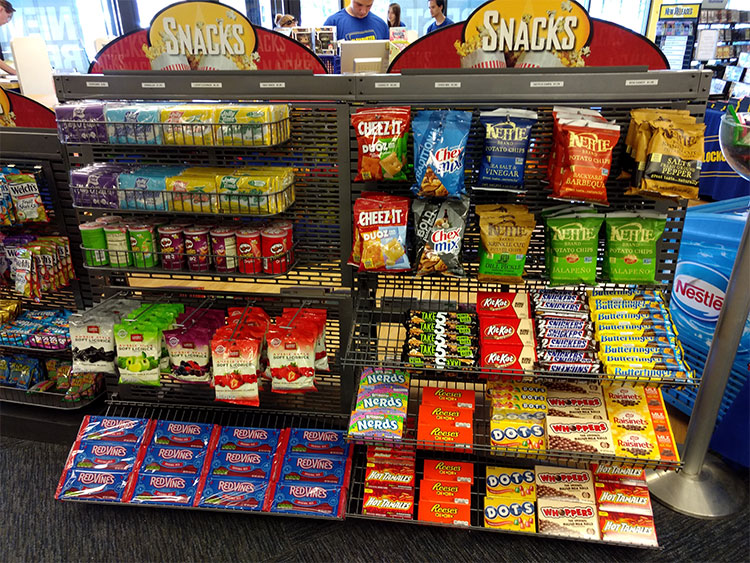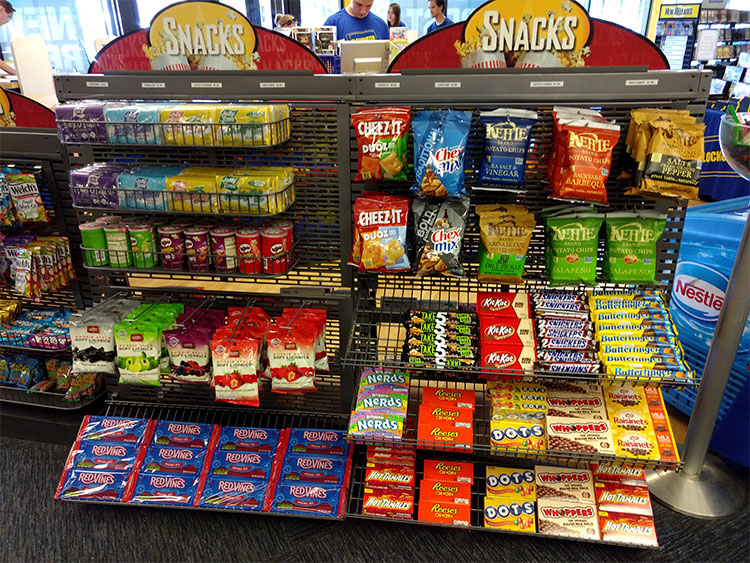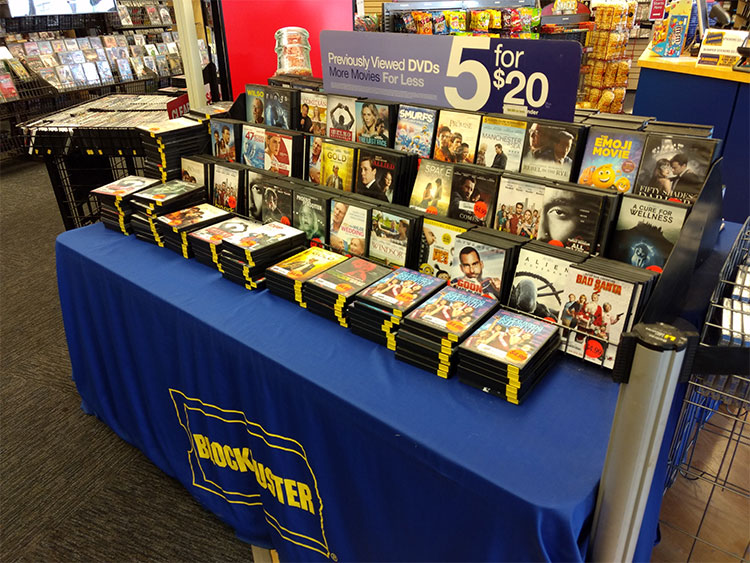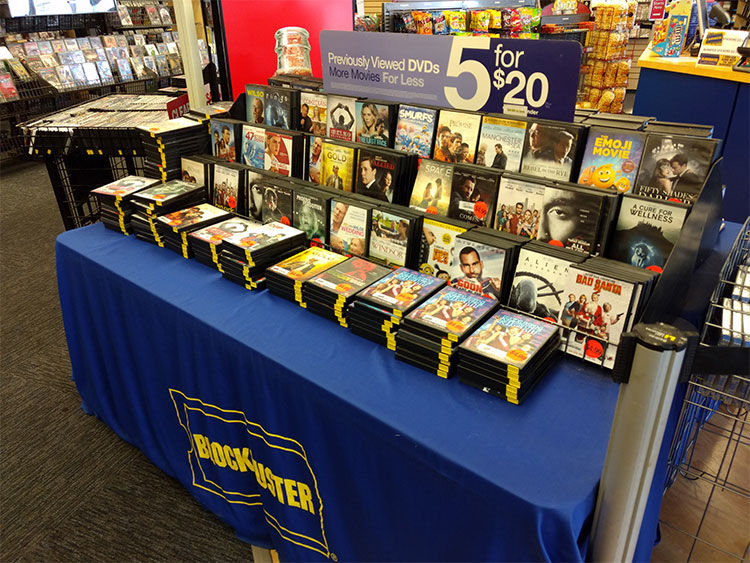 A stroll around the perimeter of the store showed us all the new releases that were available, too. There were titles like Ready Player One, Super Troopers 2, and It (the new one, not the scary one). What the Fletch was going on here? There was nothing really wrong, but in our 2018 minds, these movies didn't belong in this setting. Imagine if you found one of your old grade school notebooks and saw that you'd sketched the "Run The Jewels" logo on the back cover in 1995. It was kind of like that.
They had Isle Of Dogs, Blockers, Chappaquiddick, and all of the latest Dora The Explorer titles! We were getting dizzy. They had Ghostbusters (1984), and also…Ghostbusters (2016)?! (For the record, the latter Ghostbusters does have its moments, but it was jarring to see it in a Blockbuster.)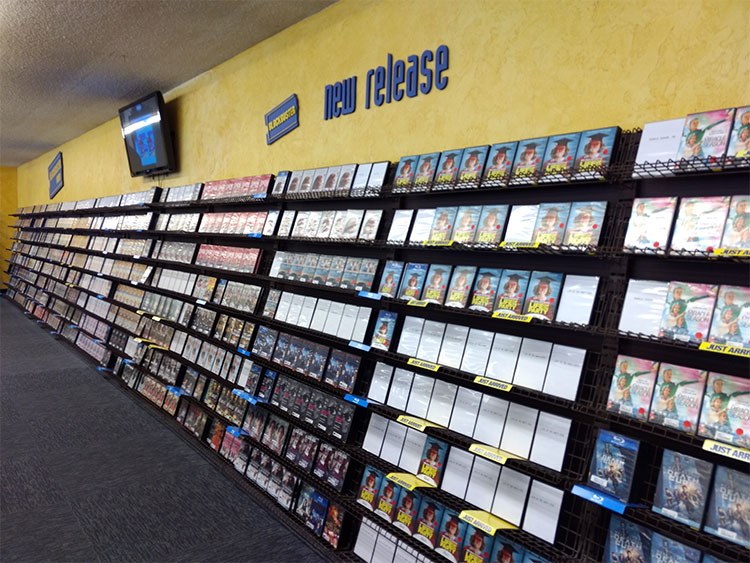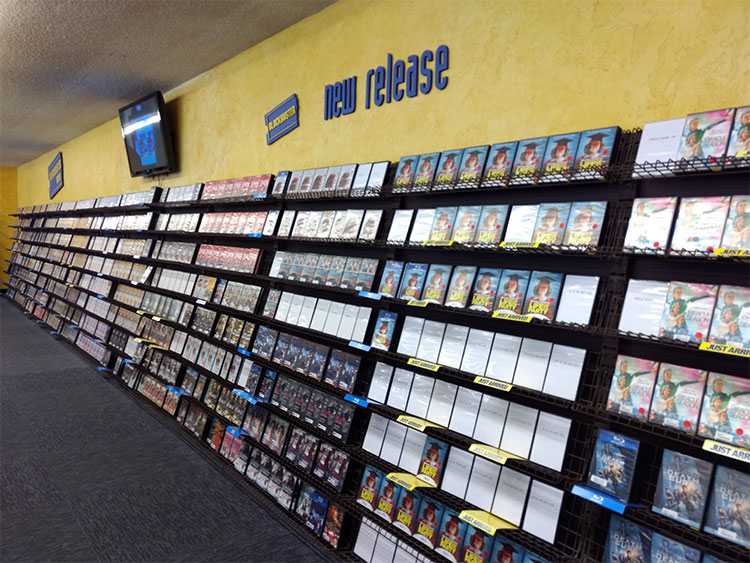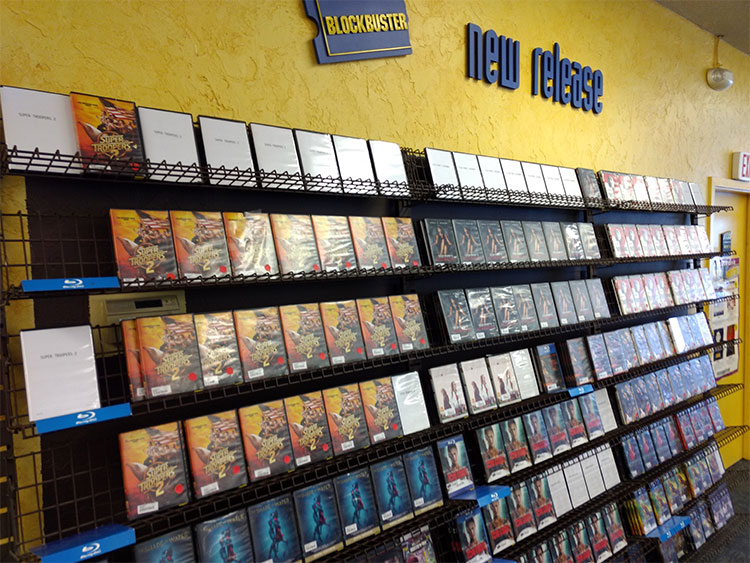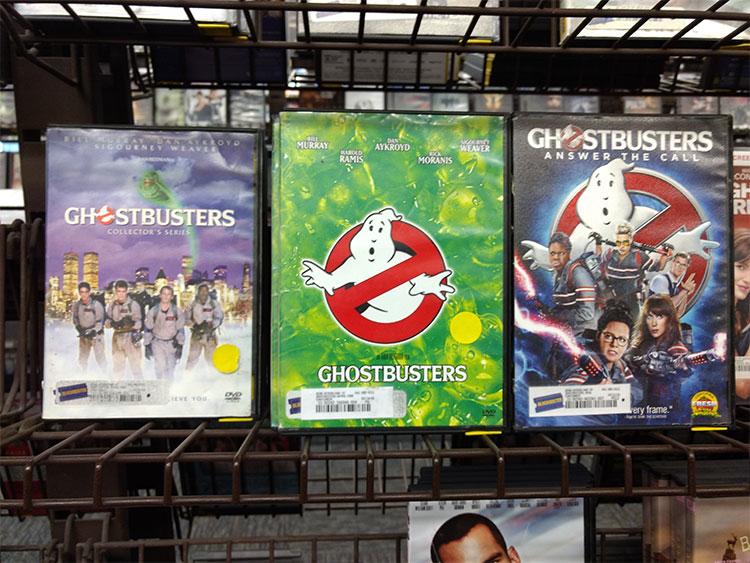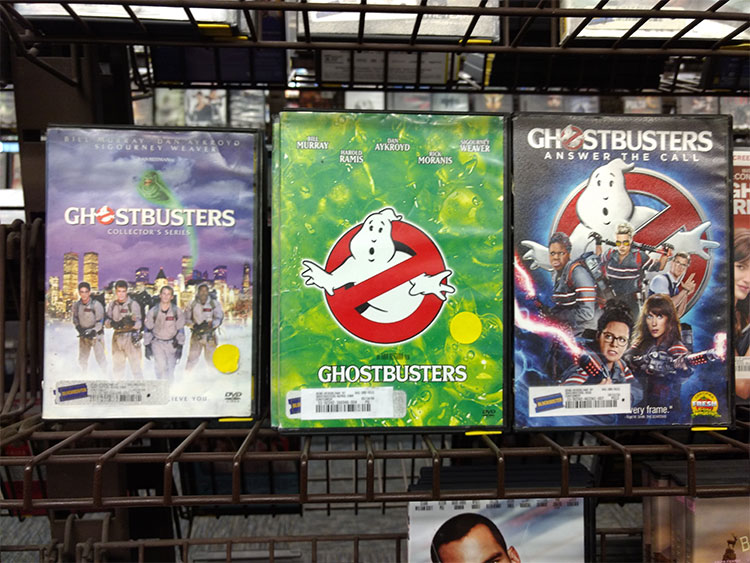 We walked back towards the Clearance Sale DVDs only to realize that all of the movies came out in 2013 or later. For $6.99 apiece, you could take home Baby Driver and Blade Runner 2049 (dizzy again) on DVD. This had to be a dream or one of those times they jumped to a slightly different dimension on Rick And Morty (which they also had here on DVD).
As we thumbed through the Clearance Sale DVDs, however, we started to make peace with the situation. This wasn't some alternate timeline where Biff Tannen was married to your mom, but rather an encounter with a nearly extinct and mostly forgotten entity. It was a no-frills demonstration of what life would be like had the Blockbusters survived. It was normal and ordinary and exactly what you remember. And, it was busy. In spite of the fact that the area surrounding the store boasts some of the country's best natural splendor, there were 10-12 people renting videos.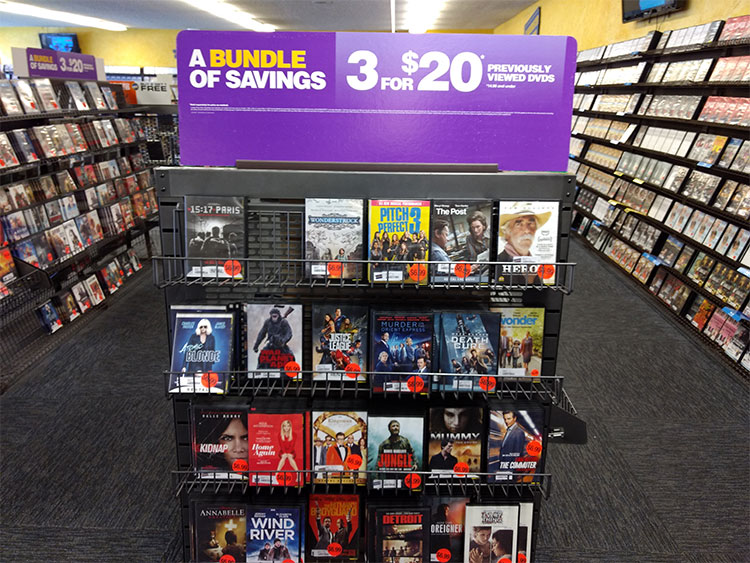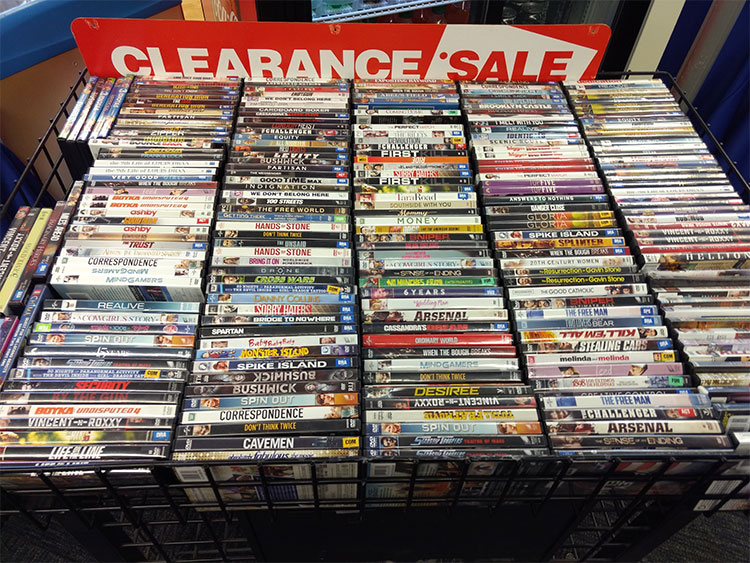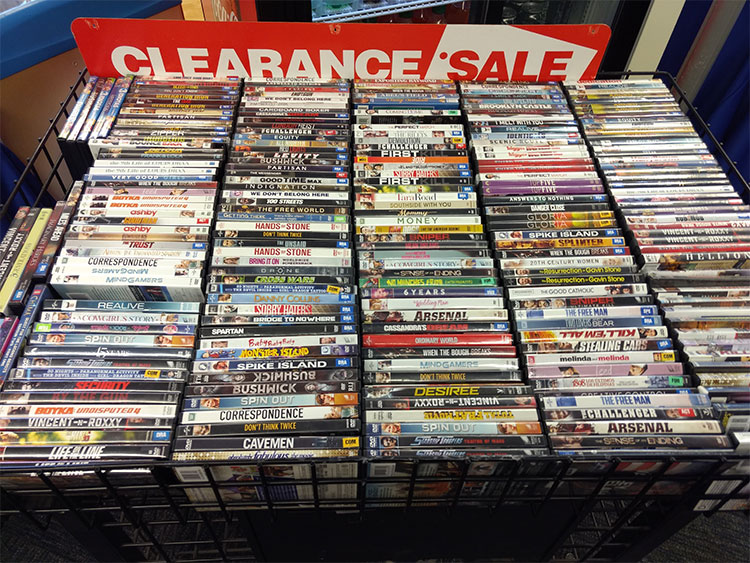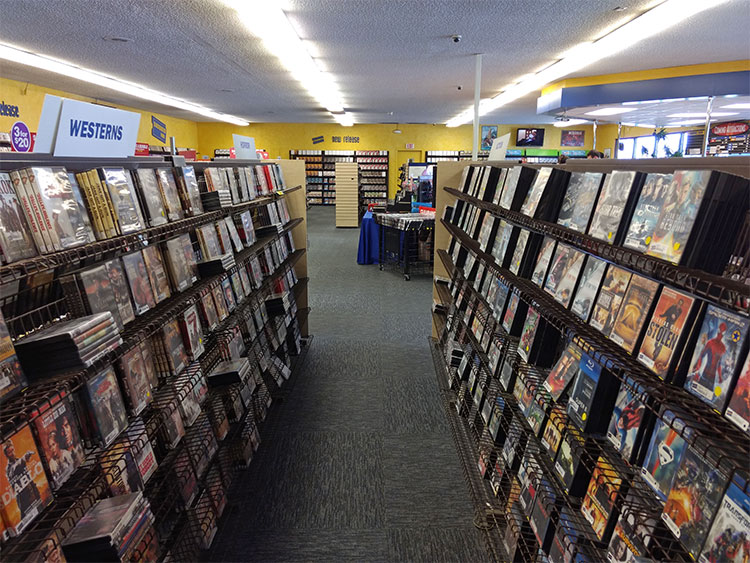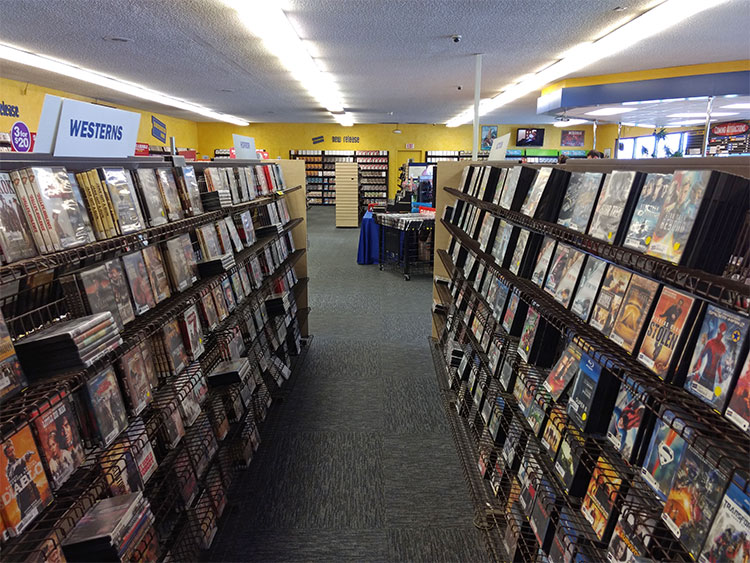 We selected a couple of DVDs that we felt adequately bridged our Blockbuster glory days to the present (Trainspotting 2 and I, Tonya) and took them up to the counter. As we purchased the pair plus a T-shirt, we asked the cashier how and why the store managed to continued to stay in business. With a smile, he replied, "Customers like you."
Live long and prosper, Bend Blockbuster.