Caleb Westphal hasn't missed a Friday fish fry since 2013. Follow along with his never-ending adventures here.
In one's lifetime, many things are not permanent: marriages crumble, jobs leave, snowmen melt (high fives for spring!), and the East Side does whatever it wants. But, on the other hand, there are some things that will always remain: Wisconsin Friday night fish frys, Jack Pandl's Whitefish Bay Inn (1319 E. Henry Clay St., 414-964-3800), and hopefully, the precarious ancient oak tree that stands adjacent to it, tethered to its structure with rope and wire.
After having reservation issues two weeks in a row, I decided reservations weren't for me, and went with the "go before people with real jobs get off work" option. I hadn't gotten fish at a North Shore establishment for quite some time, and settled on Jack Pandl's. The Whitefish Bay Inn opened at the turn of the twentieth century as Bentley's Whitefish Bay Inn, named after its proprietor George Bentley. It was frequented by those who had traveled from Milwaukee on steamboats such as the Chequemegon, to enjoy the nearby Pabst Whitefish Bay Resort, with its beer gardens and Ferris wheel (which had recently debuted at the World's Columbian Exposition in Chicago in 1893).
John and Anna Pandl, who were recent immigrants from Austria-Hungary, took over the Inn in 1915, just about the same time the Resort shut down. It's been in the family since, now being run by their grandson, who is also fittingly named John. There's another generation in line after him to keep the place going when he decides it's time. In 1984, the Inn became a Milwaukee County Landmark, and it has received certificates of commendation from multiple Wisconsin governors.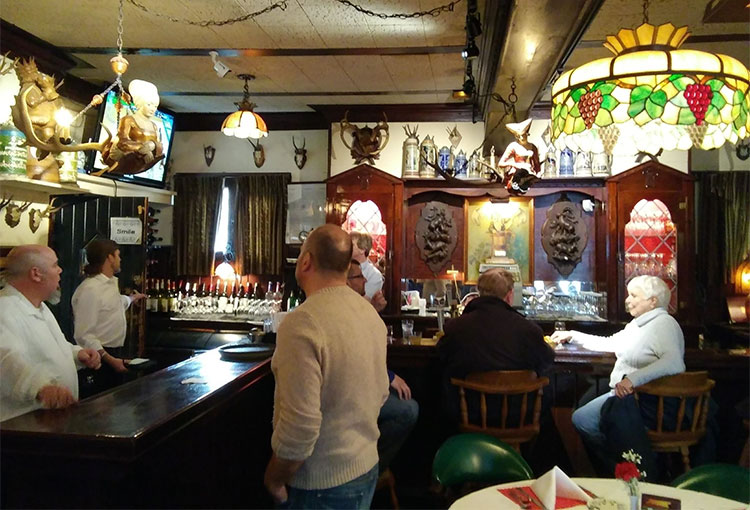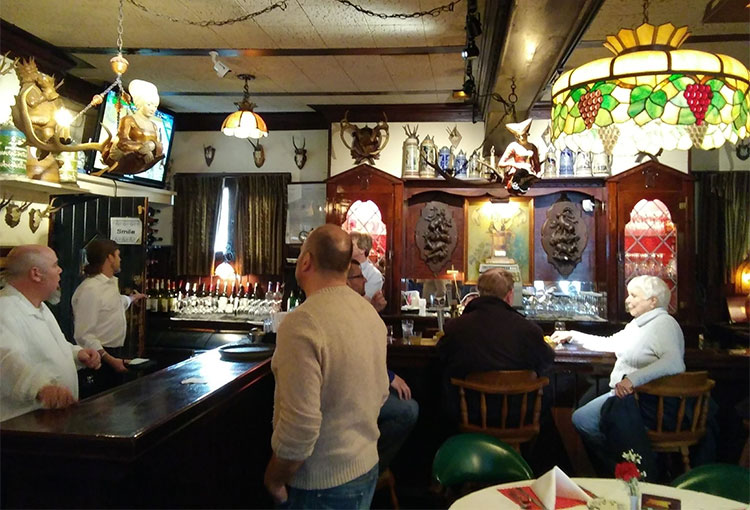 Upon arriving at the Inn, shortly before 4:30 p.m., it was almost completely empty besides a few patrons at the bar. "Did you have a reservation?" a waitress asked, to which I responded in the negative. "Well, good thing you came here when you did," she replied, and my friend and I were given the first table in the main dining room.
Looking around, it was evident that the restaurant is steeped in tradition. Beer steins in cabinets display its German influence. Photos show Whitefish Bay's past—the back dining area even has a section devoted to the Whitefish Bay Resort. Folded white napkins and red placemats sit atop white tablecloths, while Tiffany lamps hang from the ceiling. The ornate bar can be peered at from an opening in the dining room. The walls have buttons that were once used to call someone to your table, but have long since been disconnected. And then there is that old oak tree, which is right outside the dining area windows, and must be almost as old as the Inn itself (and can be seen in an early photo of the Inn).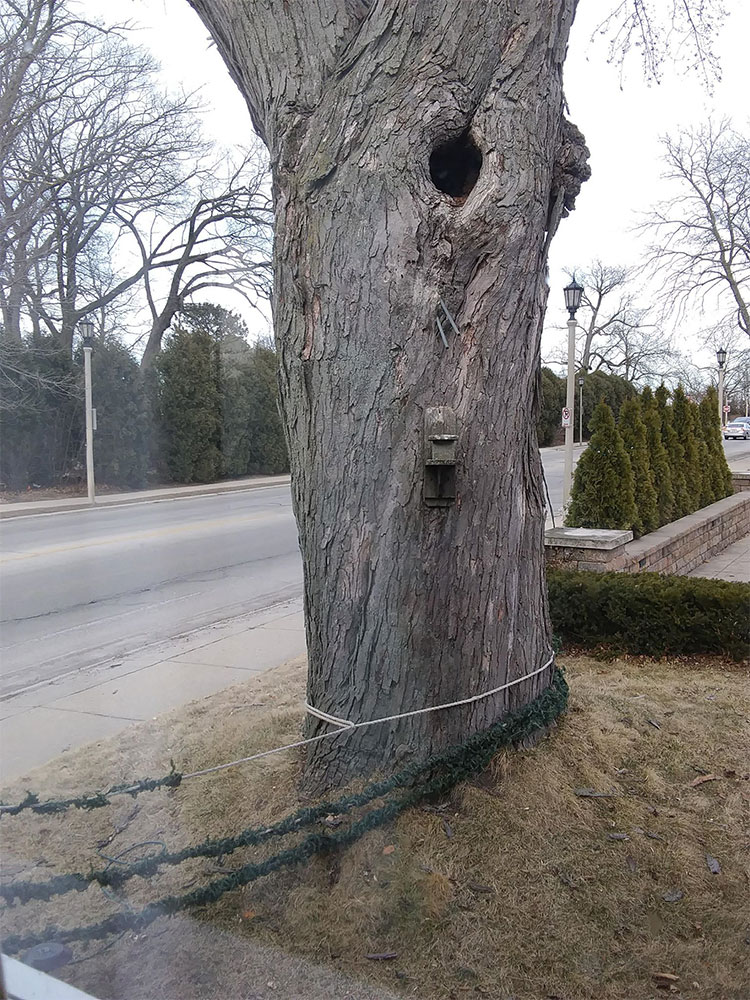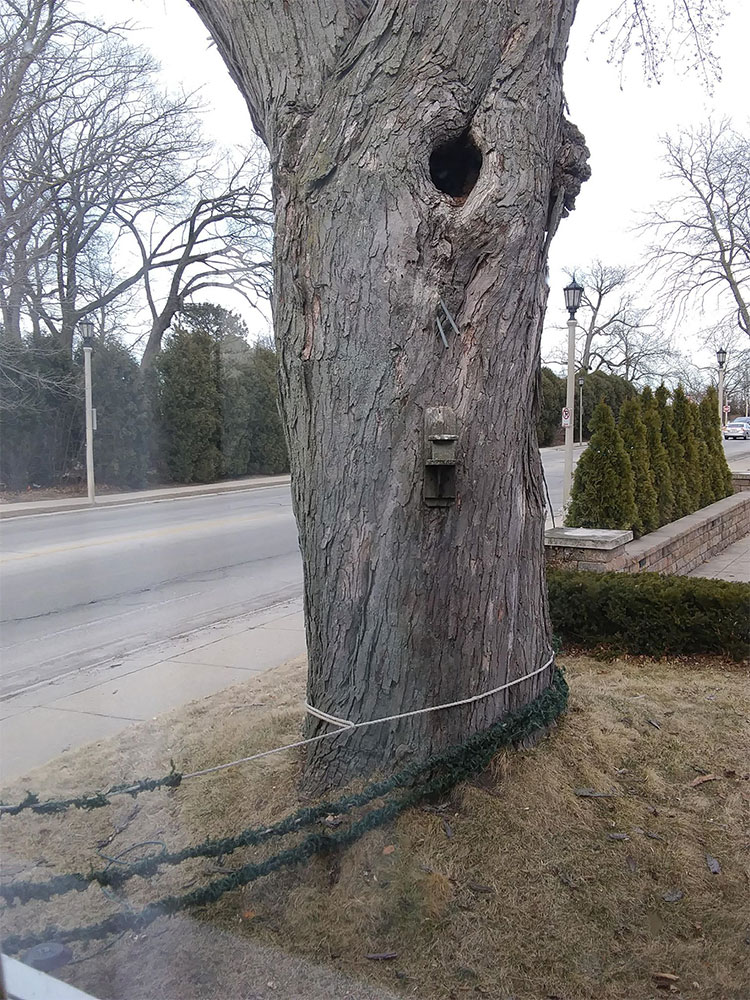 I started snacking on some bread chips that were in a basket on the table. They looked to be made from a baguette, and were buttery, garlicky, and salty. I was told told they were homemade and I could have as many as I wanted, and they reminded me of those I had had at Buck Bradley's. The Friday night fish fry was not listed in the menu, but instead was displayed on little sheets that were on each table. But, just as I was about to read what the sheet said, someone came around and took it from the table, and then from all the tables. "Oh no!" I thought, "Is this going to be another fish fry emergency?" I anxiously waited for someone to return, and was then told that the sheets that were on the table had been out of date, and that's why they had all been taken. Fish frys would still be served.
Being that I was in Whitefish Bay at a place called the Whitefish Bay Inn, I made sure to order the deep fried whitefish (other options include deep fried lake perch and cod, potato crusted or broiled cod, and broiled whitefish). Of the sides, you can have your choice of two out of three of coleslaw, soup, or choice of potato. I ordered the potato pancakes and coleslaw, but added an order of clam chowder on the side.
I was brought a rye breadstick topped with caraway seeds and kosher salt; it was reminiscent of a pretzel, and quite a step up from run-of-the-mill rye bread. The clam chowder was hearty and thick, with lots of small cuts of clam and vegetables, and was garnished with a sprig of parsley. It wasn't the creme de la creme, but it was pretty close.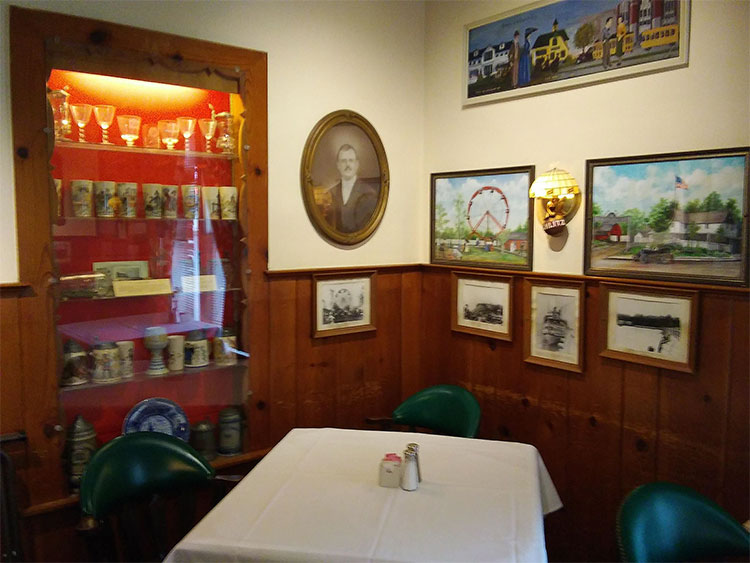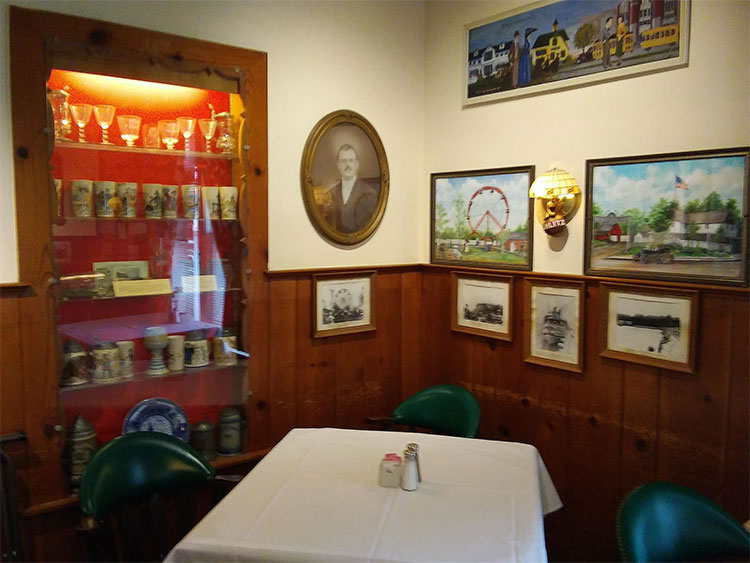 A tray jack was set up next to the table, and the fish fry was brought out on a silver tray—it's been a long time since I remember a tray jack being set up for a fish fry, and every fish fry deserves to be served on a silver tray. The potato pancakes were exemplary. They were thick with a smaller circumference, and soft except for a little bit of crispiness on the outside. Most of my thoughts concerning the coleslaw involved second guessing myself if I should eat it with the salad fork or not. This refined dining thing is way too unfamiliar to me. I eventually decided I should, and found it to be very creamy—as in when it was gone the dish was a third of the way full of fresh coleslaw juices. It was tangy, had small cuts of red pepper and celery, and looked like someone spent some time making it.
The fish had a light flavorful breading, and the fish itself had a nice, flaky texture. To me, whitefish has a flavor not unlike catfish, which would not be my first choice. I'm more of a perch or cod kind of guy, but considering the circumstances of where I was, I felt I had to do it. It was paired with some great homemade tartar, which I asked about, and was told, "Well, there is some carrot…and pickle…and the rest is a secret."
If Jack Pandl's Whitefish Bay Inn continues to stay open for another century, I'll give them a pass for not telling me what was in their tartar sauce. I predict there's a pretty good chance this will be the case, and people will be eating fish frys there long after I'm gone. As for the old tree, it's going to be a tough battle, but being anchored to such an establishment might be just what it needs to survive.
Takeaways: Hearty chowder; delectable rye breadsticks; coleslaw made with care; solid potato pancakes; friendly service; the price is a few dollars more than many fish fry places, but besides a solid meal you get to dine in a refined, historic setting and get multiple forks; one of their specialties are German pancakes, which I may need to come back for at some point; the waitstaff wears matching white shirts; my waitress boxed up and let me take home all the extra bread chips; stay strong old tree; although I'm not particularly a fan of whitefish, this place has enough charm, history, and solid food that I feel it deserves a recommendation. RECOMMENDED