Caleb Westphal hasn't missed a Friday fish fry since 2013. Follow along with his never-ending adventures here.
Looking back at ten months of fish fry columns, it is apparent that one of the themes that I have often returned to is that fish frys are a great unifier. In July I wrote, "Food and music cut across political, racial, and class lines, and unite us in times of seeming fragmentation." In September I said, "No matter what your musical taste, dining ambiance preference, or background, if you are in Wisconsin, and it's Friday, chances are pretty likely you are eating fish. Fish is the great Wisconsin cultural uniter." I have gotten fish at supper clubs and blue collar bars, and everything in between, and no matter where I've gone in Wisconsin on a Friday night, fish frys are a favorite.
Although I go to many different neighborhoods for fish, I have recently begun to become more aware that there are some zip codes in Milwaukee that I haven't gotten to at all. I began to self-reflect and ask myself why that was, and what I could do to change it. In my thoughts, it has not been lost on me that Milwaukee is one of the most segregated cities in the United States, and that we are currently marking the fiftieth anniversary of the open housing marches. A few days before this week's fish fry, I was scrolling through Facebook when something caught my eye. State Representative Jonathan Brostoff often shares events going on in the city, and he had happened to have shared an event for an all-you-can-eat $8 catfish fry at Mr. J's Lounge (4610 W. Fond Du Lac Ave., 414-455-8779). This seemed like an excellent opportunity to partake in the state's Friday tradition in an area of the city where I don't spend much time.
Mr. J's Lounge had been owned—and was named for—Arlis R. Jones, who started the club in 1976. Jones had owned many jazz and R&B clubs throughout the city over the past four decades, such as Alexandria's, Cibani's, and ARJ's—which won a WAMI award for best live entertainment venue in 2004. Sadly, Jones passed away last year. Mr. J's Lounge now endures without Jones, and continues a tradition of live and deejayed jazz, blues, and R&B music.
As the all-you-can-eat fry at Mr. J's only runs from 5-7 p.m., I made an effort to arrive as close to 5 o'clock as I could; after all, over 3,000 people were "interested" in the fish fry's Facebook event. I arrived a few minutes after 5, and found what might have been the last parking space left in the lot. I purchased a wristband and was told I could get in the line for fish, and could keep getting back in line for more, all the way up until 8 o'clock. I was also told that if there wasn't any more room to sit, there was more seating in a connected room.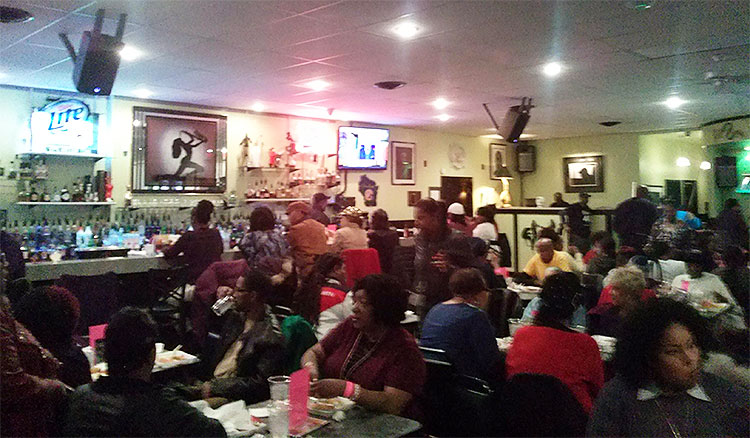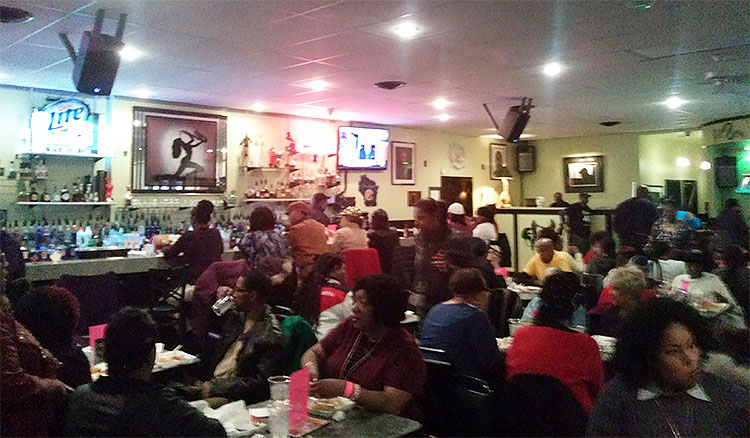 As I waited in line—which was already stretching halfway the length of the building—I found framed photos of jazz greats such as Billie Holiday, Miles Davis, and Dizzy Gillespie hanging on the walls. There also was a lamp made of a saxophone, and a DJ was playing some funky R&B.
After about ten minutes of waiting in line, I made it to the front, where catfish, fries, fried okra, spaghetti, coleslaw, and bread were being placed on plates. I had my plate filled with everything, and as the first room was completely full, I headed to the adjoining room, which had the stage where the live music takes place. Like the first room, this room also had two bars—one was up top by some seating, and another was down below, closer to the stage. There was a DJ in this room as well.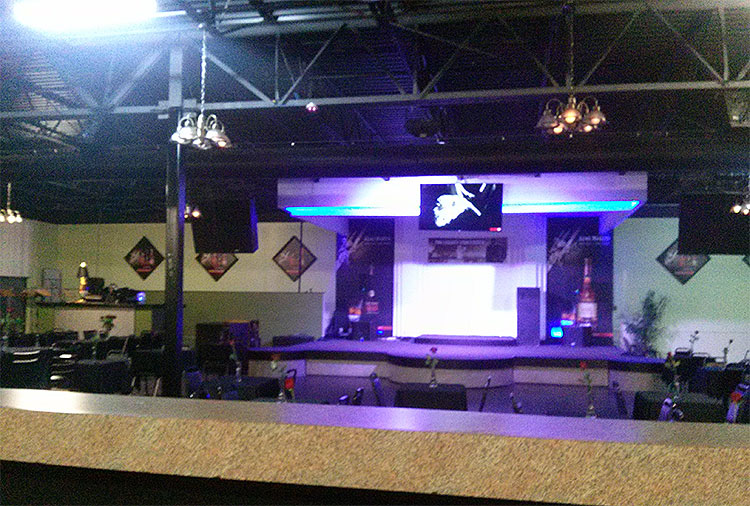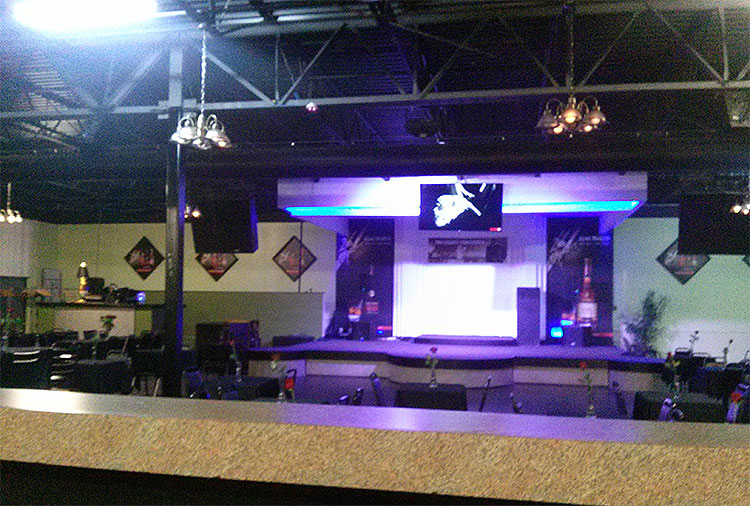 If my memory serves me correctly, I haven't had catfish for a Friday night fish fry since I was in New Orleans in 2016. My first plate came with two large fillets, and although catfish isn't my favorite tasting fish, the cornmeal breading was excellent, and really made the fish appetizing. The tartar was prepackaged and not appetizing at all, though, but the fish was good enough that tartar wasn't really necessary. The fries were some of the best I've had in a while; their crispness and seasoning made them seem like each individual fry was prepared with care. I haven't had fried okra since I've been down south either, and Mr. J's did not disappoint. The spaghetti was fine, but wasn't anything too exciting, and the coleslaw was a good creamy slaw. Finally, the bread was a slice from a cheap loaf you would find at any store.
As it was an all-you-can-eat fry, I knew I had to get back in line for more. The line was even longer the second time around, and by the time I got towards the front of the line, it had been about a twenty-minute wait. I looked back and saw the line was now to the door. I got a second full meal sans the spaghetti, tartar, and bread, and when I returned to the second room, people were starting to sit on tables in the dance floor area, as the tables in the above section had completely filled up. By the time I finished my second plate I was satisfied.
As I drove home, I happened to have an Aaron Neville CD playing in my car, and a cover of Sam Cooke's "A Change Is Gonna Come" came on. I don't have the answers as to how to fix Milwaukee's segregation issue or all the racial inequities that still persist in today's society. But, as I write this on the anniversary of the start of the Greensboro sit-ins, I think maybe we can all help, and maybe a change will come, even if it comes one fish fry at a time.
Takeaways: ALL YOU CAN EAT CATFISH FOR $8—only served from 5-8 (can purchase from 5-7), so get there early or you may have to stand in line for awhile; you get to wear a wristband, which is pretty sweet; really good breading on fish; tartar sauce pretty bad, but not really needed; outstanding fries; okra!; two large rooms where DJs play music while you eat; live music on various nights of the week.