Caleb Westphal hasn't missed a Friday fish fry since 2013. Follow along with his record-in-the-making here.
Some fish fry adventures are planned out in advance, maybe by a few days, but most of the time it gets to be about three o'clock on a Friday and I start getting anxious because I haven't figured out a place yet. Such was the case this past week. I have a list on my computer with dozens of places that I'll maybe get to sometime, as well as other random sticky notes and pieces of paper where I've written down everyone's favorite fish fry places. You see, when you do this every week, everyone starts to tell you their favorite places, and you just have to write them all down. The reality is that I haven't been to most of the places that people tell me about, which illustrates how big of a deal fish frys are in Wisconsin, and gives me something to look forward to for the rest of my life. This week's random catch ended up being Maverick's (2030 W. Howard Ave., 414-282-6969), which is the name of a place I found on the list on my computer.
Maverick's may best be described as a blue-collar sports bar, and in some sense I thought it was reminiscent of Baby Boomers. Sports-themed memorabilia, license plates, and signs with off-color sayings cover the walls. Santa Claus looks as if he is going to fall through the ceiling, as his leg is attached there and is dangling down. There is a pool table, a back dining room where it appeared no one was, and a horseshoe bar where the bartender was playing dice with patrons. The music was incredibly loud for 6 p.m. in the evening ("Oh, oh, oh / Sweet child o' mine!!!"), and at one point a grown man was slapping another on the head and jokingly telling him he was going to kick his ass.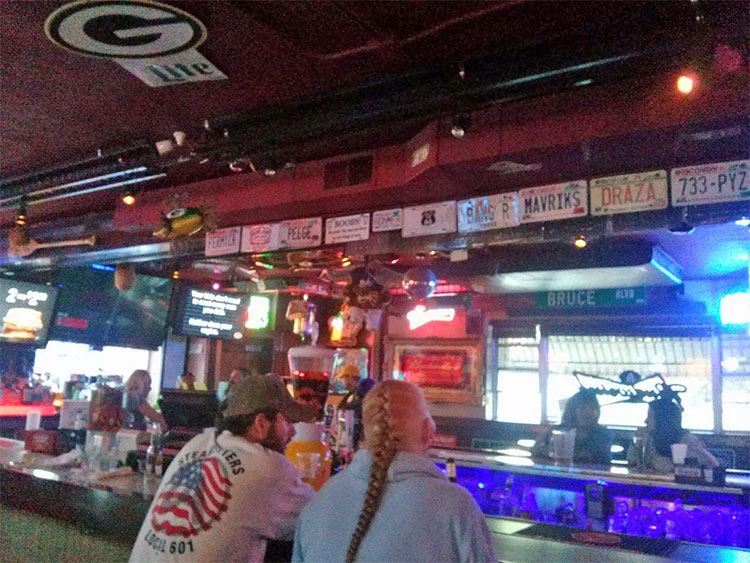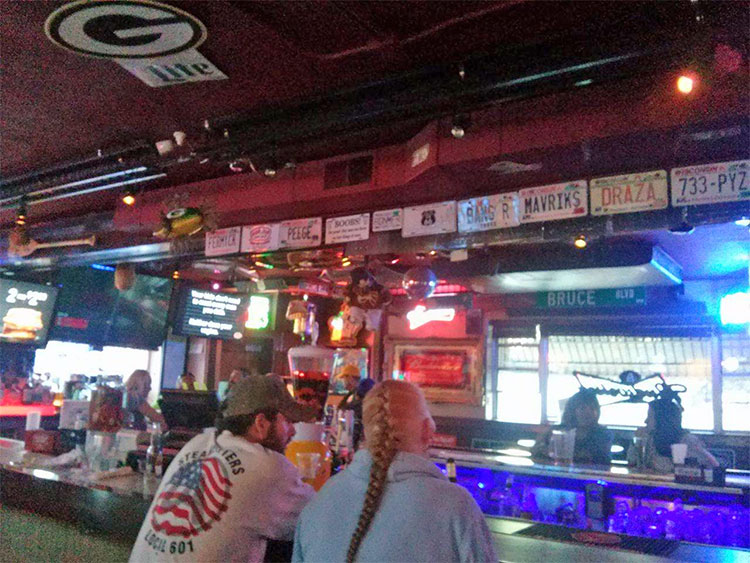 I ordered the fish fry, of which there is one option: "crunchy potato crust" cod. The great thing about some of the fish frys at bars in the outlying parts of the city is that they are cheap. This one was $8! EIGHT DOLLARS! As the food arrived I noticed there was no coleslaw. I asked the bartender about it, and she apologized but said they were out of coleslaw. I dolefully walked back to my table and started eating, and thought of how I probably would have to write a pretty negative fish fry review because a place was out of coleslaw, and hadn't told me of the situation when I had ordered my meal either.
THEN IT HAPPENED. The bartender, who introduced herself as Carol, said she felt really bad that they didn't have any coleslaw, and said she'd like to give me a shot. She asked what kind of shot I'd like, and because I usually don't have them with my fish frys, I suggested she could surprise me with something. A few moments later she came back with two shots, one for me and one for herself. Carol said it would be okay if I took mine at the end of my meal, but I said that I would take it right away with her. If someone is offering to do a shot with me in a bar in Wisconsin in the middle of my fish fry, I'm going to do it. So, we cheered our shot glasses, and down went the root beer schnapps. I'm not sure I've had a shot of that before, but it was really reminiscent of a drink my friend claims to have invented, the Old Wisconsin, which consists of Sprecher root beer and brandy.
The cod and tartar were both a little bit above average; the potato crust batter was excellent and I was given three decent sized pieces of fish—not bad for an $8 fry. The french fries were a pretty standard crinkle cut. There also was an option for seasoned fries, which my friend got, and which I probably should have went with as well. The rye bread was toasted, but almost had a burnt taste to it.
The fish fry experience at Maverick's was true to its name. Giving someone a shot of booze to remedy their meal is a pretty maverick thing to do. The place was loud and boisterous, qualities most people would find more fitting to a bar they would want to drink at, than a place for taking a family for dinner. Instead of Sinatra quietly playing on the stereo, a TV screen was blasting Autograph's "Turn Up The Radio." (I'm not kidding, that happened. I only wish it would have been right as I was taking my shot.) What does this tell us? No matter what your musical taste, dining ambiance preference, or background, if you are in Wisconsin, and it's Friday, chances are pretty likely you are eating fish. Fish is the great Wisconsin cultural uniter.
Rating: Amazing price; loud music; decent fish; my coleslaw was a shot of root beer schnapps; the bartender genuinely cares and gives you booze if something is wrong with your meal. 3 out of 5 stars.