During a brunch at Honeypie in July of 2015, my boyfriend and I decided we wanted to get married. No, this wasn't a regular engagement. I never wanted an engagement ring, so I had him put the jalapeño ring from his Bloody Mary on my finger. We had been talking for some time about how we wanted to get married on our four-year anniversary and drive down to New Orleans for Halloween. As this was only three months away, many brides-to-be may have thought there was definitely not enough time to plan a wedding. But hey, if a jalapeño engagement ring was up my alley, I think anything I could whip up in three odd months would do.
So the time came to plan our wedding. We both only ever talked of having a courthouse wedding. Seemed fast, easy, and would get the job done. As I was putting more thought into it, however, it started to not feel it was the right fit for us. I'd rather have a wedding officiant meet us wherever we wanted. I was back at square one. Where the heck could we get married at on a Thursday only three months away? I was scrambling and scrambling in my mind and, like an epiphany, I thought Pizza Shuttle. Yeah, you heard that right. Pizza Shuttle.
Oh, how we love Pizza Shuttle. We both sought comfort at this Milwaukee staple too many times to count. Good day, bad day, we always ended up at Pizza Shuttle. Some of the coziest winter nights were spent huddled inside Pizza Shuttle. I always felt warm and safe there, as if I was wrapped inside a calzone.
I called my boyfriend, and after a "hell yeah" from him I made the call. One of the employees picked up asking what my order was. Without hesitation, I ordered a wedding and asked how I would go about getting married there. The employee, obviously very confused, said someone would give me a call back. A bit later, I got a call from Jackie Gold of Pizza Shuttle. Although I don't remember this conversation verbatim, I recall a cheerful, "Well, this is a first for us, but we'll be happy to have you!" The wedding was set for October 29, 2015 at Pizza Shuttle.
The morning of the 29th of October, we woke up and immediately packed the car. We got ready and headed over to the Shuttle. I wore my mother's '80s white suit dress which was given to her by my grandfather when she turned 18. Sadly, my grandfather passed away a month prior. It was so special to wear that as my wedding dress. I did have my grandmother take the shoulder pads out, though.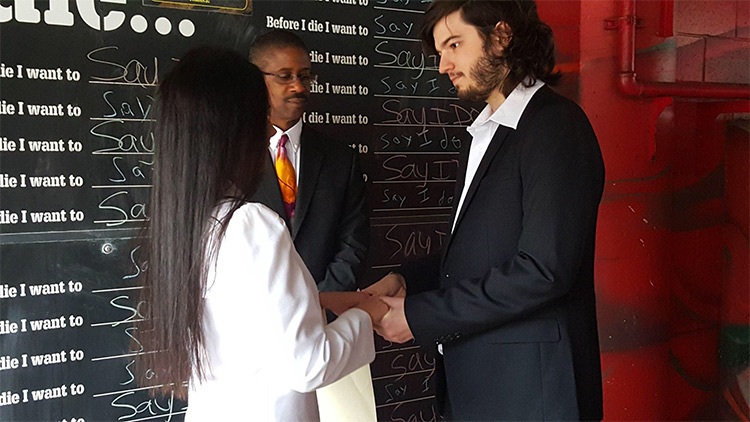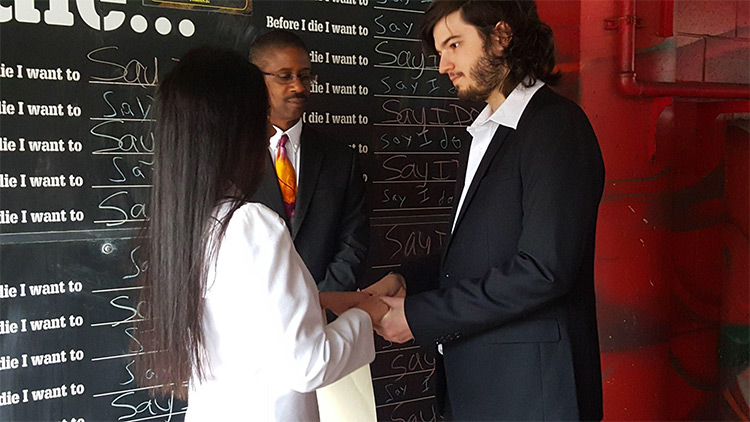 We had a beautiful and intimate ceremony in front of close family and friends outside the parking garage in front of the "Before I Die" wall. We had written in chalk on every line, "Before I Die I Want To…Say I Do." After the ceremony we went inside to enjoy some beer and an enormous pizza, with pepperonis shaped into a heart. My husband and I cut the pizza like how a bride and groom would cut a wedding cake, and we shoved pizza into each other's mouths. Once the pizza party was wrapping up, we got ready for our sendoff. We got into our car and our friends and family waved goodbye as we left the Shuttle for our New Orleans Halloween honeymoon.
We would like to thank everyone at Pizza Shuttle from the bottom of our hearts for making our day so special. Thank you to Jackie Gold for being the best wedding planner ever, and to everyone working at Pizza Shuttle on October 29, 2015. We couldn't have asked for a more perfect pizza wedding.