Some summer traditions come and go, while some summer traditions become icons. Mandatory Milwaukee is all about the latter. Join us as we revisit beloved and well-worn local staples with fresh eyes, and explore how they might figure in the city's future. This week: Going to Milwaukee Brewers day games.

There's so much to love about living in Milwaukee. However, one of my favorite parts of being here has to be the ability to enjoy world-class entertainment, professional sporting events, and major tourist attractions on a regular basis—and to be able to do all of these things on a whim. As someone who grew up and spent more than 2o years living over 100 miles away from Milwaukee, that appreciation for the city's proximity to…stuff has been something I've really cherished throughout my 13 years living here.
While people from other parts of the state need to buy tickets well in advance, spend hours on the road (taking things like highway construction, traffic backups, and gas cost into account), potentially leave work early and/or ask off work the following day, possibly consider overnight accommodations, and factor in any number of other items that can add complications and annoyance to what's supposed to be a fun time, I've come to love being able to do something with little-to-no advance warning because, in short, I live close to where that thing is happening.
Someone suddenly has an extra ticket to a concert or comedy show that night because a friend or loved on bailed on them? Sure, I'll go. A pal who's a Bucks season ticket holder had a last-minute work thing come up, so there's a pair of seats up for grabs if I can get to Fiserv Forum by tip-off? I can! So yeah, I'll take 'em. Someone from back home is going to Summerfest that day and wants to meet up? Okay, why not!? Feeling like blowing off work on some random summer Wednesday and spending the afternoon at a Brewers day game? That's both totally possible and absolutely awesome.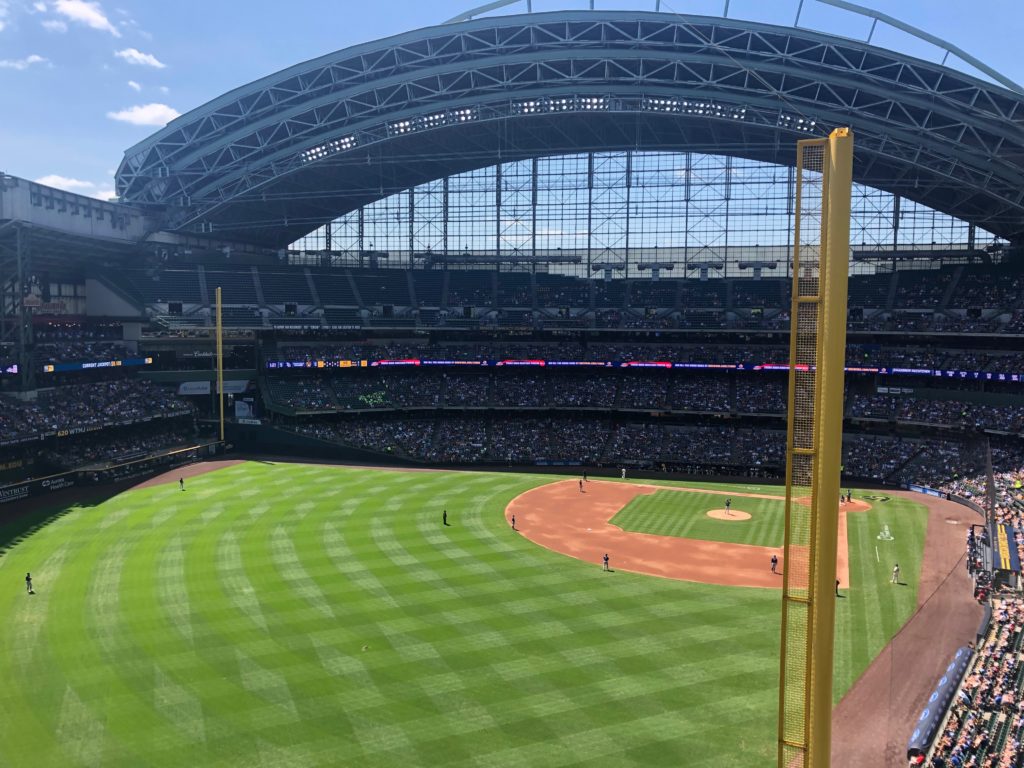 I could go on, but instead, let's focus on that last example: the Brewers day game. Earlier this month, I was feeling the toll from covering the busiest Milwaukee festival season in recent memory. I was feeling the end of summer creeping in. I was feeling stressed because of work and life and the state of the world in general. So one day, I simply decided I would blow off work at noon and fuck off to a Brewers game for a few hours. I didn't invite anyone else. I didn't set an out-of-office notice. I didn't bother leaving early to catch a shuttle. I didn't think about tickets. I just headed to the ballpark like 30 minutes before first pitch and had a grand old time.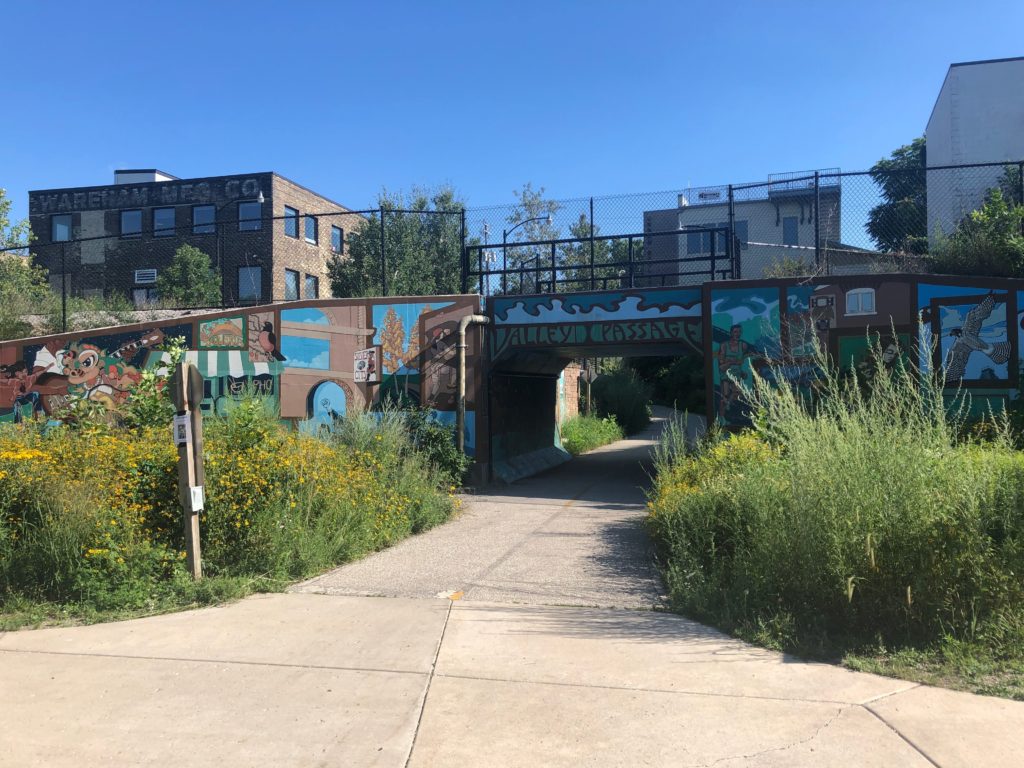 You can do a Brewers shuttle or the full-on tailgating thing if you want, but between the lack of advance planning and with our office being deep in Walker's Point, I was already quite close to American Family Field this particular Wednesday afternoon. So I parked near the Urban Ecology Center in Silver City and took a short-but-pleasant stroll down the Hank Aaron Trail, which led me to the edge of the general parking lot in less than five minutes. If you live or work nearby, the weather is nice, and you don't intend to tailgate, I highly recommend trying this sometime. It's quite literally a game-changer.
Being a Wednesday afternoon game against the Tamp Bay Rays in mid-August, I had no concerns about getting tickets ahead of time. On my way to the box office to buy the cheapest seat available, a guy asked if I needed tickets. Being less than 10 minutes before game time, I got a 400 Level seat for $6. After flashing an Associated Bank debit card at the center field entrance, I was able to instantly get in through that bank-sponsored gate in time to see the first pitch.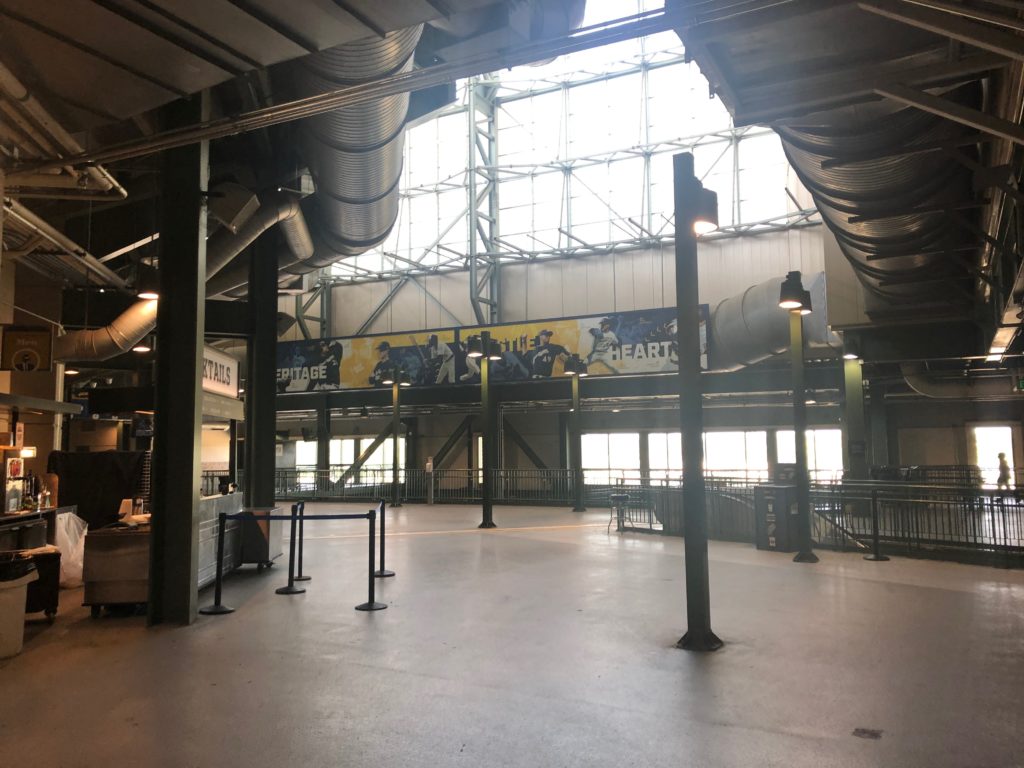 No matter how good the Brewers are, attendance is always going to be lower during late summer afternoon games on weekdays…unless the Cardinals or Twins are in town (or the Cubs, only if the Cubs are good that year). By the time August rolls around, there aren't many school or youth group field trips happening. Most tourists already marked the requisite Brewers game off their summer to-do list by this point in the season. So there's lots of elbow room.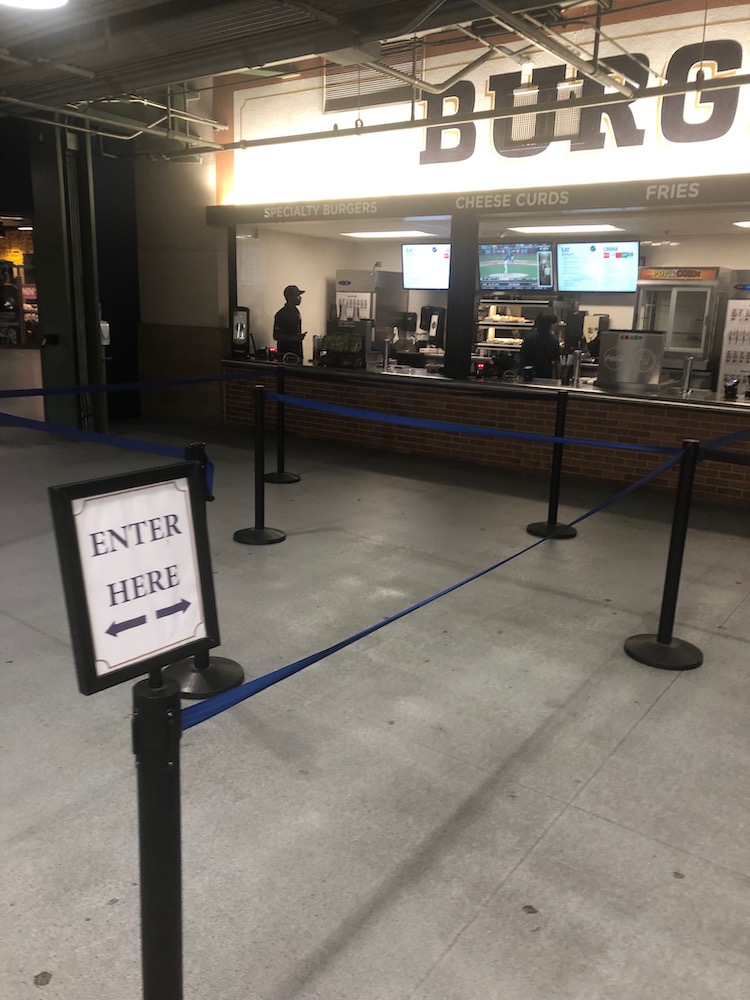 The food and beer lines are short.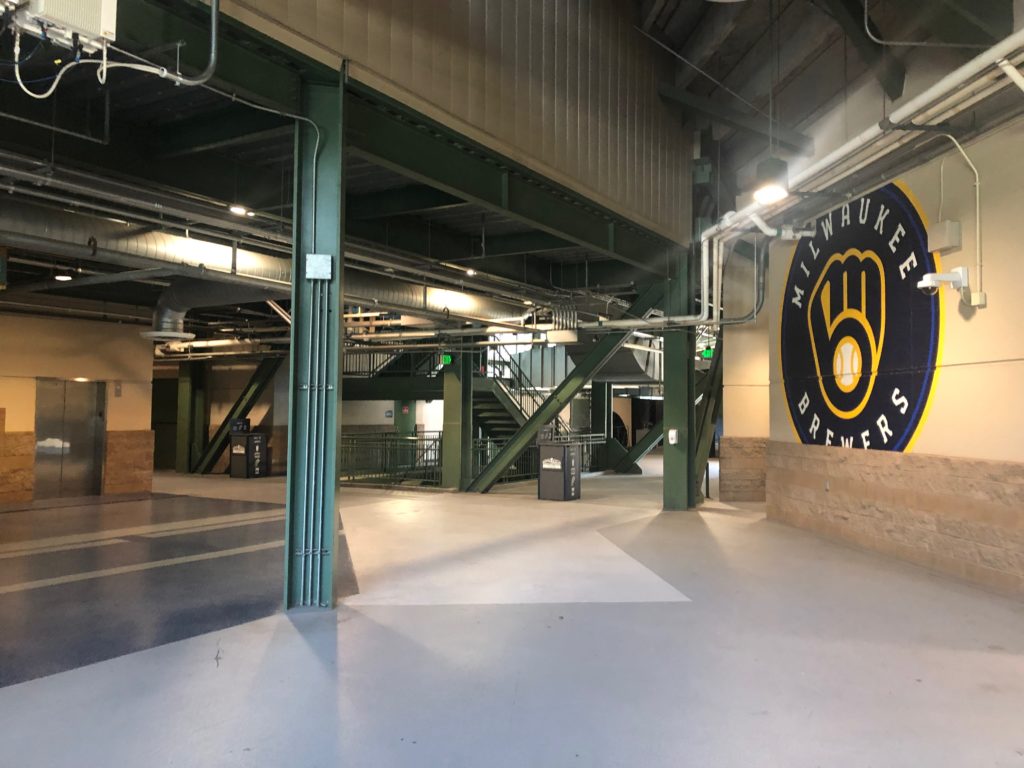 The concourses are clear.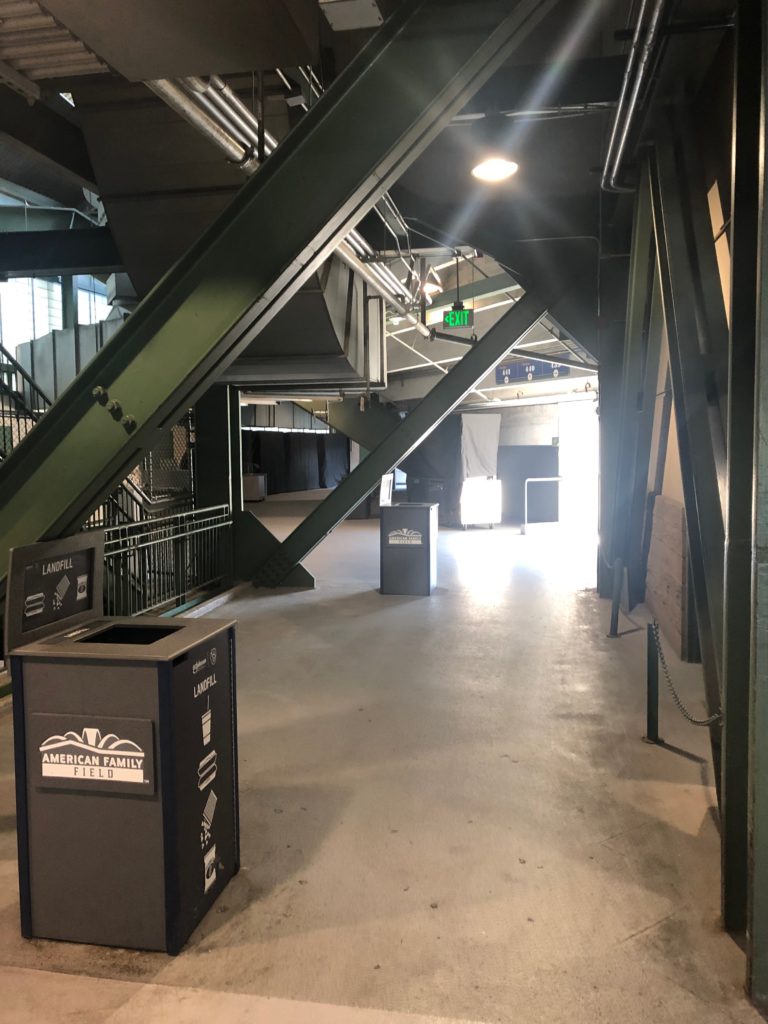 Especially in the nosebleeds.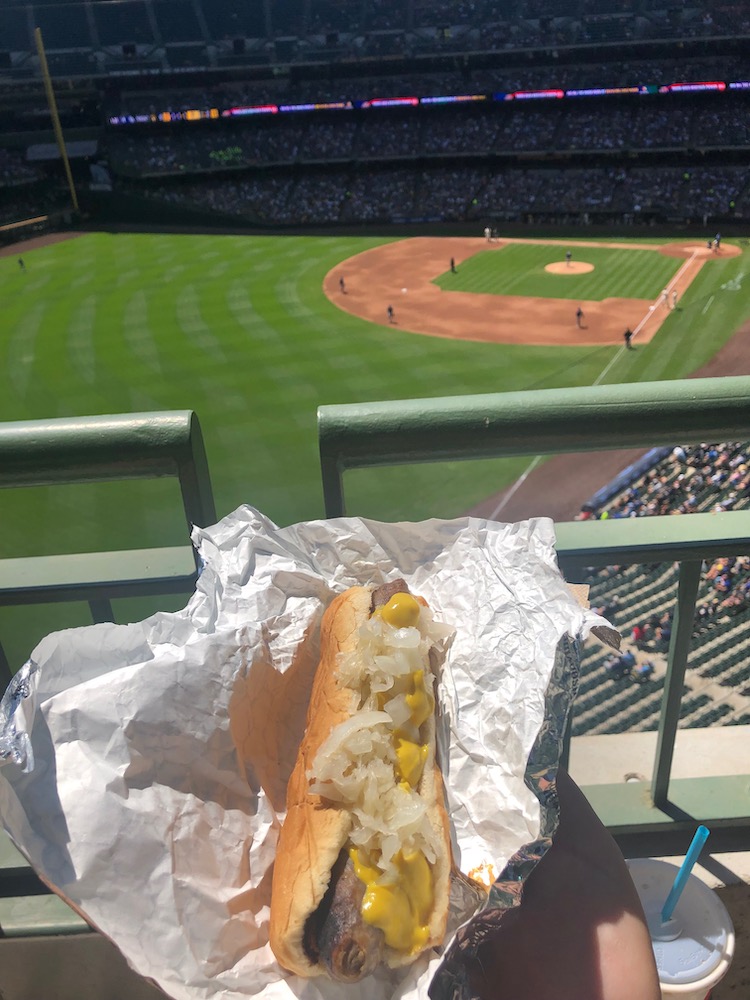 Even though I encourage fans to sit in the seat listed on their ticket when attendance is high, sparsely-attended day games are a different story to me. Assuming you keep it to upper level seats (so as to avoid giving hardworking ushers a headache), I see no issue picking an unused spot you like that's away from other people.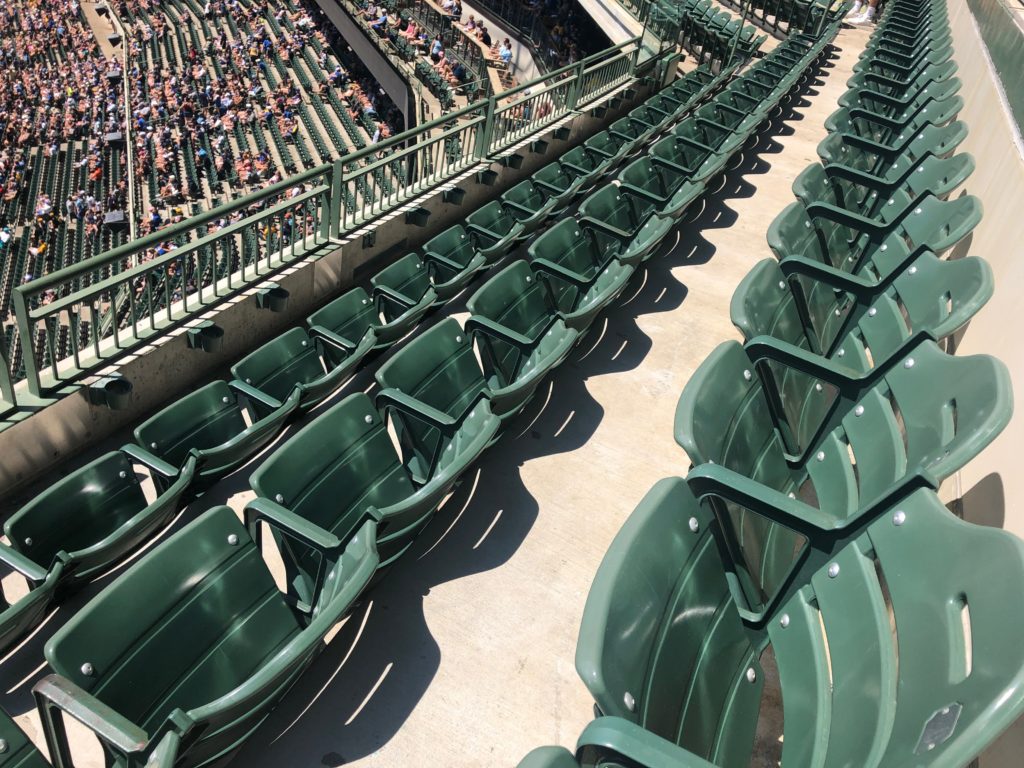 Pick your own row if you're able to.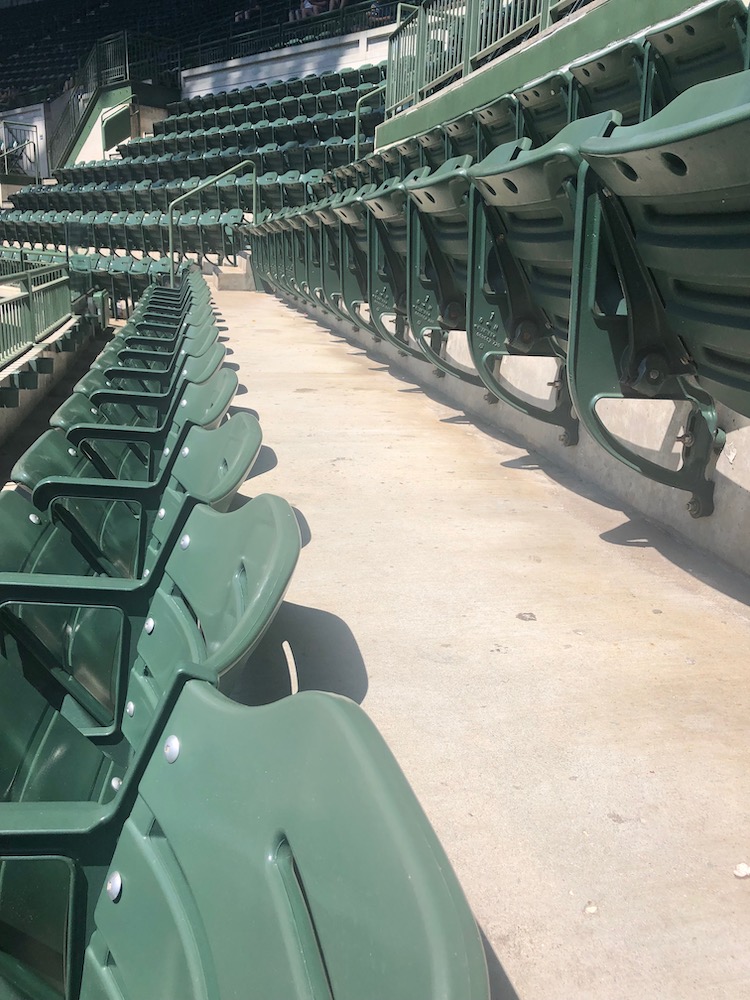 Hell, sit in your own section if you want.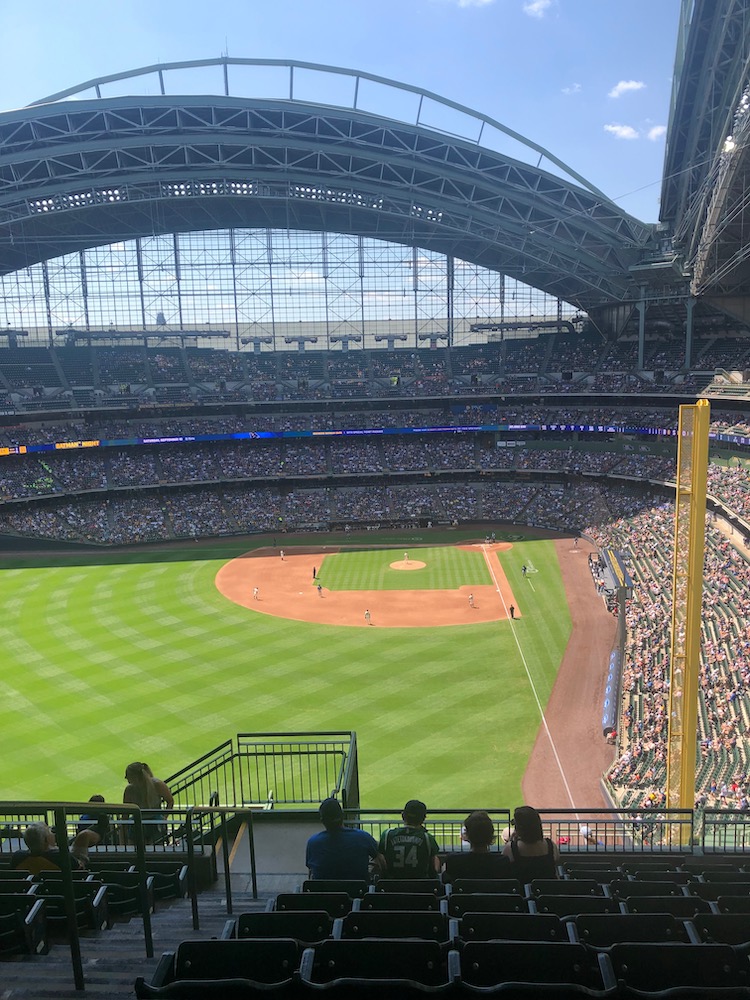 If the sun gets to be too much or you just want a little change of scenery, you can even sit in the seat you actually paid for.
Will this be the day you sit in that "row" with only one seat in it? Go for it!
Between sips of your chosen beverage, bites of a bratwurst, and pitches, I encourage you to bask in the sweet, satisfying, and all-too-rare absence of sound. Contemplate. Avoid contemplation. Answer an email from your unorthodox office for that particular afternoon or shut your phone off and escape. It's up to you.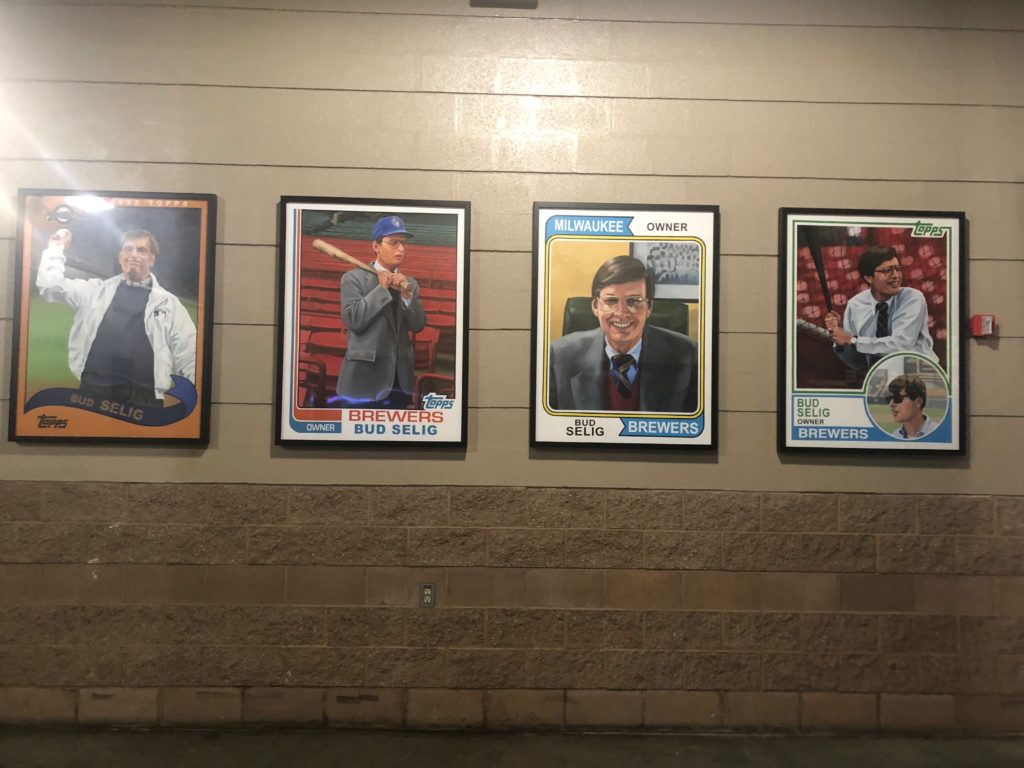 Maybe you'll get bored and wander around aimlessly, discovering this weird shrine to Bud Selig in a semi-secluded stadium walkway.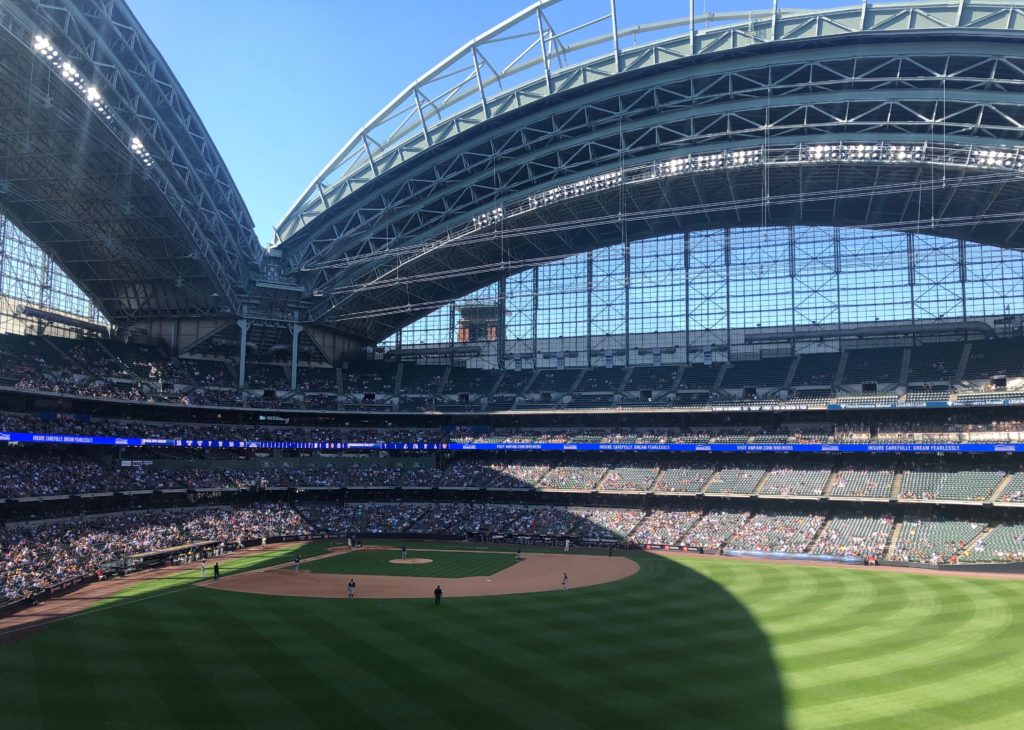 Perhaps you'll wind up in an empty row of bleachers on the other side of the outfield just in time to watch the Brewers (who were trailing most of the game) tie it up in the bottom of the 9th.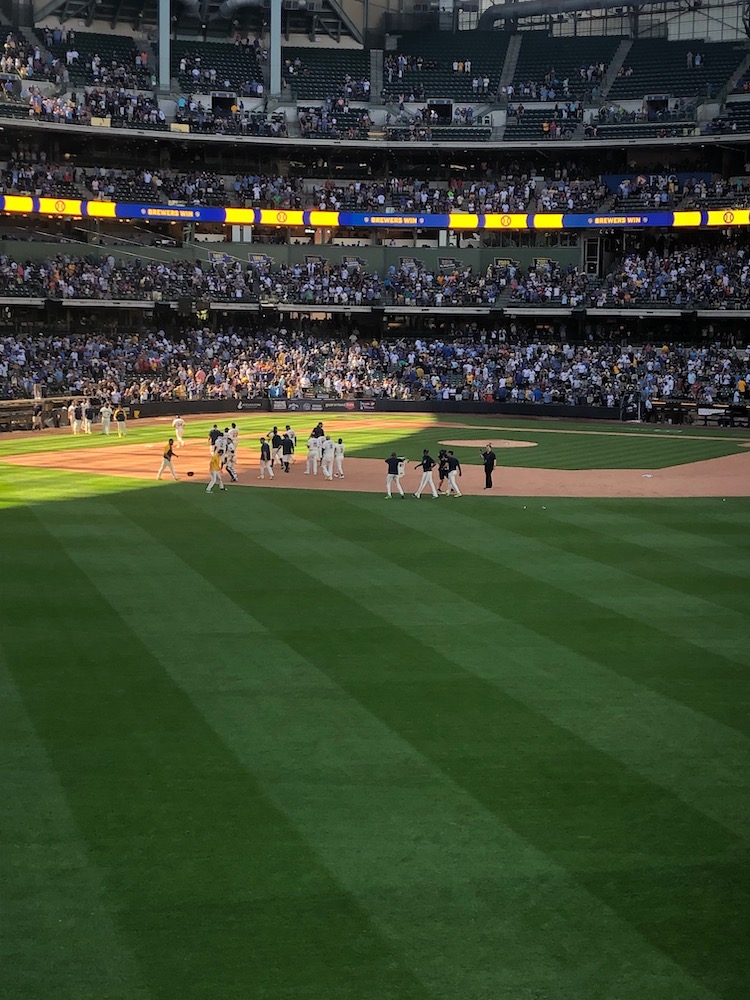 Maybe you'll watch as they win on a walk-off single in the 10th inning. Even if that's not the case, you'll probably still have a great time because Brewers games are fun…and Brewers games in the company a few thousand others while much of the world is stuck at work are even better.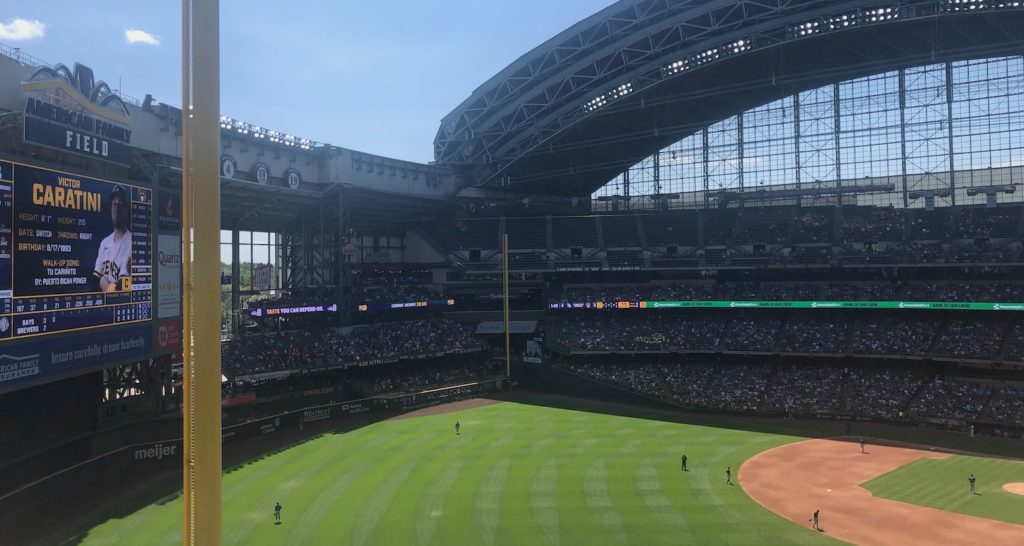 Milwaukee has three more midweek afternoon home games this season (August 31 vs. Pittsburgh Pirates, September 8 vs. San Francisco Giants, and September 21 vs. New York Mets). Do yourself a favor and treat yourself to an impromptu day off for one of these. Whether you go with a group or you go it alone, you can't go wrong at a weekday/afternoon Brewers game.