Caleb Westphal hasn't missed a Friday fish fry since 2013. Follow along with his never-ending adventures here.
Welcome to Lent, the time in Wisconsin when many religious folk—and some who aren't—eat fish frys twice a week. At this time of year, just about every publication in the state compiles and puts out lists of the best fish fry stops in town (they look similar to this), or asks the public where their favorites places are. Some may say that "The Lenten season equals fish fry season…" but from my perspective, there really can't be a season if something never stops. I don't have an exercise season, or a reading season, or a listening to music season, and I sure as hell don't have a fish fry season. Some Ash Wednesday Amateurs may say that now is the time of year to eat fish frys, but I think they are a sacred ritual throughout the whole year.
There really isn't much of a science as to where I go each week. I'm not trying to get to every place that has been on a best-of list first. My motto is, "Fridays, they always come back around," meaning that if I don't have the best fry one week, guess what? THERE IS ANOTHER FRIDAY A WEEK AWAY. HOORAY! Sometimes part of the reason I go somewhere is for convenience. This past week I was headed to Turner Hall for GuthrieUNCOVERED—an event interpreting the songs of Woody Guthrie and illuminating their timeless relevance, so I decided to pick a place nearby and go on the way to the show. I ended up at Buck Bradley's (1019 N. Old World 3rd St., 414-224-8500).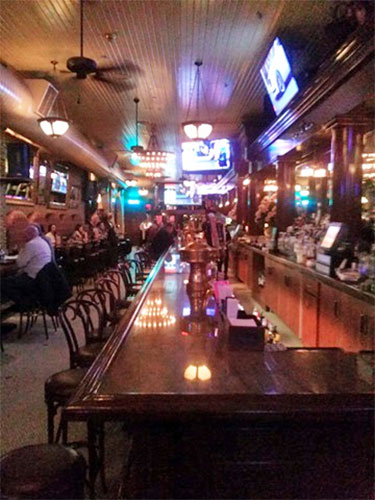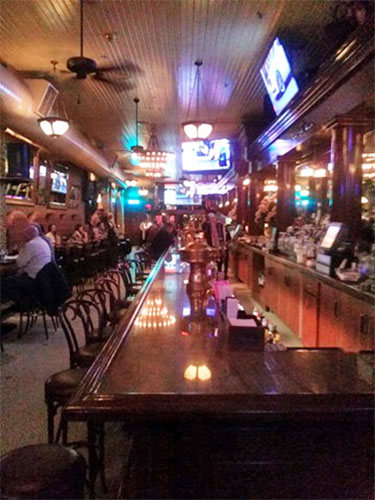 The building that houses Buck Bradley's has been standing since 1854, when it originally started as a furniture store. It has had various additions and changes done to it over the years, and in the early 1990s it was remodeled into a replica of a bar and eatery from a century before its time. As I walked in, I was greeted by a host standing at a podium. I walked past a dining area on the right, and large animal heads on the wall on the left, and took a seat almost directly in the middle of the long bar. I had heard the story before, but the bartender told me that the bar is the longest straight bar in the United States east of the Mississippi River, being 75 feet in length. The granite-topped cherry wood bar is matched by an ornate cherry wood back bar, where large mirrors hang. The wall opposite the bar has mirrors as well—and photographs of Milwaukee's past—with seating for more diners below them.
Unbeknownst to me, clam chowder is kept right behind the center of the bar, and I received a bowl within seconds of ordering. It had the perfect blend of clams, celery, and potatoes, and had a superb texture that could be attributed to its perfectly balanced creaminess. It had a rather mild taste, but in a good way, as to not be overbearing. The only downside was I had to struggle to not burn myself, as it was unbearably hot from just being ladled. It came with homemade flour chips, which were one of the best accompaniments I have ever had with a bowl of clam chowder. After I asked about them, the bartender brought me more.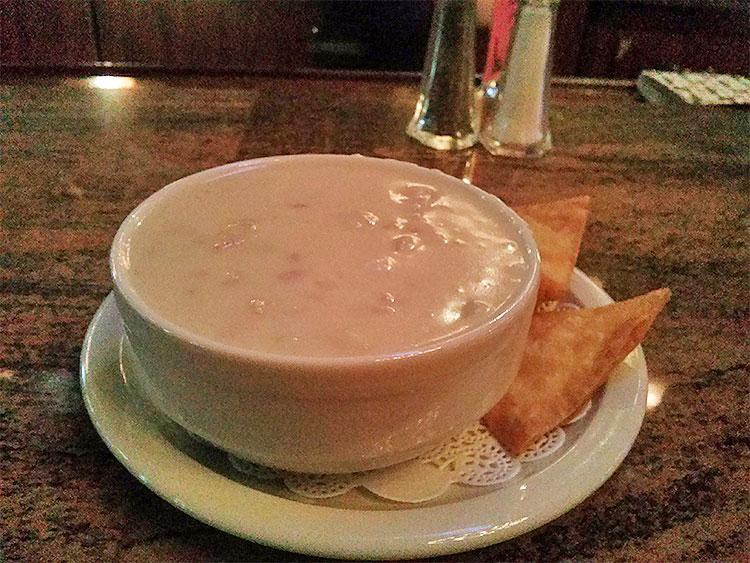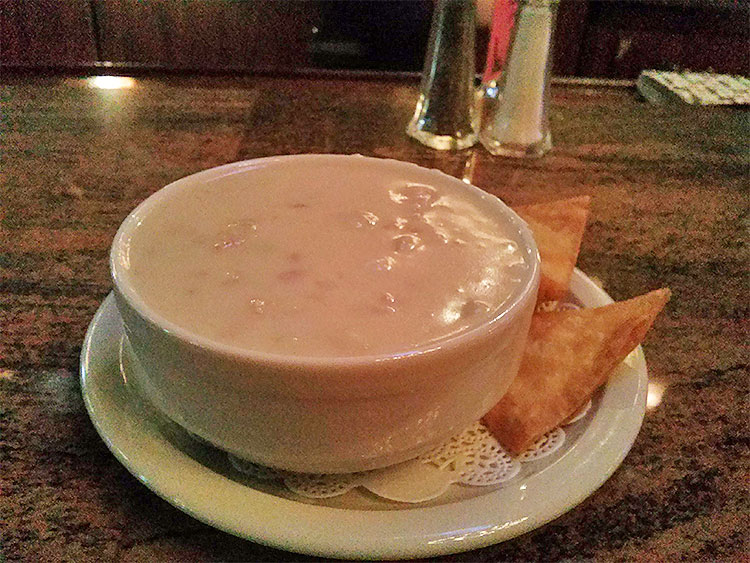 There is just one Friday fish fry option at Buck Bradley's—cod—which can be ordered deep fried, baked, or as a combination of those options. I was given three rather large deep-fried pieces. They were pretty standard in texture and flavor—nothing too exciting to report there— but were definitely enlivened a bit by the tartar. They came with a generous portion of straight cut fries that were a little seasoned and a little soft—not that that is necessarily a bad thing. The coleslaw was a decent extra-creamy slaw; there was so much cream it was almost too much. The bread was a pretty typical light-rye, with perhaps a little bolder taste than average.
I have to admit, I think I may have filled up on chowder and flour chips, because I left a few fries on my plate. There was no fish left, though, and I always make sure that is the case. As I got up and made my way to Turner Hall, I passed a sandwich board in front of the Milwaukee Brat House that said they serve fish frys; then I walked past the Old German Beer Hall, where I had gone just a handful months ago; then past Who's On Third, where fish frys are also served. I turned the corner and walked past the Point Burger Bar, where I had gotten fish a few times when it was the Upper 90 Sports Pub. "Surely," I thought, "they can't have a fish fry, too." But it turns out they do. Even my destination, Turner Hall, has a fish fry. So thank you Milwaukee, for being a city where you can walk past five places in a row that serve Friday night fish frys. It sure makes Lent—or any time of the year—pretty outstanding.
Takeaways: Claims to have the longest straight bar on this side of the Mississippi; if you sit at the middle of the bar and order clam chowder, it magically appears from right behind the bar, and it is excellent; flour chips!; beautiful interior—back bar, chandeliers, mirrors, and more; fish fry is alright, but nothing particularly exciting.