A few weeks before the start of Summerfest 2019, the Big Gig invited the press to take a look at new vendors and foods that would be coming to the 11-day festival. As the 52nd installment of the "World's Largest Music Festival" launches into its first weekend, we present our thoughts on a few new Summerfest "food items."
Roasted Mushroom Flatbread – Saz's Express ($9, $13 with steak)
Nothing says "Summerfest" quite like Saz's famed Sampler Combo. Two mozzarella sticks, a bunch of cheese curds, and some fries? We live in glorious times. But what happens when you grow tired of this time-honored combo? (Note: It is impossible to grow tired of this time-honored combo, but play along with us anyway.) Well, try this Roasted Mushroom Flatbread, which is really, really, really good. Seriously. The caramelized onions alone make it a new, must-eat Saz's Summerfest staple.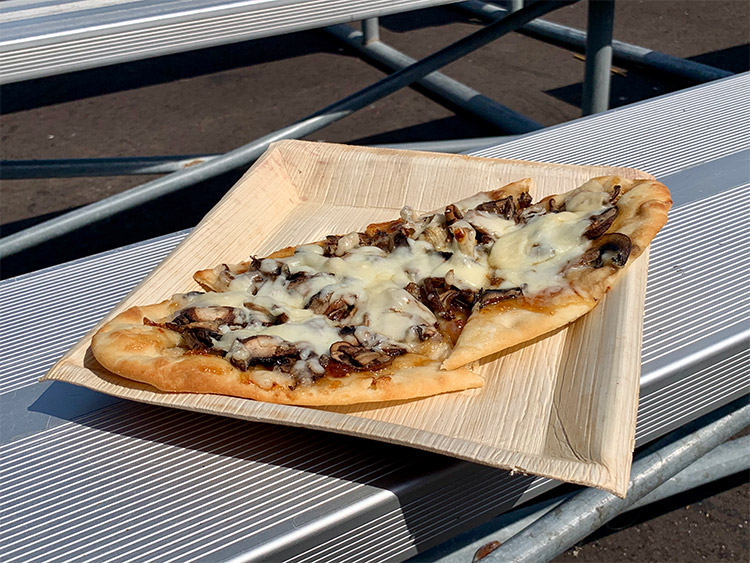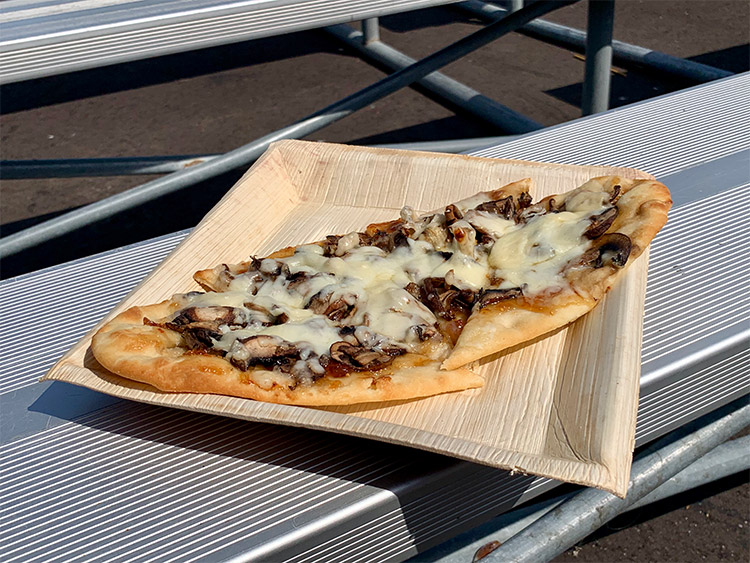 Impossible Burger – Charcoal Grill ($10)
One year after AJ Bombers brought the Beyond Burger to the Big Gig, Charcoal Grill decided to get in on the meatless action by offering the Impossible Burger. Sadly, the long-tenured festival fixture's take is rather basic. Basically, it's a patty sans toppings on a bun. We dressed ours up with ketchup and spicy brown mustard, which ultimately saved it. However, it could've benefited greatly from some tomatoes, pickles, and lettuce. There's still time, Charcoal Grill. Even cheese-free and without additional toppings, the Impossible Burger is a worthwhile and sustainable festival food.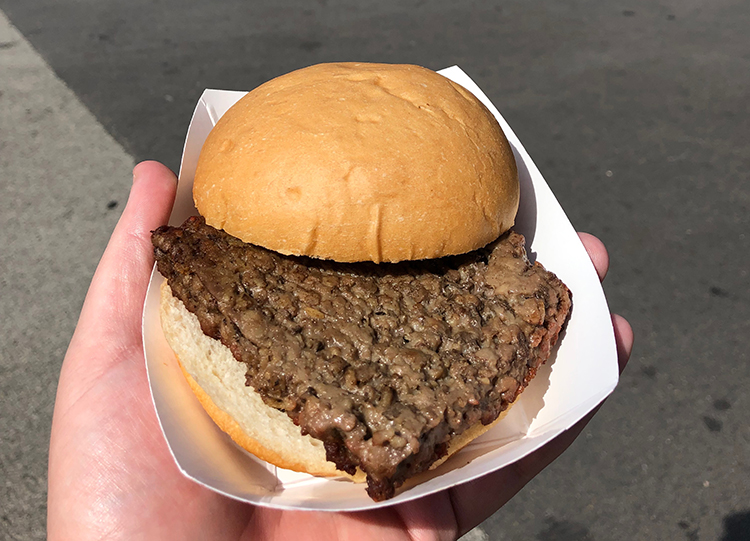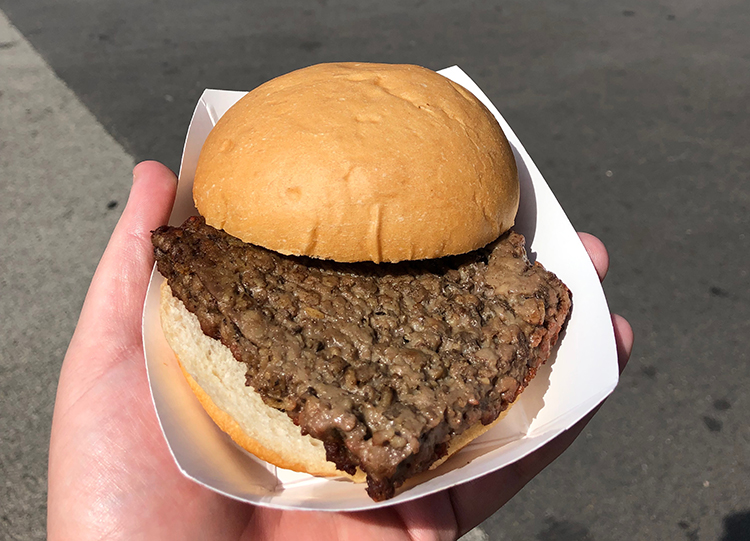 Meatball Cone – Venice Club ($7.50)
Just when we thought Solo's departure from the Summerfest grounds spared us from having to eat some type of cone-based abomination, Venice Club went and did something crazy. Our Meatball Cone featured a cluster of lukewarm meatballs, basic and bland pizza sauce, and cold shredded mozzarella encased in a hard Italian bread-based vessel. Though it was advertised to be "ready to enjoy—without using both hands," we struggled to eat this because the thin marinara dripped through bread. Oh, and because it was very bad. Venice Club is usually a solid Summerfest option, but the Meatball Cone should have no part in your festival experience…unless you want to, like, make your friends laugh or something.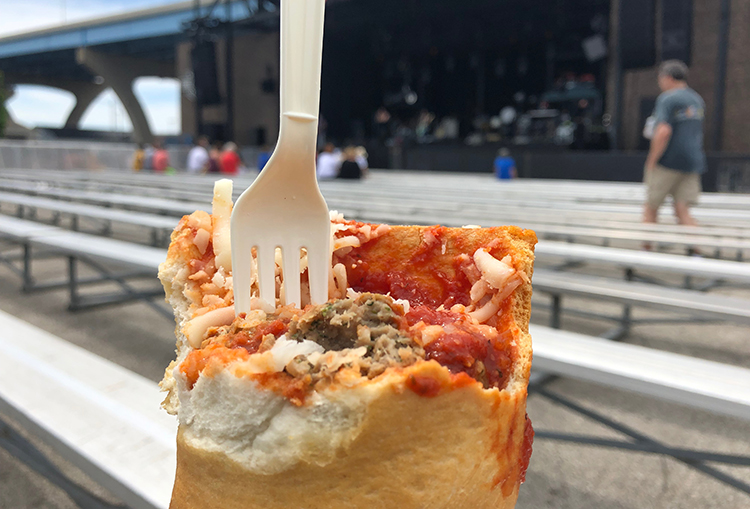 Piggy Mac Sub – Cousins Subs ($10)
Billed as a "Summerfest Exclusive," Cousins Subs' new Piggy Mac features flavorful pulled pork, slices of bacon, gouda cheese, mac and cheese, and a mess of sautéed onions packed generously between the chain's Better Bread™. While the decadent sandwich is messy (mostly thanks to the mac) and maybe not meant to be enjoyed in the sun on a hot summer day, it was actually pretty good. The pulled pork, gouda, and bread were the stars of the show. The limp bacon was kind of overkill and probably could've been omitted. All told, it was decent. Hopefully this makes its way onto the menu in more locations outside the festival grounds.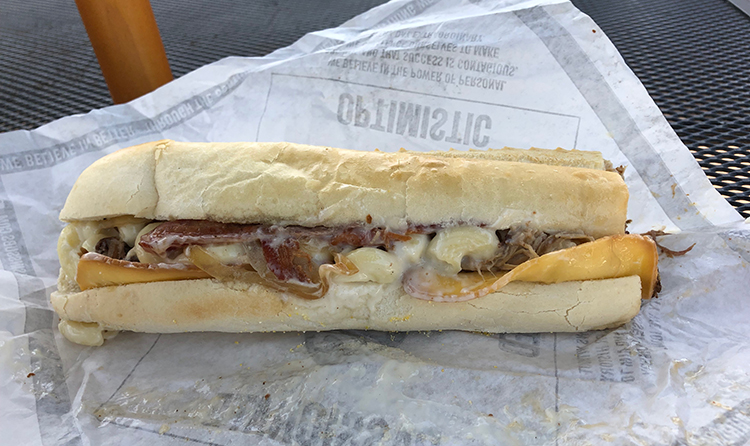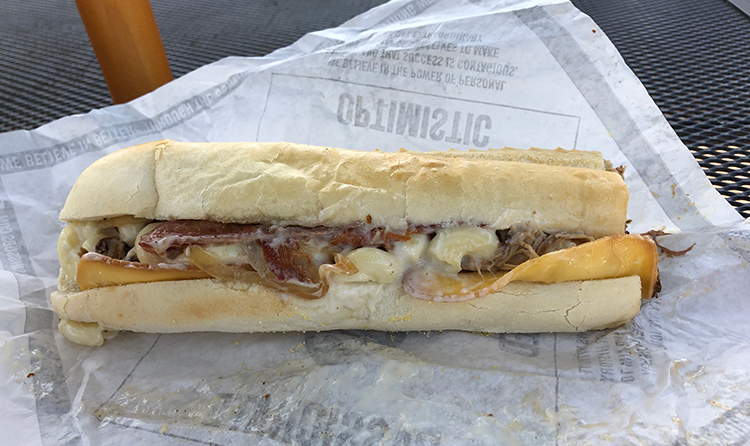 Crème Brûlée – Peter Sciortino's Bakery ($5.50)
If there's a fancier Summerfest dessert treat out there, we haven't seen it. Located in the South Marketplace, alongside the henna tattoos and the sound-activated light-up steampunk goggles, Peter Sciortino's Bakery is your one-stop shop for cookies, fudge brownies, gelato, and this enticing (and gluten-free) crème brûlée. The kid working the tent blowtorches the thing right in front of you! Important note: We tried to return the little ceramic bowl when we were finished, but the kid told us to keep it or just throw it away. Weird. The crème brûlée was okay.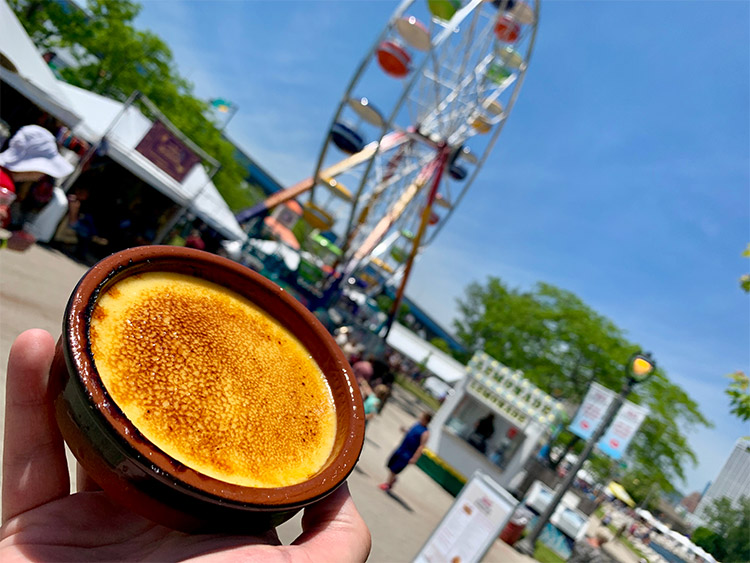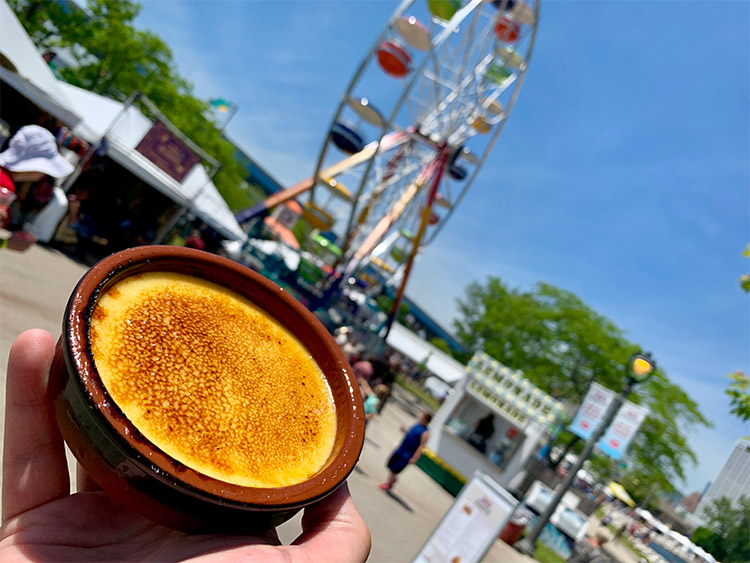 Pizza Man Special – Pizza Man ($7.50)
As noted before, Solo is gone this year. In its place, the venerable Pizza Man now occupies the stand on the south side of the grounds. It's a huge improvement and its Pizza Man Special is excellent. Goodbye, Bacon-Bottom Pizza and Pizza Cones. Hello, thin crust pizza with excellent sauce and tons of toppings. The Pizza Man stand also offers Eggplant Fries.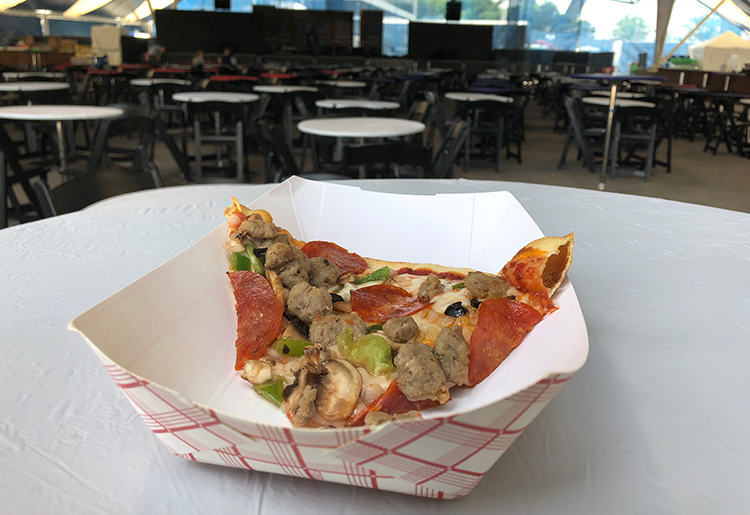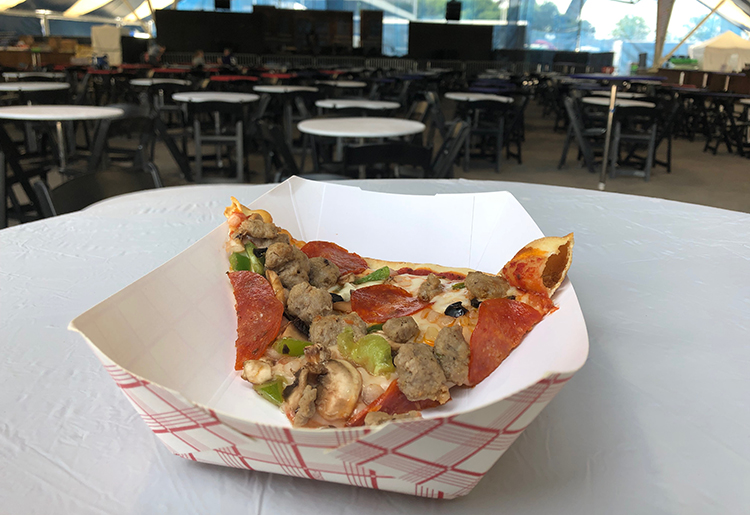 Italian Beef & Millie's Italian Sausage Combo Sandwich – Millie's ($9.75)
Good luck with this bad boy. It's big, it's hefty, and it's near-impossible to eat without the beef busting through the back of the bun. Or maybe it was just us as we sat down and enjoyed a high school cover band performing a passable version of Chumbawamba's "Tubthumping." Like the song says: We got knocked down, but we got the beef in the bun again. Comes with chips.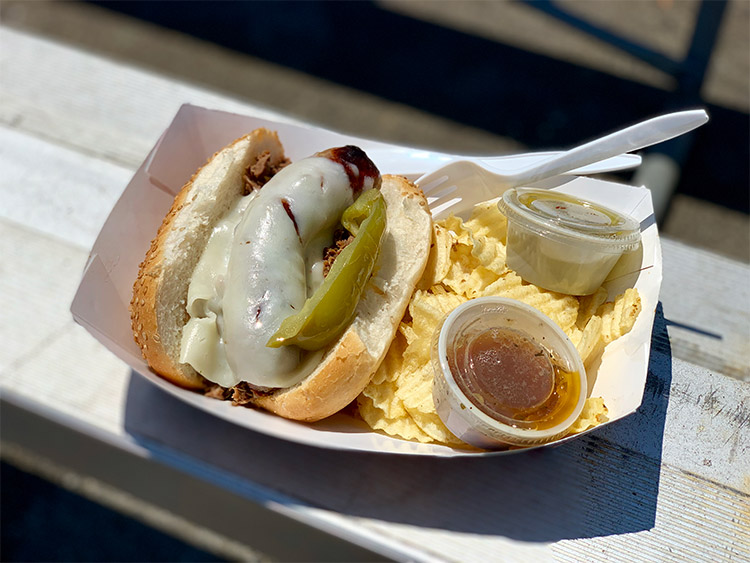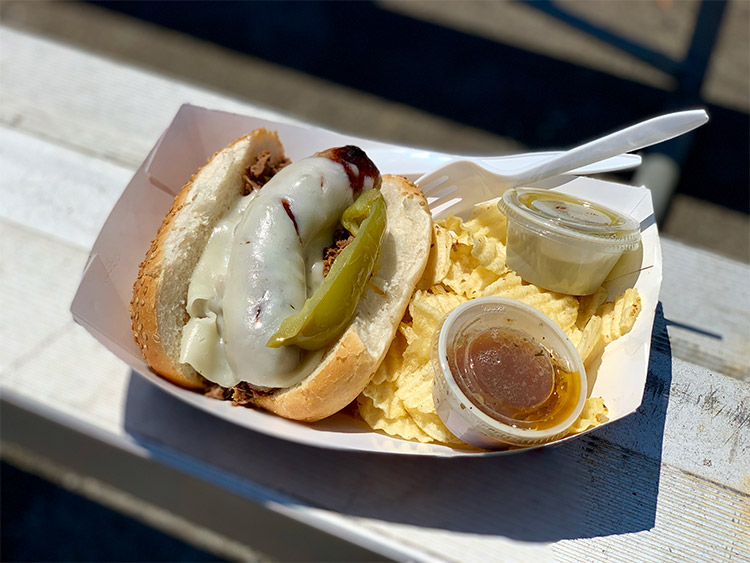 Spicy Pollo Tacos – BelAir Cantina ($9)
After quickly establishing a stronghold in Milwaukee and its surrounding suburbs, BelAir Cantina decided to take the leap and start vending at Summerfest in 2018. If you're near the Briggs & Stratton Big Backyard and looking for a taco fix, BelAir has you covered with eight taco types, chips, salsa, guacamole, and nachos. We really enjoyed our duo of spicy pollo tacos, which was liberally stuffed with pulled white meat chicken breast, lip-tingling chilies and spices, and a fresh citrus slaw. Of the new food items, this one ranks especially high.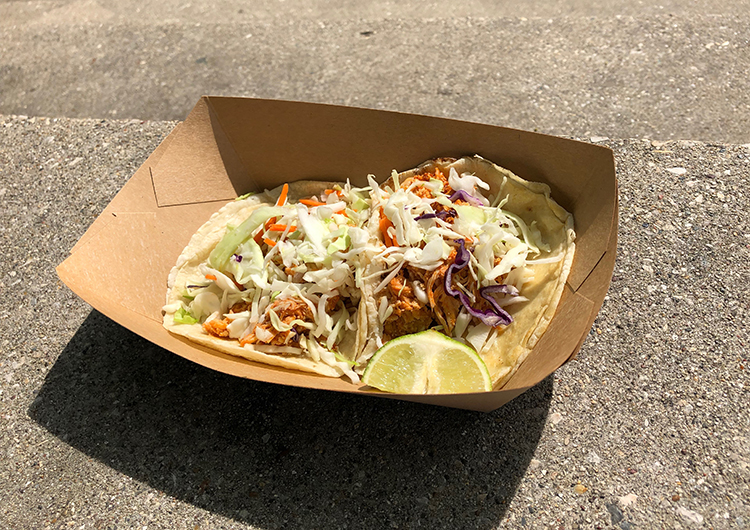 Pete's Pops – BelAir Cantina ($5)
And while you're at BelAir, how about some dessert? If you're not already familiar with the frozen local goodness of Pete's Pops, you can now get acquainted at Summerfest. You'll find Pete's Pops at multiple BelAir Cantinas throughout the grounds, so plan on ordering a few. For our money ($5 to be exact), the salted watermelon is the way to go. If that's not your bag, you can choose from raspberry lime and Georgia peach. And every pop comes with a motivational message worthy of Andrew W.K. Keep pushing, indeed!