Caleb Westphal hasn't missed a Friday fish fry since 2013. In April 2017, he began writing a weekly column documenting and reviewing his latest fish fry destinations. Here are his top places for 2017, with excerpts from the full reviews.
68th Street Pub
This was the second time I'd been to the 68th Street Pub, and somewhere down the long and winding fish river I'm sure I'll dock back at it again. A few years ago I decided to leave my house on Friday nights without a plan as to where I was eating, and stopped at random places that looked like they might have a fish fry. I ended up at a few places that turned out to just be bars, and at one of them the bartender asked me if I had ever been to the 68th Street Pub, because it was supposed to be good. That's how I ended up there the first time. I feel like one of these weeks I'll have to set out on an adventure like that again, and maybe I'll just keep my eyes peeled for gravel parking lots while I'm on it.
Rating: Multiple fish fry options, cozy and quaint classic Wisconsin bar atmosphere, gravel parking lot, each component of meal was above average, ATM fees, ATM that is totally in the way, like can't you get rid of one of those casino games and put it in its place? 4 out of 5 stars.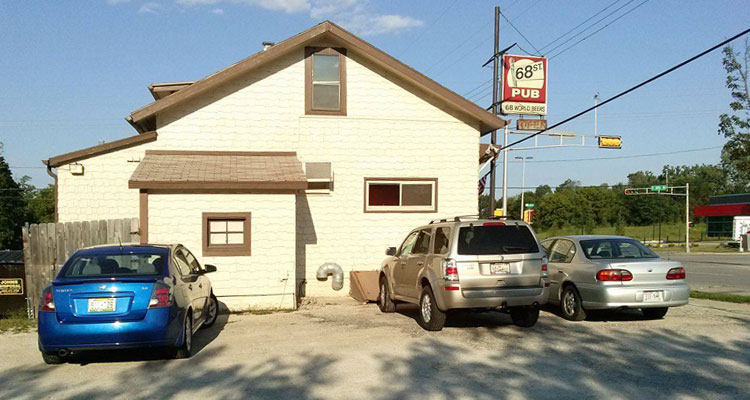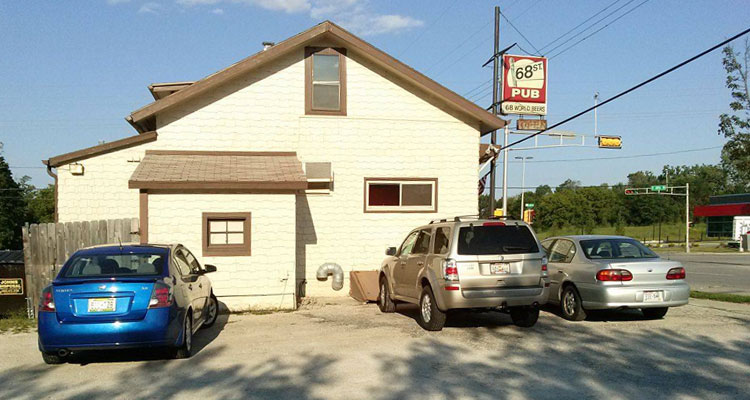 Clifford's Supper Club
This won't be the last time I eat Clifford's fish. Some places have fish frys on Wednesdays and Fridays, and some places only expand to this during Lent. Clifford's serves fish frys seven days a week. No matter where you are or when it is, you can always have a smile on your face, knowing that someone might be eating fish at Clifford's right now. What a wonderful world.
Rating: Building has two parts, so it's like two fish fry restaurants in one; charming and nostalgic supper club vibes; great service; consistently delicious stream of all-you-can-eat-fish with a well-paired tartar; you can go here every day of the week for fish and you probably won't get sick of it. I'm really torn here, should I give it higher than a 4? Sure. It has the perfect blend of ambiance and food. This one is pure Wisconsin. 4.5 out of 5 stars.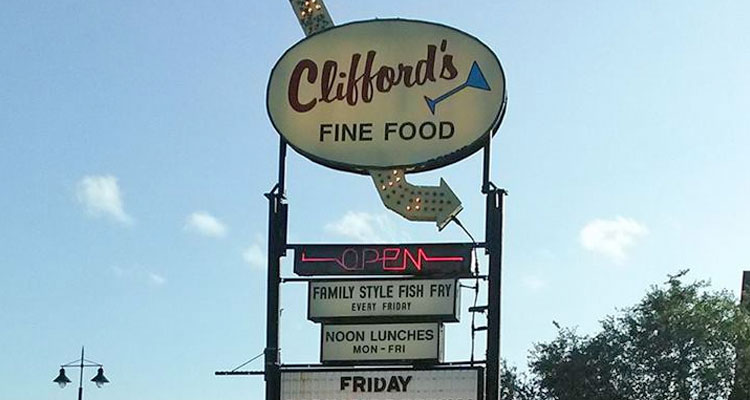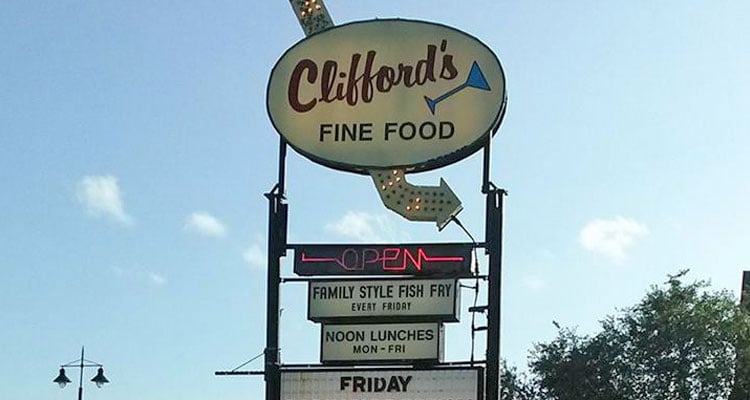 Kokopelli's Pub & Grub
Kokopelli's appears to be your average West Allis corner drinking establishment. It has a large bar with a decent amount of space, and a back room with more seating. The place was almost empty when we went in, though it was possible that a bunch of the usual clientele might have been at the fair. One guy was sitting at the far side of the bar yelling things at the Brewers game on TV. At one point a loud truck drove past and the bartender exclaimed, "That's the sound of Stallis!" Without missing a beat, a guy drinking a mini pitcher by himself said, "The sound of Stallis is sirens outside my house at 2:30 in the morning." Apparently, the Sound of Stallis is no Sound of Silence.
Rating: Outstanding fish; no potato pancakes, but potato medley; the "Sound of Stallis." 4 out of 5 stars.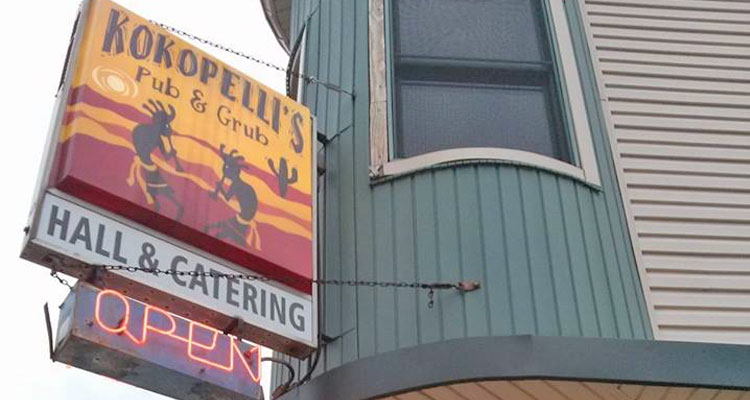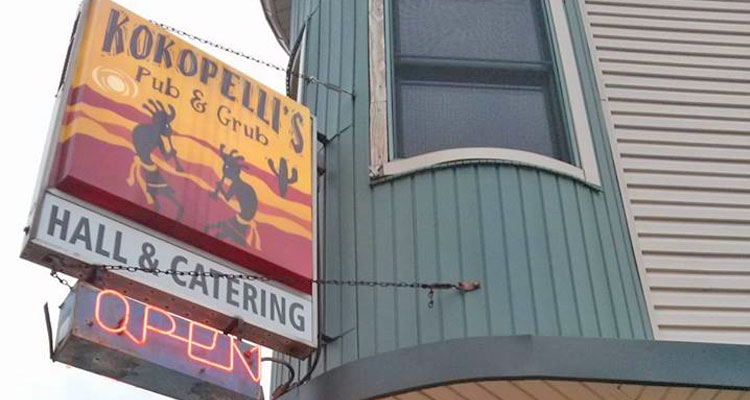 Lakefront Brewery
Part of the fun was being able to share the experience with people that usually don't eat fish. One of my friends, who hasn't had a fish fry in about five years or so, yelled to me, "Damn, that was a damn good fish fry!" I think he is right. Lakefront does have a damn good fish fry. When lists come out of the top fish fries in the city, Lakefront almost always makes the cut. The fry is solid. Is it markedly better than most fish fries in the area? That's debatable. It is really good, but there are a lot of places under the radar that have fries of the same caliber. What pushes Lakefront above a lot of the pack is the atmosphere. The loud jubilant environment might not be for everyone, but I think it is fitting, and an excellent representation of what beer, fish, and polka music means to our city. In short, eating a fish fry at Lakefront is a Milwaukee rite of passage.
Rating: Seven seafood meal options; live polka music; large table dining; some of Milwaukee's best beer on tap; you can go on a brewery tour after eating, and then if you really want, you can get another fish fry after finishing your brewery tour. 4 out of 5 stars.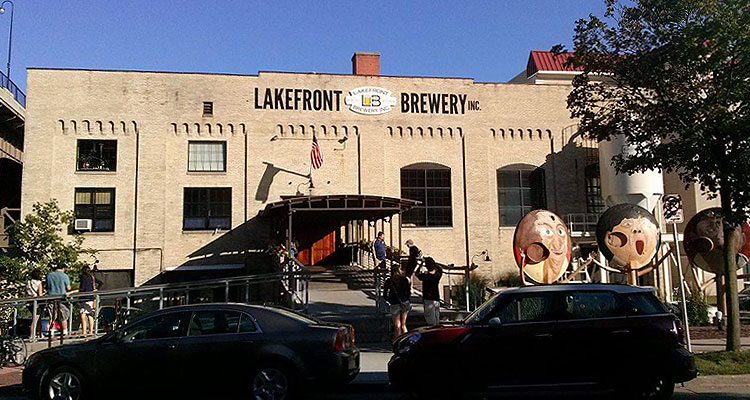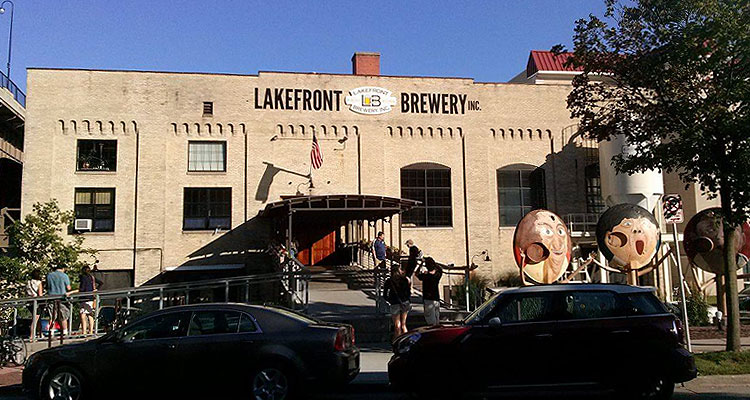 Muskie's Gourmet House
I have a handful of friends that switch off joining me to get fish most weeks. I can't expect anyone to want to do this every week, even though I ask some of them to anyway. Sometimes the quest for a fish fry is a solitary experience, where you feel like the protagonist in an old noir film, or one of Hopper's Nighthawks sitting at the diner. Both the atmosphere and food of Muskie's had a Wisconsin warmth that can make any native feel like they're right at home even if they come alone. As I got ready to leave, a lady sitting near me suggested I come back to try their prime rib. There's a good chance I will.
Rating: Screams "Wisconsin," excellent cod, great customer service, Ol' Blue Eyes may serenade your whole meal. 4 out of 5 stars.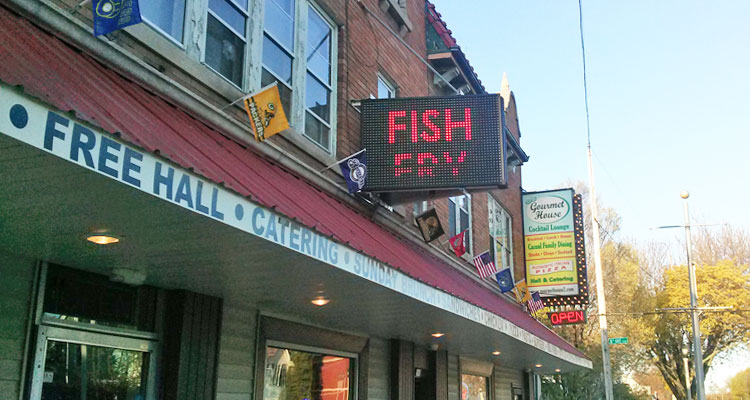 Pitch's Lounge and Restaurant
I thoroughly enjoyed my time at Pitch's. Besides the great atmosphere and food, I had great service. My waitress offered to wrap up the leftover bread, including the raisin bread, so I could take it home. My Saturday started off right with the raisin bread complimenting my coffee. There's a good chance I'll be back to Pitch's again down the road, maybe to try their ribs.
Rating: Intriguing Milwaukee backstory, excellent service, tasty crispy fish, 11 fry options, homemade raisin bread, supper club-like ambiance. 4 out of 5 stars.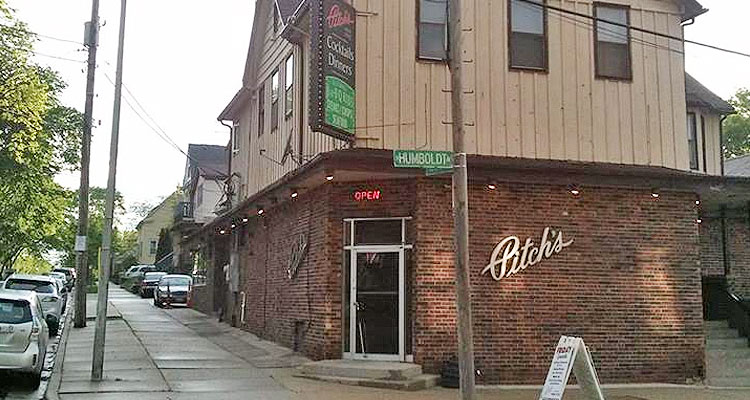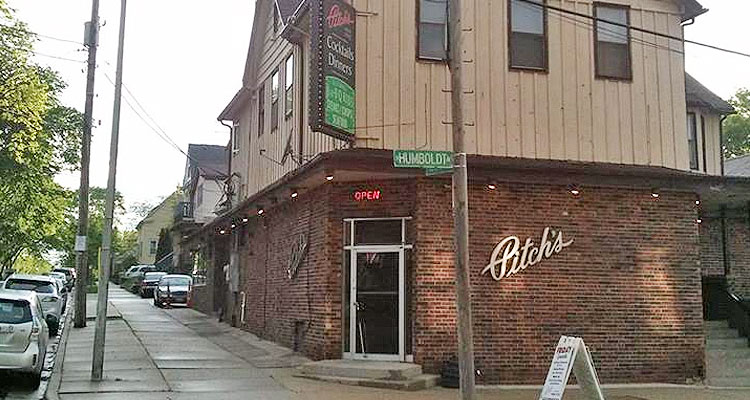 Polish Center of Wisconsin (only open during Lent)
I took a little bit of everything on my first plate. The creamy coleslaw was especially good, and the vinegar slaw wasn't that bad either. I was impressed with the fish, which had a light crispy breading and wasn't greasy. The pieces were quite large and did not have an overbearing seasoning. The tartar sauce was excellent and went well with the fish. I usually don't have the option to try two types of fish in one sitting, but I thought I'd throw my fry morals aside and try the baked fish since the buffet gods had blessed me with it. Well, it wasn't fried fish, but it was good, too. The french fries weren't anything special, and seemed to just be some crinkle cuts that had been sitting in a freezer. The pierogis were a delicious add-on, which I've never had at a fish fry before. I ended up going for a second plate, which speaks for itself. The only thing I would have added to the buffet was clam chowder, of course.
Rating: High quality All You Can Eat buffet, cheaper than most places charge you for a single plate in downtown Milwaukee. And do those places have an accordion player playing during your meal and a beautiful lake in back? I doubt it. Get some clam chowder on that buffet line and keep this open year round and we are inching closer to it being a keeper Whopping Walleye. 4 out of 5 stars.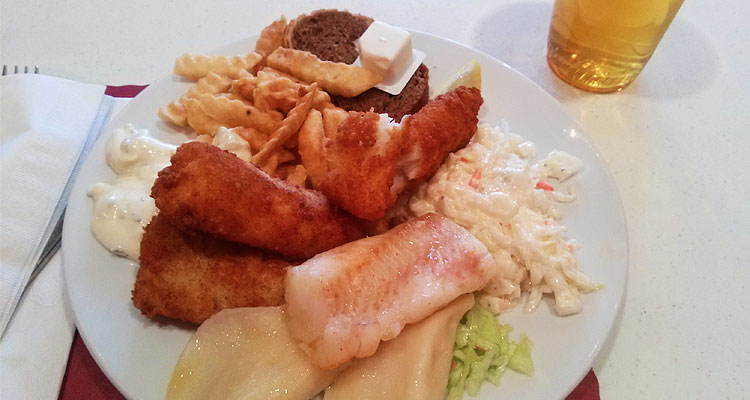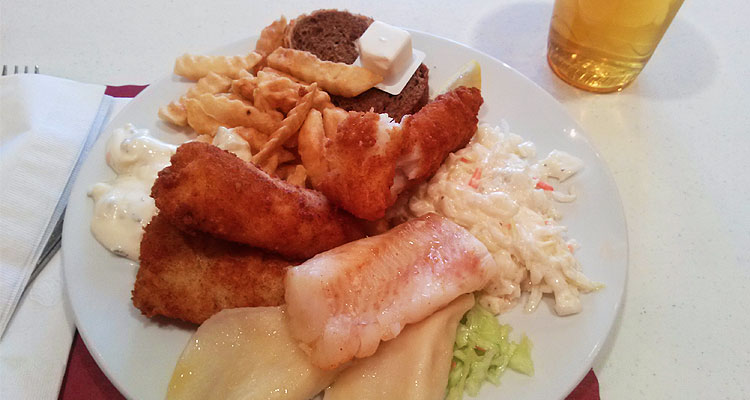 Range Line Inn
If you are looking for a quiet evening in a cozy atmosphere, The Range Line Inn will meet your needs. The food was good enough to warrant a drive north of town, and although the building has been used in many capacities over the years, I think there is a good chance that it will have the role of restaurant for some time to come.
Rating: Best rolls ever; crispy golden beer batter on the fish; so so quiet—I dropped my forks on the floor by accident because I was so excited it was Friday and the whole place probably heard me; solid homemade potato pancakes; historic building; cozy atmosphere; refined presentation—except for the one TV that was tuned to Family Guy for some reason, and an electronic witch that lit up and said stuff when you entered and left the building. 4 out of 5 stars.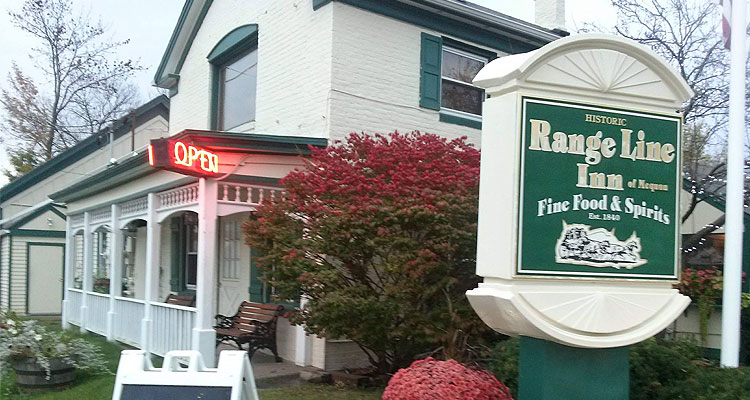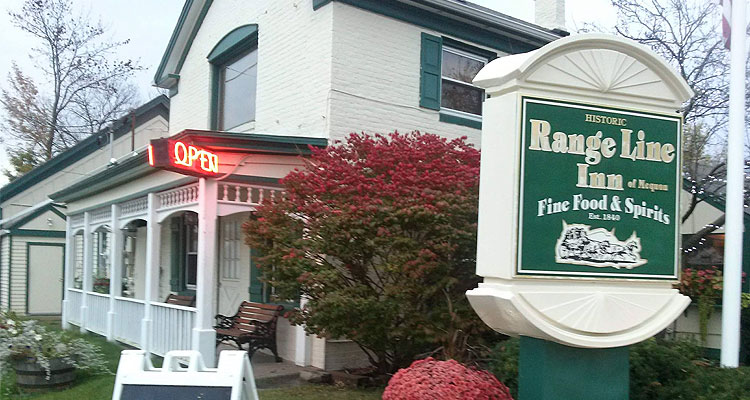 The Schwabenhof
Schwabenhof is steeped in tradition, which enhances the Friday night fish fry experience. The food is excellent, but to-go there on a packed Friday is an event in and of itself, and I almost enjoyed the ambiance as much as the food. Maybe this was just a Lenten finale fluke, but I'd suggest you make the drive under the arched sign and see for yourself.
Rating: Dynamic ambiance, hard working and efficient wait staff, AYCE options, excellent food, tradition, an all-around experience. You can't get much better than this. 4.5 out of 5 stars.
Best "Before This Column Began In April" Fish Frys
Crabby's Bay & Grill
Erv's Mug
Fritz's Pub
Kegal's Inn
Klinger's East
Pat's Oak Manor
Randy's Neighbor's Inn
Best "On The Road" Fish Frys
Club Tavern (Menasha)
Lost Land Lake Lodge (Hayward)
Moose Inn (Wautoma)
Walleye Weekend (Fond du Lac)