Caleb Westphal hasn't missed a Friday night fish fry since 2013. Follow along with his record-in-the-making here.
Cinco de Mayo, the day when Americans celebrate Mexico's victory over French forces at the Battle of Puebla by gorging themselves with tacos and imbibing margaritas until they can't walk straight, happened to land on a Friday this year. I was a little bit bummed I was going to miss the fun, but I thought I had figured out a solution. I headed over to Cafe el Sol, where their Latin-style Friday night fish buffet has garnered high reviews over the years. Unfortunately, I found out the fish fry buffet was closed down for an annual dinner for the evening. As I got back in my car, I scrambled for some ideas and decided to head down to Muskie's Gourmet House (800 Milwaukee Ave., South Milwaukee, 414-435-0181).
By the time I arrived at Muskie's it was almost 7 p.m., but I was told it would still be about a half an hour wait for a table in the dining room. I decided I'd sit at the bar to expedite the fish eating, and because that is where most of the energy is anyway. The place has the feel of a traditional Wisconsin bar, with a faint aura of a Wisconsin supper club. Sinatra plays on the stereo, wood paneling adorns the walls, a pool table sits in the room, and a mammoth six-angled bar stretches from the front of the building to the back. The clientele of the establishment trends older; the conversation I had at the bar was about Loretta Lynn's recent stroke, not whatever it is kids talk about these days.
To start things off I ordered a Brandy Old Fashioned Sweet and clam chowder. The Old Fashioned was decent and so was the chowder, which had lots of carrots, celery, and potatoes in it. As I waited for the main meal I noticed the bartender was working so hard running back and forth from one end of the expansive bar to the other that he was almost sweating. Seeing someone doing all they can to get customers what they want at such a frenetic pace is evidence of dedication to one's work. I figured this would be a good omen for the fish to come.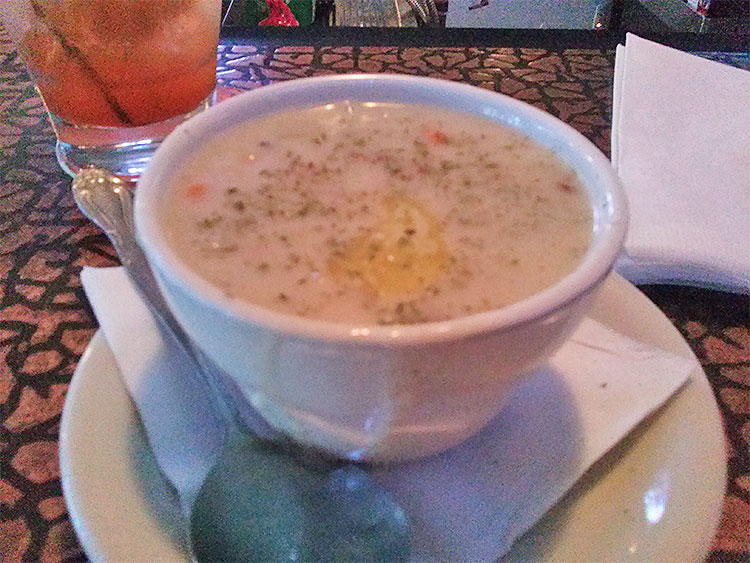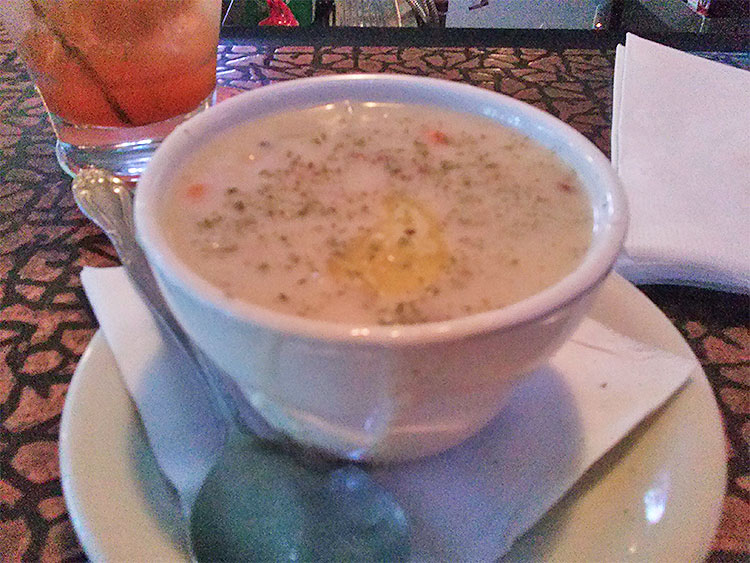 I ordered the cod fry, which was $12. The meal came with four pieces of cod, and the menu said for another $2.50 a second helping of fish could be bought. Just like Little Bear's porridge in the famous fairy tale, Muskie's fish was just right. It wasn't too crispy or too soggy, it flaked nicely, and it paired well with the tartar sauce. If I gave a star rating for just the fish itself, this would be close to a five. The potato pancakes were really thin, were not fluffy, and had a bit of a chew to them—but in a good way. The coleslaw was your average creamy slaw variety, and I thought the rye bread was a little dry.
I have a handful of friends that switch off joining me to get fish most weeks. I can't expect anyone to want to do this every week, even though I ask some of them to anyway. Sometimes the quest for a fish fry is a solitary experience, where you feel like the protagonist in an old noir film, or one of Hopper's Nighthawks sitting at the diner. Both the atmosphere and food of Muskie's had a Wisconsin warmth that can make any native feel like they're right at home even if they come alone. As I got ready to leave, a lady sitting near me suggested I come back to try their prime rib. There's a good chance I will.
Rating: Screams "Wisconsin," excellent cod, great customer service, Ol' Blue Eyes may serenade your whole meal. 4 out of 5 stars.