Caleb Westphal hasn't missed a Friday fish fry since 2013. Follow along with his record-in-the-making here.
Last week I mentioned the idea of heading somewhere around the Wisconsin State Fair to get a fish fry. Well, an attempt was made, and I was unsuccessful. As I neared an establishment across from the fairgrounds, my friend, whom I was meeting there, said it was closed. My best guess is the place was closed because they didn't want to deal with all the chaos around the fair, although I suppose there is some possibility they had something set up at the fair. As I picked up my friend and we tried to escape the fairgrounds area, I was almost hit by a car, and I almost backed into a person. At the same time, my mind was racing to think of a place to drive to. The first place that came to mind was Kokopelli's Pub & Grub (6001 W. Madison St., 414-467-8788), and that's where we headed.
Kokopelli's appears to be your average West Allis corner drinking establishment. It has a large bar with a decent amount of space, and a back room with more seating. The place was almost empty when we went in, though it was possible that a bunch of the usual clientele might have been at the fair. One guy was sitting at the far side of the bar yelling things at the Brewers game on TV. At one point a loud truck drove past and the bartender exclaimed, "That's the sound of Stallis!" Without missing a beat, a guy drinking a mini pitcher by himself said, "The sound of Stallis is sirens outside my house at 2:30 in the morning." Apparently, the Sound of Stallis is no Sound of Silence.
It took me a long time to decide between the four-piece cod, which is $10.95, and the "Full Catch," which is five dollars more expensive and includes cod, perch, and shrimp. I eventually decided on the combination fry, probably because I enjoyed the one I had at Lakefront Brewery a few weeks ago. One thing that was easy to decide was getting the clam chowder, and although it wouldn't win any blue ribbons, it, along with a basket of bread, held me over until the fish arrived.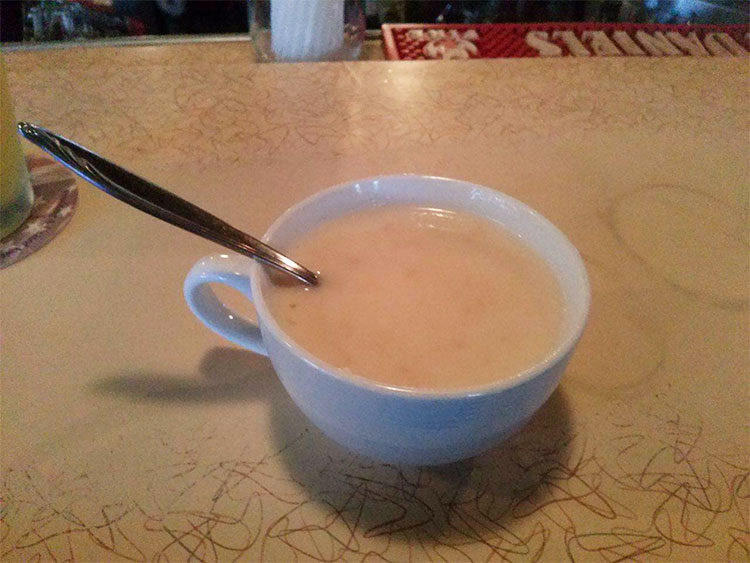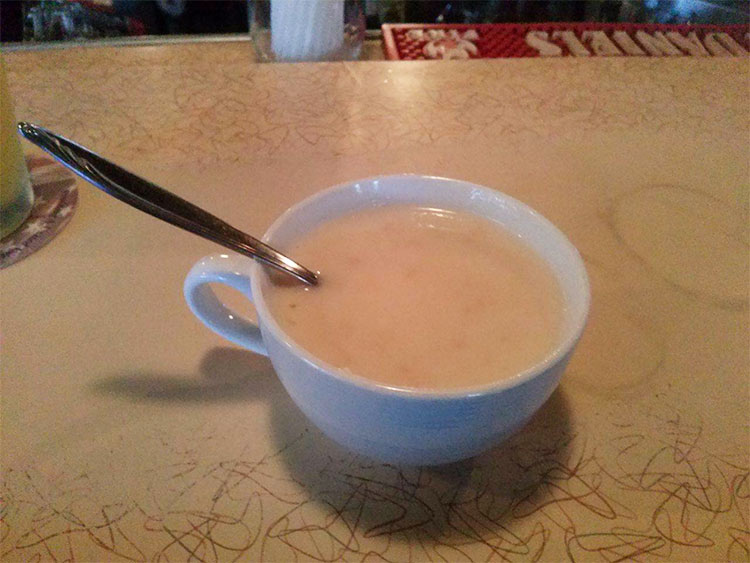 The fry came with three pieces of perch, two pieces of cod, and three pieces of shrimp. The fish wasn't greasy at all, and the batter was perfect. Both the perch and cod were amazing, but I thought the perch was particularly impressive. Honestly, this has to swim somewhere towards the top of the best tasting fish I've had in Milwaukee. I had been to Kokopelli's once before and don't recall the fish being that memorable that time, but maybe I just wasn't paying enough attention. The shrimp was pretty standard, and the tartar sauce wasn't too far removed from mayonnaise. I was told that since I ordered the combo meal, I had the option to have the "potato medley" as my choice of potato. I'm always down to try something new, so I went with it. When it first arrived I was suspicious of its motives, as it looked too healthy for a fish fry. Along with sliced red potatoes, it had carrots, zucchini, and green beans, and it was filled with flavorful herbs and spices. It turned out to be really good, and I'm glad I went with it. The coleslaw was decent, and was creamy with a little sweetness to it.
Now that the State Fair has ended, will this upcoming Friday finally be the week I make it to a place next to the fairgrounds? Or will a flowing fried-fish smell or random circumstance beckon me in another direction? Kokopelli's was a welcome chance of occurrence this past week, and I've come to embrace these adventures. In the end, it really doesn't matter, though, as long as there's fish.
Rating: Outstanding fish; no potato pancakes, but potato medley; the "Sound of Stallis." 4 out of 5.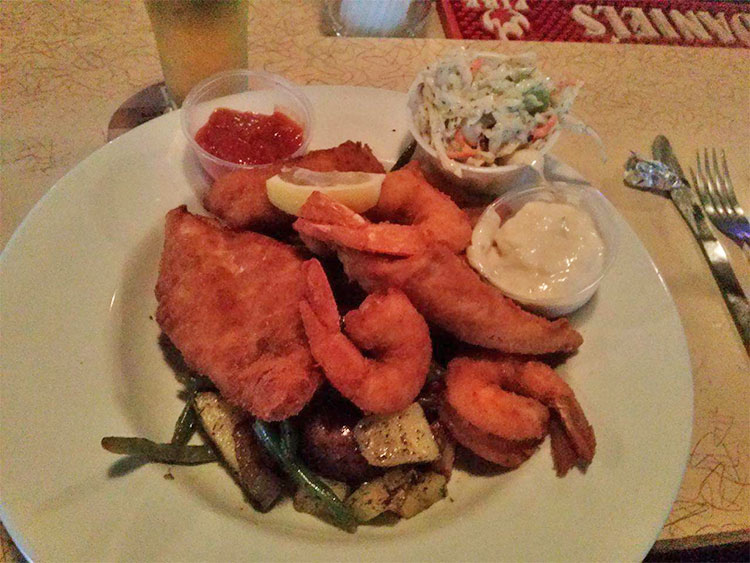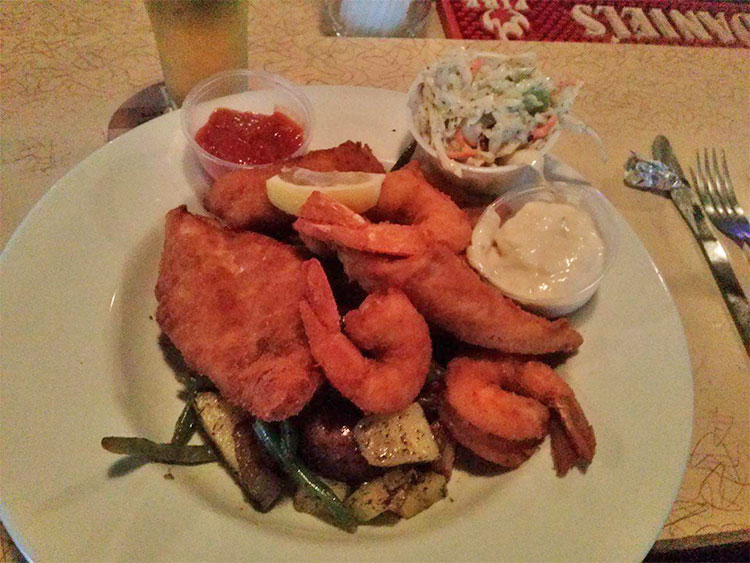 P.S. 
I thought I'd try to summarize my rating system, as sometimes it may look like I'm being pretty arbitrary. There are so many factors of food and ambiance that influence my rating, and of course my views are subjective, but I feel like I've been eating enough fish fries that I sort of know what I'm talking about:
On the 1-5 scale the lowest I have gone so far is 2, and the highest has been 4.5.
A fish fry of anything less than a 2 would be so bad that it would warrant the establishment to be kicked out of Wisconsin.
A 2 is below average and I wouldn't see myself returning there.
A 2.5 is average, meaning that nothing too exciting is happening with the food or ambiance, but it does the job of providing you fish on a Friday.
A 3 is just above average, meaning I'd go there again and the place is pretty representative of a lot Wisconsin fish fries.
A 3.5 has something that sticks out to make it better than average. Maybe it's the ambiance, maybe it's the food.
A 4 is an excellent fish fry, and if you are looking for a place to go, check out one of these.
A 4.5 is an outstanding fish fry, and the ambiance and food are both top tier.
Finally, a 5 is fish fry heaven, and that is the place I am planning on going to when I die. I'm still trying to find heaven on Earth, though, so I won't rule out finding a 5. Thanks for reading my column over the past four-plus months, and feel free to post any suggestions of places to check out in the comments section.