Caleb Westphal hasn't missed a Friday fish fry since 2013. Follow along with his record-in-the-making here.
This past weekend I attended a friend's bachelor party, which I also had the opportunity to help organize. When my friend mentioned Milwaukee might be a good city for the party, and that he wanted to go on a brewery tour, it was obvious that Lakefront Brewery (1872 N. Commerce St., 414-372-8800) had to be one of our stops. Lakefront has such a rousing and entertaining tour, which should have been reason enough to pick it as a destination, but all I could think about was how they have fish fries, too. It was agreed to do both the fry and the tour to kick off the two-day party.
Lakefront's expansive beer hall is full of long tables, allowing families and friends to rub elbows and strike up conversations with neighbors they might not have the chance to meet otherwise. This isn't always easy, though, as the atmosphere is so boisterous that you sometimes have to almost yell to have the person across from you understand what you are saying. This is exactly as it should be, however. It's a beer hall!
After a short wait we were seated, and we ordered some beers and fish. I went with the Fry Combo Platter, which includes cod, perch, and shrimp. As we waited for our food, we were brought baskets with two different types of bread, and I was drawn to the stage where polka music could be heard. The Brewhaus Polka Kings have had a longstanding gig at Lakefront on Friday nights, and they have a pretty eclectic catalog. On one hand they played polka standards like "In Heaven There Is No Beer," but they also had their own take on popular songs such as Johnny Cash's "Ring Of Fire." No matter what they were playing, the young and the old were out on the dance floor.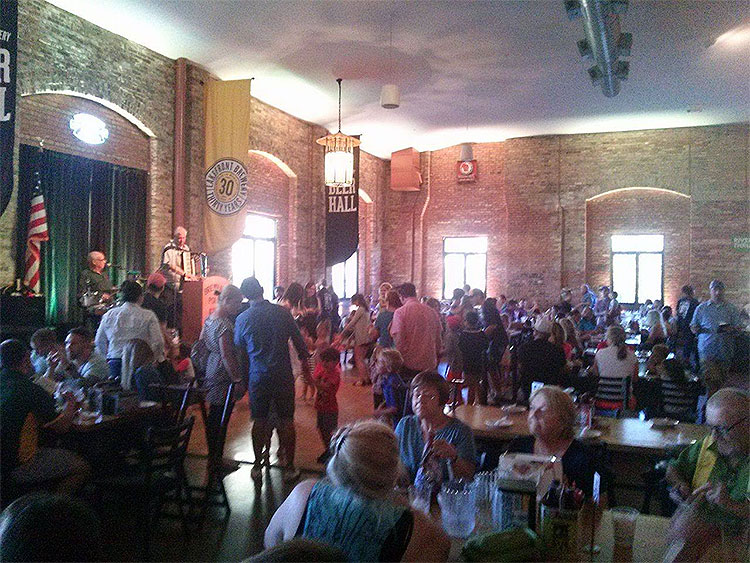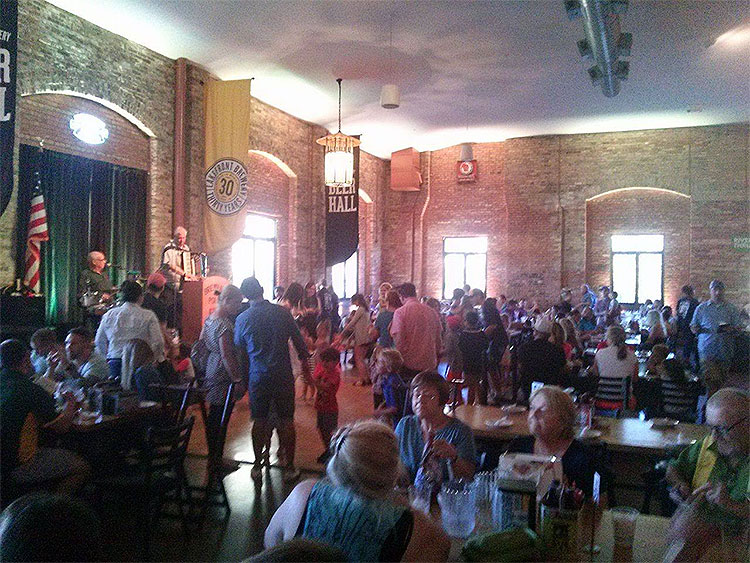 The fry arrived and came with two pieces of shrimp, two pieces of cod, and three pieces of perch. The shrimp were large and couldn't fit into the tiny cocktail sauce container that came with them, which is a good thing. Both the perch and cod were a little better than the norm, with the cod having a crunchy batter, and the perch having a light batter. This is not unlike most batters for these types of fish. The potato pancakes were fine, but the applesauce that came with them was the best I've ever had with a fish fry. Usually pancake applesauce is from whatever cheap brand a restaurant can find. The applesauce at Lakefront had chunky apples in it and was cinnamon flavored. Finally, the coleslaw tasted fresh and healthy, but there wasn't much flavor to it beyond that.
Part of the fun was being able to share the experience with people that usually don't eat fish. One of my friends, who hasn't had a fish fry in about five years or so, yelled to me, "Damn, that was a damn good fish fry!" I think he is right. Lakefront does have a damn good fish fry. When lists come out of the top fish fries in the city, Lakefront almost always makes the cut. The fry is solid. Is it markedly better than most fish fries in the area? That's debatable. It is really good, but there are a lot of places under the radar that have fries of the same caliber. What pushes Lakefront above a lot of the pack is the atmosphere. The loud jubilant environment might not be for everyone, but I think it is fitting, and an excellent representation of what beer, fish, and polka music means to our city. In short, eating a fish fry at Lakefront is a Milwaukee rite of passage.
Rating: Seven seafood meal options; live polka music; large table dining; some of Milwaukee's best beer on tap; you can go on a brewery tour after eating, and then if you really want, you can get another fish fry after finishing your brewery tour. 4 out of 5 stars.