Caleb Westphal hasn't missed a Friday night fish fry since 2013. Follow along with his record-in-the-making here.
Rain pattered gently on the bus windows, and the Lounge Lizards' version of "Harlem Nocturne"" filled my ears as I made my way to Pitch's Lounge and Restaurant (1801 N. Humboldt Ave, 414-272-9313). As I disembarked from the bus and made the last leg of the journey on foot, the skies cleared, perhaps as a harbinger of the food and hospitality to come. Pitch's gives the allure of an old-time supper club from the outside, and that feeling is reinforced as soon as you enter its lounge. A circular bar is mirrored by an ornate stained mosaic on the ceiling, and a photo of the Rat Pack at the Sands hangs on the wall, except the word "Sands" has been replaced with "Pitch's."
I was immediately seated in the dining area, which has mirrored walls adorned with large stained glass panes of women holding grapes and flowers. Every table has a white tablecloth with green placemats, and beautiful chandeliers hang from the ceiling. On the back fireplace mantel sits a large framed photograph of a woman who appears to be overlooking the whole back room. It turns out this is a photo of Katherine Picciurro.
Katherine and her husband John opened Pitch's in 1942. The business, as well as a few others, such as Miss Katie's Diner—named after Katherine—are still run by the family. John and Katherine's son Peter "Pitch" Picciurro currently owns Pitch's. According to Gavin Schmitt, in his book Milwaukee Mafia, "Pitch's Lounge and Restaurant on Humboldt Avenue has a long history of mob ties, with several members of the Picciurro family engaging in illegal gambling operations. Frank Balistrieri's mother was also a Picciurro. Today, the family has no ties and is strictly legitimate (and makes a very fine cocktail)."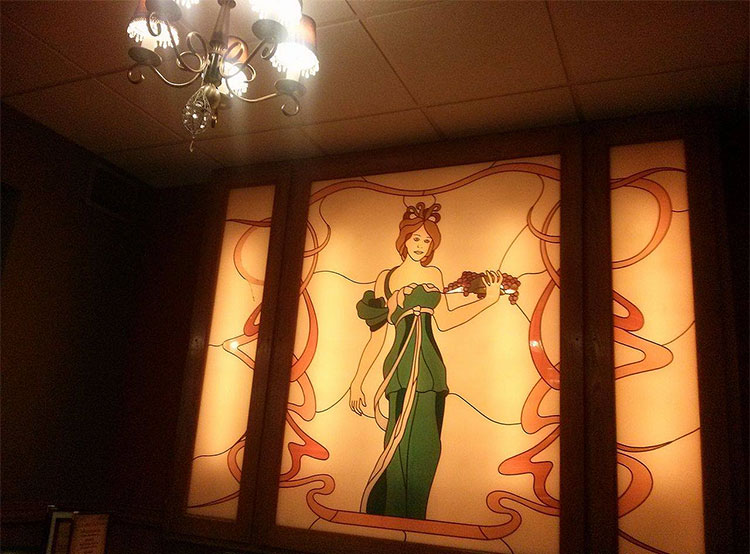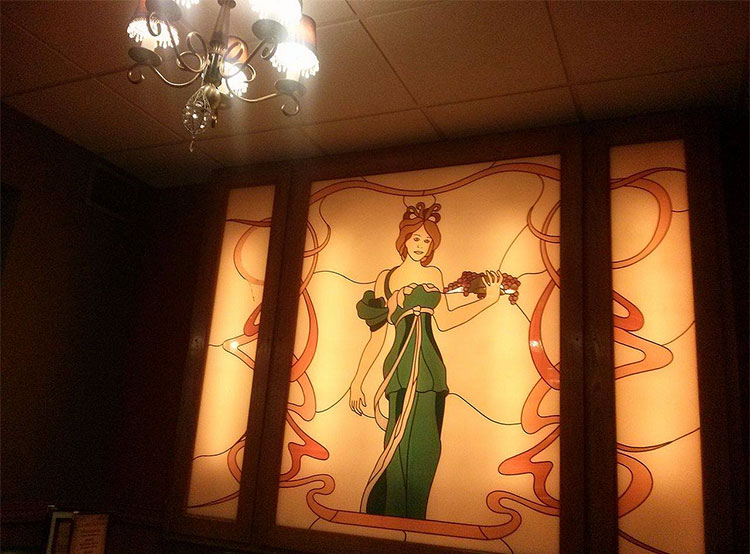 As Schmitt wrote, Pitch's does indeed make a great cocktail, and I started off with my usual Brandy Old Fashioned Sweet while perusing the menu. There are 11 variations of the fish fry available, some of which mix fish with ribs, but I went with the beer battered cod. The clam chowder had lots of clams, and had a sweetness to it. I was brought a bread basket that included Sciortino's bread, as well as outstanding raisin bread that is made right at Pitch's. Potato pancakes are not available at Pitch's, so I decided to go with their hash browns. I thought they were pretty decent, not unlike your usual breakfast greasy spoon types. Like the chowder, the coleslaw also had a certain sweetness to it that I really enjoyed.
The most memorable thing about the fish was its batter. It had the crispiness, texture, and faint taste of batter that would be used for fried chicken, and I enjoyed the originality of it. This has to be one of the first places where I was brought two tartar sauces right off the bat as well. Now that is doing it right! For anyone that is into tartar, it's obvious a second cup will be needed at some point, so why not bring it right away? Pitch's tartar is heavy on dill, which, like the fish, also had an originality to it. Finally, I was brought a small pilsner glass to drink my beer. Any place that brings you a pilsner glass with your bottle of beer is doing something right.
I thoroughly enjoyed my time at Pitch's. Besides the great atmosphere and food, I had great service. My waitress offered to wrap up the leftover bread, including the raisin bread, so I could take it home. My Saturday started off right with the raisin bread complimenting my coffee. There's a good chance I'll be back to Pitch's again down the road, maybe to try their ribs.
Rating: Intriguing Milwaukee backstory, excellent service, tasty crispy fish, 11 fry options, homemade raisin bread, supper club-like ambiance. 4 out of 5 stars.