It's an age-old thought experiment: If a tree falls in a forest and no one is around to hear it, does it make a sound? In the harsh reality of Wisconsin circa 2020, however, the thought experiment could be updated to this: If some guy from West Bend submits his Bratzarella Sticks to the Wisconsin State Fair's annual Sporkies competition and no one is allowed to eat them, do they cause gastrointestinal distress?
That's the question at the heart/stomach of this year's Sporkies: Fairgoer Edition, a pandemic-era oddity that finds the State Fair's annual "unique and unusual food" competition turned on its head/stomach. Instead of eight local restaurants creating bizarre food items and pitting them against one another, gladiator style, this year's competition finds eight regular folks creating bizarre food items and pitting them against one another, gladiator style. A panel of "celebrity judges" (a.k.a. folks from places that have won past Sporkies) and the general public will choose a winner.
And oh yeah: no one will be able to actually taste or eat the stuff.
According to the rules: "Judges will score each finalist on a scale of 1 to 10 in the areas of appearance & presentation, creativity & originality, and presumed taste [emphasis ours]. The finalist earning the most total points will be awarded 1st place."
"Just like during the State Fair, we need your help voting for the best Sporkies Finalist!," says the Sporkies website. "Although we can't try them in person, vote for the finalist you think would taste the best [emphasis ours, again]."
So, um, read the descriptions below and, um, imagine what each creation would taste like. (Vote HERE! Voting closes August 11 at 11:59 p.m.!) Hell, when it comes to a "homemade cornbread twinkie stuffed with sweet and spicy bbq pulled pork topped with bourbon bacon butter, candied bacon, and honey habanero glaze," maybe imagination is for the best.
(The State Fair was canceled this year due to COVID-19, of course, that drive-thru notwithstanding.)
Bratzarella Sticks
Submitted by James S. from West Bend, WI.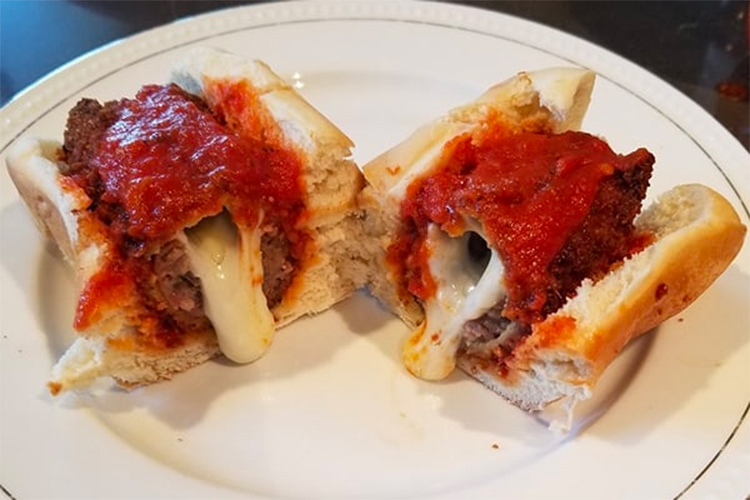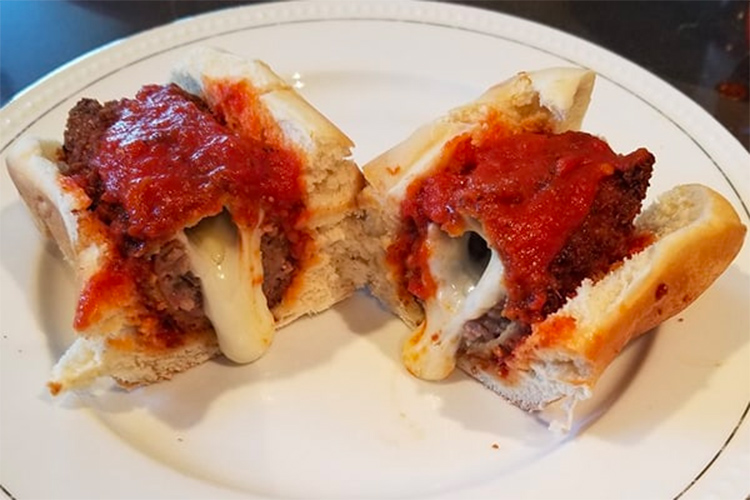 Item Description: Beer brat stuffed with mozzarella cheese, battered, deep-fried, and served on a Wisconsin hoagie bun. Topped with a spicy marinara sauce.
Inspiration: One night while cooking brats for dinner, James' daughter asked to also have some mozzarella sticks. While eating dinner that night, James had the light bulb idea to create a new food where the brat and mozzarella sticks were combined and thus created the Bratzarella Stick.
Wisconsin Sushi
Submitted by Juliet Y. from New Berlin, WI.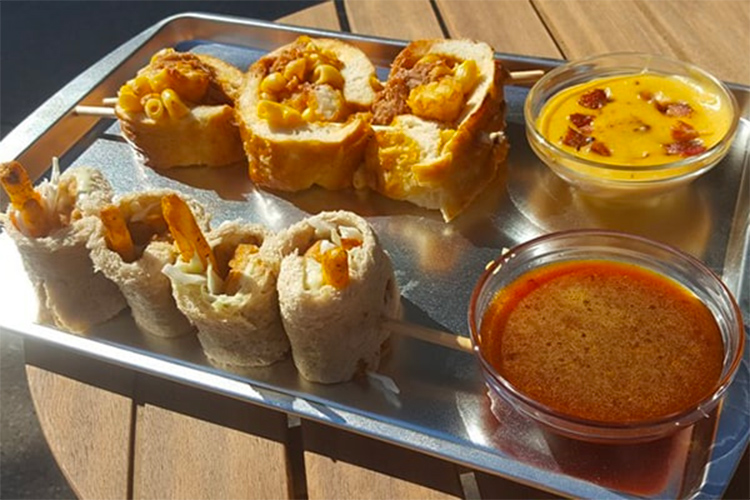 Item Description: "Sushi" plate featuring two different rolls and sauces: (1) pretzel flat bread topped with mac & cheese, bbq pulled pork, and tater tots – for dipping in a beer-cheddar-bacon sauce; (2) rye bread topped with tartar sauce, fried cod, coleslaw and fries – for dipping in a reduced apple and brandy sauce.
Inspiration: Where else but a Friday night fish fry mixed with a soft pretzel?
Saturday Night Supper Club On-a-Stick
Submitted by Ashley G. from Brookfield, WI.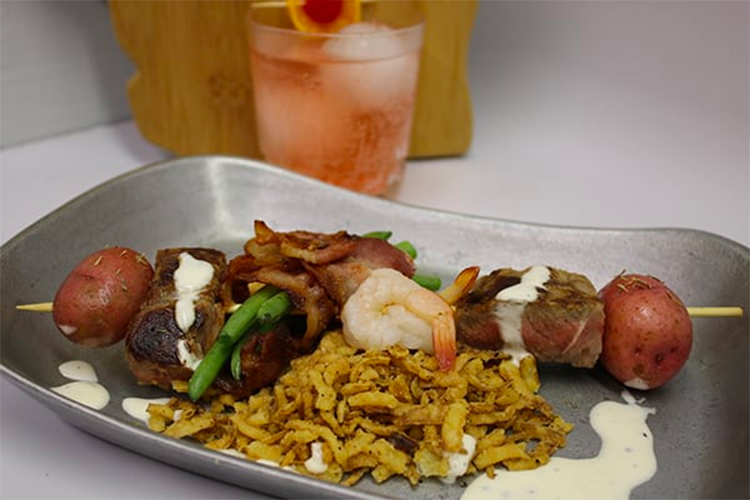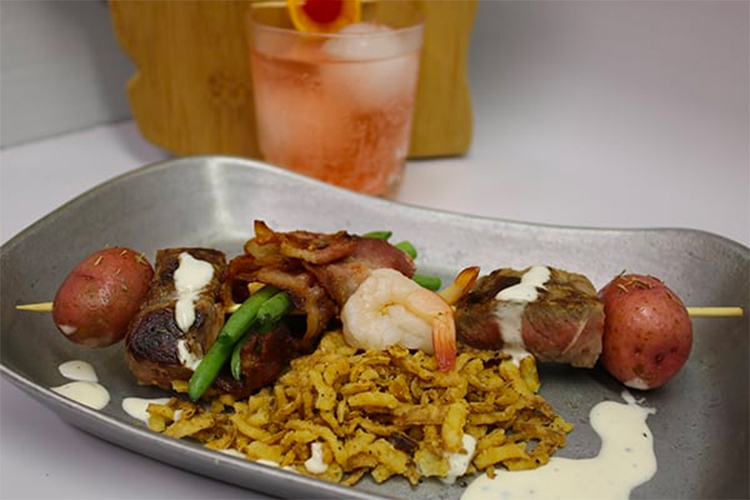 Item Description: Roasted baby red potatoes, brown buttered thyme and rosemary seasoned New York steak bites, seared shrimp, and bacon-wrapped green beans served on-a-stick. Sauced with a roasted garlic and peppercorn aioli and served over garlic haystack onion rings.
Inspiration: The Wisconsin Supper Club is a long-lasting tradition. Ashley and her husband have traveled all across the badger state to visit its many supper clubs.
Welcome to Wisconsin Cupcakes
Submitted by Katie K. from Waukesha, WI.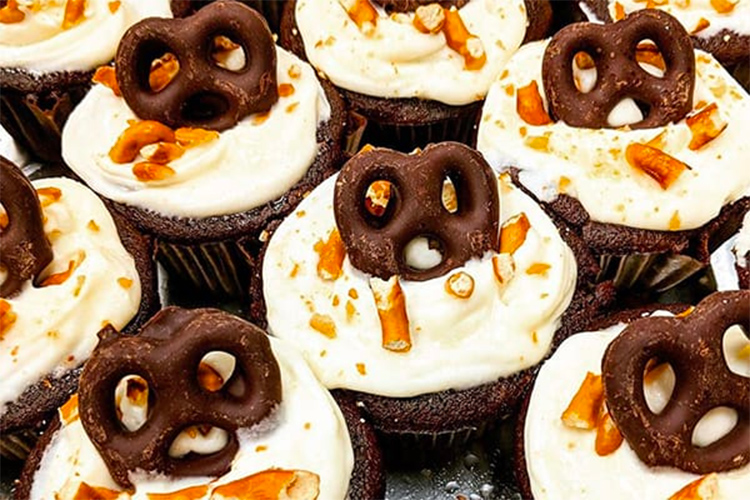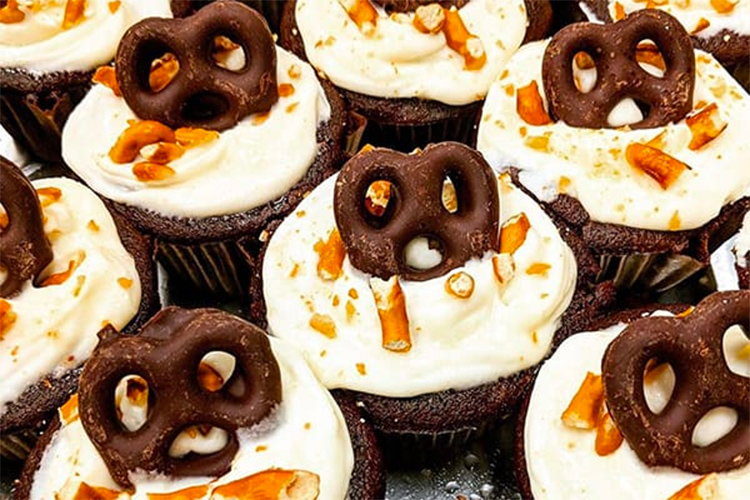 Item Description: Beer-infused chocolate cupcake topped with cream cheese frosting and sprinkled with pretzels.
Inspiration: When a friend was moving to Wisconsin for the first time, Katie came up with this recipe as a way to welcome her friend to the state with a treat that featured Wisconsin's staple items of beer, pretzels and a healthy dose of dairy.
Wisconsin Harvest Rolls
Submitted by Brenda D. from Campbellsport, WI.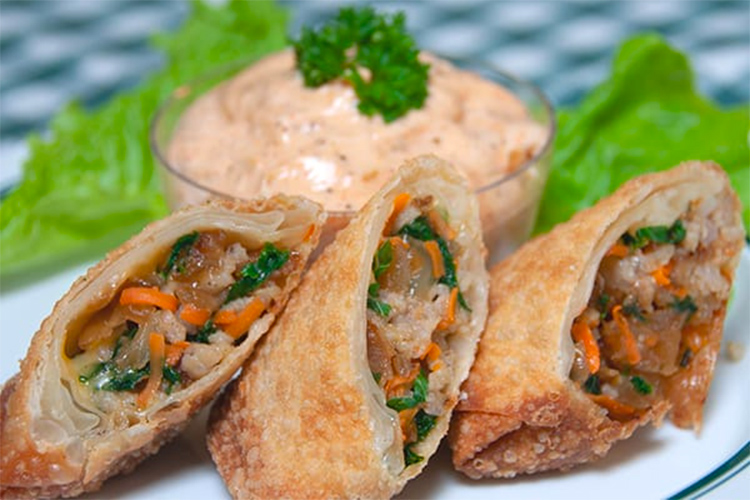 Item Description: These savory rolls feature Wisconsin-sourced ingredients. Savory sausage, caramelized sweet onions, kale, lemon zest, thinly sliced carrots and smoked gouda cheese are wrapped in an egg roll and deep-fried. Served with a smoked paprika and chipotle aioli.
Inspiration: As a resourceful cook who grew up on a Wisconsin Farm, Brenda has always created tasty dishes with ingredients already in the cupboard. The Wisconsin Harvest Rolls originally started as a pizza, but was adapted to an egg roll inspired snack that would be easy to eat while walking around the State Fair.
Wisconsin Hot Bacon Bourbon Pulled Pork Cornbread Twinkie
Submitted by Eric S. from Muskego, WI.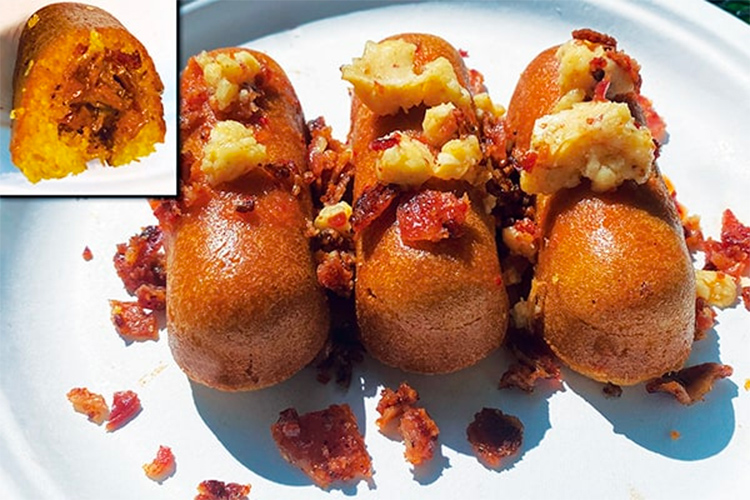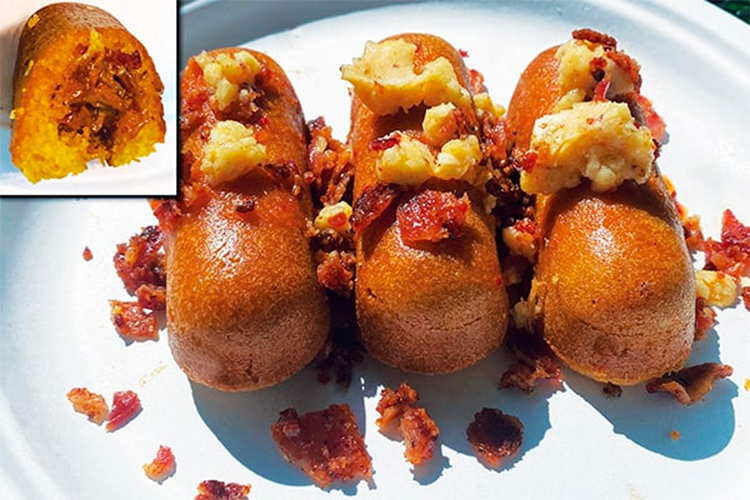 Item Description: Homemade cornbread twinkie stuffed with sweet and spicy bbq pulled pork. Topped with bourbon bacon butter, candied bacon, and honey habanero glaze.
Inspiration: When deciding on what to enter for the Sporkies: Fairgoer Edition, Eric thought about what type of food the State Fair was missing. Since he loves to smoke bbq, eat bacon, and drink bourbon, he came up with a recipe that included them all.
Deep-Fried Bloody Mary with Beer Ranch Chaser
Submitted by Stena M. from Milwaukee, WI.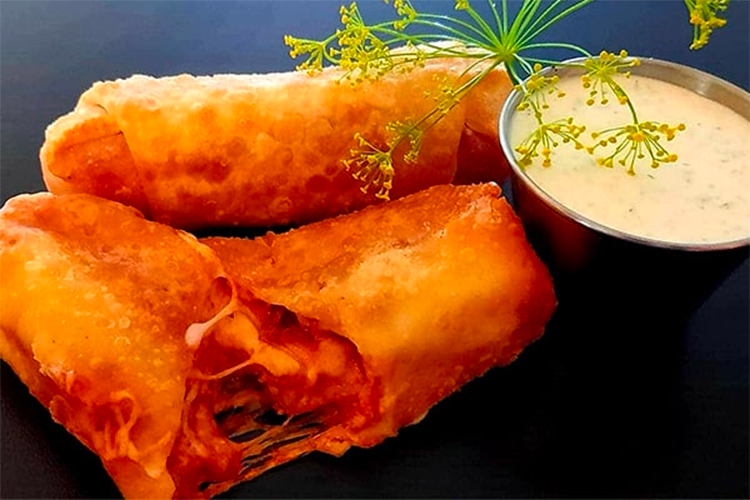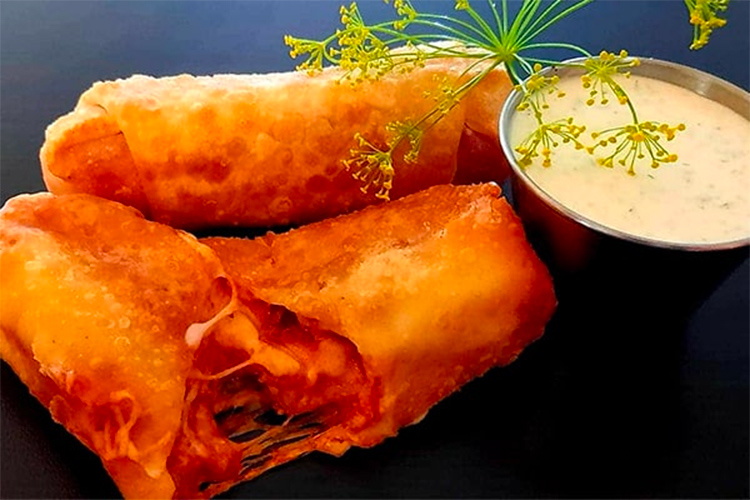 Item Description: Crispy deep-fried mozzarella sticks with all the flavor of a classic Wisconsin Bloody Mary. Served with a cool and tangy beer ranch dipping sauce.
Inspiration: There are few things that embody a weekend in Wisconsin like a Bloody Mary with a beer chaser. As a child, Stena's father used to make a perfectly mixed Bloody Mary with all sorts of garnishes (hers were virgin of course). As a tribute to that memory and a favorite Wisconsin experience, Stena created the Deep-Fried Bloody Mary with Beer Ranch Chaser.
Wisconsin Fish Fry Taco
Submitted by Nick B. from Mukwonago, WI.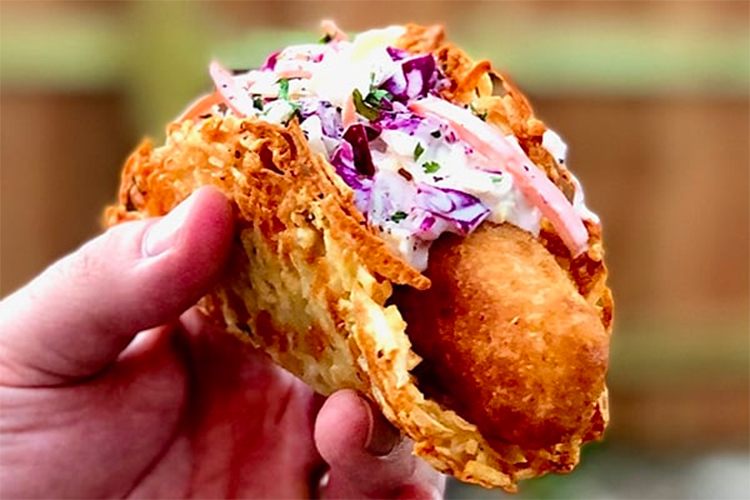 Item Description: A potato pancake "taco" shell is stuffed with fried cod, topped with coleslaw, and dolloped with tartar sauce. An entire fish fry dinner, held in one hand!
Inspiration: What meal is more "Wisconsin" than a fish fry dinner? Inspired by one of Wisconsin's signature meals, Nick wanted to figure out a way to eat it on the go while at the State Fair. And viola, we have the Wisconsin Fish Fry Taco!