Early on in my time spent at Wisconsin State Fair's Fair Food Drive-Thru Thursday afternoon, I realized the car in front of me contained a parrot. Not a parakeet, but an honest-to-god, decent-sized parrot. Yep! At one point, the driver rolled down her window, stuck out her arm, and a parrot just kind of casually walked out and took a look around. I, in turn, took some pictures: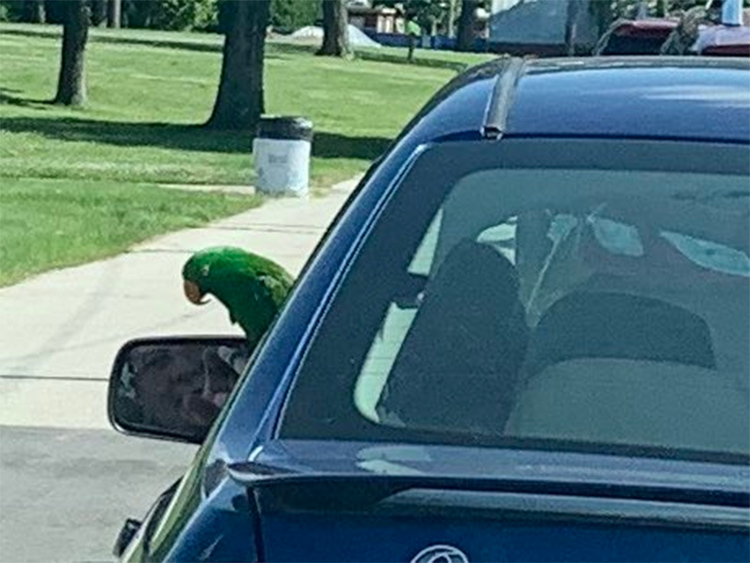 The Parrot Incident was just one of the delightfully odd moments I experienced at yesterday's event. But before we get to those, some background: For the next four weekends, Thursday through Sunday, folks can pull their vehicles into State Fair Park at Gate 9 (S. 76th Street & W. Pierce Street), wait in line, and get routed past a bunch of fair food booths where they can buy stuff like corn dogs, cheese curds, deep-fried candy bars on a stick, and, eventually, cream puffs. The booths change every week. Admission is free. And yes, you have to stay in your vehicle the entire time. (Check out the full schedule HERE.)
It's a pretty nifty and, let's be honest, ridiculous idea. That thought rattled around in my head yesterday during the opening hours of the Fair Food Drive-Thru. Was I really waiting in line, in my car, in order to buy a foot-long corn dog for $8? Was I really contemplating ordering a slice of pickle pizza? Why did I drag my poor 5-year-old daughter along with me? Would we be stuck in line until the sun went down? "I'm in line for the State Fair Food Drive-Thru," I tweeted at 3:52 p.m., eight minutes before the thing officially began, "and I'll see you in October."
Turns out my fears were mostly unfounded. Even though there were approximately 8 million cars, and even though I showed up a mere 15 minutes before 4 p.m., the event was kind of a breeze. There were oodles of helpful volunteers directing you when you wanted to hop off the main route and get in line for a particular stop. (Again, the full schedule is HERE.) There were oodles of helpful volunteers directing you when you wanted to hop back onto the main route. The folks working the food stands were masked, quick on their feet, and thankful for the business. I bought stuff at four of the 11 stops. I was in and out in about 90 minutes. Not bad!
Okay, 90 minutes is a long time to wait for a so-so cheeseburger and an $18 bucket of cheese curds that stretched the definition of "bucket." However, there were a number of strange and/or strangely lovely moments that made the whole thing worth it. Those included:
• Seeing that parrot
• Seeing the current Alice in Dairyland delivering Pork Shoppe pork burgers to waiting cars
• Seeing overdressed TV news reporters diligently reporting on a food drive-thru
• GETTING TO DRIVE ON THE MILWAUKEE MILE SPEEDWAY. Did I mention this? Roughly half of the food stops were located inside the Milwaukee Mile Speedway. Most of the drive-thru route was clearly marked and tightly controlled, but there were two times I suddenly found myself alone on the track, just kind of driving around. I was juggling a phone in my hand and a chatty kid in the backseat, so I only gunned my vehicle up to about 30 mph, but it was still a blast.
• GETTING TO DRIVE INSIDE THE FAIRGROUNDS. The other stops were located inside the park proper, stretching all the way from the livestock barns to the main thoroughfare. And, once again, there were two moments I found myself just driving through State Fair Park. You could almost hear the squeals of the pig races, could almost see the glistening torsos of the bodybuilding competitions. God, I miss the State Fair.
So yeah, the whole thing was kind of fun and kind of weird, just like the State Fair itself. Check it out! Bring your parrot! Want to spice things up while you're waiting 90 minutes for a Johnsonville 10-inch Pretzel-Wrapped Brat ($10 at Gertrude's Fresh Pretzels)? Bring along a ukulele and make up a song, like Milwaukee's Before Nitrogen:
And yes, I did order a slice of pickle pizza ($7 at Rick's Pizza), and yes, it was great.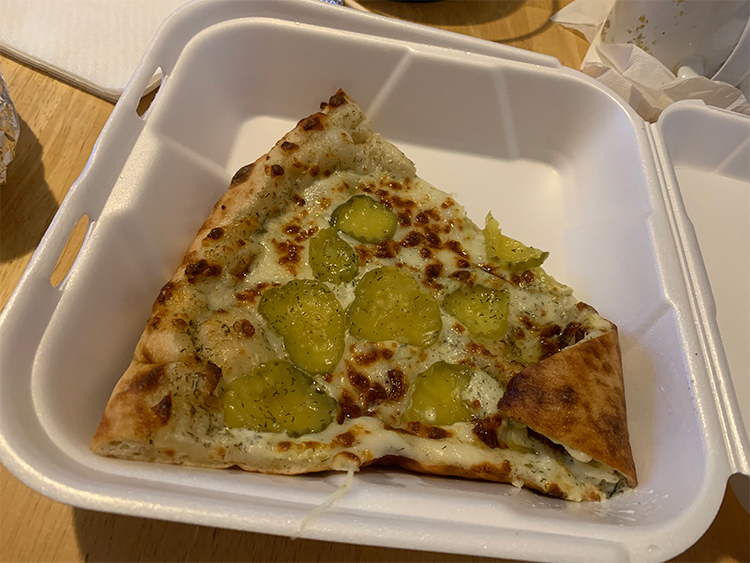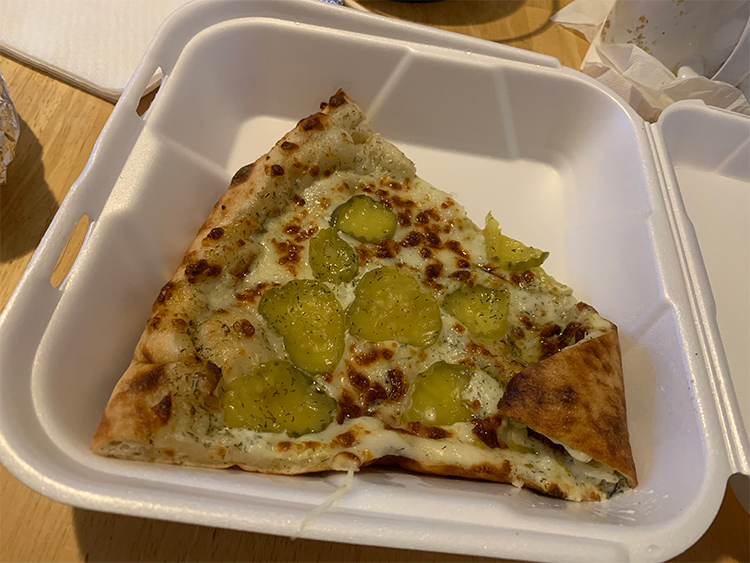 Exclusive articles, podcasts, and more. Support Milwaukee Record on Patreon.
---
RELATED ARTICLES
• Reminder: The Wisconsin State Fair food drive-thru thing begins this Thursday
• The 2020 Wisconsin State Fair has been canceled
• Mandatory Milwaukee (and/or West Allis): Long live the Wisconsin State Fair!
• Celebrate the first day of the 2019 Wisconsin State Fair with 10 years of ride-inspection videos
• Celebrate the first day of the 2017 Wisconsin State Fair with some Giant Slide videos
• Celebrate the first day of the 2016 Wisconsin State Fair with some bodybuilding videos
• Celebrate the first day of the 2015 Wisconsin State Fair with 10 years of pig racing videos
• 240 consecutive Friday fish frys and counting: Wisconsin State Fair (Slim's Lakefront Brew Pub & Eatery, Door County Fish Boil)
• We tried (and ranked) all 8 finalists for best "unique and unusual foods" at the 2018 Wisconsin State Fair
• We tried and ranked all the State Fair's Milk House flavors…on the bleachers where those people had sex last year
• A couple had sex in the State Fair bleachers, and FOX6 talked to a mom and son unwittingly sitting in the same bleachers a few days later