Milwaukee loves donuts. Dozens of bakeries in the city and its surrounding suburbs help people get a sweet start to their day with long johns, crullers, jellies, powdered, cream-filled, cake donuts, and more. If you're looking for the "hole story" on Milwaukee-area breakfast pastries, let our Dollars For Donuts column be your guide.
Though Holey Moley Coffee + Doughnuts (316 N. Milwaukee St., 414-308-1616) has been open for less than five years, it seems as if the boutique donut purveyor has been around far longer than that. Since landing in the Historic Third Ward in August 2014, Holey Moley has quickly become one of the city's most popular donut destinations and has helped push the diversity of local breakfast pastries to innovative a new territory.
Even though expansion to Miller Park and Wauwatosa's Mayfair Collection were both short-lived, Holey Moley's original flagship location appears to be going strong. Admittedly, despite the shop's notoriety and its wide availability, we hadn't made it in until very recently. Friday morning, we dropped by the Third Ward shop to see what one of the city's newest and most popular donut joints had to offer.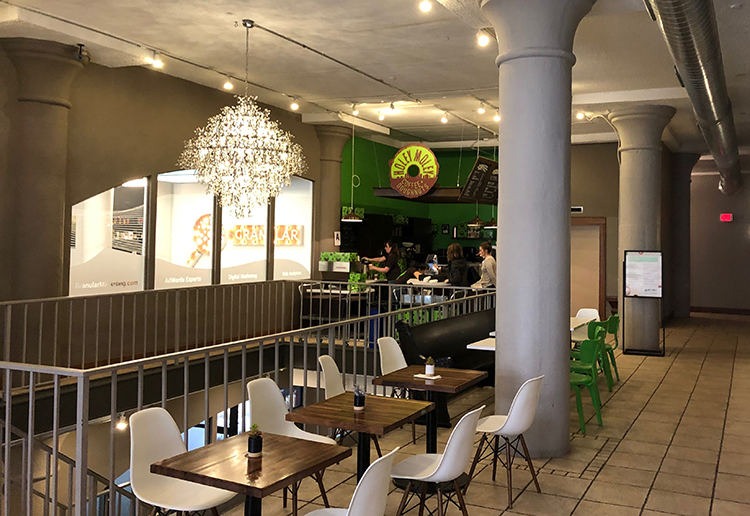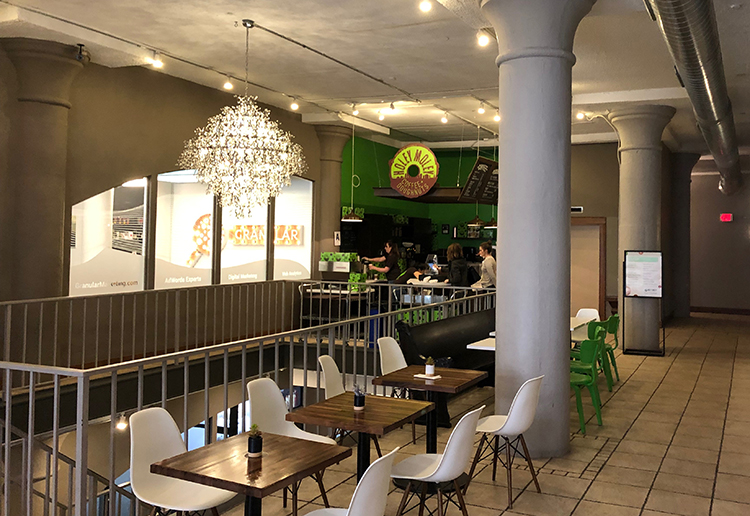 Despite the big name it has in the local donut scene, we were surprised to see Holey Moley's physical presence was actually quite minimal. The small stand was wedged into a corner of a Milwaukee Street plaza that also has a Fresh Fin Poke location under its roof and is situated beside Fauntleroy.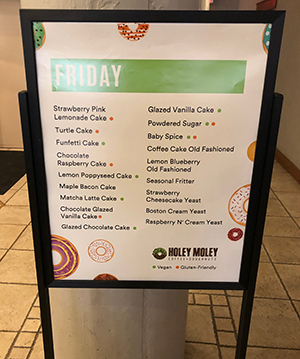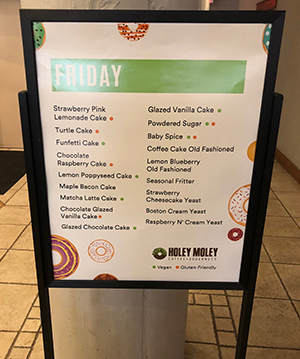 While space is limited, Holey Moley manages to maximize its space by stocking lots of donut varieties in the kiosk. Friday's arsenal alone presented us with an astounding 18 options (more than we've seen at many expansive full-on brick and mortar spots we've covered in this series). Among them, more than half were either vegan and or gluten-free, making the majority of their menu something anyone is able to enjoy.
While some of that selection—glazed chocolate cake, seasonal fritter, and the now-common bacon maple varietal—were standard fare, we were excited to see that many of the options on hand this particular day were refreshingly unusual.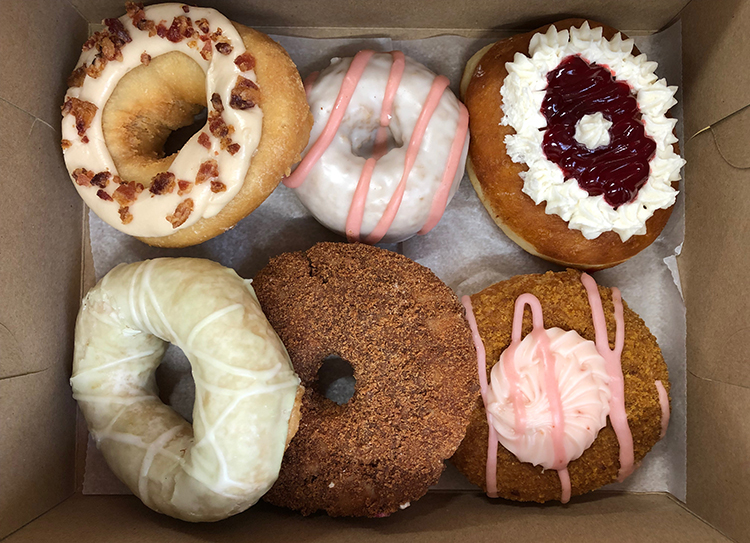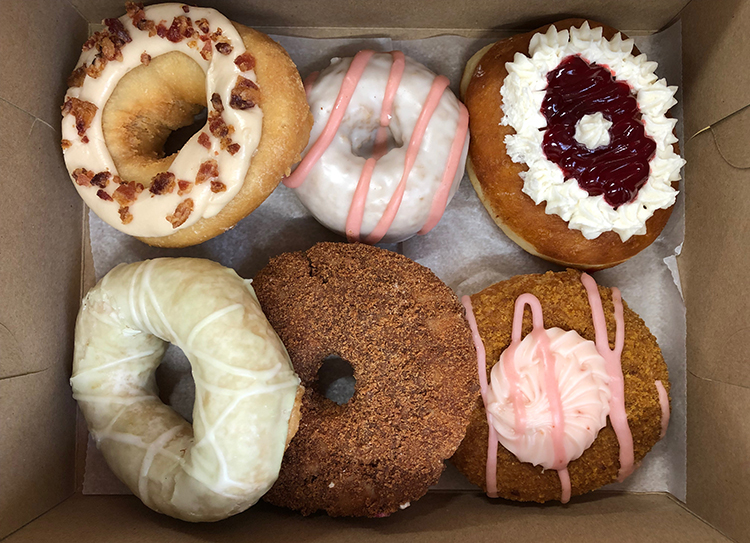 We decided the best course of action would be to grab a total of a half-dozen donuts that spanned conventional offerings and offbeat options. We started with a Maple Bacon Cake (top left) that was a solid execution highlighted by rich maple frosting. We then moved to a Strawberry Pink Lemonade Cake (top center) that was a dense and beautifully decorated orb of fruity sweetness. Speaking of sweet, the Raspberry N' Cream Yeast (top right) was stuffed with an abundance of tart and tangy raspberry filling that was also present on top of the donut along with gorgeous cream piping.
On the creamier side of things, we thought the Strawberry Cheesecake Yeast (lower right) was a satisfying blend of crumble-y graham cracker topping and decadent strawberry cream cheese filling atop moist and fluffy dough. On the other end of the spectrum, the Coffee Cake Old Fashioned (lower middle) was a semi-savory delight that was a crispy and round take on the cruller and maybe the favorite one of the batch. The Matcha Latte Cake (lower left) was also a surprising standout of the bunch, with a distinct milky (in spite of it being vegan) and light green matcha-accented coating around a soft ring of perfectly fried dough.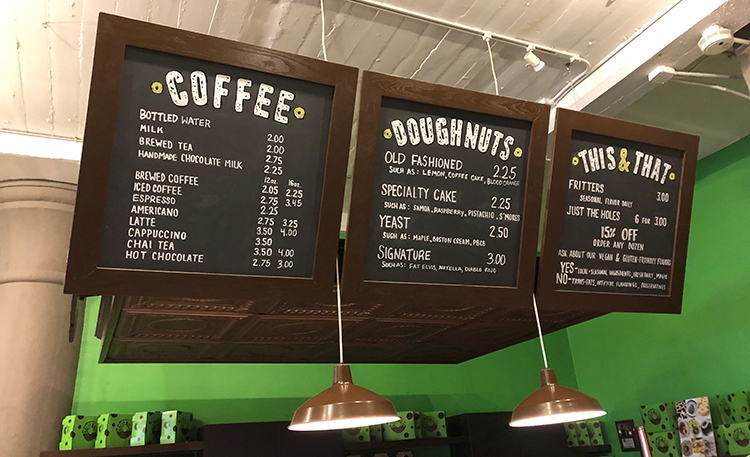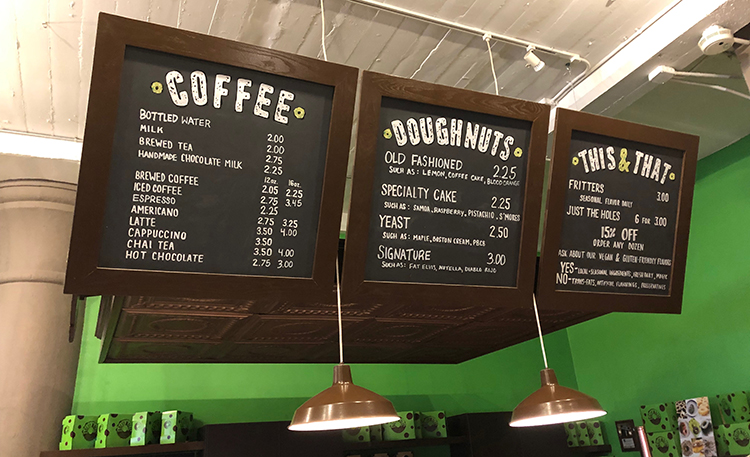 If there's one negative thing we can say about Holey Moley (aside from the occasionally difficult parking nearby in the heart of the Third Ward) it's in regard to its prices. The cheapest donut there is $2.25, with prices topping out at a whopping $3 for signature types. Our eclectic six-pack came in at more than $15 before tip. However, even though the prices are significantly higher than what you'd find at your typical neighborhood bakery, the caliber is far higher at Holey Moley and the selection is much more vast and unique than most of its counterparts as well. You get what you pay for, but just be warned that you'll be paying more than most places.
It's taken us close to five years to get there, but we're happy we finally made our way to Holey Moley Coffee + Doughnuts. It's deserving of the hype and, if you're in the Third Ward and looking for an elevated way to start the day, worth a visit.