Caleb Westphal hasn't missed a Friday fish fry since 2013. Follow along with his never-ending adventures here.
Not long after the U.S. Constitution went into effect, Benjamin Franklin wrote a letter where he reflected on the document's permanency, opining: "In this world nothing can be said to be certain, except death and taxes." Similarly, in Wisconsin, we say that there are only two seasons: winter and road construction. I suppose all these things are true, with the only things of certainty in Wisconsin being death, taxes, and road construction. Well, maybe there is one more thing. Fish frys. We are darn certain of those, too.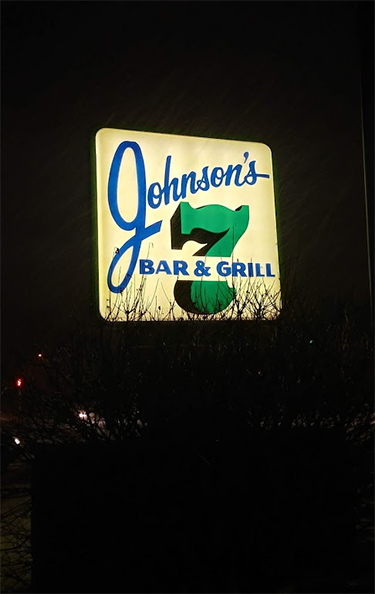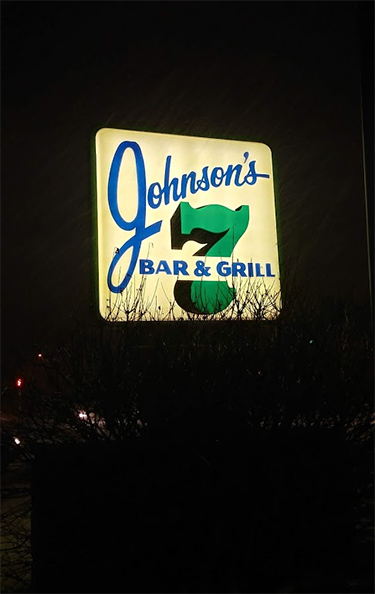 For one long-running fish fry establishment in Glendale, road construction season has been particularly burdensome. Green 7 Tavern opened in Milwaukee in 1955, being named after the intersection of the two roads where it was located: Green Bay Avenue and 7th Street. Although Paul Miller is listed as the proprietor in the 1955 city directory, Donald L. Johnson is listed as such by the following year. By 1959, road construction season had hit too close to home, and 3635 7th Street had to be abandoned, to make way for Interstate 43. Johnson moved his establishment to 6191 N. Green Bay Ave. in Glendale.
Even though it was no longer located on 7th Street, it was still at an intersection on Green Bay Avenue. Owners Don and Joan Johnson kept both the Green and the 7 in the name, and their surname was eventually added as well, making it Johnson's Green 7 (6191 N. Green Bay Ave., 414-228-9963). According to the Milwaukee Journal, the new location had "a sort of Norman tower and a lovely, rambling porch with Victorian columns," and it had been "used as a tavern before Prohibition, and proprietors put root beer on tap during the 1920s." The establishment was there for just over a quarter century when another heavy road construction season hit, once again taking a toll on Green 7. Green Bay Avenue was widened, and the building was demolished. But the Johnson's once again persevered, and built a new building behind the old structure. It opened in January 1987. Joan passed away in 1990, and Don followed in 2005, but the establishment has remained in the Johnson family, and is still open today.
I knew none of this when I walked in this past Friday. The restaurant has no website or Facebook page, and only a scant amount of other information about it can be found online. Although, a few customer review sites mention a fish fry. I had driven past the restaurant a few times and wondered about it. It was time to stop wondering and see for myself.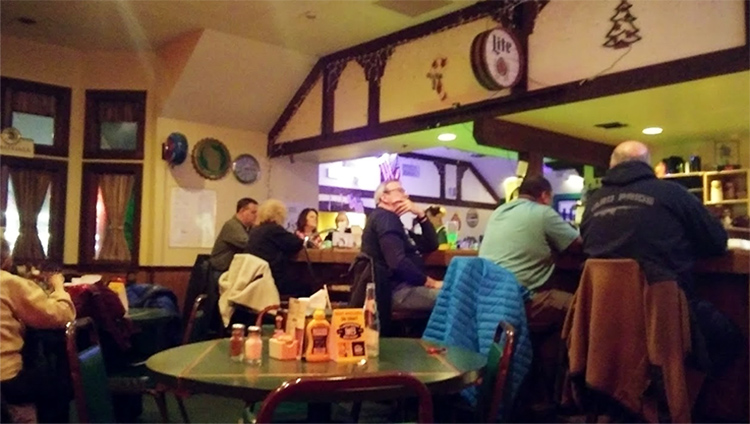 I arrived right at 5 p.m., moments before the sky would drop buckets of snow. Upon enquiring at the bar about getting a table in the main dining area, I was told I could take whatever seat I wanted. Moments after finding a spot, I was greeted by my server and asked if I wanted a drink. The Brandy Old Fashioned Sweet was extra strong in the brandy department and topped with two cherries. When I got towards the bottom of it, I used the cocktail straw to drink the final drops, which consisted of a bitters-heavy mix.
There are way more than seven Friday specials at Johnson's Green 7: cod ($9.95 for two pieces/ $11.95 for three pieces), perch ($15.95), jumbo fried shrimp ($14.95), stuffed shrimp ($15.95), crab cake platter ($12.95), cornmeal catfish ($10.95), shrimp basket ($10.95), cod sandwich ($6.95), baked cod ($13.95), grilled salmon ($13.95), and pan fried walleye ($14.95). The potato options are french fries, steak fries, waffle fries, baked potato, and homemade potato pancakes. Clam chowder is also available ($3.95 for a cup /$4.95 for a bowl /$11.95 for a quart). I ordered the three-piece cod with pancakes and a cup of chowder.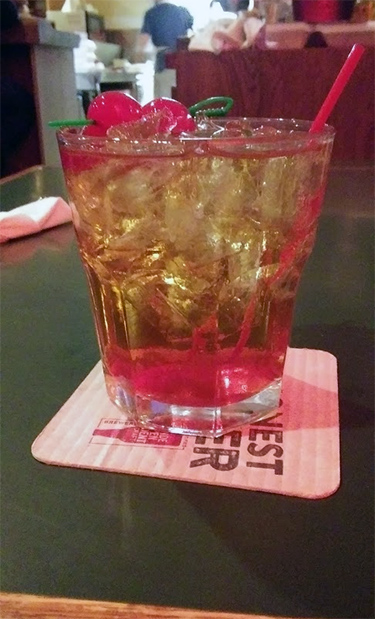 The chowder came out almost immediately. Light and airy in consistency, but also somewhat like gravy, it was made up of clam, squared potato chunks, and seasoning. Nothing made it stand out compared to many other chowders I've had, but that doesn't mean it wasn't stuff of quality. I was just over halfway done with it when the fish made its entrance.
My first stop was the marbled rye bread, which was soft, buttered, and halved. Next I went for the coleslaw cup. It was a rather standard creamy slaw, mainly consisting of green cabbage, but room had also been made for carrot slivers, red cabbage, and red bell pepper bits. The potato pancakes were relatively thin and on the softer side, but held together well, and were somewhat uniform in shape. Despite the presence of fresh green onion, the pancakes were fairly mellow in taste.
A soft breading covered the cod. Although flecks of seasoning were evident in it, their flavor didn't come through that strongly. When cut with a fork, the cod broke into somewhat-large chunks, but was a little bit on the rubbery side instead of being flaky. That may sound like a knock on the fish, and I guess to some extent it is, but the texture actually had a pleasant chew to it. In the end, it may have been the tartar sauce that gave the fish its shine. A traditional, straight-down-the-road concoction of relish and mayo, with perhaps a dash of lemon, the tartar sauce provided the fish one last admirable stop before being eaten.
Even though they've had to move their location twice because of road construction, and despite keeping a low profile and eschewing any online presence, Johnson's Green 7 has survived for six and a half decades. Maybe it has something to do with the color green, which is so prominently displayed inside the restaurant, and which is known to represent renewal and growth. When I went back to the parking lot, heavy snow was drifting down from the sky, bringing the antithesis of green. But when I stopped to snap a picture of the building, the green glow emanating from the entrance caught my eye. It made me think of the last lines Fitzgerald wrote in The Great Gatsby, about believing in the green light even though it recedes from us over time. We keep beating our boats against the current. We keep rebuilding our demolished buildings. And we sure as hell keep eating fish frys.
Takeaways: This place has been around for like 65 years but exists almost completely off the radar; they twice had to relocate; there are lots of fish options; the cod had a soft breading and was mildly satisfying; sometimes a traditional tartar is all you need; friendly server and satisfactory service; you can buy clam chowder by the quart.