Three words: Wisconsin State Fair. Starting yesterday and running straight through August 12, the annual celebration of all things Wisconsin will offer up oodles of entertainment, animals of every kind, that DNR shack where you can renew your hunting and fishing license, and bleacher sex. Oh, and food! Yes, a dizzying and/or worrying cornucopia of bizarre foodstuff will once again be available for purchase, satisfying even the most exotic on-a-stick taste buds.
This year's fairground festivities features an eight-pack of Epicurean oddities from seven food vendors who are vying for a coveted best "unique and unusual food" distinction in the 2018 Sporkies contest. We wasted little time, and headed to West Allis with an empty stomach and an open mind to try (and rank) all eight finalists.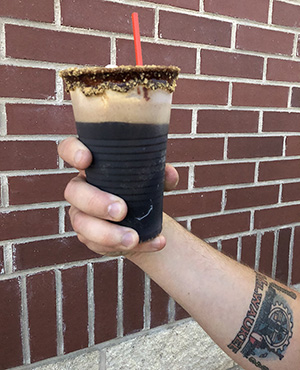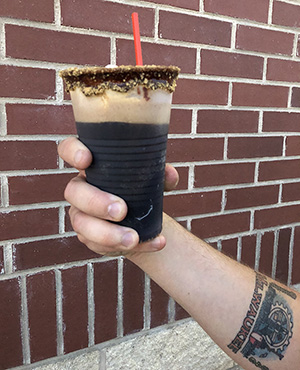 8. S'mores Beer Float – Slim McGinn's Irish Pub ($9.25)
After a few summers of success with the beer float at Silm's Lakefront Brewery stand, the State Fair mainstay is back with a marshmallow-y variant on the combination of local beer and ice cream. This time around, Point Brewery's Milkshake Malt Porter is the beer of choice, and boy, does it ever fall flat (both figuratively and literally). Here in the $9.25 dessert drink, the bitter and bland porter works in direct opposition with the otherwise-awesome Cedar Crest marshmallow chocolate ice cream.
The chocolate syrup and graham cracker crumb-rimmed glass seems to be more for appearance than anything else. At the end of the day, it's fine, but either a beer or a traditional float would be a far better use of close to $10. Also, Slim McGinn's Irish Pub is the only stand we'd visited during this experience that didn't accept cards. That doesn't factor into the rating, but just keep that in mind if you've ignored the rest of our advice and you still want to try this for some reason.
7. Pig Candy Cannoli – Brew City ($6)
Back in late June, Solo Pizza debuted a meaty dessert called the "Bacon Cannoli" at Summerfest. Our assessment of that is as follows:
"The pizzeria's new Bacon Cannoli is basically a few slices of sweet and savory bacon that have been manipulated into the shape of a cannoli shell, then stuffed with a rich cream cheese and peanut butter filling, dusted with powered sugar, topped with bacon crumbles, and refrigerated. The cold bacon is greasy and messy (on account of its two open ends), but the Bacon Cannoli is arguably worth trying if you with to share it with a loved one or among a group of friends."
Come Wisconsin State Fair time, Solo apparently doubles as "Brew City," with an assortment of familiar Solo menu items like PizzaCones™, Bacon Ravioli, and what they're now calling the "Pig Candy Cannoli." We didn't hate our initial experience with the cannoli, but this take on it was smaller, a great deal greasier, had far more powdered sugar, burnt bacon, and runny peanut butter innards. Even with all that, it wasn't terrible. It was just a worse take on something we already weren't so sure about.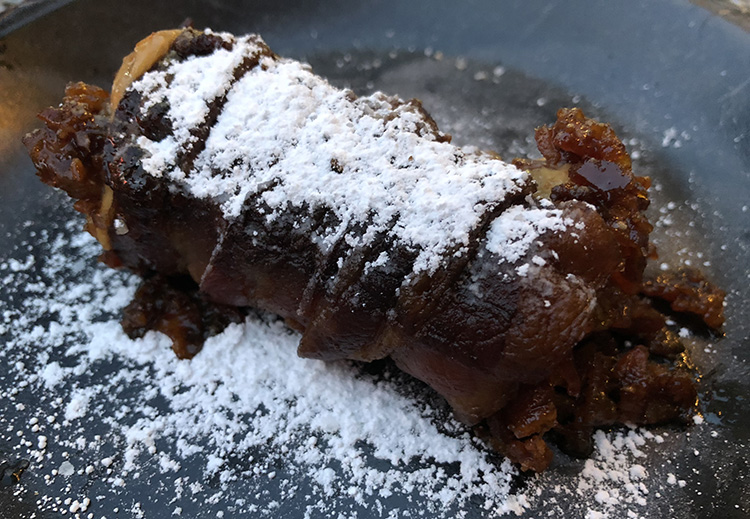 6. Deep-Fried Turducken On-a-Stick – Water Street Brewery ($8.50)
On paper, Water Street Brewery has better odds to win a Sporkie than any other vendor in contention, as the stand has two of the eight finalist foods. However, those odds went down in our mind when we tried the Deep-Fried Turducken On-a-Stick. We found the impaled Thanksgiving dinner to be similar to the Turducken we had at Summerfest. The crispy outer edge wasn't great, nor was the overly sweet cranberry drizzle. We did like the gravy and stuffing. The meat was just fine, even when adjusting for festival food standards. In all, it was too messy to enjoy on a stick and too dense to enjoy on a hot summer day on the fairgrounds. Sorry, Water Street. Better luck next time.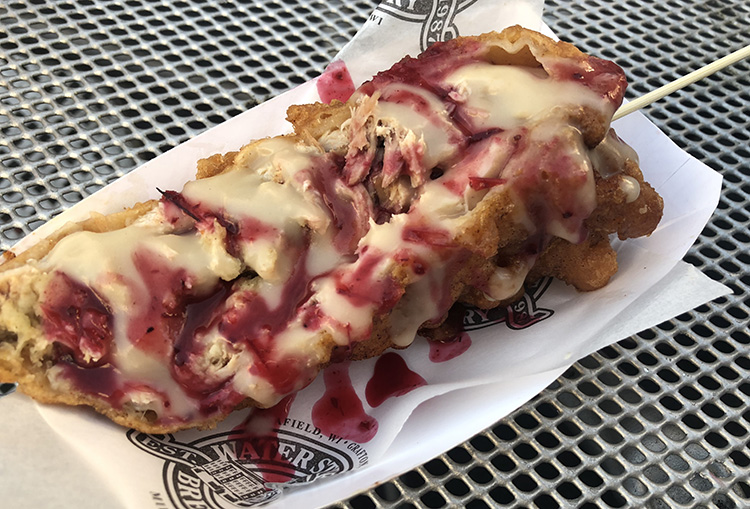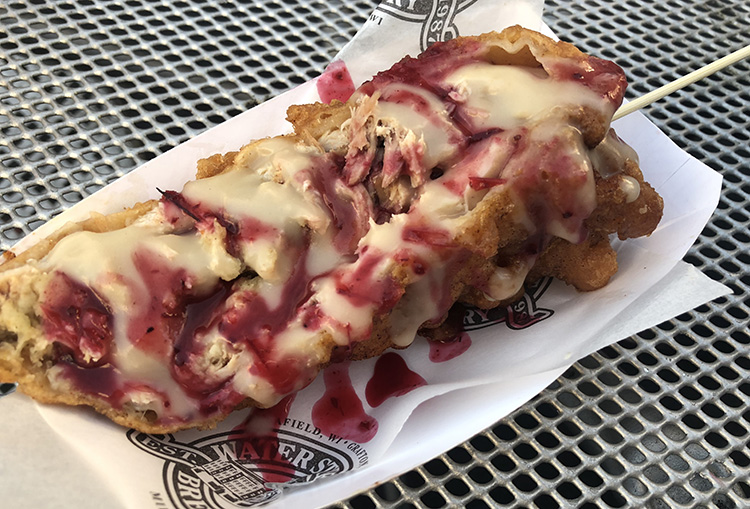 5. Wisconsin Hot Chicken Bombs – Water Street Brewery ($7)
Whoops! Water Street's other entrant, the Wisconsin Hot Chicken, was also something of a letdown. The hamburger dills that topped these mushy morsels were nothing like the fresh and thick pickles on the promotional photo. The consistency of the mashed potato- and corn-stuffed chicken was softer than than you'd expect from hot chicken, but the tangy buffalo-adjacent sauce helped bail it out a bit in terms of taste. For $7, why not try it. That said, you could certainly do much better for your money and your mouth elsewhere at the fair.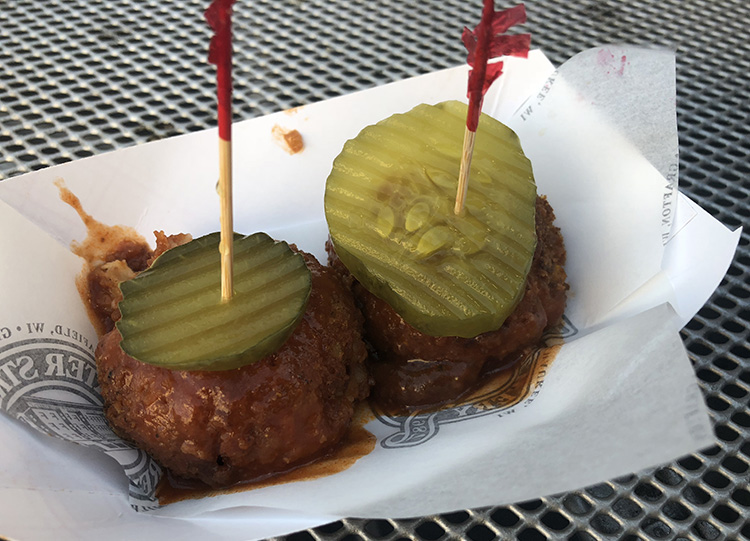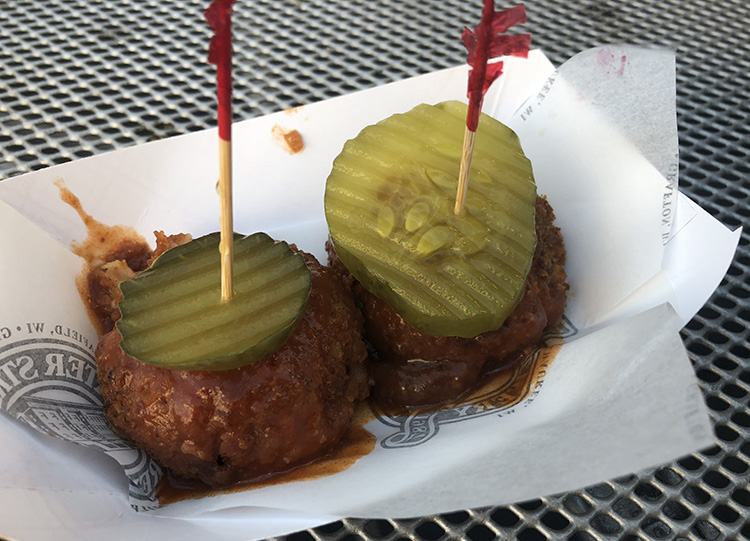 4. Saz's Breakfast Bombs – Saz's Taste of Wisconsin ($6)
Who eats breakfast at the State Fair? As long as you don't spend too much time pondering that, you'll likely enjoy these Breakfast Bombs from Milwaukee-area festival magnate, Saz's. "Bombs" are accurate descriptors for these two belt-bursting balls of cream cheese-stuffed French toast that are each wrapped with a thick slice of brown sugar-encrusted bacon. Each pair of bombs comes with a far-too-big container of rich rum raisin cream cheese frosting that takes these already awesome little things to the next level. Beer is sold separately.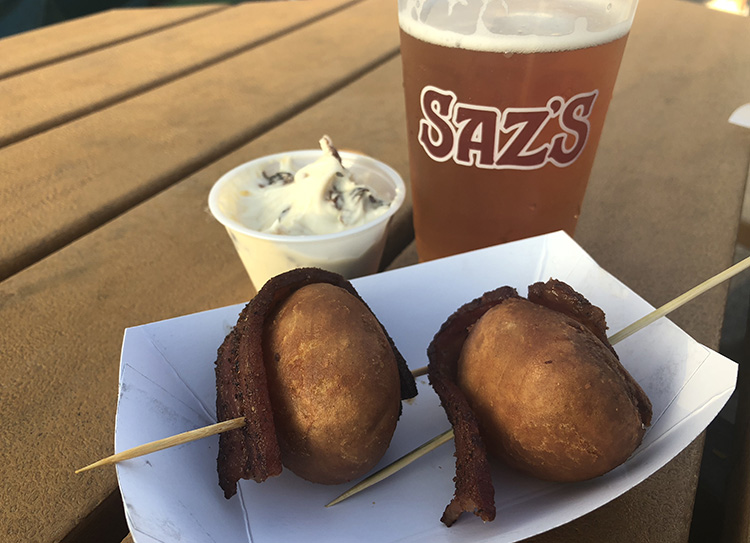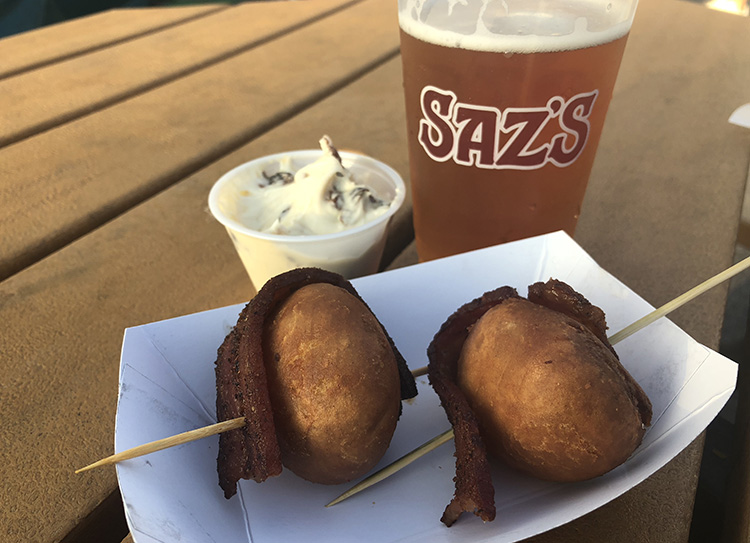 3. French Onion Soup On-a-Stick – Slim's PBR Park ($6.50)
Have you ever wanted to scope out a horse show or shop for a new Jacuzzi while eating a steaming crock of French onion soup? Well, the Wisconsin State Fair finally has your back. These two crispy fried wontons skins are packed with caramelized onions and two types of ooey-gooey cheese. Dip 'em in onion au jus or, if you're bold, pour some of that shit in the open end. Either way, you can't go wrong. Oh, and make sure to remove the stick, since this is more like a Midwestern egg roll than it is a "soup."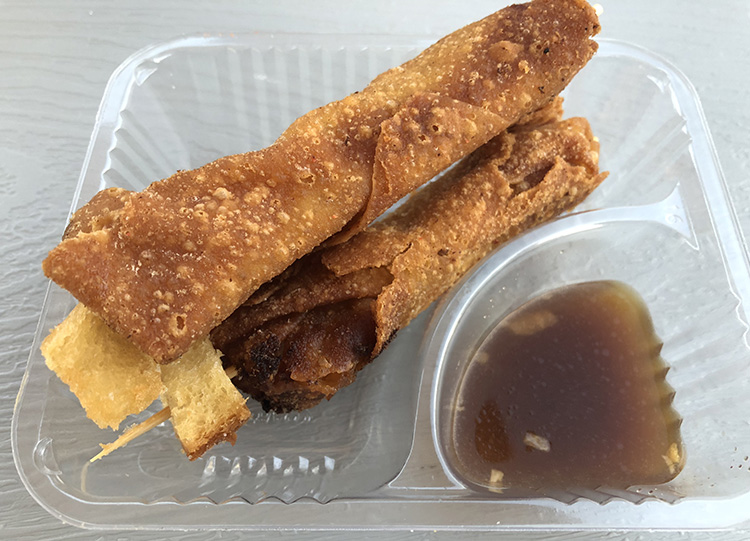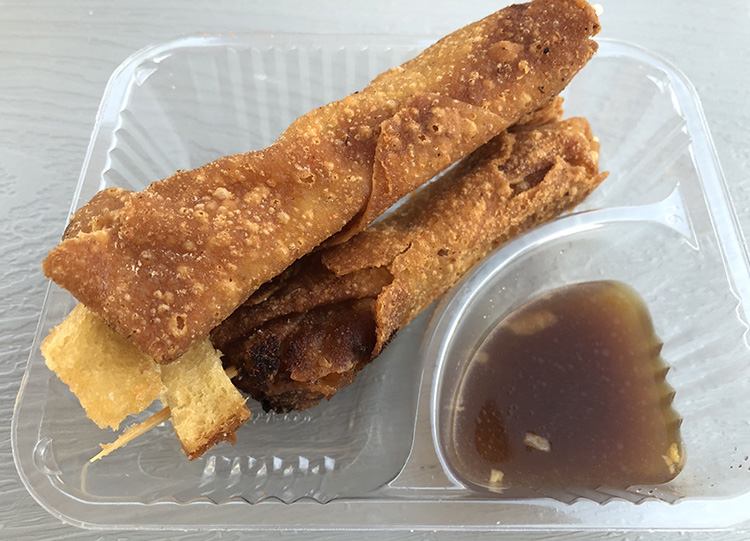 2. The PorkSTACKular – Budweiser Pavilion ($12)
What's to say? It's good. With a pork patty, cornmeal-breaded and fried pickle spears, melted Swiss cheese, and a honey-drizzled pita, this is kind of Wisconsin's answer to a Cuban (a Cuba City perhaps?). As awesome as this savory, smokey, and filling combination is, we can't explain its $12 price point. Sub in a brat patty for the pork belly, drop the price to like $9, and we'll be back for one of these every year.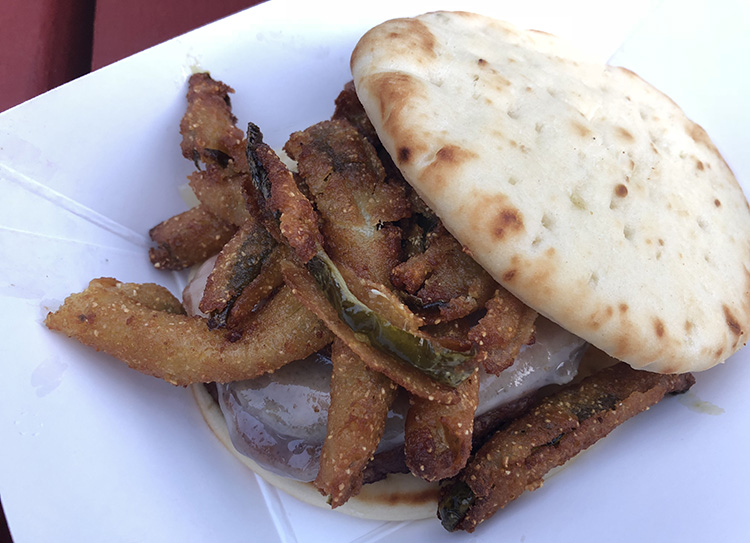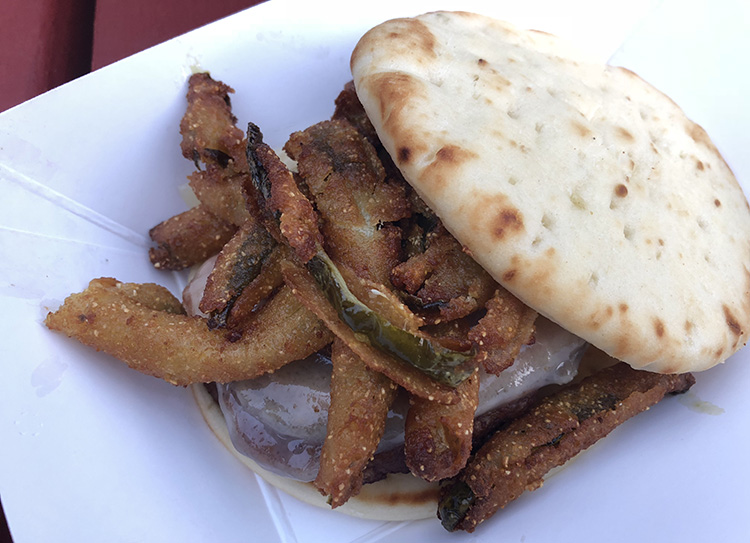 1. Deep-Fried Spinach Lasagna Bites – Albanese's Roadhouse ($9.50)
We're as surprised as you on this one! Though fried pasta might not be our first choice for fair…uh fare, we found the Deep-Fried Spinach Lasagna Bites at Albanese's Roadhouse to be delectably light and crunchy morsels of seasoned and battered noodles that were stuffed generously with ricotta and spinach. When dipped in Albanese's "famous homemade marinara that's been with [them] for five generations," there are few things we've enjoyed more at the Fair this side of a cream puff, and simply no 2018 Sporkie finalist we like as much.