A few weeks before the start of Summerfest 2018, the Big Gig released a list of new vendors and "food items." The announcement didn't quite approach the time-honored ridiculousness of the Wisconsin State Fair's new-food press release—what could?—but it did have some eye-openers. Bacon Cannoli? Deep-Fried Stuffed Bacon-Wrapped Jalapeños? Deep-Fried Turducken On A Stick? As the 51st installment of the "World's Largest Music Festival" lumbers into its fifth day (A Flock Of Seagulls go on at 4!), we present our thoughts on a few new Summerfest "food items."
Bacon Cannoli – Solo Pizza ($6)
Those crazy bastards at Solo have done it again. A couple years removed from giving an unsuspecting Summerfest its Mac Bottom Pizza, and one year after unveiling an unnerving blend of pork and cheese they generously dubbed Bacon Ravoli, Solo has returned with yet another unholy, unhealthy mutant food that people are bound to try out of sheer morbid curiosity more than actual hunger. The pizzeria's new Bacon Cannoli is basically a few slices of sweet and savory bacon that's have been manipulated into the shape of a cannoli shell, then stuffed with a rich cream cheese and peanut butter filling, dusted with powered sugar, topped with bacon crumbles, and refrigerated. The cold bacon is greasy and messy (on account of its two open ends), but the Bacon Cannoli is arguably worth trying if you with to share it with a loved one or among a group of friends. Let us tell you from experience that taking one down alone isn't highly recommended.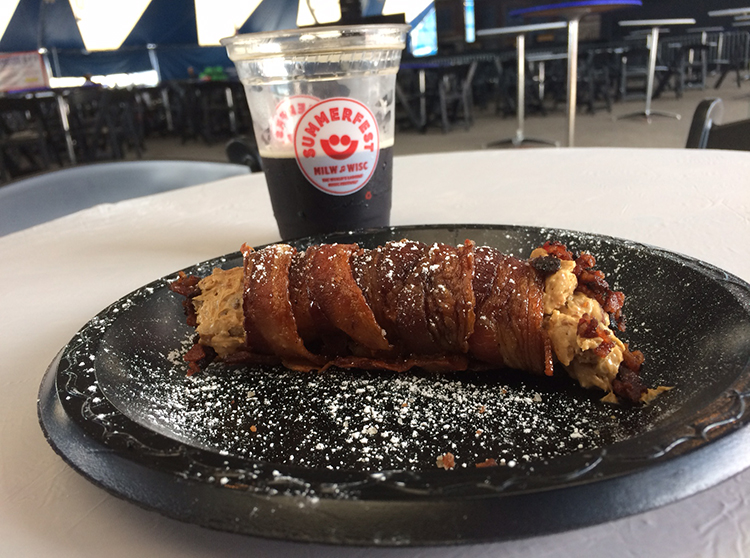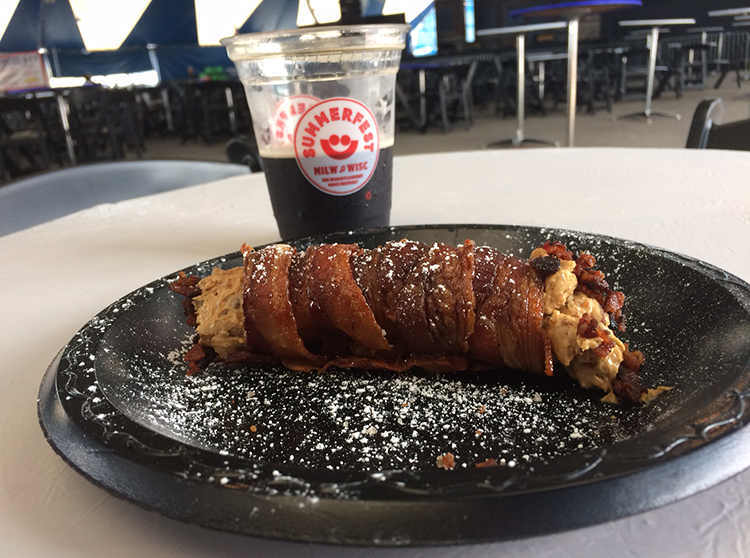 Beyond Burger Combo – AJ Bombers ($12.50)
Yes, the Beyond Burger has made its way to Summerfest this year. After catching on at various restaurants in Milwaukee of late, the plant-based patty and all-around "superfood" can be found at AJ Bombers. It's a solid meatless option, at least by festival standards. Admittedly, it's a tad bland in terms of toppings, with lettuce and tomato—not to mention self-serve ketchup and mustard on hand—accompanying the pre-cooked patty between two buns. It's a perfectly good veggie burger, especially when adjusting expectations for something fast and readily available at a festival. Unfortunately, the price also follows festival standards…so if you want a Beyond Burger Combo (only getting the sandwich doesn't appear to be an option), get ready to shell out $12.50 for a burger and roughly a dozen tater tots.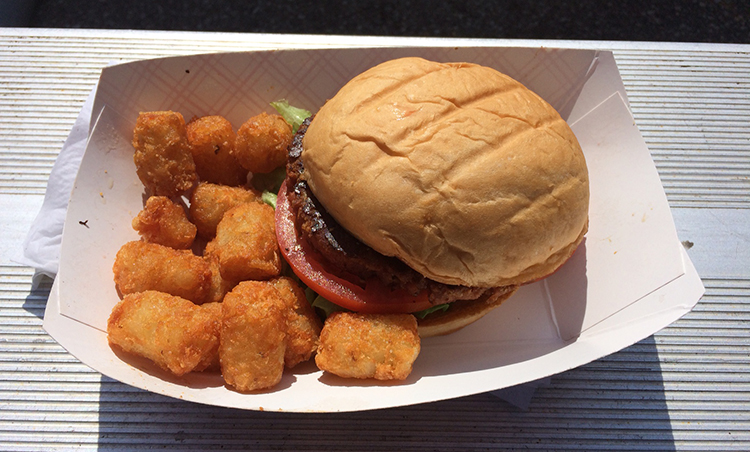 Deep-Fried Green Beans – Mille's Spaghetti Factory ($6.50)
These tasty treats sound deceptively simple—some breaded green beans sprinkled with Parmesan cheese, and served with a little cup of ranch dressing. And you know what? They are simple. And good. Located in the "Ethnic Village" portion of the Summerfest grounds (next to the north Sky Glider entrance/exit), Mille's is one of those similarly no-frills food depots that make the Big Gig what it is. Sure, the Deep-Fried Green Beans don't really taste like much of anything, but even nibbling on some deep-fried breading beats destroying your gut with some meat-and-tater-tot monstrosity. Recommended for a relaxing Sky Glider ride, or chilling out at the nearby Klement's Sausage and Beer Garden.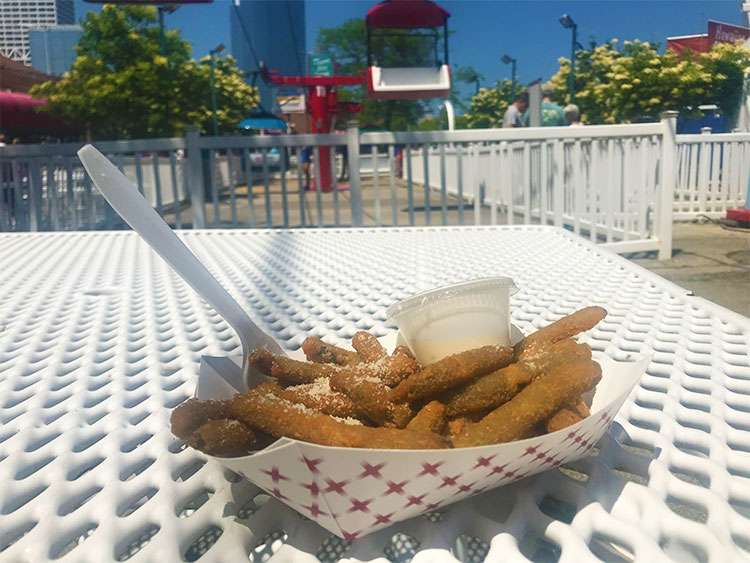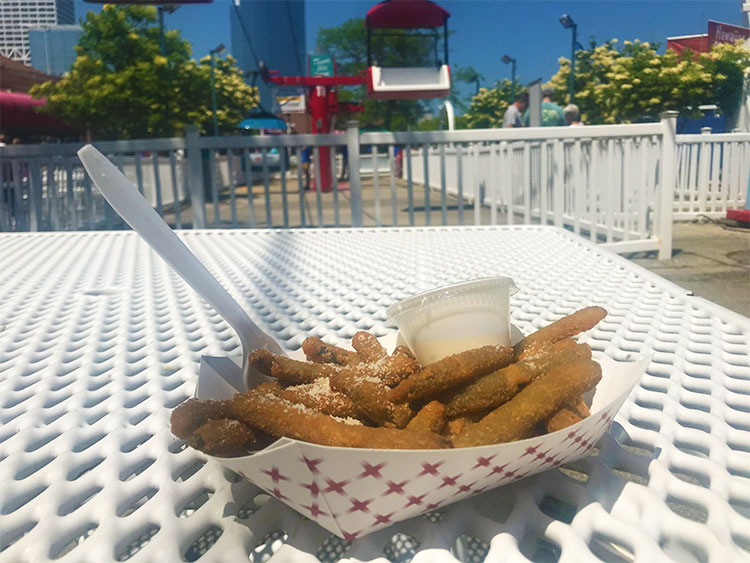 Deep-Fried Stuffed Bacon-Wrapped Jalapeños – Saz's ($6)
When you think of Summerfest, you probably think of Saz's. There's a good reason for that, as the local barbecue joint has carved an unshakable presence at the Big Gig with its outstanding chicken tenders, great ribs, and downright addicting Sour Cream & Chive Fries that can be procured at various spots on the festival grounds. We're ardent supporters of Saz's and they've certainly earned the right to try anything they'd like at this point, but we aren't so sure we're in love with the Summerfest stalwart's new Deep-Fried Stuffed Bacon-Wrapped Jalapeños.
While the name is a mouthful, the food itself isn't. Essentially, $6 gets you a trio of (nearly) seedless peppers stuffed with cheddar, wrapped with a strip of bacon, and impaled with a toothpick. The food's construction–viscous lukewarm bacon, cheese that's prone to squirting out, and a mushy jalapeño–makes eating each one in a single bite the best course of action, meaning each bite costs $2. Don't get us wrong, they're good–especially when dipping it in Midwestern ambrosia that is the Saz's White BBQ Sauce that comes with it–but there's no shortage of better options on hand at Saz's, both in terms of taste and value.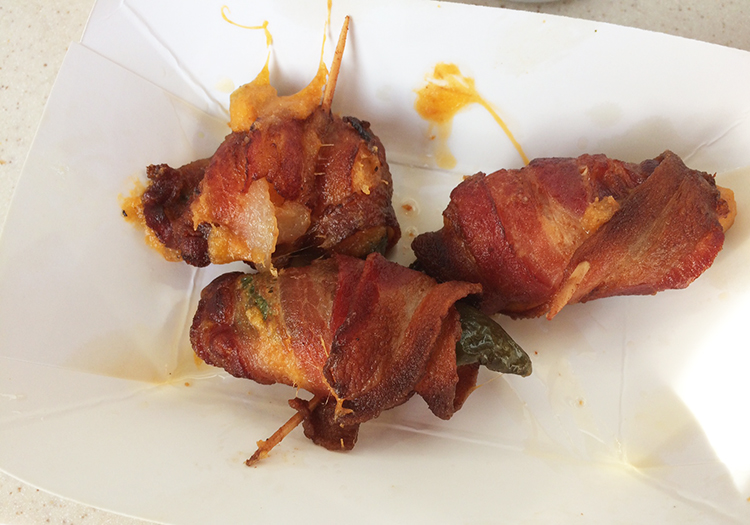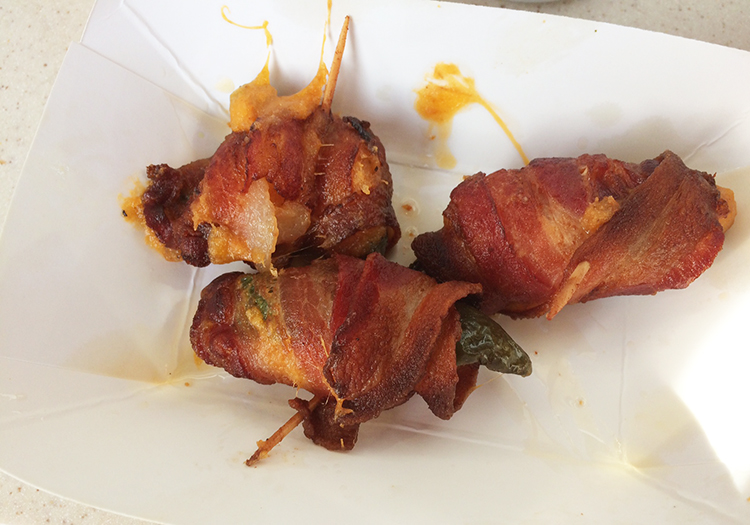 Deep-Fried Turducken On A Stick – Trinity Three Irish Pubs ($8)
The description alone will stir the inner Madden in everyone: "Layers of roast chicken, herb roasted turkey, duck confit, stuffing & WSB amber beer gravy, battered & deep fried, drizzled with cranberry glaze." Now that's poetry. In practice, Trinity's Turducken is pretty good, even if the "hunk-of-meat-on-a-stick" thing is better suited to a sweaty ren faire than a sweaty Summerfest. Speaking of which, has anyone noticed a lot more cosplay this year? Like, every fourth person dressed up like Harley Quinn or whatever? Weird.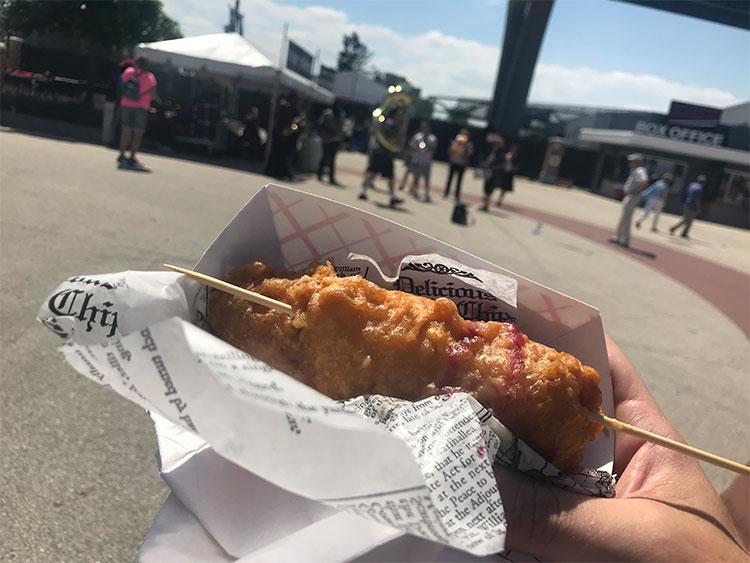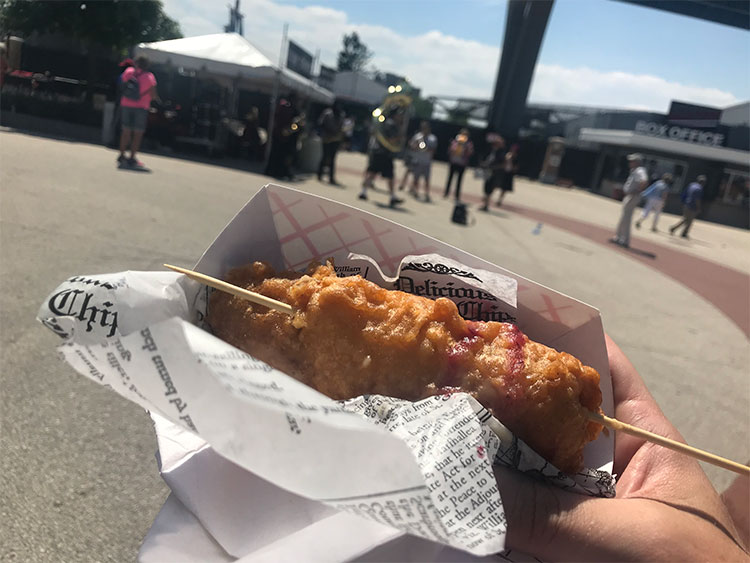 Doritos Walking Nachos Supreme – Chubby's Cheesesteak ($10)
"Walking Nachos" is an optimistic term. There's really no such thing as nachos that are easy to eat, but you have to hand it to Chubby's Cheesesteak for thinking outside the tray and trying something new with the branded Doritos Walking Nachos Supreme. A 10-spot is good for an opened bag of Nacho Cheese Doritos that have been topped with lettuce, tomato pieces, diced raw onion, salsa, sour cream, that fake bright yellow "cheese," and your choice of steak, shredded chicken, or ground beef. What can we say about these? They're like nachos, except in a bag with Doritos subbed in for standard tortilla chips. If that sounds like something you'd be into, you probably won't be let down. Just get prepare to get messy and feel a dense gut-bomb.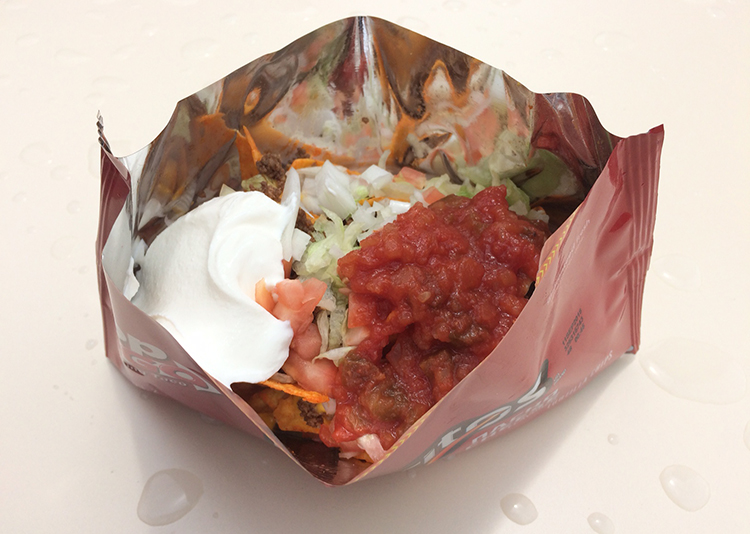 Tater Tot Poutine – Ward's House of Prime ($8)
In addition to its new Impossible Burger, Ward's House Of Prime is continuing to make a name for itself among Summerfest's array of "Ethnic Village" vendors with another new item. Ward's Tater Tot Poutine is a winning blend of tots, savory brown gravy, and a ton of fresh cheese curds. While it definitely isn't something we'd advise having when the temperatures hit the 90s and humidity is making its presence known, we were somewhat surprised to discover the Tater Tot Poutine is good as hell. If you're looking for a tasty snack that's a bit outside the norm, or you want a sturdy base before a day of tallboys and walking around, Tater Tot Poutine won't let you down. But we repeat: this is probably the last thing you'll want to order when it's really hot and/or humid.
Trailer Fries – Vagabond ($8)
If you're looking for the heaviest new Summerfest food item—like, the one that weighs the most—look no further than Vagabond's glorious Trailer Fries. For a mere $8 you get a massive mound of nacho cheese, pork verde, pico de gallo, guacamole, and cilantro crema. Oh, and some French fries buried in all that lovely mess. Yeah, it's basically a nacho plate except with fries. Can the fries support the weight of all that goodness? Absolutely not. Is a fork required to enjoy this dish? Yes. Is it possible to tease out a metaphor for Summerfest itself in these Trailer Fries? Probably, but we're too busy getting ready for Day 5. Like we said before: A Flock Of Seagulls go on at 4.