Three words: Wisconsin State Fair. From August 2-12, the annual celebration of all things Wisconsin will offer up oodles of entertainment, animals of every kind, that DNR shack where you can renew your hunting and fishing license, and bleacher sex. Oh, and food! Yes, a dizzying and/or worrying cornucopia of bizarre foodstuff will once again be available for purchase, satisfying even the most exotic on-a-stick taste buds. Plus, cream puffs are a thing and the pig races are always kind of fun.
But anyway, let's stay on food. Enter the 2018 Sporkies contest, which aims to cut through the deep-fried madness and identify the eight best "unique and unusual foods" of the State Fair. Look on this year's finalists, Milwaukee, and despair:
Deep-Fried Spinach Lasagna Bites – Albanese's Roadhouse
"A lasagna noodle rolled with a blend of three cheeses and spinach. Breaded with Italian bread crumbs and fried to golden brown. Served with our famous homemade marinara that's been with us for five generations."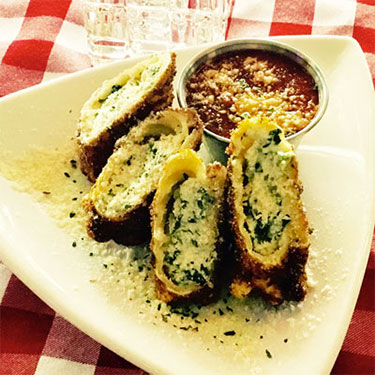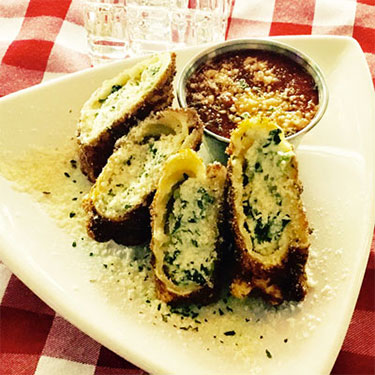 Pig Candy Cannoli – Brew City
"This little piggy went to the candy store! State Fairs favorite ingredient tuned into a sweet confectionary treat! A Pig Candy shell – 4 slices of house candied sweet & smokey beer candy bacon formed into a 'cannoli type' shell. Filled with a cream cheese and mascarpone candied bacon cheesecake filling garnished with candy bacon bits and bacon sea salt."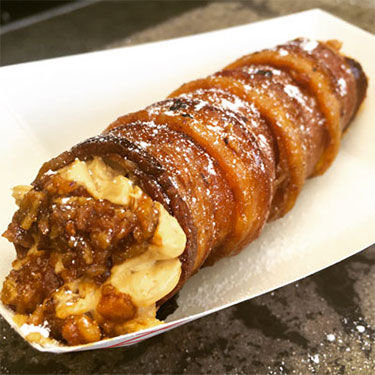 The PorkSTACKular – Budweiser Pavilion
"1/3 lb. of 100% pork belly patty perfection, stacked high with crispy, smoky, bacon and deep-fried pickle fries, covered in gooey melted Swiss cheese, drizzled with delectable sweet n' spicy 'hot' honey, served on a buttermilk caramelized-onion naan bread bun."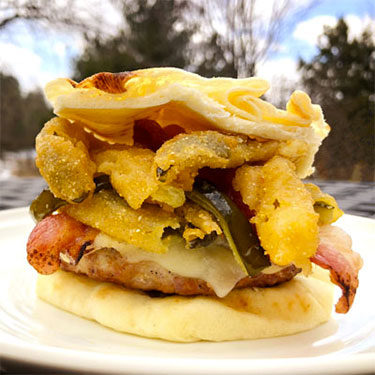 Saz's Breakfast Bombs – Saz's Taste of Wisconsin
"Sweet cream cheese stuffed French toast bagel bomb surrounded by triple thick brown sugar and spice smoked bacon On-a-Stick. Served with a side of house made rum raisin cream cheese frosting for dipping."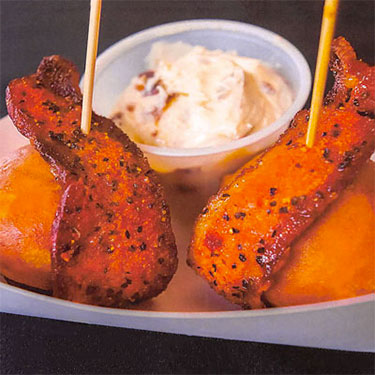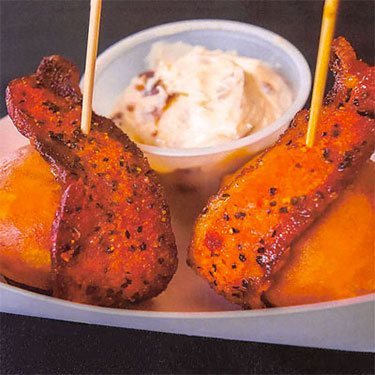 S'mores Beer Float – Slim McGinn's Irish Pub
"Bring on the camp fire! Point Brewery's Milkshake Malt Porter beer is served up with Cedar Crest Chocolate Marshmallow ice cream in a chocolate syrup/graham cracker crumb rimmed glass. A toasted marshmallow floats on top! Adults Only!"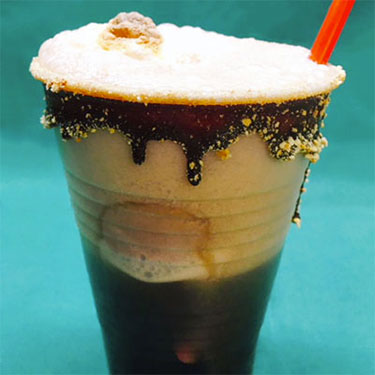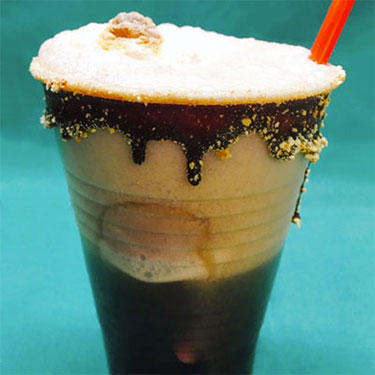 French Onion Soup On-a-Stick – Slim's PBR Park
"Ooh la la! Caramelized onions are mixed with mozzarella and Swiss cheese and hand rolled into a wonton skin and deep-fried. Each wonton is cut in half and the end is capped by a baguette crouton and put on a stick. Homemade onion au jus is served on the side for dipping."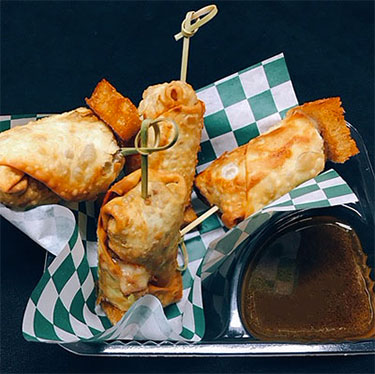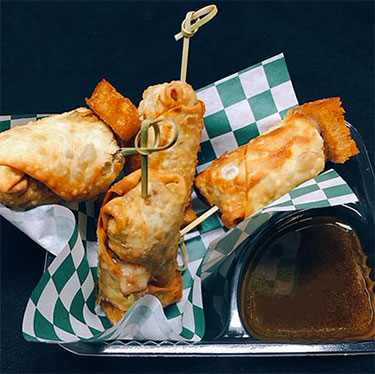 Deep-Fried Turducken On-a-Stick – Water Street Brewery
"A southern classic and a John Madden Football Favorite to the State Fair! We took the mighty TurDucken made it mobile & On-a-Stick! Fresh roast turkey, duck confit & fried chicken breast layered with homemade stuffing and gravy, battered and On-a-Stick. The TurDucken is then drizzled with WSB Amber beer gravy and Wisconsin cranberry sauce."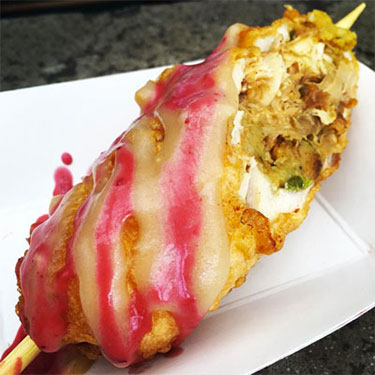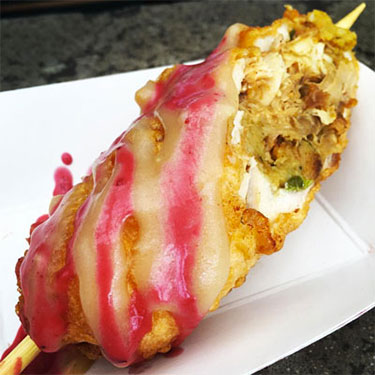 Wisconsin Hot Chicken Bombs – Water Street Brewery
"A mobile version of Nashville hot chicken that is made specific for the Wisconsin State Fair! Mashed potatoes are loaded with Wisconsin cheddar cheese, corn and fried chicken, then hand rolled, breaded and deep-fried. Each bomb is injected with Water Street Brewery Amber Beer gravy for a burst of flavor. Each bomb is dipped in our hot sauce and garnished with a pickle."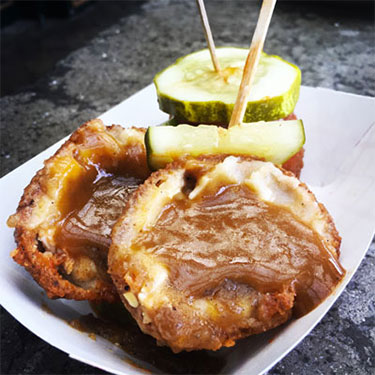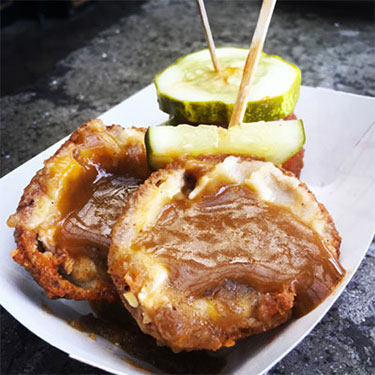 The winner of the 2018 Golden Spork Award will be announced during the fair on Wednesday, August 8 at the Associated Bank Amphitheater at 11 a.m. Wisconsin Foodie host Kyle Cherek will host the ceremony. Celebrity guests like LeRoy Butler and Jon McGivern, meanwhile, will be tasked with deciding if the PorkSTACKular holds a pork candle to the Pig Candy Cannoli, as well as explaining how the hell you can get soup on a stick.