Though rain put a damper on last year's festivities, Beet Street Harvest Festival is, thankfully, coming back for a third year. Spearheaded by Cactus Club and in association with Goodkind and Palomino, the Saturday, October 13 block party will be a day of food, drinks, live music, baking competitions, and festival fun for all ages in Bay View.
From noon to 6 p.m., a chunk of Wentworth Avenue between Goodkind and Cactus Club will be blocked off for the occasion. In addition to the music outside Cactus Club will offer local and nationally-noted talent all afternoon long, followed by a 21+ after party at the bar. Goodkind will be open for brunch, and other food vendors will be on hand, too. As always, Palomino will host the Great Midwestern Pie Championship as well. What better way to spend a day in the middle of October.
Given the event's relatively short history and the abundance of components involved with the sprawling block party, we could understand how potential attendees might be a little confused about what they're to expect. In effort to get you up to speed and entice more of you to join in on the fun that's planned for Saturday (rain or shine!), we'll detail everything you need to know about this year's Beet Street Harvest Festival.
Who's playing again?
Unofficially, things kick off Friday night with a "Beet Street Pre-Party" that will bring Dramatic Lovers—who've taken an extended break from playing out as they finish their debut record—to the Cactus Club's stage to headline a show that doubles as BUHU's album release show. LUXI will open, helping to make this an amazing way to set the weekend into motion before Saturday's block party.
Of course, it wouldn't be a block party without tons of music. This year's list of performers is the most eclectic lineup yet. Afrofuturistic indie duo OSHUN will headline the outdoor stage. Inside, Cactus Club will feature the likes of Oozing Wound, Zed Kenzo, Slow Walker, Dog In Ecstasy, and more over the course of the day. Here's the full lineup.
Outside (acts listed headliner to opener)
5 p.m. — OSHUN
4 p.m. — Law/Less
3:30 p.m. — Pie Contest and announcements
2:30 p.m. — SESSA (feat. member of Yonatan Gat)
1:30 p.m. — Black Thumb
12 p.m. — DJ Dave Arnevik
Cactus Club
5:30 p.m. — Dogs In Ecstasy
4:15 p.m. — Fat Tony
3:45 p.m. — Cadence Weapon
3:30 p.m. — Hua Li
3 p.m. — TAJ
Noon — WMSE DJs
Cactus Club After Party (21+, $10)
1 a.m. — Platinum Boys DJs
12:45 a.m. — Oozing Wound
11:15 p.m. — Zed Kenzo
10 p.m. — DJ Tuga and La Chancha
9:15 p.m. — Slow Walker
8 p.m. — DJ Dripsweat
7:30 p.m. — B~Free featuring For The Culture
6 p.m. — DJ 88
What's to drink?
So much stuff. Not only will Cactus, Goodkind, and Palomino all be offering full bar service inside their establishments, there's also going to be a collaborative Bloody Mary bar. Best yet, Cactus Club will be set up outside and serving up mocktails, wine, and ciders (in both hard and N/A form), Red Bull bombs, a variety of Pabst Milwaukee Brewery beers, and an array of specialty seasonal cocktails that incorporate Great Lakes Distillery spirits and Espolon tequila.
What kind of food can I expect?
It wouldn't be a festival without tons of great food. This year boasts the widest range of dining options of any Beet Street to date. Though Goodkind has scaled down its involvement this time around, the restaurant will be open for an extra special Saturday brunch (dubbed "Beet Street Brunch") from 10 a.m. to 2 p.m. Reservations are recommended. Otherwise, Goodkind will also be selling apple cider donuts to go. Speaking of tree fruit, Patterson Orchards will be selling caramel apples outside.
In other dessert-related news, Honeypie's "Snack Wagon" will make the few-block journey to sell brownies, cookies, and both sweet and savory pies. Palomino will serve up gumbo at the stand, too. Algo Dulce, a Xicana-owned and environmentally-conscious operation, will sell Mexican sweet treats. Elsewhere on Wentworth Ave., Beet Streeters can enjoy cuisine from El Comedor taco truck, Centgraf farms, Milwaukee Canning Company, and a bi-weekly youth-lead cafe pop-up called Sabor Verde.
Will Cactus Club be showing Saturday afternoon's Brewers NLCS game?
Yes. Go Brewers.
Tell me more about these pie events.
Palomino/Honeypie owner Valerie Lucks is a pie expert. She literally teaches pie classes. Throughout the morning, Palomino will be the site of The Great Midwestern Pie Championship, a pre-heated contest where amateurs and pie professionals alike will have their work judged as they vie for sweets supremacy. The "Best In Show" winner will take home $150 and a coveted Best In Show Ribbon. Other winners in each category—Wisconsin Ingredient Pie, Fall-Inspired Pie, Chocolate Pie, Boozy Pie—will take home gift certificates from Honeypie, SmallPie, and Palomino. The Pie Championship winners will be named on stage. You can find more details and registration info here.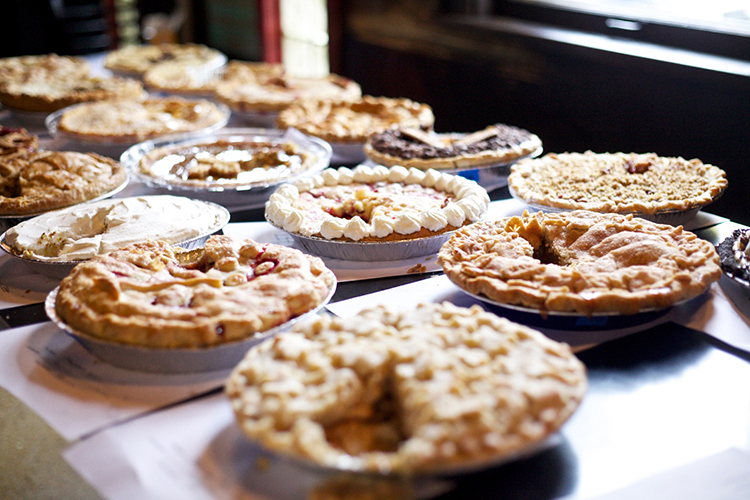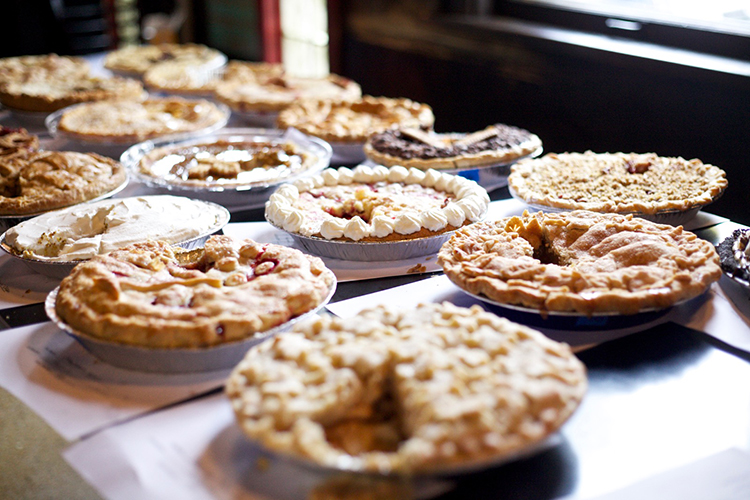 Unfortunately, after a long, messy experience in the inaugural Beet Street, the pie-eating contest was put to rest. Sorry, folks!
What else is going on?
The harvest festival will also have a beneficial and community-focused angle, as there will be on-site presence from groups like Grassroots Southshore (voter registration), LSS Refugee Resettlement, Friends Of Milwaukee Public Library, Sixteenth Street Community Health Clinic, Compost Crusader, Urban Ecology Center, Freespace/The New State, UMOS, Girls Rock Camp. These organizations will be around to inform and engage visitors with a variety of activities. There will be a Punk Rock Rummage Sale. The family-friendly festival will also host an Urban Pumpkin Patch in association with BVNA Pumpkin Pavilion.
That's everything. There's literally nothing else you need to know about Beet Street. We'll see you Saturday!