Milwaukee loves donuts. Dozens of bakeries in the city and its surrounding suburbs help people get a sweet start to their day with long johns, crullers, jellies, powdered, cream-filled, cake donuts, and more. If you're looking for the "hole story" on Milwaukee-area breakfast pastries, let our Dollars For Donuts column be your guide.
Fiserv Forum is pretty awesome. No matter where you land on the issue of public funding for sporting venues, even the most ardently opposed to the arena's existence must admit the state-of-the art facility is a major upgrade compared to the Bradley Center. In its brief history, the arena has already hosted 41 home games and some playoffs contests for the NBA's best team, has been the home court for a collegiate powerhouse, has invited Ja Rule to perform an ill-fated halftime show, and has featured a steady string unforgettable shows from a wealth of internationally-known musical talents.
Along the way, the sparkling new amenity has helped bring new development and lure more businesses to the once-desolate segment of the Milwaukee's downtown, not to mention being a major part of enticing the DNC to come to town in 2020. It's a small sample size, but Fiserv Forum has already been much better for the city than anyone could've ever imagined. Speaking of bringing local businesses downtown, the arena itself has quickly been a boon to local restaurants, hometown breweries, and other regional vendors that have been invited to set up shop inside the Forum.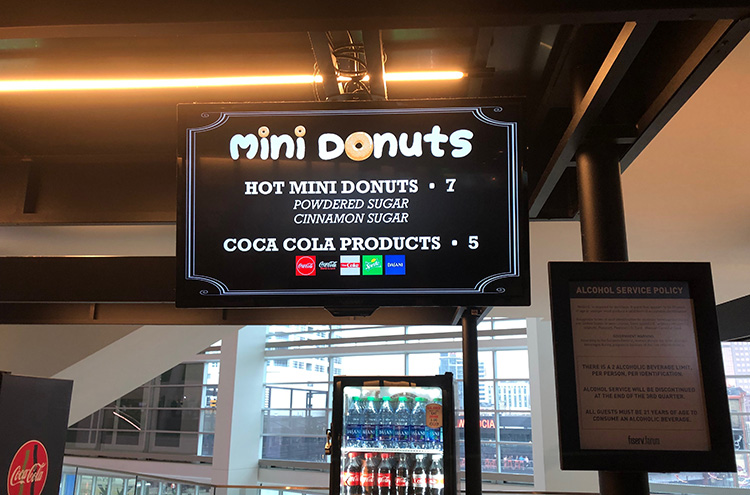 Just some of the local culinary touches Fiserv Forum features include Klement's Sausage, Sobelman's, The Laughing Taco, Gold Rush Chicken, Iron Grate BBQ, FreshFin Poké, Cedar Crest Ice Cream, Colectivo Coffee, Drink Wisconsinbly, Milwaukee Pretzel Company, and El Rey. It's already been a vast improvement compared to BMO Harris Bradley Center's paltry local concession offerings. Sil's Mini Donuts was one of the few Bradley Center points of Epicurean pride and, sadly, one of the stands that didn't make the move to the Fiserv Forum. But even though Sil's isn't at the new digs, the miniature donut tradition lives on at the new arena at a stand that's simply called "Mini Donuts."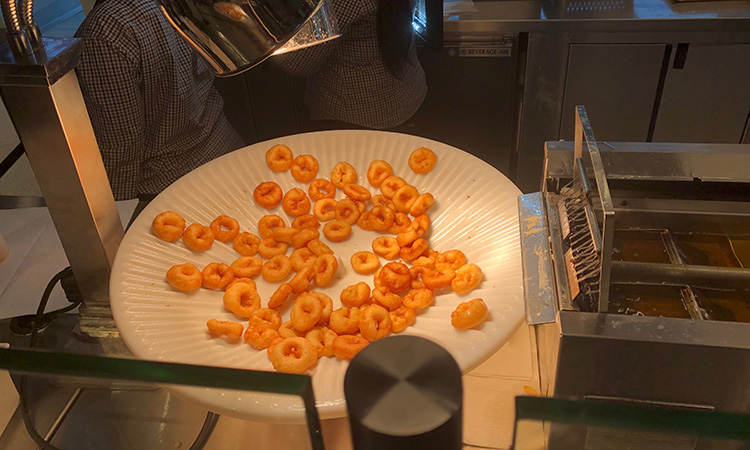 There, a small kiosk near section 103 serves up fresh-fried little morsels of sugary dough that are served hot. Mini Donuts offers just two types of its eponymous item: Powered Sugar and Cinnamon Sugar, both for $7 a bag.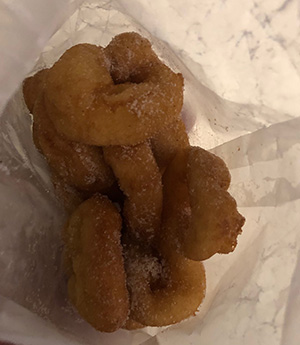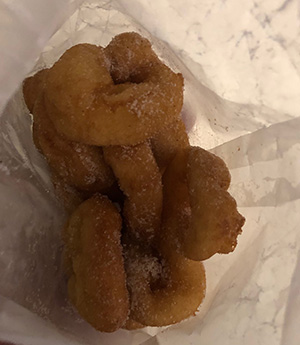 Before last Thursday's (low-key amazing) P!nk concert, we stopped by the Mini Donuts stand and procured a sack of the Cinnamon Sugar varietal. Even though our 13 rings (maybe 12, we ate them too fast to get a firm count) were plucked from a spinning ceramic dish that was placed under a heat lamp, they looked, felt, and tasted fresh.
Within seconds of being handed our order, the bag was translucent with grease, which is actually much more appealing that it sounds. We reached in and pulled out the small circles of puffy dough. We noticed that each was generously dusted with thick granules of cinnamon and sugar. The cinnamon was a little lacking compared to the sugar, but the balance between sweetness and savoriness was well-struck nonetheless.
Pro-tip: Once you get down to the last three or four donuts, close the bag and shake it to coat the remaining mini donuts with the sugar at the bottom of the container.
To be honest, we've written about far better and much less expensive donuts in this young series, and each establishment offered many more donut varieties. And for our money, we're probably going to Gold Rush or and El Rey 10 times more frequently than we'll visit Mini Donuts. Still, if you're at Fiserv Forum and hankering for something simple, sweet, and small before tip-off or prior to taking your seats at a concert, Mini Donuts does the job and they do it well.
Here's to hoping we'll have many more Mini Donut opportunities at Bucks games this spring.