Food trends tend to be cyclical. Once a time-tested dietary staple has been expanded upon, gussied up, and unnecessarily augmented to a point where its origin is virtually unrecognizable, things have a way of reverting to their simplest state. One of the latest revitalized foodstuffs to return to the spotlight in Milwaukee is fried chicken.
Recently, the beloved American favorite has helped put places like The Tandem and the Foxfire food truck on the map. Fried chicken was a focal point of Palomino's stylistic pivot a few years ago, as well as Bumstead Provisions' full-on transition to Hot Head back in September. While each of those restaurants (and so many others) are certainly helping to bolster the city's reputation for fried chicken, one poultry purveyor has quietly-yet-consistently maintained the quality of the deep-fried delicacy for more than 60 years, seemingly less concerned with advancing the culinary conversation than just making damn good fried chicken that's impervious to trends in a city whose taste is continually changing.
Yes, Gold Rush Chicken has been treating Milwaukee to "the original home delivered chicken" since 1957. Its empire consists of just two locations—one at 2625 W. North Ave. and a South Side store that's celebrating its 60th anniversary at 3500 S. Howell Ave.—that dole out golden buckets of crispy fowl, inimitable crinkle-cut French fries, and an astounding bevy of other all-American standbys few would expect from a carryout-only franchise its size.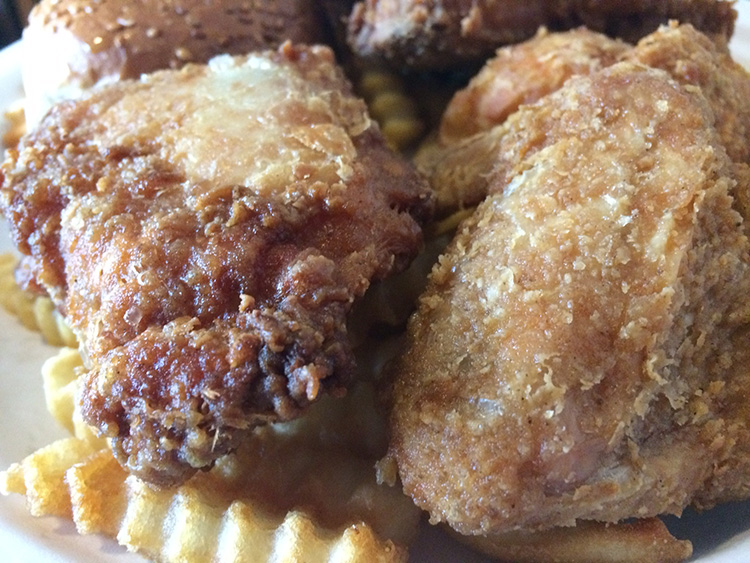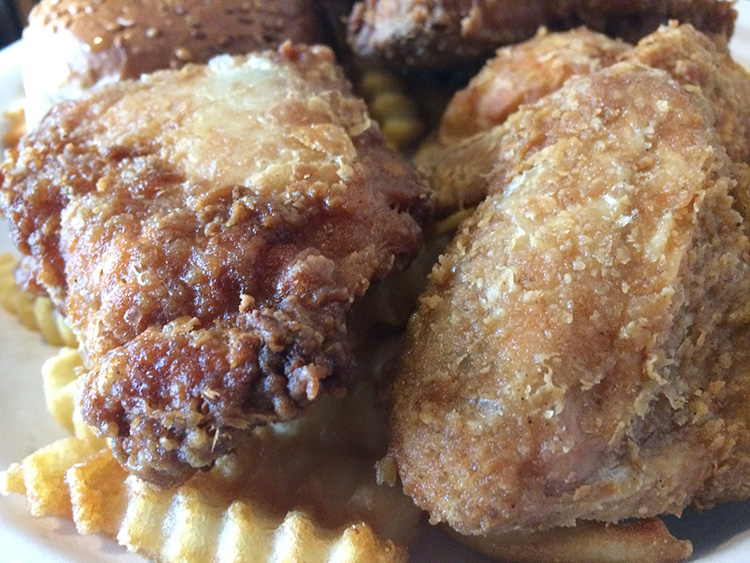 Just some of the specialties Gold Rush churns out in its diminutive and dated locations include pizza, ribs, pork chops, burgers, fish, shrimp, ice cream, garlic bread, potato salad, dinner rolls, malts, shakes, cookies, and pretty much any breaded appetizer the mind could possibly conjure. Of course that's all secondary to the chicken. With six decades of practice, Gold Rush has perfected the process. Each piece is coated in a thick, liberally-seasoned batter that surrounds plump pieces of tender and juicy meat.
Much like the recipes, the interior (complete with a framed photo of the little league team the business sponsors), its endearingly out of touch logo, and the less-than-health-conscious menu, it appears the prices at Gold Rush haven't really changed much through the years. A Chicken Dinner—half a fried chicken, fries, a dish of coleslaw, a sesame dinner roll, and a cup of vanilla ice cream—can be had for only $9.95, with Gold Rush's trademark buckets running between $15.29 for an eight-piece "Junior" size to a 24-piece "Super Barrel" for $39.99, and 12-, 16-, and 20-piece options priced in between. All buckets come with fries.
The neighborhoods these two tiny magical chicken shacks serve have changed immensely through the years, just as the dining preferences of the city and the world have. As the attention of Milwaukee's populace and its restaurateurs slowly returns to the almighty fried bird, it's important to remember that Gold Rush has put delicious fried chicken in buckets for generations and they're still doing so today. No matter what protein preparation comes to the forefront next, it appears Gold Rush Chicken will be around for years and years to come. We can only hope.