In April of 1997, riot grrrl pioneer Bikini Kill embarked on a brief tour of Australia and Japan. These would be the last shows of the band's original eight-year run. Twenty-two years and many side projects later, three of the four original members reunited in 2019 for a handful of dates in New York, Los Angeles, and London.
In these situations, Milwaukee fans can do little but pray for a Chicago date, which they got; unfortunately, it was at Riot Fest. And that was it, until November 2019, when the band announced the first leg of a larger tour, scheduled to conclude in Milwaukee in May 2020. "Next year is primed to be a stressful mess no matter which way you slice it," proclaimed the Rolling Stone article about it.
When the tour actually resumed in 2022, it featured Erica Dawn Lyle on (mostly) guitar; she'd replaced Billy Karren, the lone original member who chose not to participate in the 2019 reunion. She had finished out the 2022 tour, but the band swapped in Milwaukee native Sara Landeau starting this year, a natural fit considering she's been working with primary vocalist Kathleen Hanna and primary bassist Kathi Wilcox in The Julie Ruin for more than a decade. Completing the band, on drums the majority of the time, was Tobi Vail, who didn't end up in headlines back in the '90s the way Hanna did, but whose creative force was just as crucial then as now. She owned the stage Wednesday night at The Riverside Theater no matter where she was on it.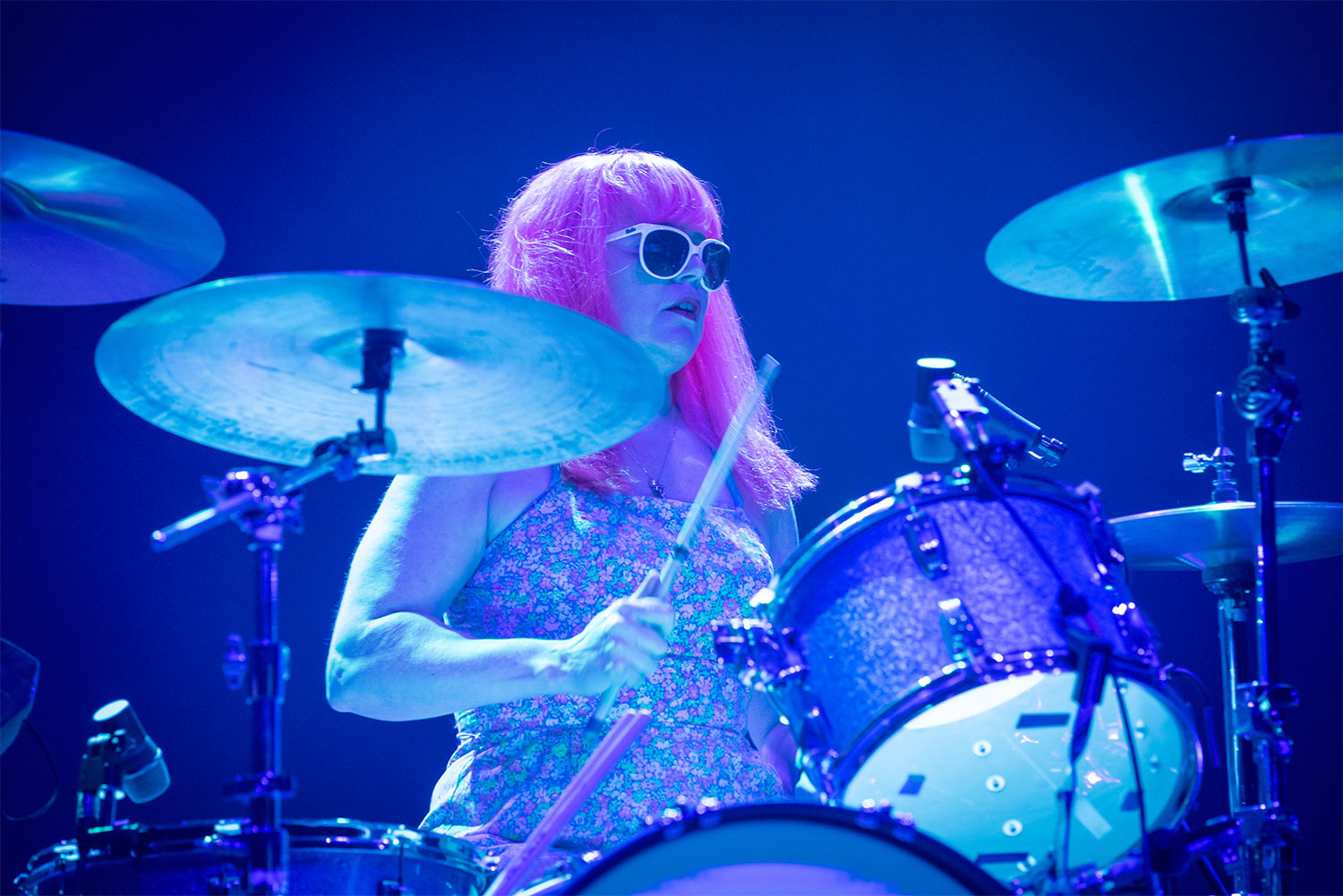 "Thank you so much for changing plans for us so many times, changing venues," Hanna remarked in greeting. "This theater is so goddamn beautiful, I can't even believe we get to play here." It would've seemed surreal in the '90s, maybe, seeing Bikini Kill bust into "New Radio" under massive chandeliers like this, but it wasn't long after the band's inception in 1990 that punk rock became big business. The riot grrrl movement, however, stuck largely to a policy of mutual antagonism with the media, so it was difficult for mainstream culture to fully embrace those bands. Then again, Bikini Kill in 2023 is a tighter-sounding unit than before, touring with professional equipment. Maybe this is all the songs needed to start reaching a wider audience.
There haven't been any new Bikini Kill songs since 1996's Reject All American, and the group didn't pull much from that album on Wednesday. Countercultural movements tend to flare up and die out quickly, and Bikini Kill's early material naturally holds up much better than the band's swan song. That was also the year that the Sex Pistols reunited for their Filthy Lucre Tour, which elicited cries of "SELLOUT!" from the young punks of the day. The world was naïve; there's no such thing as selling out any more, but whereas the world had no need for old men selling Sex Pistols songs, Bikini Kill songs aren't plastered all over pop culture in the same way. The theater should've been packed to the gills with teenagers, if only for educational purposes!

Even though it wasn't a sellout, it was a respectable crowd for a Wednesday night—particularly for a show that's been postponed so many times and coinciding with a Bucks playoff game—and the crowd matched Bikini Kill's electricity. It was just as much about the banter as the songs, and each time Vail emerged from behind her drum kit to take center stage was a particular delight. She shouted out Die Kreuzen prior to "I Hate Danger," and livened up the room with her dance moves. She also gave props to the opening act, St. Louis band Soup Activists (who were fantastic, like a grungy/shoegazy B-52's), and revealed the true inspiration for her song "Hamster Baby": "This next song rhymes with 'masturbating' as said by Glenn Danzig in the Misfits song 'Bullet.'" That's right, Glenn Danzig: feminist inspiration!
Hanna (the only member who didn't play drums at any point) was talkative throughout the show and seemed positively giddy and grateful to be there. It's been pointed out too many times how relevant old protest songs still are in the modern world; it has to at least be a joy getting to play them without constant fear of heckling and/or debris being hurled at you. Bikini Kill songs are often confrontational, but they do not sound outlandish from a current-day perspective. The thing about the riot grrrl movement wasn't that it was inherently radical so much as that the majority of America looked at feminism itself as radical in those days. Paradoxically, even in the punk community.

"Seriously, punk is more than a genre," Hanna reminded the crowd towards the end of the set. "It can be about creating community and creating spaces outside of corporate culture." Gen-Xers who lived through grunge and riot grrrl as they happened may vaguely recall this sentiment, before Green Day and blink-182 sold tens of millions of compact discs. Punk was about inclusivity; anybody could do it. Nowadays, technology has made it so that anybody can do…any kind of music, really. They can program artificial intelligence to make a song that sounds so much like Drake and The Weeknd that lawyers can have it banned from streaming services. But could AI make a believable punk song? Maybe the genre's ultimate legacy is to be the only kind of music a computer can't replicate. And although the Milwaukee crowd was made up of mostly middle-aged folks, there were young people there to witness, and they were as enthusiastic as anybody else, as noted by Hanna prior to set-closer "Suck My Left One":
"Sign your boobs? Hell no! I'm a 54-year-old woman, I could go to jail for that, you're like 12!"

Exclusive articles, podcasts, and more. Support Milwaukee Record on Patreon.
---
RELATED ARTICLES
• After 3 years, 2 reschedules, and 1 venue change, Bikini Kill plays Riverside Theater this Wednesday