Last month, Google announced a research team was experimenting with "training" artificial neural networks. They called it, "Inceptionism" and, um, we don't really understand it entirely beyond that. (Gizmodo does a better job explaining it.) Basically, images uploaded into a neural network are manipulated when artificial intelligence fills in additional information on that image's layers…or something. No matter what it is or how it's done, artificial intelligence is essentially using existing images to create strikingly different and usually-much-weirder renderings that range from wannabe Magic Eye art to "Dogs Playing Poker"-meets-an acid trip. This has the possibility to be a groundbreaking development, and an occurrence that at least somewhat bolsters crackpot's fears of an eventual robot uprising when machines gain consciousness and revolt against their human masters.
Anyway, we used this groundbreaking technological development the best way we knew how. Last week, we uploaded some pictures of Bob Uecker onto Google's neural network. Over the weekend, the network concluded its "Deep Dream" sequence and spit out some strange mutations of Mr. Baseball and friends. They're pretty weird. You've been warned.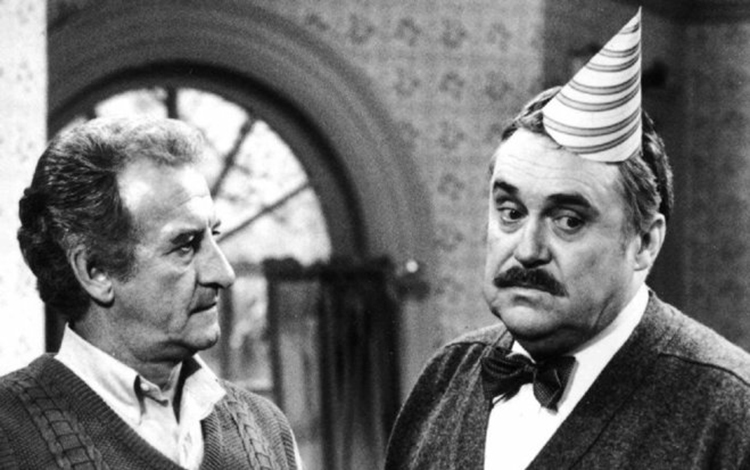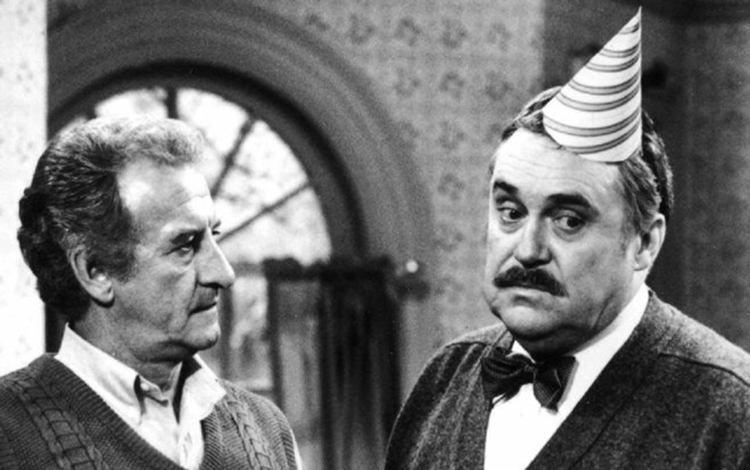 This on-set shot of Uecker and his Mr. Belvedere co-star Christopher Hewitt was among our favorite photos used in our short-lived #UeckerOClock hashtag, so we had to upload this one. We were also curious to see how artificial intelligence would re-imagine a black and white image, the curved lines on Hewitt's hat, and the texture of Ueck's sweater vest. Deep Dream didn't disappoint.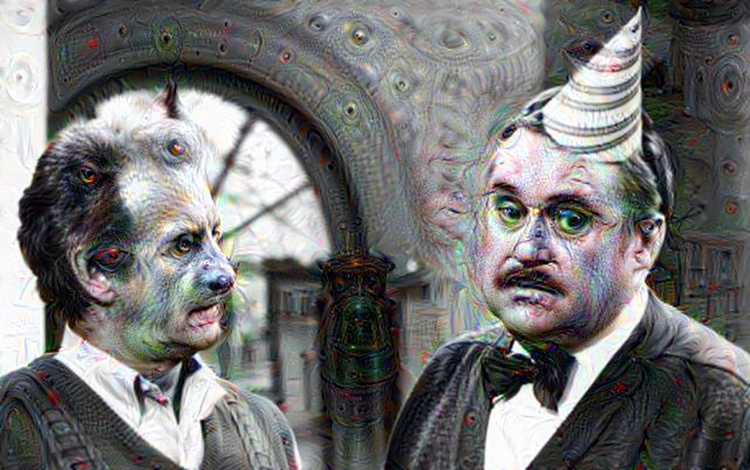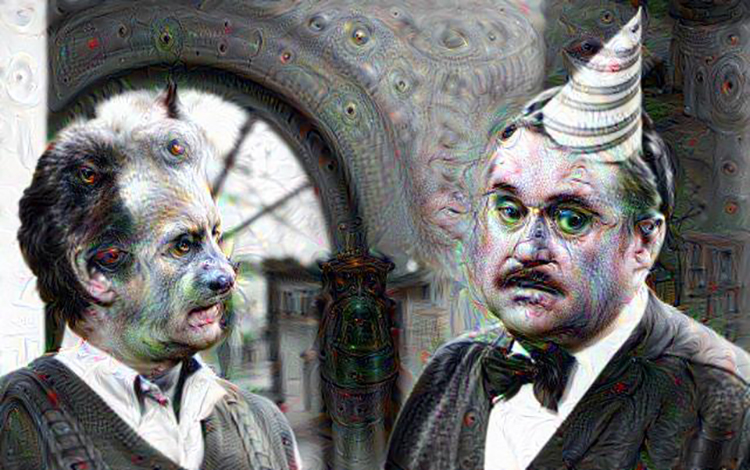 While not strikingly different, Uecker looks part wolfman, the curtains have become some sort of futuristic Stanley Cup, and the wallpaper pattern is a crazy. It's also surprising to see pink, red, and green incorporated into the mix.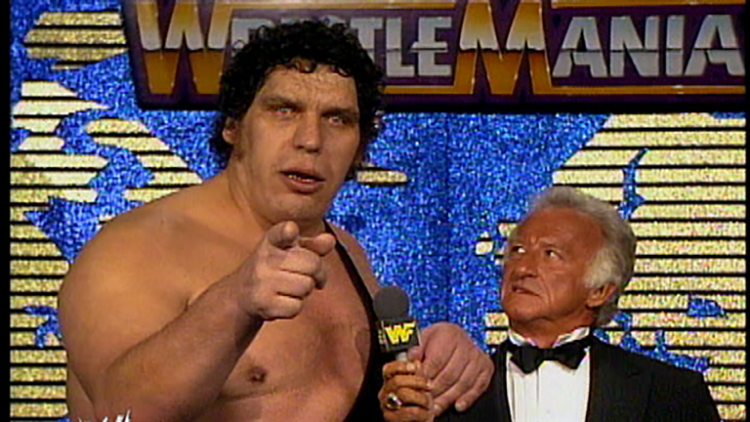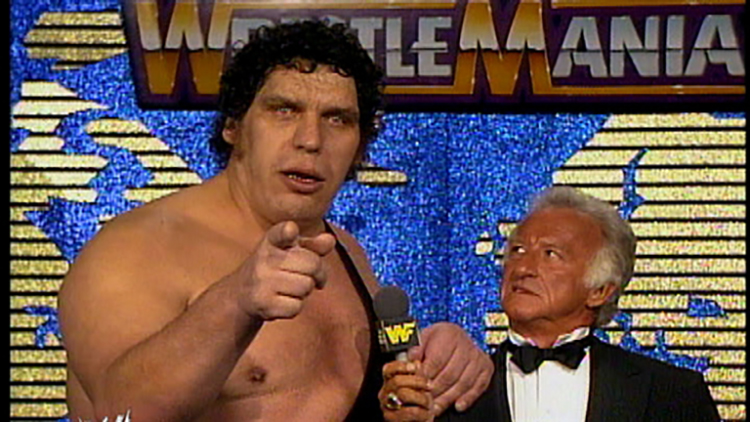 If you only know the voice of the Milwaukee Brewers from radio broadcasts and/or the aforementioned sitcom, you're probably not aware that—in addition to being a member of the Baseball Hall Of Fame—Uecker belongs to the WWE Hall Of Fame for his work during WrestleMania telecasts in the 1980s. His most memorable work in the world of professional wrestling came as the heel during an unforgettable Andre The Giant interview. Naturally, we decided to upload two photos of Uecker and Andre.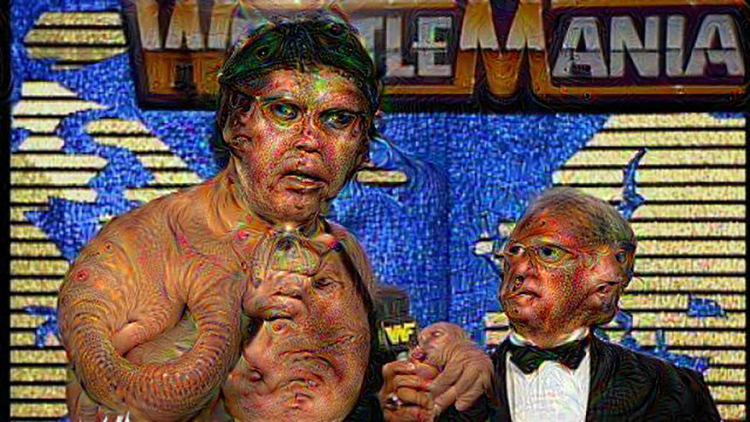 The glittery WWF background wasn't impacted much, but holy shit have these two sports legends been mutated. Andre has been transformed from hulking wrestling force into a sci-fi nightmare. This is like a character from The Cell. Meanwhile, Uecker has sprouted a second face and scales.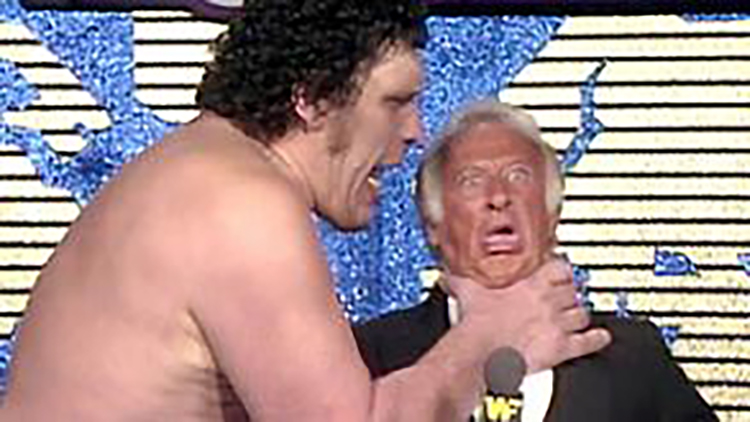 No, we didn't forget about this one.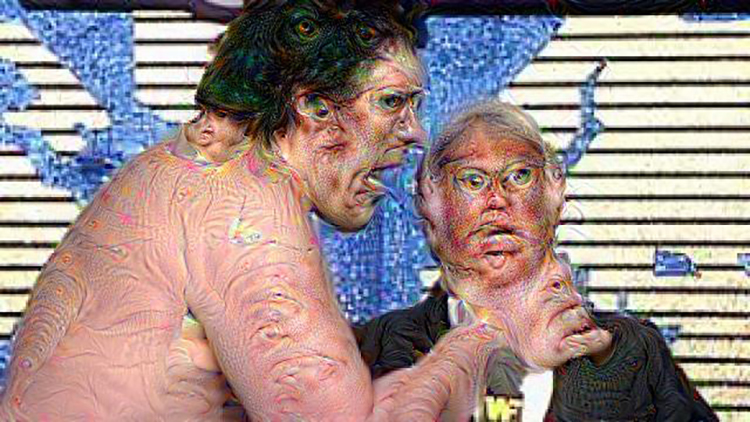 That's just terrifying.
Since a certain Wisconsin professional sports team strongly suggested we cease (and deist) using a specific photograph of Mr. Baseball without his shirt on, we'll fill our scantily-clad Uecker portion and officially conclude the wrestling segment of this Deep Dream with this pic of a bare-back Uecker hamming it up with former Minnesota governor and current conspiracy theorist Jesse "The Body" Ventura.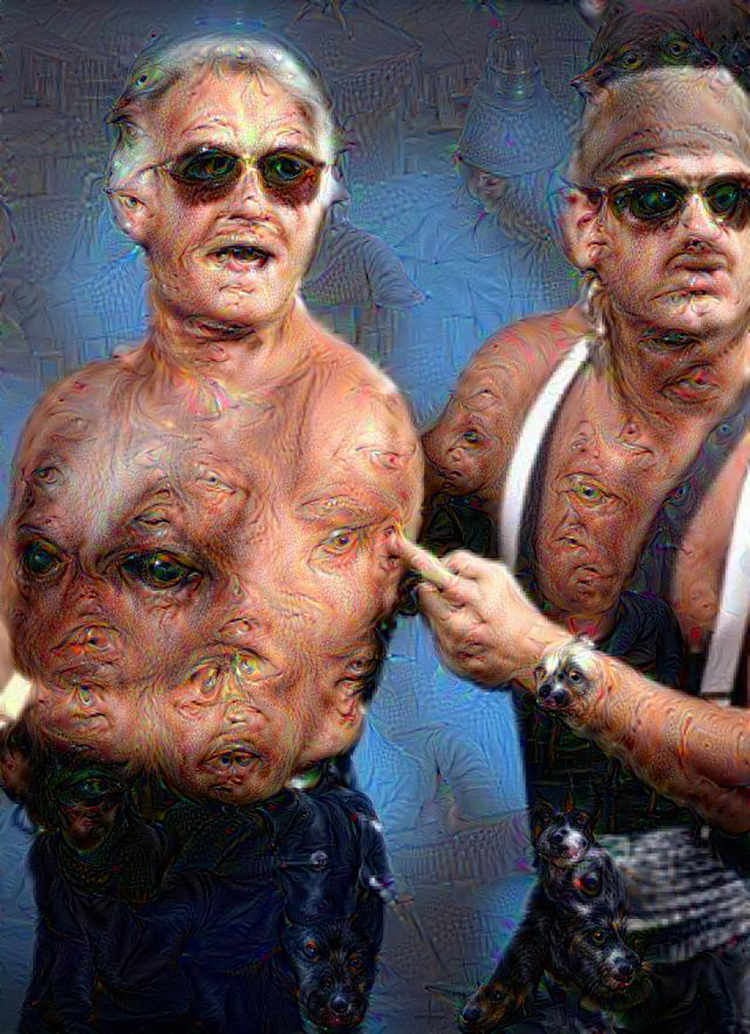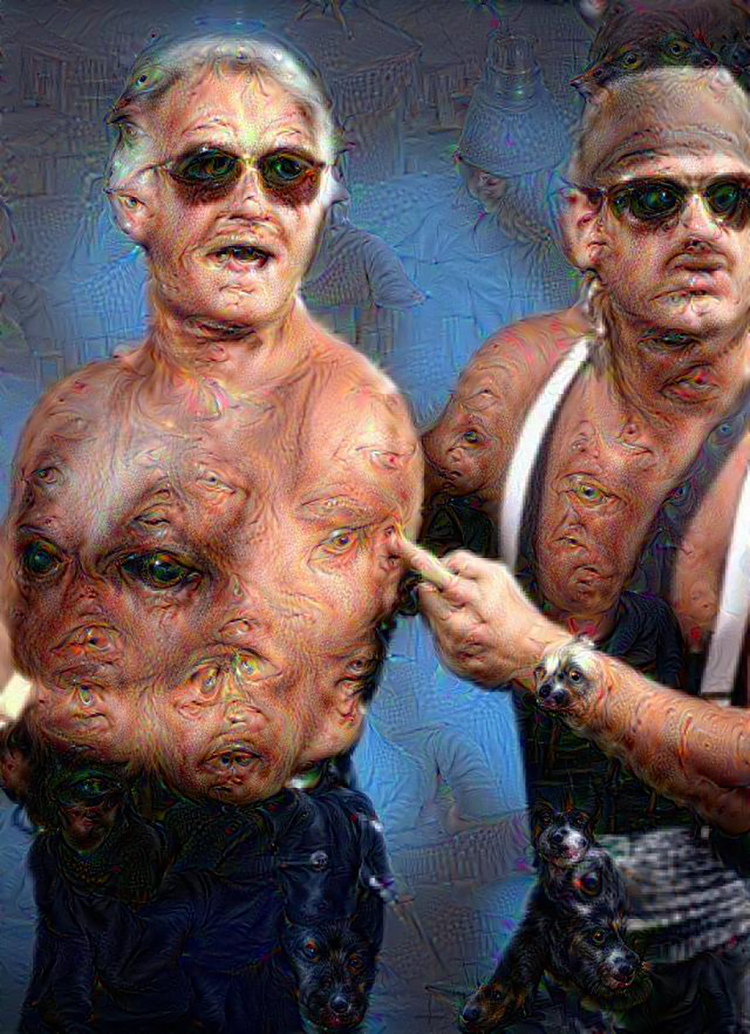 Okay, now we're getting a little more out there. Uecker's barrel chest has become a Magic Eye puzzle. Ominous figures and crazy shapes loom in the background. If that's not weird enough, Ventura's watch face has been replaced by what appears to be a sloth face, and both have dog heads strewn throughout the fabric of their slacks. Ventura surely appreciates having his image uploaded to the cold unconsciousness of artificial intelligence.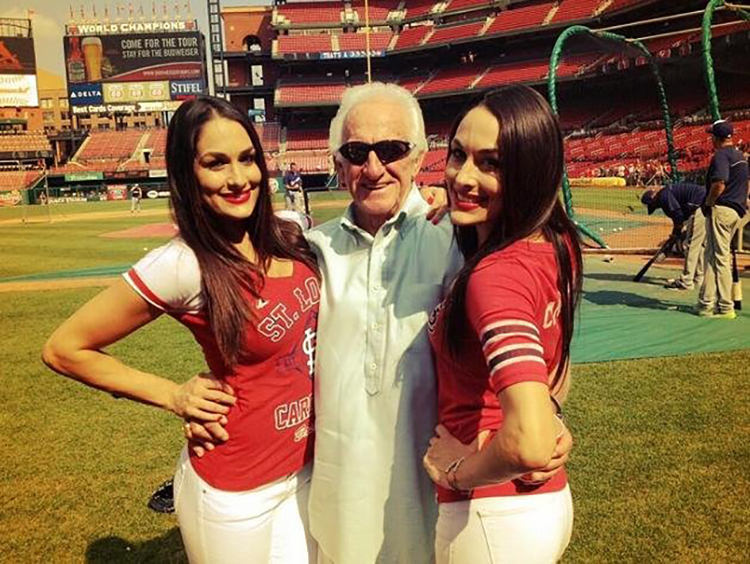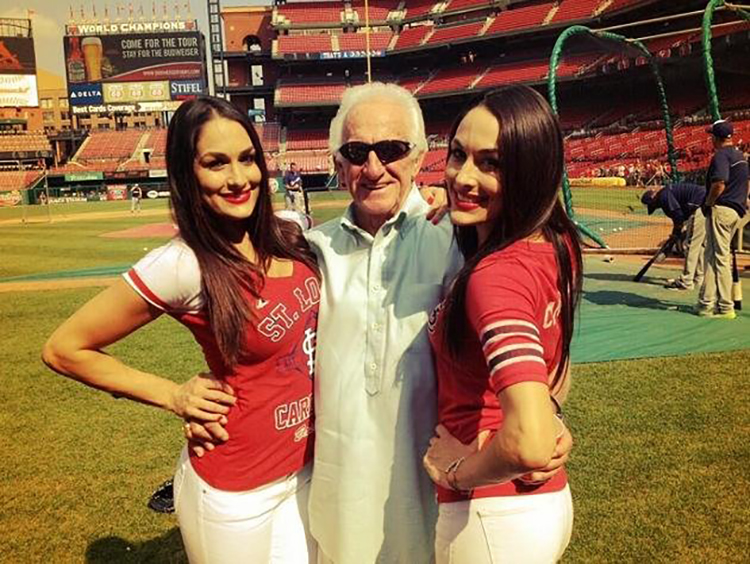 Sadly, the man who is far and away the biggest point of pride for Brewers fans is also a footnote in the much longer and richer history of spoiled St. Louis Cardinals fans. Here's a picture of the short-lived backup Cardinals catcher posing with two of "Baseball's Best Fans" in St. Louis a few years ago.
Hey, Uecker, is that some type of futuristic urn in your pants or are you just happy to see those women? You shouldn't be happy to see them, as they look like someone microwaved some hastily-painted Entourage fan art. Not to mention they're Cardinals fans.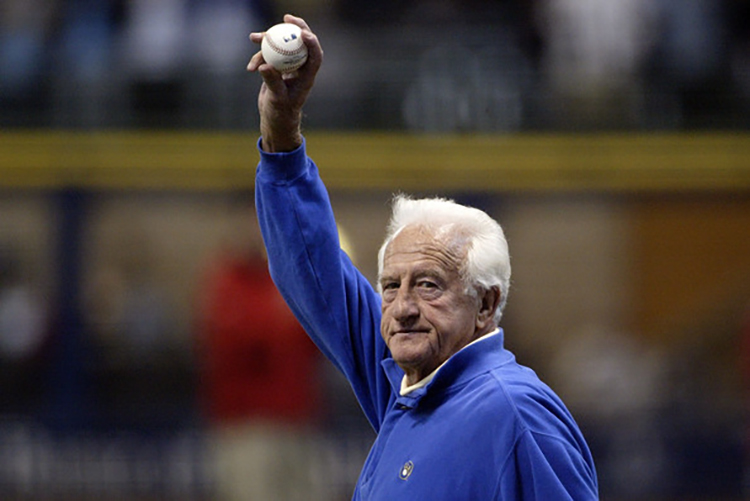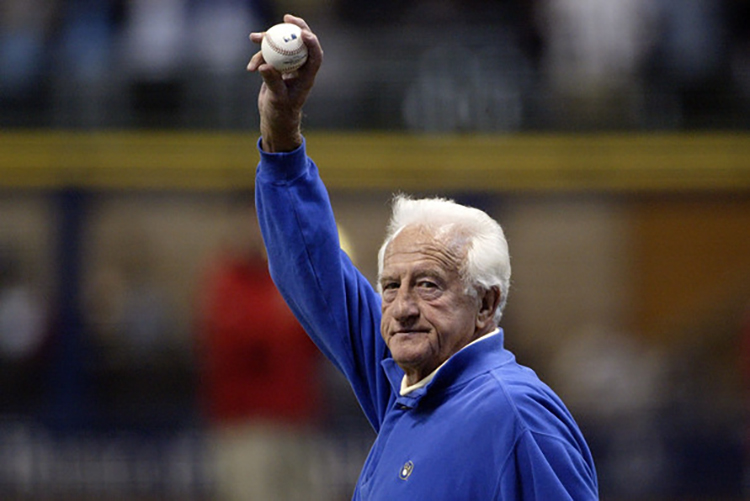 Last but not least, we uploaded a classic photograph of Bob Uecker. It's simple, but is a great shot of one of baseball's—no, Earth's—best. What could an artistic A.I. algorithm possibly do to augment a simple image of a stoic sports icon subtly grinning and hoisting a ball toward the heavens?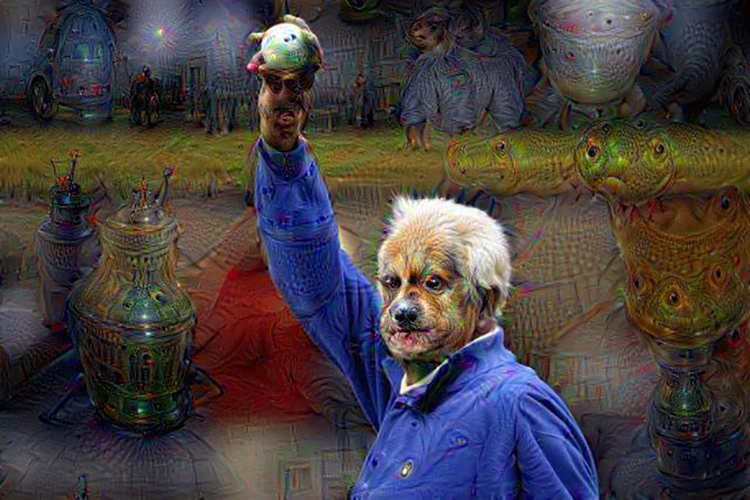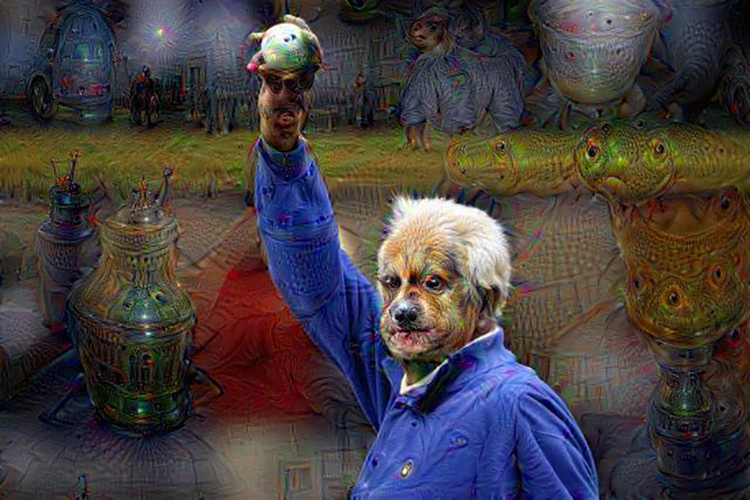 Sweet Jesus.