The following article originally appeared in the October edition of Colectivo Coffee's "Off The Record" print-only periodical/crossword puzzle. You can pick up "Off The Record" free of charge at all 13 Milwaukee-area locations.
Remember being a Milwaukee youngster and wondering what it would be like to explore undersea kingdoms, to get into epic cowboy battles, or to be a gorilla? If so, you might want to do some reading about Ray "Crash" Corrigan—the Milwaukee-born stuntman who made his way to Hollywood and B-movie glory. His story is a little tricky to piece together, but his career highlights sure are something.
The recorded details of Corrigan's early life are imprecise, at best, but experts on the topic all agree that he was born in Milwaukee on February 14, 1902. His birth name was Raymond Benitz (or possibly Raymond Benard). When he was a kid, Corrigan's family moved west to Colorado, and then later to southern California. It was there that the athletic and handsome young Milwaukee native found his way into stardom, of sorts.
In the early 1930s, Ray Benard worked in Hollywood as a fitness instructor and eventually landed a few roles as a stuntman. He made his first film appearances as both a stuntman and as a gorilla character in Tarzan The Ape Man (1932) and Tarzan And His Mate (1934). He kept playing gorillas, but grew into much more.
From 1932 to 1936, he filled a number of uncredited roles (often playing a gorilla) in a variety of different projects. In 1936, he landed the role of Ray "Crash" Corrigan in the underwater adventure film serial, Undersea Kingdom. He adopted the character's name as his own screen name, and went by Corrigan from then on. The same year, he also joined the cast of The Three Mesquiteers—a B-western serial and the first of more than 40 westerns in which he'd appear during his career. The roles in the mid-to-late 1930s made him into a legitimate B-movie star.
However, he never stopped playing gorillas. When his opportunities began to dwindle a little in the early 1940s, he actually played gorillas quite a bit. Over the last 15 years of his career, he averaged more than one gorilla role per year, but he also branched out into a slightly different business.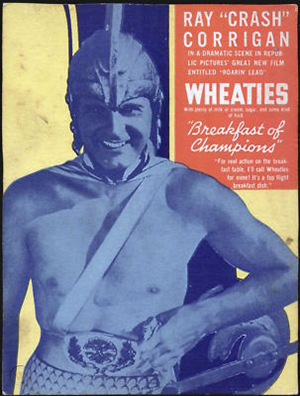 In 1937, Corrigan bought approximately 1,500 acres of property in Simi Valley, California for the purpose of turning it into a movie ranch. The property had lakes, hills, caves, rock formations and many other scenic attributes, but Corrigan also had buildings and sets constructed on the property that made it a perfect place to shoot westerns. By the late 1940s, "Corriganville" had become a popular location for all kinds of moviemakers, and a major tourist destination, as well. Bob Hope purchased the property from Corrigan in 1965.
Overall, there's no denying that the career of "Crash" Corrigan is unlike anything else we've seen from a Milwaukee native. It was sometimes good, sometimes bad, oftentimes ape-related, and certainly never boring. He even appeared on a Wheaties box. Dream big, Milwaukee kids! Someday you, too, could be a gorilla.
***
Here's the answer key for the American Values Club Crossword Puzzle from the October edition of "Off The Record."