Less than a week from now, Wisconsin will once again be home to a Big Boy restaurant. The first to return to the state in more than two decades will be located in Germantown in the space that was most recently home to Jerry's Old Town Restaurant. No more taking a ferry across Lake Michigan to eat at Big Boy for us!
At its peak, the classic Michigan-originated burger chain boasted more than 1,000 locations nationwide, and over 60 of those were Marc's Big Boy restaurants. The Marcus Corporation-owned arm of the franchise had dozens of restaurants scattered throughout the Midwest, including a cluster of locations in and around Milwaukee.
The city's last Big Boy closed in 1995 and, though there are a lot of great imitators in town, we know we're not alone in wishing Milwaukee proper had its very own Big Boy again. Maybe someday. In fact, there are a few chain restaurants with Midwestern roots that we'd love to see come back to Milwaukee. Here are just a few that come to mind.
Arthur Treacher's
Scroll far enough down the Old Milwaukee Facebook page and you're bound to see someone mention Arthur Treacher's. The Ohio-based seafood chain had more than 800 locations nationwide during its heyday in the 1970s, including a number of restaurants in and around Milwaukee. The four-plus decades that followed found the fish and chips franchise recede considerably. Today, just two Arthur Treacher's locations—both in Ohio—remain, though the concept was recently kinda-sorta revived in the form of ghost kitchen offerings.
Bakers Square
Originally launched as Mrs. C's in Des Moines, Iowa back in 1969, the bakery chain later known as Bakers Square became something of a Midwest dessert staple throughout the 1980s and '90s. The new century has been one full of challenges and closures for this once-prominent pie purveyor. The end of 2020 saw the closing of the last remaining Bakers Square in Wisconsin. The Elm Grove location followed the closing of a Shorewood location in 2016, and locations in Greenfield and West Allis earlier in 2020. Speaking of the West Allis Bakers Square, everything not nailed down in the shuttered restaurant was up for auction this past January.
Buca di Beppo
Before it was a publicly traded company owned by Planet Hollywood and headquartered in its current home of Orlando, Buca di Beppo (originally called Buca Little Italy) was started in a Minneapolis basement in 1993. Growth also brought rampant expansion, including some locations in Milwaukee and its surrounding suburbs. The Italian chain didn't last here, as every Buca restaurant in the region closed in the 2010s. Wisconsin's last Buca di Beppo—located in the Southridge Mall—closed in early 2018.
Chi-Chi's
In 1975, while living in Minnesota long after he filed his retirement papers with the Packers, Green Bay gridiron great Max McGee partnered with restaurateur Marno McDermott to open the first Chi-Chi's location in Richfield, Minnesota. The Mexican food restaurant—named after McDermott's nickname for his wife—quickly became a popular dining destination in the Minneapolis suburb, which attracted attention of an investor, who bought the rights to franchise Chi-Chi's from McDermott shortly thereafter.
With low prices, a casual atmosphere, and a wide range of Mexican culinary standards with a cheesy and deep-fried Midwestern twist, the popularity of Chi-Chi's exploded in the 1990s. By 1995, there were 210 Chi-Chi's locations in the U.S. and Canada (including some in and around Milwaukee). Though the Chi-Chi's restaurant dream was over in the early 2000s following decades of corporate turnover, erratic earnings, and litigation, the brand still lives on in other ways and in faraway places. You can still stumble upon a Chi-Chi's location in parts of Europe (in nations like Luxembourg and Belgium) and the Middle East.
We have more information on the history of Chi-Chi's and McGee's role in the franchise HERE.
Ed Debevic's
You probably know about Ed Debevic's. But did you know the Chicago-based '50s-style diner with famously rude servers used to have a location in Milwaukee as well? The chain's short-lived stint on N. Jefferson St. in Cathedral Square ended in 2001. It was the last non-Illinois Ed Debevic's location. Could Milwaukee be ready for a restaurant where the staff roasts people right to their face? Only time will tell.
Holey Moley
Since landing in the Historic Third Ward in August 2014, Holey Moley Coffee + Doughnuts quickly became one of the city's most popular donut destinations and helped push the diversity of local breakfast pastries to innovative and new territory. Sadly, Milwaukee's first "craft doughnut shop" is no more…at least for the time being.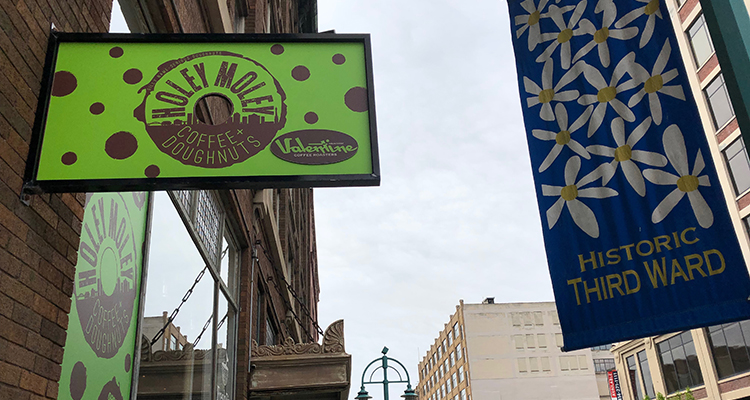 After closing last year on account of the COVID-19 crisis (excluding a select few socially distant pop-ups last fall), Hospitality Democracy, the restaurant group that owned and operated Holey Moley, recently announced the breakfast brand's flagship location—and only remaining site—at 316 N. Milwaukee St. will be closing permanently. This latest closure comes after a short-lived tenure at then-Miller Park and, most recently, a presence in Wauwatosa's Mayfair Collection that ended in 2018. Though we don't know where or when the concept will resurface, we were fans and we're glad Hospitality Democracy isn't giving up on Holey Moley forever.
Hot 'n Now
In its early-'90s heyday, Hot 'n Now stretched from Oregon to Florida and California to Pennsylvania, with a corporate stronghold in Wisconsin, Indiana, and Michigan (where the now-fledgling franchise was born in 1984). Its business model was one fostered by placing the tenets of speed and affordability over comfort or quality. Burgers were 39 cents. French fries were 39 cents. Soda was 39 cents. The small batch of specialty items like the "Bolt Jr." and the perplexing "Olive Burger" also went for less than a buck. But for a nation not yet introduced to the term "fast-casual" and a populace who was just learning they could "have it [their] way," it worked for Hot 'n Now…for a time.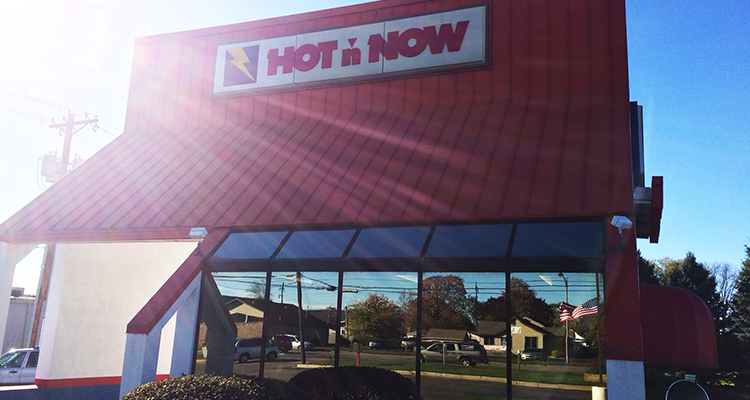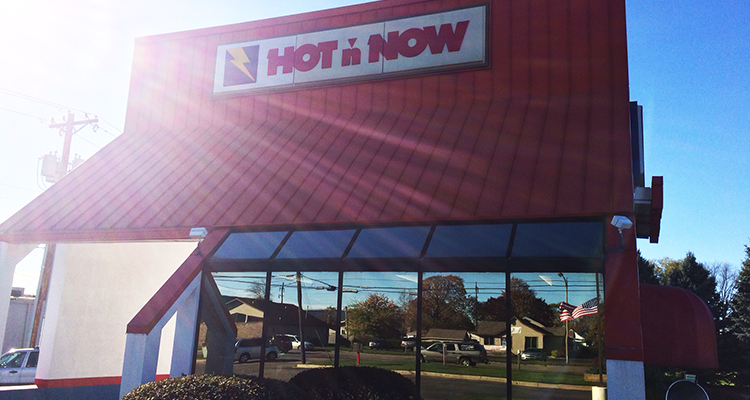 Today, the burger chain that once had as many as 150 locations in 15 states is down to just one remaining restaurant. Standing stubbornly in the 11,000-resident Michigan border town of Sturgis, just beyond the Indiana border, is the last Hot 'n Now on the planet. We went there in 2016 and we hope to make it there one last time before it's gone for good (whenever that might be).
Perkins Restaurant & Bakery
In the blink of an eye, Perkins—a restaurant and bakery chain that started in Edina, Minnesota in 1969—has fallen on hard times. Though there are still locations in 32 states (including Wisconsin) and four Canadian provinces, the rapid decline in Perkins locations has left Milwaukee without a location. These days, the closest place for Milwaukeeans to get their Perkins fix is either Oshkosh or Madison.
Ponderosa Steakhouse
Just one of the innumerable industries adversely impacted by the COVID-19 crisis is the all-you-can-eat buffet business. To be honest, though, things weren't looking too great for Ponderosa before the pandemic either. The chain that was founded in Kokomo, Indiana and formerly headquartered in Dayton, Ohio has fallen on hard times following numerous acquisitions and a semi-recent bankruptcy filing. Today, there are just 27 Ponderosa restaurants left in the U.S., none of which are anywhere near Milwaukee.
Taco John's
We leave you with a bit of an outlier. Though Taco John's was both founded in Cheyenne, Wyoming in 1968 and is still headquartered there, the vast majority of the "West-Mex" chain's locations are in the Midwest. Also, it rules. To be specific, 299 of the approximately 400 TJ's that are currently in existence are scattered throughout the heartland. Iowa alone has 58, whereas Wyoming only has 26. There are 31 in Wisconsin at the moment, but the closest to Milwaukee is in Waukesha. We go there almost every time we see our accountant who has an office nearby. Anyway, a representative at Taco John's recently told us the chain is still planning to open locations in Milwaukee as early as late 2021. Hell yes.
Until that happens, we'll just have to drive to Waukesha for Taco John's and go to Germantown until Big Boy (hopefully) makes its fateful return to Milwaukee soon.