It's said nothing lasts forever, but that isn't always true.
In this insatiable era of nostalgia, reunions, reissues, and arbitrarily-numbered lists of minutia only [insert decade] kids can understand, anything simply ceasing to exist has become an altogether foreign concept. By that logic, everything should be forever. But that also isn't true.
Standing stubbornly in the 11,000-resident Michigan border town of Sturgis, just beyond the Indiana border, is a Hot 'n Now. More specifically, it's the last Hot 'n Now on the planet. Following a fire at the Bay City, Michigan location over Labor Day, the asymmetrical shack that's lost in a sea of more successful franchises on Sturgis' bustling M-66 thoroughfare is the last remaining vestige of a hamburger corporation that, at its apex a quarter-century ago, had as many as 150 locations in 15 states. Now, the once-prosperous burger chain has but a single link left. Soon, there will be none. Knowing time wasn't on my (or Hot 'n Now's) side, I knew I had to make a run for the border—or more accurately, three borders—to take one last trip through the restaurant's drive thru. For two friends, it was Hot 'n Now or never.
In its early-'90s heyday, Hot 'n Now stretched from Oregon to Florida and California to Pennsylvania, with a corporate stronghold in Wisconsin, Indiana, and Michigan (where the now-fledgling franchise was born in 1984). Its business model was one fostered by placing the tenets of speed and affordability over comfort or quality. Burgers were 39 cents. French fries were 39 cents. Soda was 39 cents. The small batch of specialty items like the "Bolt Jr." and the perplexing "Olive Burger" also went for less than a buck. There was nary a toy, nowhere to sit, an absence of a play land, and zero attempt to forge any semblance of ambiance. But for a nation not yet introduced to the term "fast-casual" and a populace who was just learning they could "have it [their] way," it worked for Hot 'n Now…for a time.
In 1990, PepsiCo—which also owned Taco Bell, Pizza Hut, KFC, as well as the eponymous cola and its affiliated soft drinks—acquired Hot 'n Now and pushed the Kalamazoo-born chain as far west as California. Allegedly, the expansion didn't sit well with In-N-Out Burger, which ended its decades-long partnership with Pepsi and switched to Coke brands in the mid-'90s—an agreement that holds strong to this day. The growth was short-lived, though. By 1993, Hot 'n Now's President stepped down. In 1995, the restaurant was serving as a low-risk test site for menu items Taco Bell would eventually serve, and many others that, justifiably, never made it much further than Hot 'n Now's pickup window. The following year, a Florida franchisee shuttered all six of his locations and sued the parent corporation for $100M. By 2002, the chain had closed about two-thirds of its locations. They filed for bankruptcy in 2004.
After that, a brave few franchisees stuck it out for a while, including a Wisconsin location in Marshfield, which was one of three left before they finally called it quits in 2014. With the Bay City blaze, the Sturgis location stands in solitude, the sole survivor of a corporate coup, litigation, relegation, bankruptcy, and significant changes in a country that either never knew Hot 'n Now ever existed or just didn't care. There, in a gritty border city where the ghost of industry looms large, the misshapen edifice with a lightning bolt logo remains as an affront to a world that doesn't want it, the only piece standing between 32 years of Midwestern-made meals and complete extinction.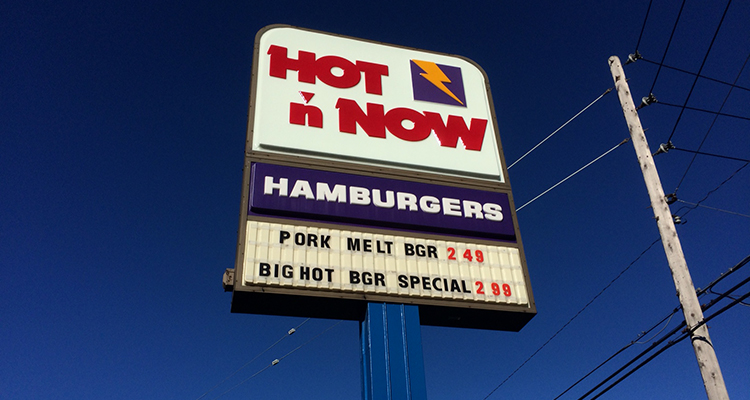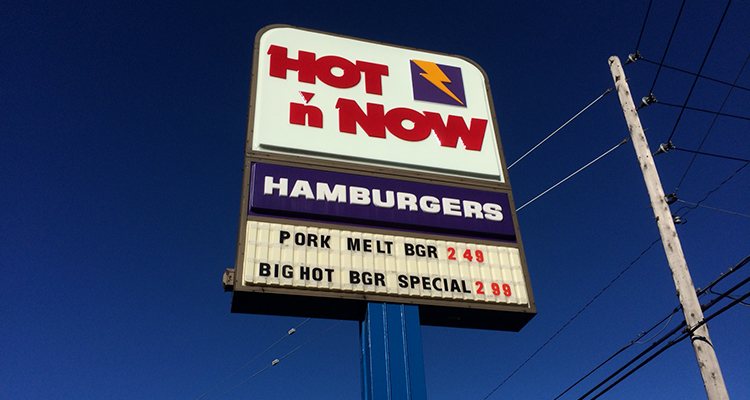 I knew Hot 'n Now wasn't long for this world, but I also knew there was time for a last meal. With my friend Nick, a father-to-be—adding to the urgency of this trip!—who now lives in Minneapolis, behind the wheel, we set out on a 250-mile, four-hour burger run (each way) that brought us through parts of four states. Our drive there was fine: About $20 in tolls, some deep conversation between two friends who've struggled to keep in touch after college, and music supplied by Icelandic Bon Iver knockoff Ásgeir Trausti (Nick's mom bought him the CD for some reason) as a phone-battery-saving measure. We bypassed skyscrapers in Chicago, averted our gaze from the poverty of Gary, and we saw mega churches, an RV museum, and empty fields as we straddled the Indiana border. Around 2 p.m. last Friday, we finally crossed into south-central Michigan and almost immediately reached our destination.
Though in a strange city in the state where I was born (but only visited once since moving as a toddler), the establishment was a familiar sight. For a brief portion of my youth, Hot 'n Now held a minor place in my life. Both the Menasha and Appleton locations didn't last through the '90s, and each oblong building has since been razed and paved over. Both are now parking lots of decidedly more successful businesses. I remember really liking the fries. I knew my mom loved the Olive Burger, and I recall sometimes eating our meals at a public park or, more often, at the crimson tables outside the Menasha site. If memory serves, the bargain basement fast food was actually kind of good.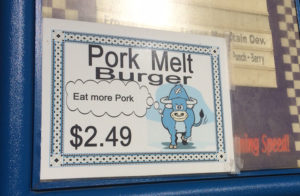 Here in 2016, the angular structure wedged between a Taco Bell and Buffalo Wild Wings and across the street from a brand new Culver's didn't carry quite the same appetizing appeal as its predecessors. Hopefully the food held up better than the building where it was made. We pulled in and, with nobody behind us, took our time to closely examine the sun-faded menu, which featured a few remnants from 20 years ago, along with a large number of unexpected items like clam strips, beer-battered pickle spears, and a Pork Melt Burger they pushed with a clip art poster that seemed heavily influenced by a Chick-fil-A campaign.
Having come such a long way, I wanted my order to touch all corners of the menu. Between Nick and I, we spent $31.97, which goes an incredibly long way at Hot 'n Now. I knew I'd feel gross, but our journey had to count. My order featured: a double Olive Burger, a Trojan Burger, a Pork Melt Burger, a Big Hot Burger, and a pumpkin shake. We shared some cheese-stuffed tater tots, deep fried pickle spears, a large fry, and—why the fuck not?—some clam strips.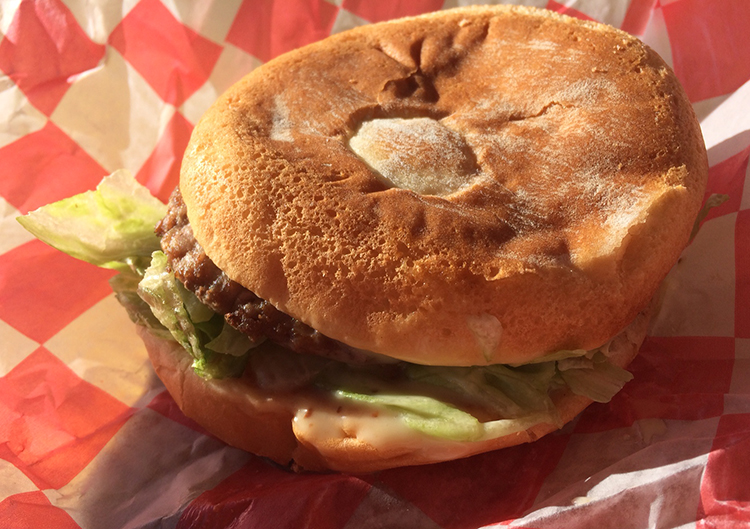 The Trojan Burger (pictured above) was pretty much a standard hamburger, except with a heap of wet lettuce and "Trojan Sauce" that had the color and consistency of what you might find in another type of Trojan. Thankfully, it tasted like mayo. Even with the regrettable name, the Big Hot was more my speed. It, too, had excessive lettuce and was drenched in thin mayo, but the tomato, pickles, and ketchup helped balance things out.
Since it's the last of its breed, the Sturgis Hot 'n Now has license to pretty much do whatever the fuck it wants. If nobody is looking, why not get weird? What's the worst that could happen, you close a few months earlier? That's the only rationale I can muster to possibly justify the Pork Melt Burger. A stiff sausage patty was slathered in artificial nacho cheese and sauteed onions, red pepper, and jalapeno medallions. It was terrible and I'm ashamed I ate the entire thing. Fortunately, I had the savory and perfectly-done fries as well as the surprisingly delicious pumpkin shake to quickly erase that mistake from my palate.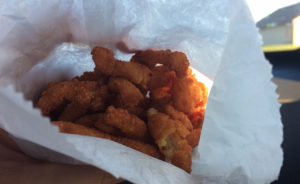 That assumed renegade mentality behind the Pork Melt also applied to some of the sides. The fried pickle spears were a trio of spicy cukes covered in a thick beer batter. Though the greasiness and temperature made them tough to eat, they were ultimately worth the struggle. The tots were bland and disappointing, and the clam strips were predictably fishy and chewy. Really, I'm only including this picture to prove we ordered them and ate some. If I die this weekend, you know the culprit.
This leaves only the Olive Burger.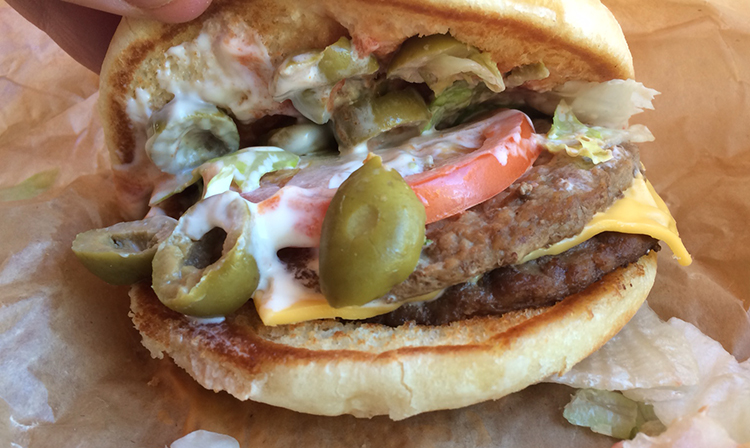 The amalgam of low-grade beef, partially-melted cheese, lettuce, tomatoes, and green olives that was slopped between a toasted bun has always been Hot 'n Now's bread 'n butter. To its credit, the burger was by far the best thing I ate the entire trip. Still, camped uncomfortably in a cold open-air park pavilion across from a graveyard that was set clumsily against the blight in what was left of "Electric City," the Olive Burger didn't taste the same to me. Maybe it was me. Maybe it was the world. I suspect it was a combination of the two. Like a film remake, a remastered record, a cash-grab reunion tour, and most other things we so often revisit in our futile search for lost youth, Hot 'n Now wasn't as good as I remembered it being.
As we were taking our last bites, a funeral procession passed. As the motorcade slowly rolled by, I came to realize this entire trip—sobering and disappointing as it was—was a four-state, 500-mile funeral procession of sorts. In a way, I was saying farewell to one of the few pieces of my youth that, until that very moment, didn't have the chance to have its flavors, smells, associated feelings, and augmented memories marred by adulthood. While I'm ecstatic for Nick and his wife, I think I was also saying goodbye to the carefree friendship we built when we had our whole lives ahead of us.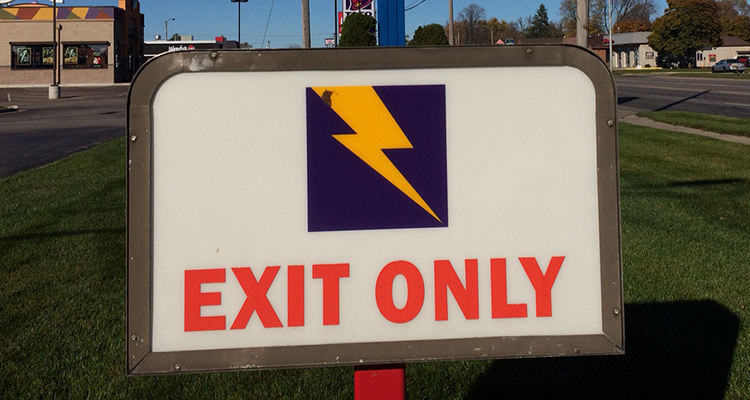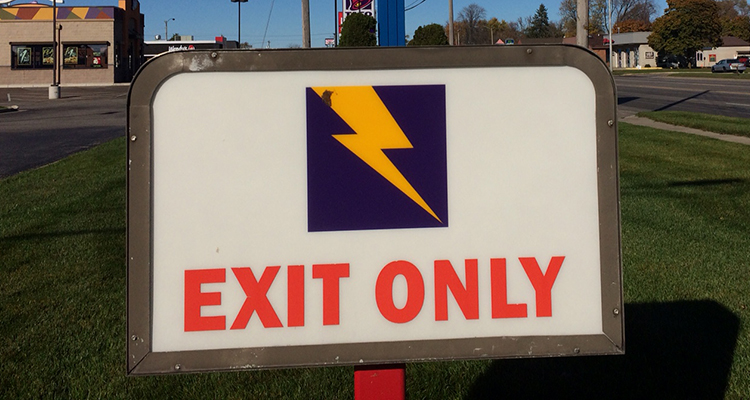 On our way out of town, we passed by the world's last Hot 'n Now again, both fully aware we'd never see it again. And that was okay with me. Mere yards from the burger-branded bridge connecting then and now was a Wendy's. After that was a McDonald's. Then a Burger King. Then a whole world full of experiences, opportunities, relationships, ups, downs, and enough memories to continually replenish a well that can be drawn from whenever the future is unclear and the present is too tough to take.
It's said nothing lasts forever. Sometimes that's true.