In 1965, Dan Lasater, Norm Wiese, and Charles Kleptz opened a restaurant in Kokomo, Indiana. The steakhouse was called Ponderosa, named after the Ponderosa Ranch in the long-running Bonanza television series. By 1971, the Indiana-born steakhouse and buffet was a rapidly-growing chain restaurant that moved its headquarters to Dayton, Ohio and expanded throughout the Midwest and into Canada.
In the late '80s, Ponderosa was acquired by Metromedia Restaurant Group, a Texas-based casual dining conglomerate that also owned Bennigan's and another steakhouse chain named after Bonanza. In fact, that chain—fittingly, called "Bonanza"—merged with Ponderosa in 1989. At the time of the merger, Ponderosa Steakhouse had nearly 700 (!!!) locations to its name, many of which were spread across Wisconsin and other Midwest states. It was the salad (bar) days for the burgeoning buffet, but it was simply too good to last.
The decades that followed found Metromedia and its dining subsidiaries going through the financial rigors of liquidation, bankruptcy filing, rebranding, and recession. Ponderosa was not immune from those issues, dipping to fewer than 400 locations by 2003. Since then, changing consumer tastes, increasing competition from national chains like Golden Corral, being acquired by yet another restaurant group (this time FAT Brands in 2017), along with the economic and societal effects of the pandemic has brought a swift and once-unthinkable decline to Ponderosa.
Today, this steakhouse and salad bar staple that had hundreds of restaurants all over the U.S. and beyond at its apex has exactly 17 locations left. Of that dwindling bunch, just one of them is the state of Wisconsin. The Hartford location closed its doors in June of last year. The Beaver Dam Ponderosa followed suit in August 2021. The sole survivor is in Wisconsin Dells of all places. To borrow terminology likely used in Bonanza, the wagons are circling around the last Ponderosa Steakhouse in Wisconsin…and one of the last on the planet, for that matter. Before driving to Madison last weekend, I abruptly decided to leave a little earlier than initially planned in order to take a detour to The Dells for one last meal at the endangered eatery.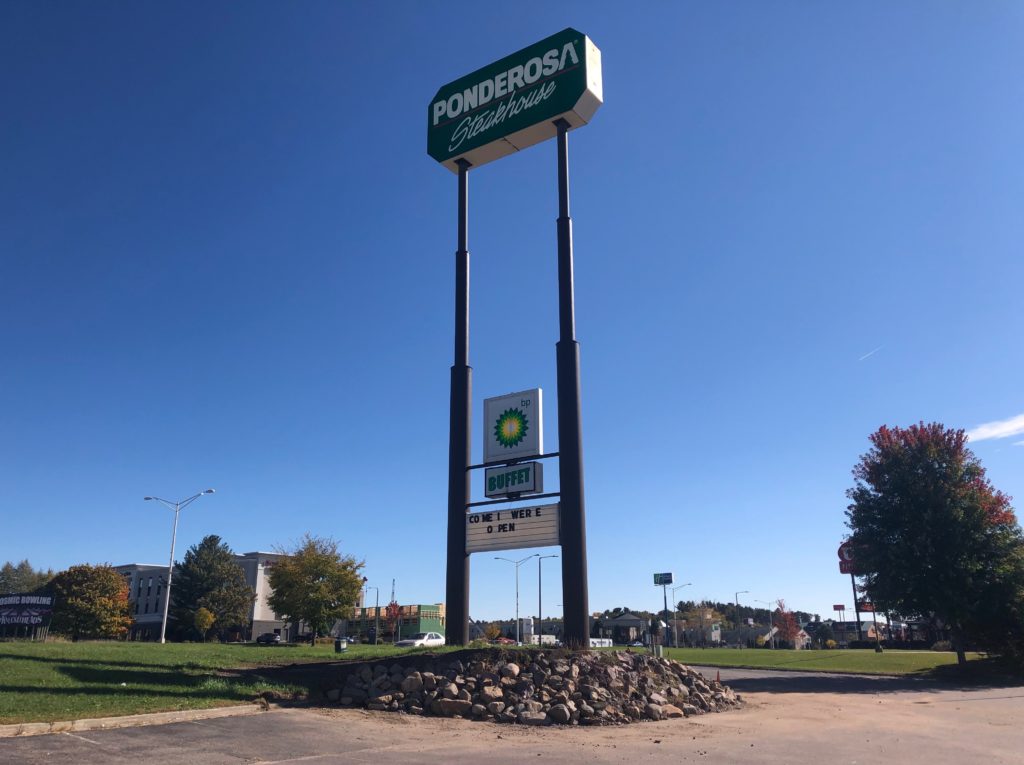 To be more specific, I was adding about two extra hours total to my drive to Madison for what I hoped would be a meal at the last remaining Ponderosa location in Wisconsin. Various attempts to call the restaurant were met with "this number has a voicemail that is not set up." Their Facebook page had not been updated since October 2, and that status was an announcement the restaurant would be closing early "due to staffing shortage." It was also not encouraging to see it was only open Fridays (4 p.m. to 8 p.m.), Saturdays (11 a.m. to 8 p.m.), and Sundays (11 a.m. to 7 p.m.). Though I was setting myself up for the strong possibility of disappointment, I had to try. After all, it could permanently close any day and there was no way in hell I was going to The Dells during peak tourist season. So I went and I hoped it wasn't all for nothing.
On my way there, I drove past vast fields of green prairies and golden crops set before rolling hills full of trees with vibrant, changing leaves. I passed billboards for the Rick Wilcox Show and Kalahari Resorts Waterpark. I shared the road with tour buses probably en route to attractions like that upside down White House thing and souvenir shops selling saltwater taffy or airbrushed T-shirts of Stewie Griffin smoking a fat ass blunt. I passed various other currently more successful chains. Finally, the familiar sight of the towering green Ponderosa sign greeted me from the edge of a frontage road. I parked and, much to my delight, there were cars in the parking lot. It was open!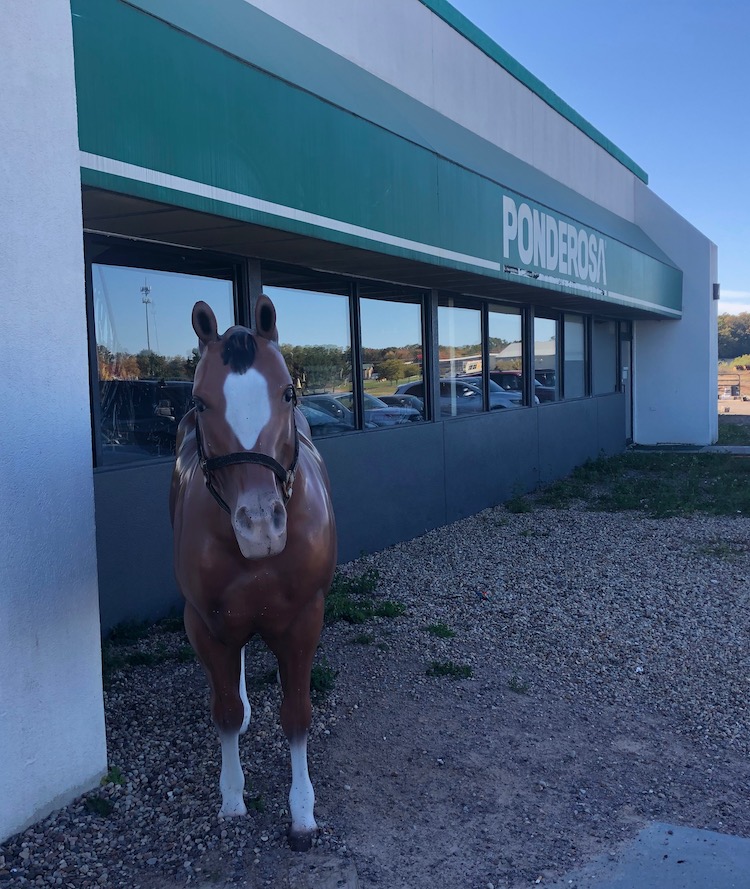 There was a horse outside. Up until that point, I had forgotten about the exterior horse statues.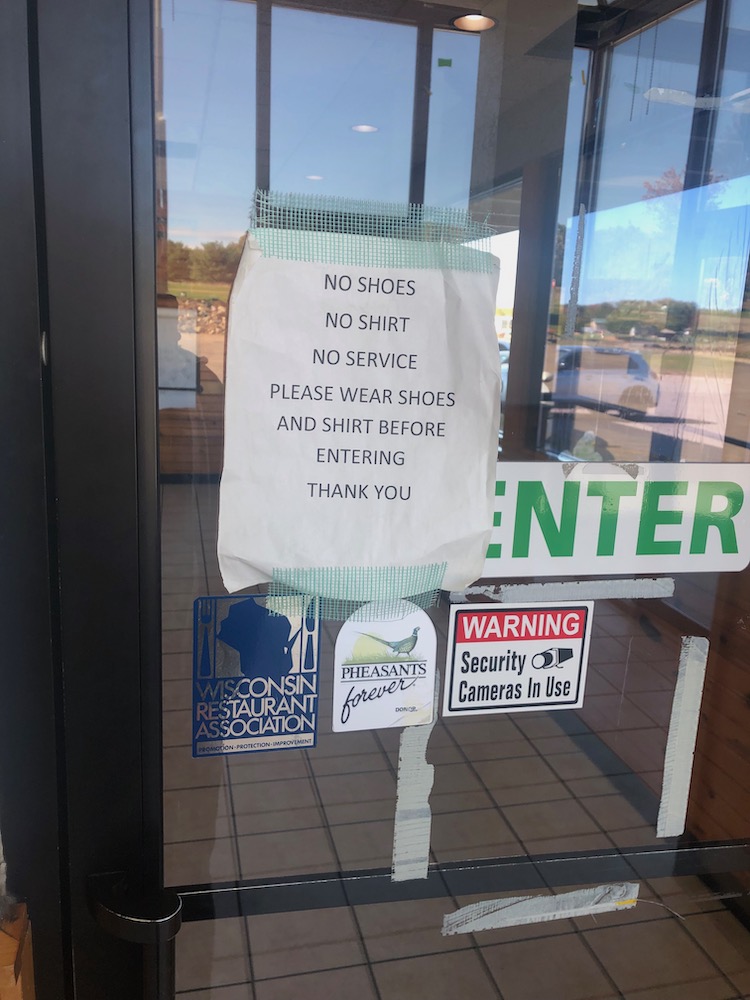 There was also this posting on the front door, which I'm sure has a pretty interesting story behind it. I went back to my car to grab a shirt and some shoes, I begrudgingly put them on, and I was instantly transported back to Appleton circa 1995.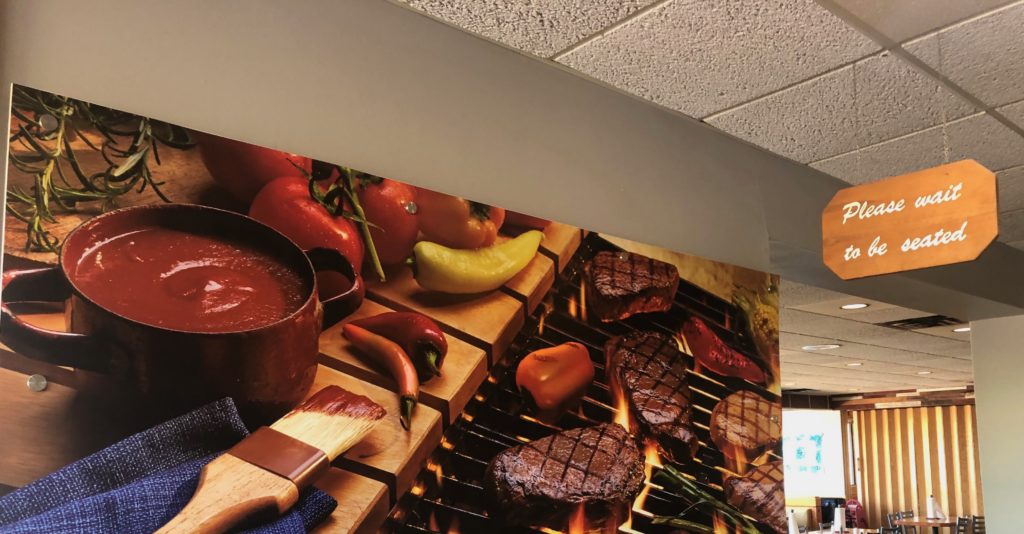 I honestly had no idea what I would see inside this stubborn Ponderosa holdout. To be honest, I expected desolation. I anticipated a strong likelihood of dreariness and disarray. I'm pleased to report that I was wrong. Instead, an extremely upbeat and friendly cashier greeted me and asked if I was a local. I responded with something like "No, I heard there was a Ponderosa here and I had to check it out!" I later learned there's a discount for local diners, which is why she asked. So I guess I just gave some nice lady my life story for no reason. Whoops! Anyway, I stuck with just ordering the buffet and a Diet Mountain Dew, then I was led to my booth.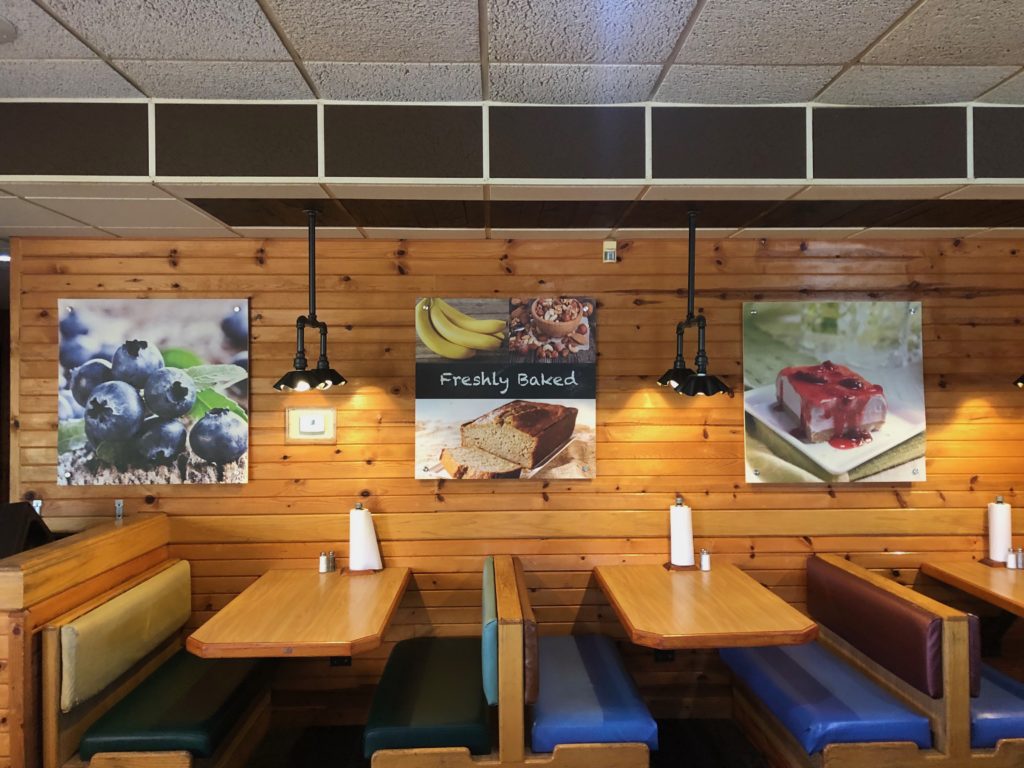 It was around 1 p.m. on Saturday, and there were actually a decent number of people there. More than I expected to encounter, at least. As I waited for my soda and for the buffet line to ease a little bit, I took a lap around parts of the dining room where there weren't many people eating.
In addition to stock art of food on the wall, I also spotted a bunch of framed quilting patterns and some photographs of local landscapes.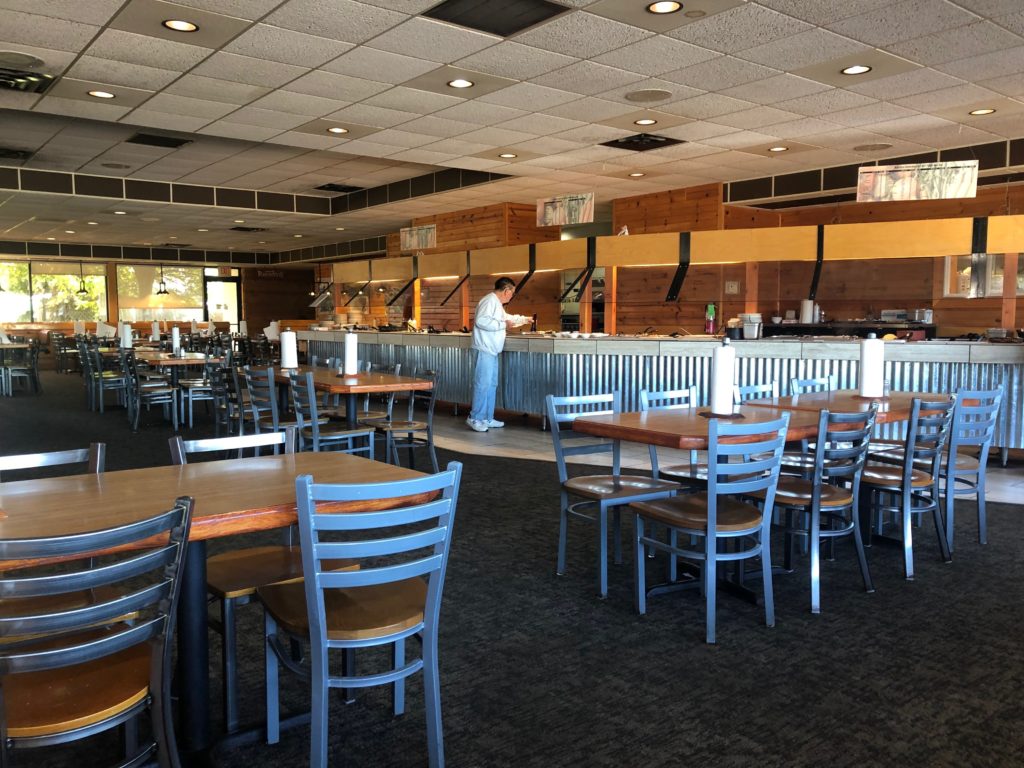 Finally, the buffet cleared and my moment arrived.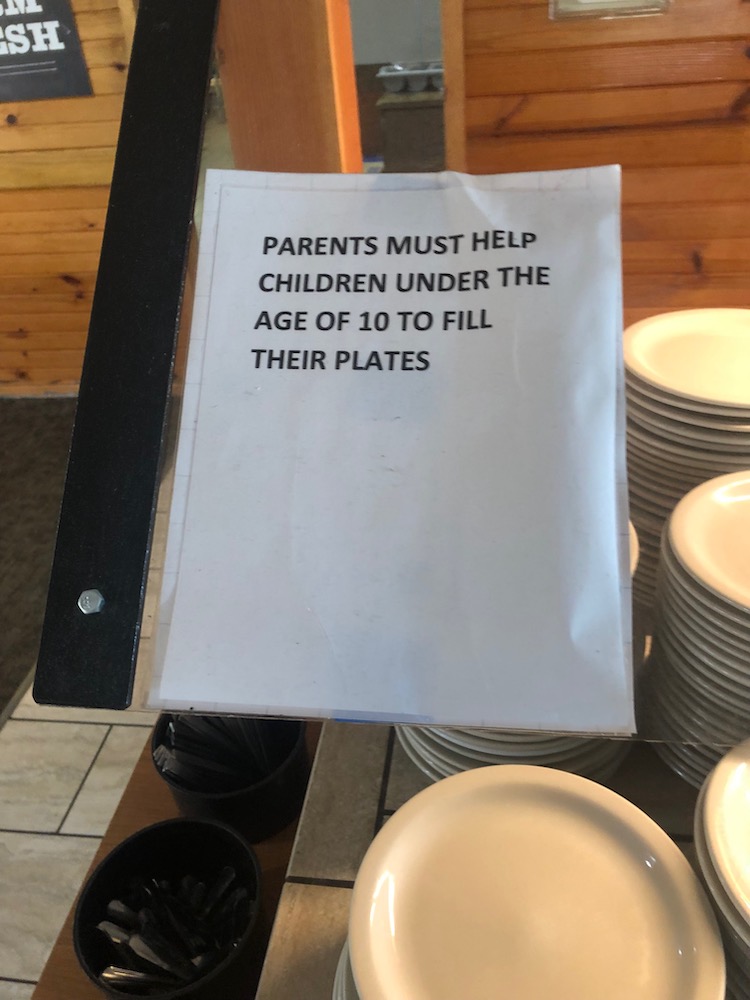 And thankfully I'm older than 10.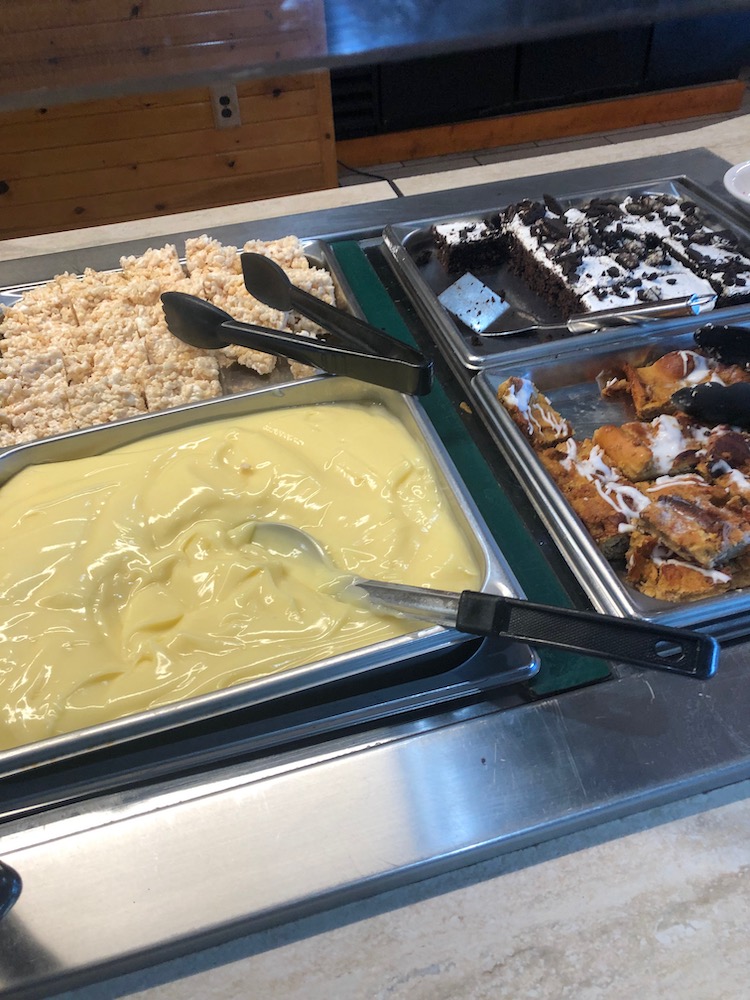 I took a plate for my first trip down the Ponderosa buffet in at least 25 years.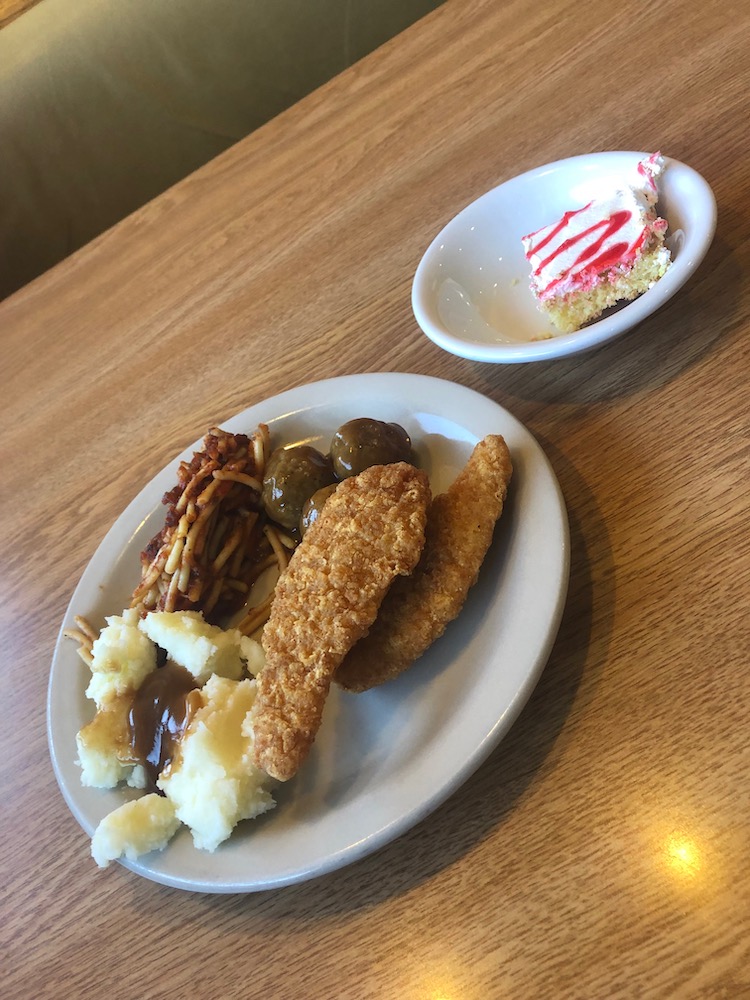 I started small with a strange variety of American standards and, why the heck not, a little piece of cake too. The meatballs were pretty good, the chicken tenders were okay. End of Plate #1 review.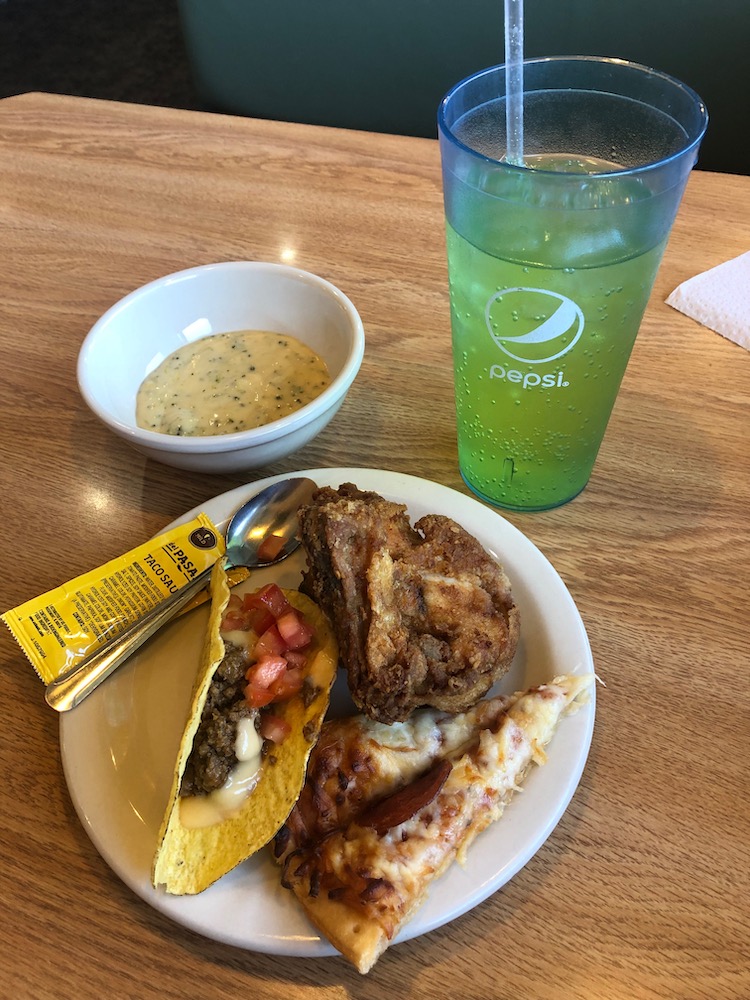 Next time around, I took a stab at the taco bar, which reminded me of Taco Nights at home as a kid, before Mexican restaurants truly has a presence in northeast Wisconsin. The pizza left something to be desired, but the fried chicken was legitimately tasty and well-prepared. For some reason, I got cream of broccoli soup, which was a bit too heavy of a food choice for lunchtime and before having to get in a car for an hour.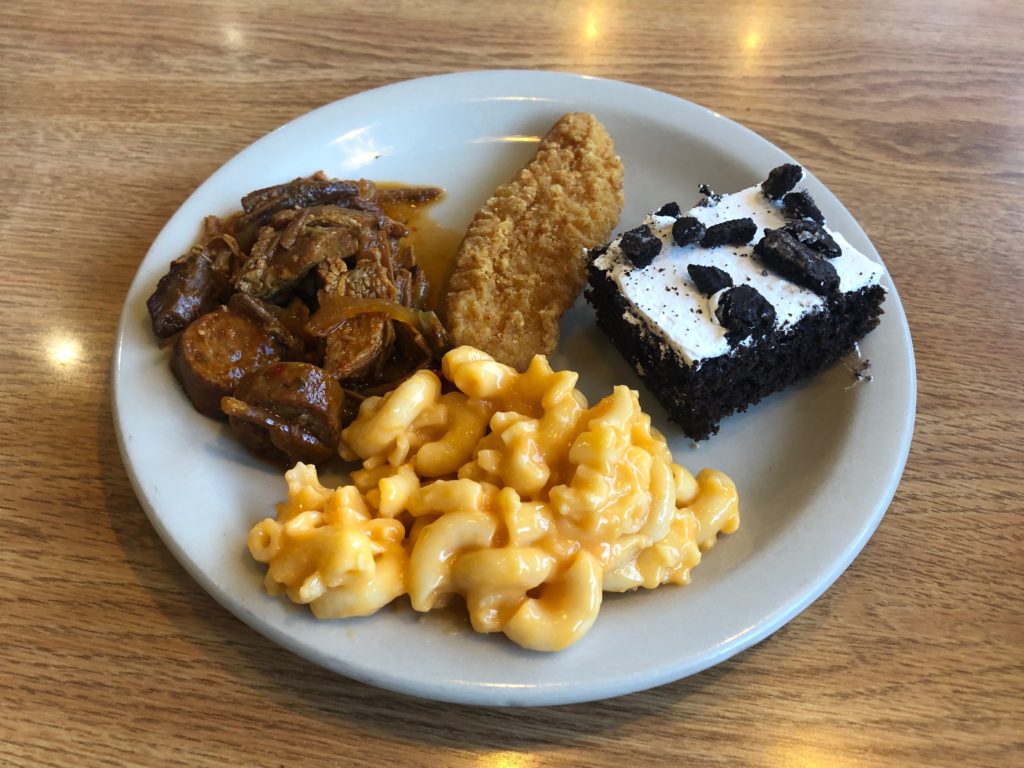 Since I made sure not to eat breakfast and I left much of my pizza and soup uneaten, I had room for one last plate. As I ate some type of fairly satisfying barbecue dish, another tender, macaroni that evoked flavors from past visits to Ponderosa and Shakey's as a kid, and a tasty square of Oreo cake that was far better than the dry dessert I had a single bite of two plates prior, I took it all in.
I listened to the house mix of affable bygone country hits from the likes of Tanya Tucker and Brooks & Dunn. (You haven't lived until you've heard "My Maria" while eating some mashed potatoes!) I saw families, groups of elderly friends, some dudes in their 20s, couples, and loners like me taking trips to the buffet line, and I overheard some guys complimenting select buffet options. "The meatloaf is actually really good," one guy said to his pals in the booth beside mine. I didn't have any room or time left to try the meatloaf for myself, but I believed him. I slammed the rest of my Diet Dew and hit the road.
As I drove a total of two hours out of my way on a weekend afternoon to the outskirts of a tourist town months after its peak season so I could eat three plates of food alone, I had extra time to ponder just why I was doing this. Even now, I'm not quite sure. Yes, knowing I had an outlet to write about my visit to Ponderosa was certainly a factor. I'm now embarrassed to say I might've thought the combination of nostalgia and corporate decline would be appealing to readers.
However, I think a lot of what brought me to the last Ponderosa in Wisconsin was the opportunity to knowingly experience something for the last time in my life. To be clear, this location was not empty, the service was by no means lacking, the interior wasn't run down in the slightest, and the food was exactly what you'd expect from a Ponderosa (minus the noticeable absence of the sundae bar, sadly). Still, the last Wisconsin Ponderosa will remain just that. It's safe to say they won't be adding any new Ponderosas in 2022 and beyond. Soon they'll all be gone or, at best, the Wisconsin Dells holdout can scrape by for long enough to be a confounding attraction for out-of-towners like that last Blockbuster in Oregon.
Its fate isn't set in stone, but it sure isn't promising. So I guess I went there to say goodbye while I still could, and to give you all a look inside in case you wanted to stop by and pay your respects with a last plate (or two or three) of your own.