Twenty-eighteen saw some important changes for Riverwest FemFest. The fourth annual benefit was moved from winter to late spring/early summer, and it expanded its footprint from five days to eight. But the festival's goal remained the same: spotlighting some of the region's best female and femme-identifying musicians, comics, artists, filmmakers, and makers, all the while supporting vital groups and services. (This year, proceeds were split between Courage MKE, Casa Maria, and the Milwaukee Women's Center.)
Though we couldn't attend everything, we did manage to catch a respectable chunk of Riverwest FemFest 2018. Here are some of our favorite moments.
SUNDAY – LAKEFRONT BREWERY
• For the first time in the event's history, Riverwest FemFest kicks off with a comedy showcase. Milwaukee Comedy's popular monthly Keg Stand Up show boasts an especially strong lineup. Host Dina Nina Martinez sets the tone for the sold-out Lakefront affair with a raunchy and rib-tickling opening set. She soon gives the mic to Los Angeles' Amanda Cohen, who effortlessly wins over the audience with her self-effacing humor, refreshing religious commentary, and witty wordplay. Chicago comic Shannon Noll keeps the laughs coming with material about sobriety and the time they broke their "dick fingers." Finally, local legend Chastity Washington brings the stacked showcase home with a patently energetic set that's rife with animated screams, impressive dance moves, and a 20-minute reminder that she's the funniest person in Milwaukee. [Tyler Maas]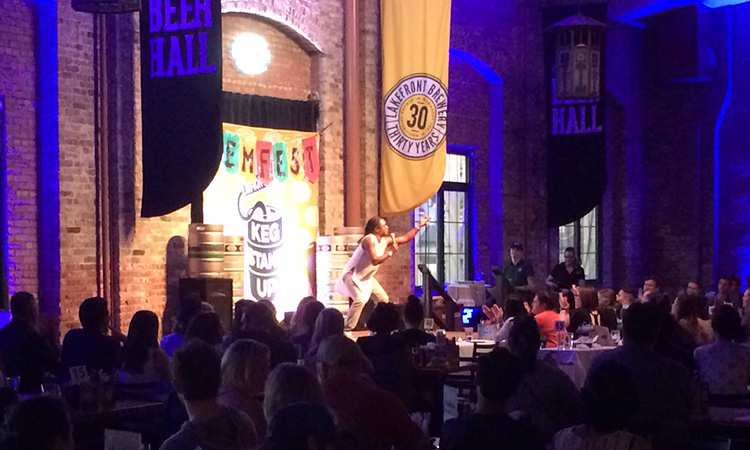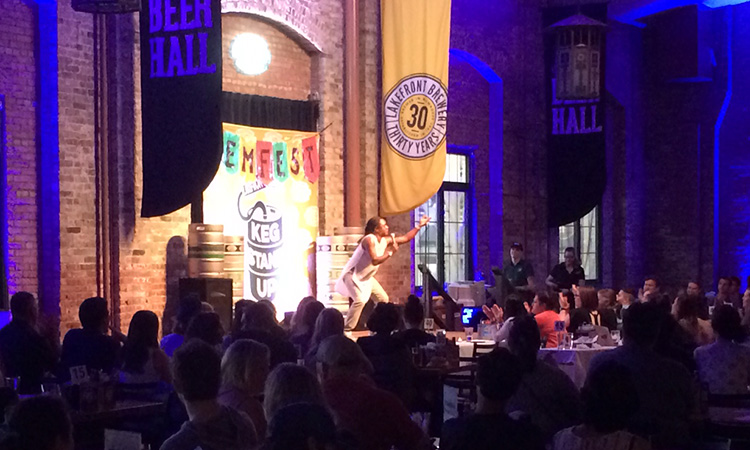 THURSDAY – CLUB TIMBUKTU, MAD PLANET
• Kendra Swanson sound checks with Mr. Rogers' "It's Such A Good Feeling," and we assume she and her banjo are about to provide a pretty fun set. Yup, they sure do. Swanson's homegrown folk and often spooky tunes delight the growing audience at Club Timbuktu. Her banjo chops are strong, as are her funny remarks about sex and pretzels. [Josh Hoppert]
• We make a trip across Center Street and find Nafrini sporting Kanye-inspired sunglasses and delivering great rapid-fire rhymes to the Mad Planet crowd. She calls on the audience to be comfortable in their own skin with "Do You Love Yourself?" riles them up with "Lovin' Him (That Was That Bullshit)" and treats them to the debut of her brand new "Inner Essence." [JH]
• Back at Club Timbuktu, a Milwaukee Record-shirted Cheston VanHuss makes some audio tweaks as Johanna Rose introduces Ms. Lotus Fankh. She walks onto a stage populated by a variety of stringed instruments and equipment, so we quietly wonder what kind of solo set this will be. She travels from traditional blues to modern R&B, playing live guitar and violin with some looping along the way. Her strong voice punches hard, when necessary, but eases you into those goose bump-inducing softer moments, too. [JH]
• We hear a little buzz about Ava Lake and make a point to check out her set at Mad Planet. She performs all of her brand new EP, Conversations, and gets everyone on the floor dancing a lot. The set is very '80s-influenced electronic party music and plenty of fun. She closes the set with "Say Your Mind" which sticks in our minds for the rest of the night. [JH]
FRIDAY – HIGH DIVE, RIVERWEST PUBLIC HOUSE
• Our Friday FemFest festivities are short-lived—done in by Milwaukee's "14 different things going on every weekend" season—but they're certainly memorable. We walk into High Dive and are immediately thrust into the singular world of The Dayna Clay Project. Hailing from Chicago, the band would best be described as "theatrical." There's a video screen with karaoke-style lyrics. There's a keytar. There's also a lot of backstory, best explained by the band itself:
"Dayna Clay" is a 27-year-old rock star, battling depression, suicidal thoughts, and post-traumatic stress in the wake of an abusive childhood. She's the heroine of Paul McComas' acclaimed 2002 novel, UNPLUGGED. Although Dayna is a fictional character, her story addresses issues that are all too real.

The Dayna Clay Project brings UNPLUGGED to life on stage in an original alt-rock musical. Featuring songs by Maya Kuper and Paul McComas, "UNPLUGGED: A Survivor's Story in Scenes & Songs" chronicles Dayna's bumpy journey out of depression, through the South Dakota Badlands, and into self-discovery, healing, full embrace of her bisexuality, and love.
It's something, all right, but it's nothing if not sincere and heartfelt. We dig it. Next to us, some fellow High Dive patrons play Pokemon on the Super Nintendo. [Matt Wild]
• Over at the Public House, the delightfully named Meatcurtains are thrashing away to a small but vocal crowd. Is there anything better than crusty, clangy punk rock on a Friday night? Nope. [MW]
• Another question: Are there better bands in Milwaukee right now than Fox Face? Maybe, but not many! The "witchy, twitchy and full of attitude" foursome blast through favorites like "Clever Girl" and the Trump-bashing "Nasty Woman" (featured on 2017's UNPRESIDENTED: DIY vs. Donald Trump comp). Fox Face is the kind of band that should be playing everywhere, every day (they're scheduled to play The Cooperage on Saturday). [MW]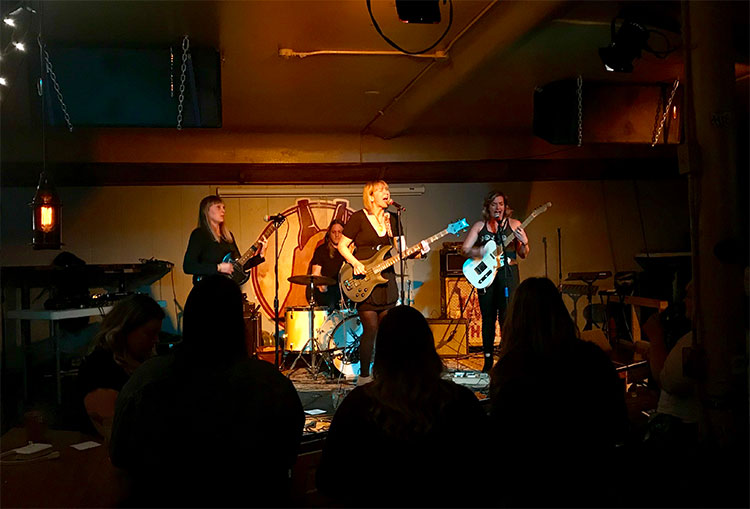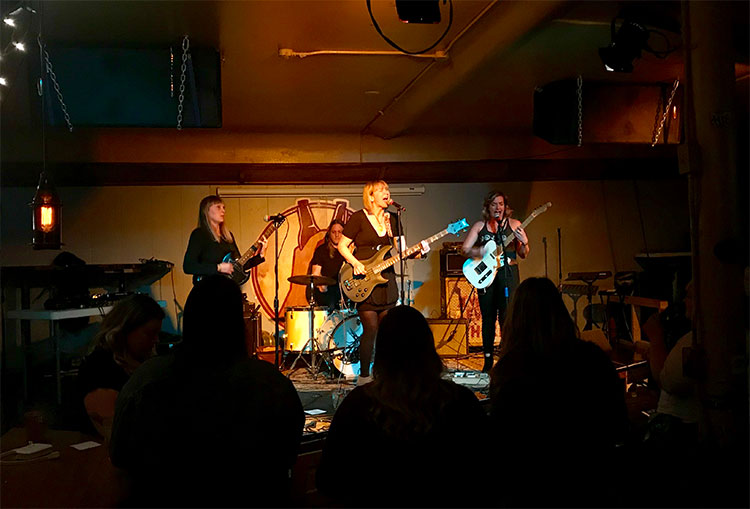 SATURDAY – THE TANDEM, COMPANY BREWING
• Kicking off Saturday's 12+ hours of scheduled performances is Steph Lippert at The Tandem, the latter a comfort food establishment on Fond Du Lac Avenue hosting a brunch event for the festival. A classically trained pianist, Lippert plays pieces of traditional repertoire (including her favorite Chopin nocturne) alongside jazz standards ("Summertime," "In A Sentimental Mood") and a couple originals. [Maggie Iken]
• After witnessing some other attendees order delectable chicken and waffle plates, we browse the restaurant's brunch menu and settle on the oxtail hash ($13). Loaded with root vegetables and shredded oxtail and topped with hollandaise and poached eggs, this rich, flavorful entree could have easily served two people. [MI]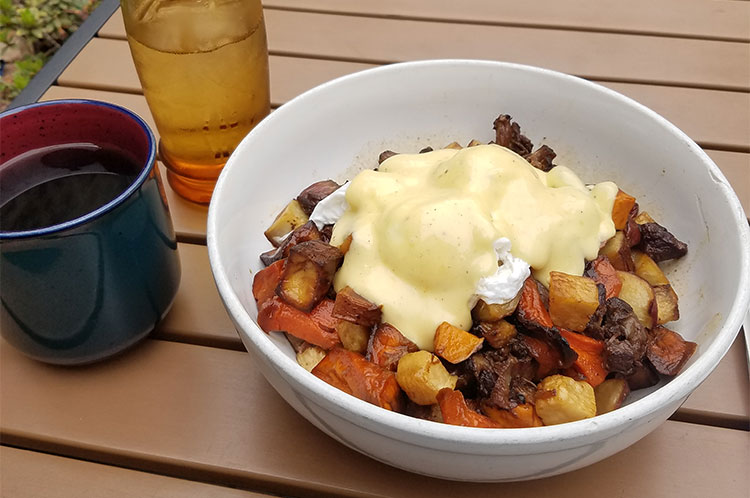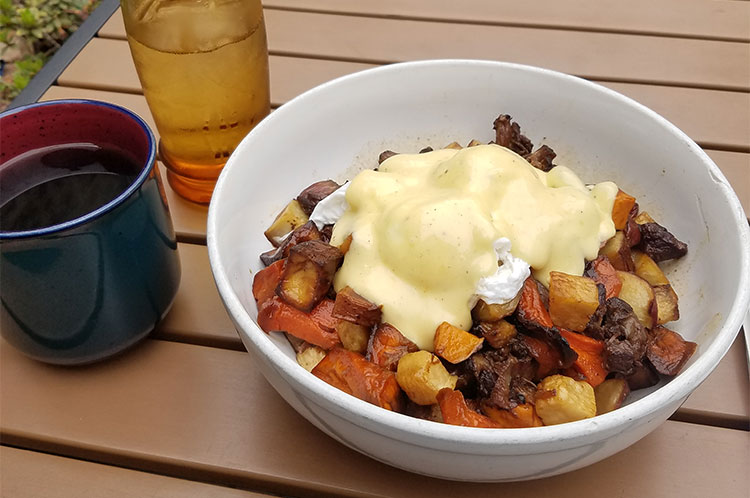 • Second of two brunch acts is Uncle Valentine, a.k.a. Rachel Icenogle (formerly of John The Savage). Armed with a silent five-string cello and a pedal board, Icenogle navigates throughout different tempos and styles in each of her songs. Bowed passages show off her classical training, while spoken word stylings show more of an indie edge. [MI]
• Back from their second European tour, duo Nickel&Rose open the performances at Company Brewing. The constant touring by both Johanna Rose and Carl Nichols shines through in their ease and comfort on stage, as well as their ability to play their songs tightly yet emotionally. Our favorite part of their performance is a song sung by Nichols entitled "Americana," chronicling the longstanding tradition of white musicians appropriating musical stylings of black musicians. (Rose tells us this will be released on an EP later this year). [MI]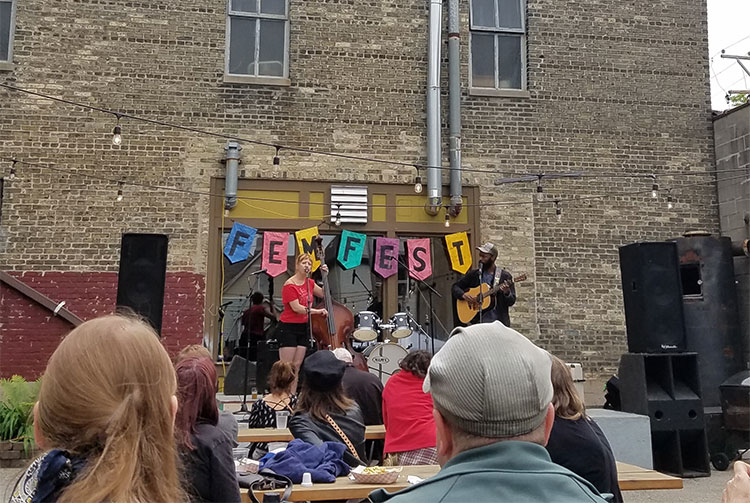 • Next up is a Minneapolis musician called The Nunnery. The amount of sonic depth created by solo vocals and a looping pedal is impressive; looping pedals by nature can be repetitive and are often gimmicky, but The Nunnery's innate sense of when to add, mute, or move on to the next piece keeps the audience enthralled. [MI]
• Music starts indoors with Mori Mente, a two-piece from Madison. Imagine My Bloody Valentine meets Angelo Badalamenti and you'll get somewhere in the general vicinity of the shoegaze-y vibes with dashes of influence from jazz and surf. [MI]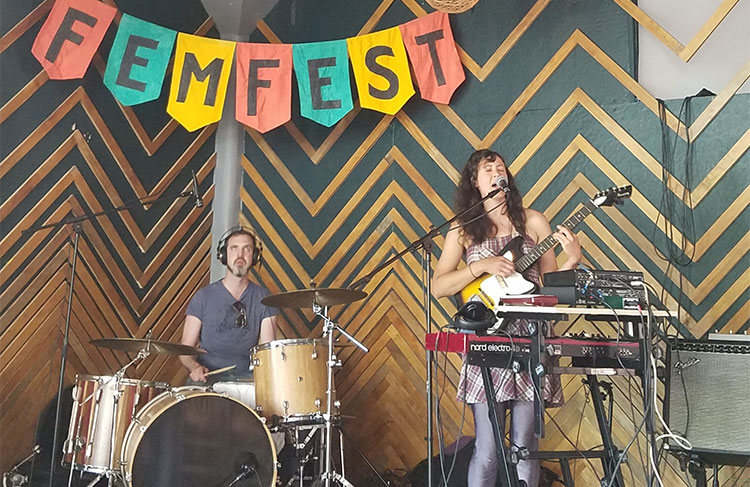 • Tidal, a pop-punk band from Lansing, takes to the outdoor stage. Reminiscent of The Promise Ring and Lemuria, the band plows through their set with energy we need to give us an early afternoon pick-me-up (perfectly accented by a nitro cold brew coffee on tap). While the subgenre the band fits into had its heyday a decade ago (or two, depending on who you ask), it's refreshing to see another generation of musicians breathing life into it, and doing it so well. [MI]
• Down the street, Riverwest Tattoo Company is doing a flash sale. Offering a variety of predetermined designs in the $100-150 range (black and white or color), every chair is filled with folks getting inked. The proceeds go directly to the charities FemFest benefits this year, so this writer goes for it. Selecting a simple traditional style flower, Gina Serpentina takes her needles to our flesh with the lightest hand. It's an honor to get tattooed by her; we've heard many great things about her work, and she's set to move to Los Angeles in the months ahead. [MI]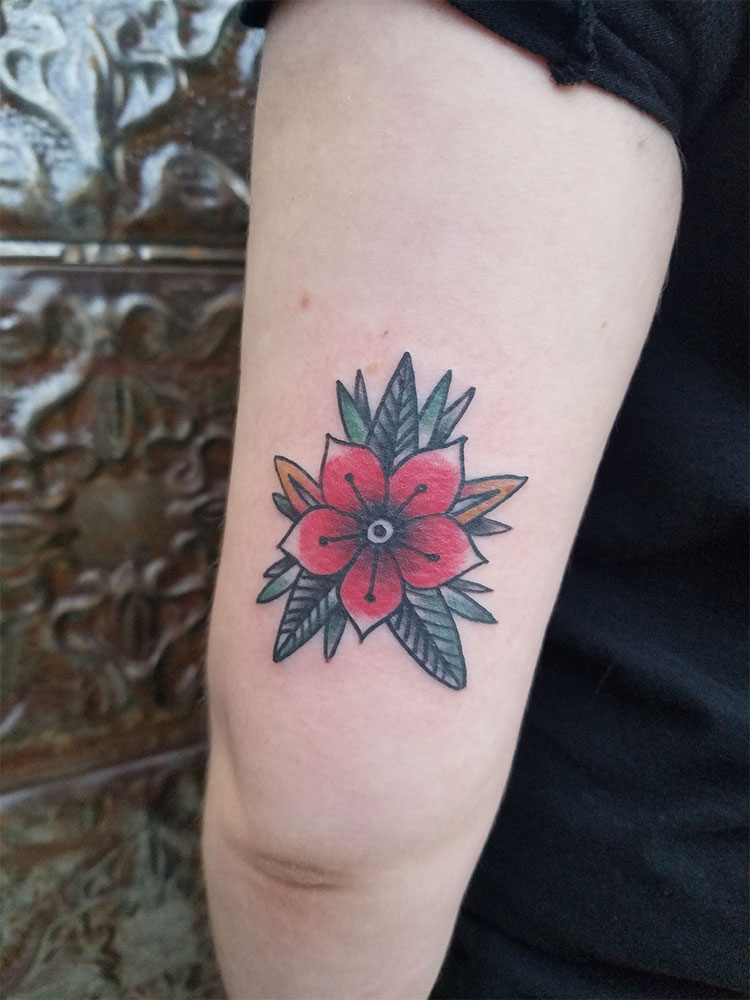 • Chicago indie-rock outfit Kate Renegade plays through their commanding set with the finesse and thoughtfulness of intelligent and seasoned musicians. Frontwoman Steph Maieritsch displays impressive vocal control while the rest of the band plays around, but not over, each other. Well-balanced with some serious '90s rock influences, the band formerly known as Nest will hopefully revisit the 414. [MI]
• Fresh off a Local/Live performance at WMSE, Shle Berry captivates an enthusiastic and growing crowd with energetic hip-hop. She's charismatic in her delivery, and listeners are dancing on tables and cheering for an encore. Berry glows in the spotlight with a smile that never leaves her face. [MI]
• You know how sometimes there's an old couple at a show—probably someone's parents—and they're clearly not enjoying what they're seeing/hearing? Well, take that and multiply it by retirement age as an old couple settles into Company Brewing just as Kaylee Crossfire settles into her ode to big dicks, "Damn Daddy." We overhear the mom in question shout "I can't understand the words!" (probably a good thing), while the dad calls someone on his flip phone and holds it up to the dick-focused din. Also: Kia Rap Princess, joining Crossfire to promote their Best Of Both Worlds EP, is great. [MW]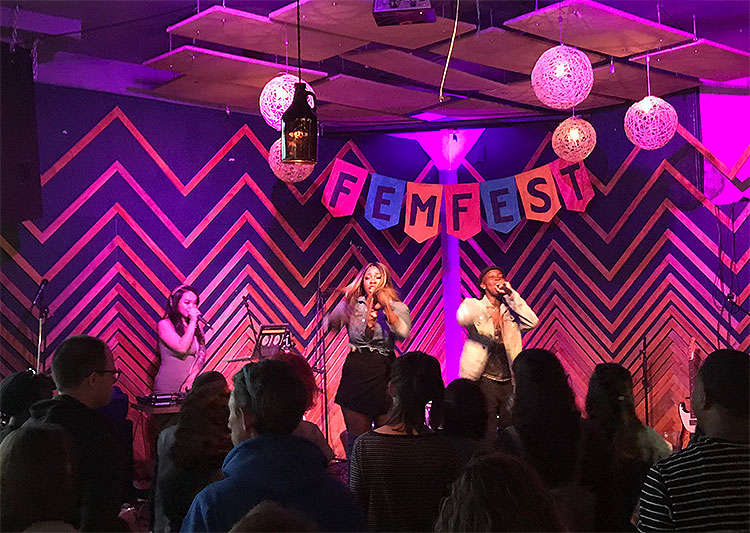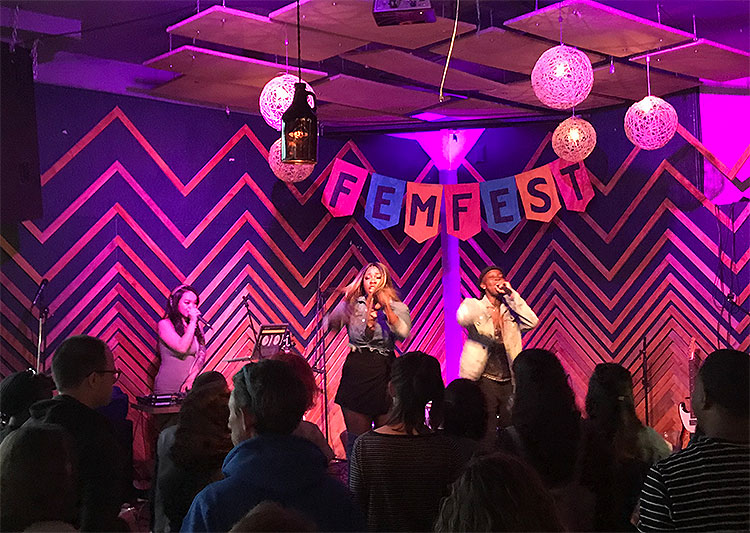 SUNDAY – COMPANY BREWING
• As busy as the members of Ruth B8r Ginsburg are with various other projects, any opportunity to catch them live is a treat. Outside at Company Brewing, a truly all-ages crowd of brunch revelers takes in the group's set of thoughtful electric folk. As they roll out perhaps their most well-known staple, "All Of Everyone At Once," it's incredible to think how much has changed in the two years since they first unleashed it on the world, and how its message feels as urgent as ever. [Cal Roach]
• Girls Rock alumni Gas Station Sushi take an opportunity to thank FemFest for the generous grant two years ago that led to the recording of their debut EP, Uglier In Person, as they tear through a set of grungy punk. They've already gotten to a point where originals like "Texas Isn't Real" and "Stank" are becoming so ingrained in people's consciousness, the band has little need to bother with covers any more. [CR]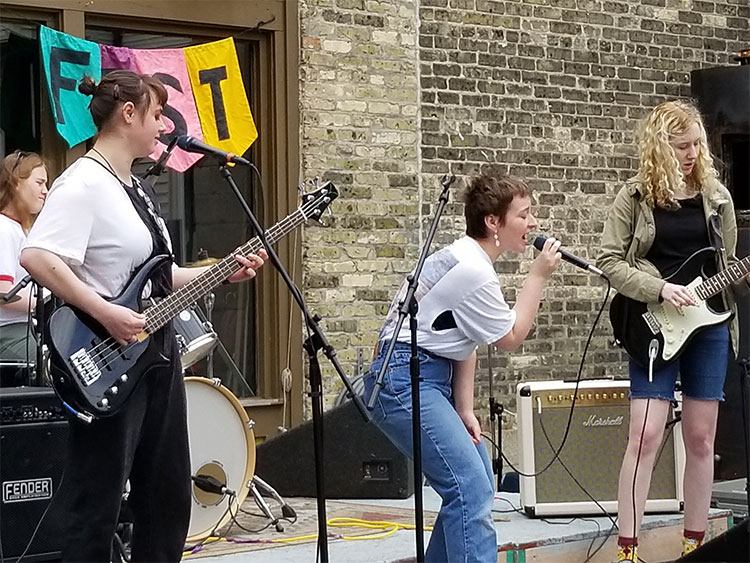 • Kim Zick and Connie Grauer, the duo known as Mrs. Fun, have been making music together for over 30 years and show no signs of slowing down; their free-ranging takes on "Smells Like Teen Spirit" and "Light My Fire" draw the crowd in, but even more intriguing are their quirky originals, in which Zick's drumming in particular bowls us over. [CR]
• Upstairs at Company, the FemFest Maker's Market showcases a wide range of clothing, jewelry, and art, and also features an afternoon performance by early music a capella group APERI ANIMAM. The 10-piece ensemble's medieval and Renaissance vocal pieces evoke a timeless sense of spiritual uplift. [CR]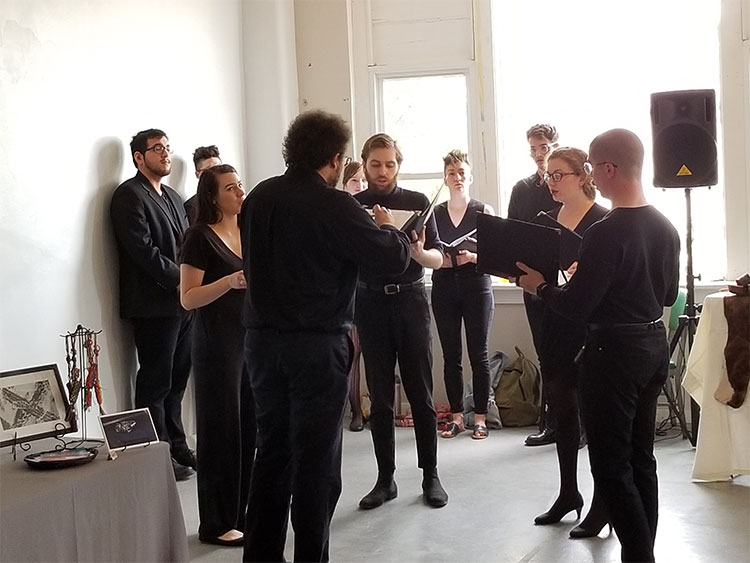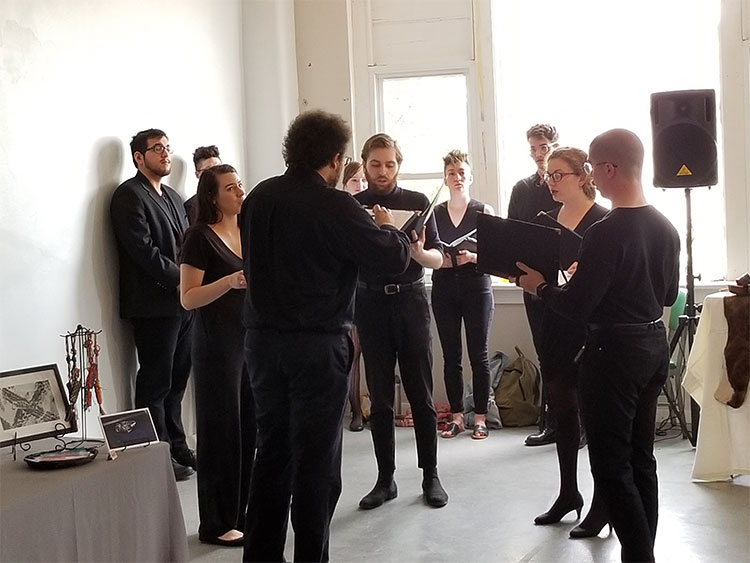 • Suffer Head bring the noisiest set of FemFest's final day. The spastic post-punk outfit isn't completely devoid of melody, though, and some surprisingly memorable guitar parts occasionally cut through the oppressive wall of screams and caustic riffage. We can't make out many words, but vocalist Anna Newton's kinetic performance is one we won't soon forget. [CR]
• A rare emergence of Winter Bear from hibernation feels like the unofficial start of summer; the band's clangy surf-garage tunes provide an upbeat contrast to the somewhat less cheerful sounds we've been enjoying for most of the evening. Everyone that needs to just rock out gets their chance during this set. [CR]
• Sunday night serves as a preemptive release party for a new Glacial Speed double-EP (out officially this week), New Wilderness/Between The Lines, and the new material strikes us as a bit heavier and more experimental than what we've become accustomed to. The band's set gives us a fresh glimpse into the ever-evolving synergy between guitarists Ashley Altadonna and Chris Van Gompel; their styles seem to complement each other more perfectly with each successive performance. [CR]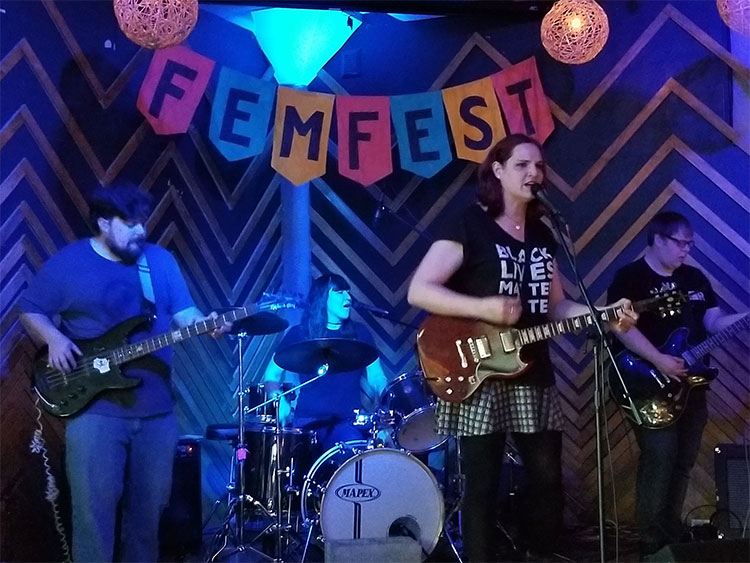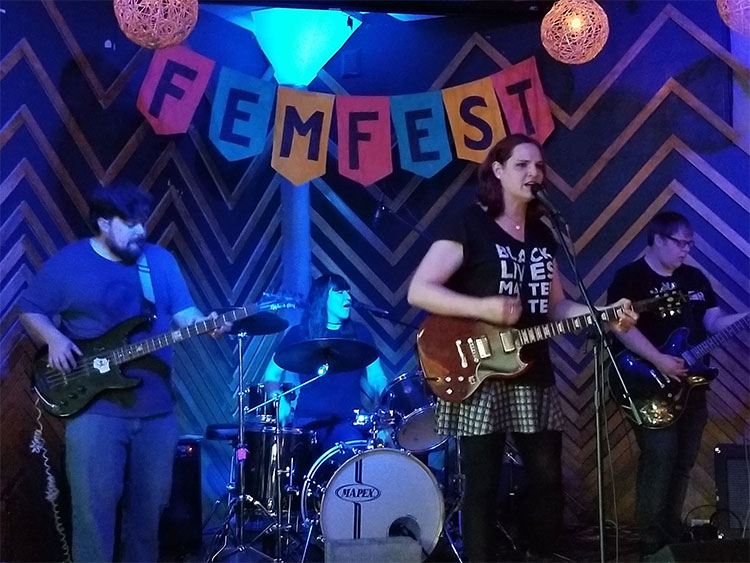 • Yasmeen Daniel's profile has risen steadily over the past couple of years, through collaborations with the likes of Bo Triplex and For The Culture, among others, but her performance tonight (under the moniker Yasmeena) is a revelation. It's a brief set that comes off as a confessional of sorts; backed by sparse beats, Daniel proves that she's got everything in place in terms of songwriting and vocal prowess to carve out her own place in the city's fast-developing R&B/neo-soul scene. [CR]
• For the FemFest finale, singer/songwriter Amanda Huff takes the stage with just a ukulele and her incredibly versatile voice. Augmenting her songs with some personal reflections in between, it's quite an intimate glimpse into the creative process, not that the songs require any backstory. If we're talking about favorite moments, it's hard to beat the adoring roar of the crowd following Huff's last song. Countless hours of planning and preparation and eight days of performance and events all lead up to this triumphant swell of emotion, every face in the room sharing the same smile. [CR]