Caleb Westphal hasn't missed a Friday fish fry since 2013. Follow along with his never-ending adventures here.
After accidentally turning into the parking lot of the Target on Miller Park Way, the bell towers of St. Florian Parish (1210 S. 45th St., 414-383-3565) peeked above the surrounding buildings and guided me to the church. Once I was parked, my companions and I had to figure out the rest of the way to the church's fish fry on our own. Fortunately, that familiar Friday smell hit me as soon as I opened my car door. "I've been in this situation before," I thought, remembering the time I circled St. Augustine of Hippo for five minutes looking for their fish fry. Thankfully, I had read that St. Florian's fry was in a school basement, and once I followed my nose, it led me to Cristo Rey Jesuit High School (1215 S. 45th St., 414-436-4600), just to the north of the church. There was no sign beckoning us inside—there was only that sweet smell getting pumped out of the school's basement.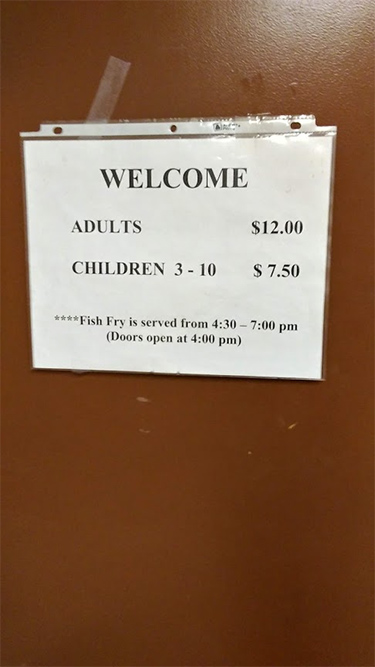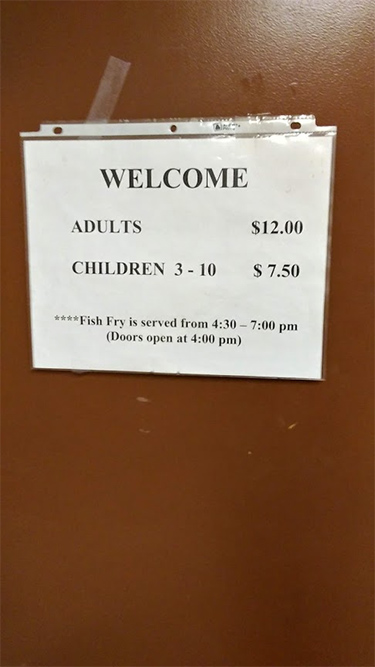 St. Florian Parish serves a fish fry on the first Friday of the month from October through May, on every Friday during Lent, and on Ash Wednesday. The cost is $12 unless you are between the ages of 3 and 10, then it is only $7.50 (no lying about your age here, this is a church). Just like a rock and roll concert, this fish fry has a door time. The doors open at 4 p.m. and the fish fry show starts at 4:30. So, I dunno, you can show up at door time and stand around for a half hour and talk with others about your other favorite fish frys or the best fish fry you've ever been to if you want. Also, don't wait too long to get there, as they stop serving at 7. From the records I found, they've been serving up fish frys in a similar fashion since at least 1988.
Being that it was about 5:15 on the first Friday of Lent, I anticipated there would be a long line, but when we got downstairs, there were only a few people ahead of us waiting to get into the cafeteria. I paid my $12 and was given a ticket for my meal, along with a slip to fill out for the "St. Florian Fish Fry Drawing." While making my way to the food line, I stopped to fill out the slip, and questioned myself as to why I was putting all my contact information down and checking the box that said "I agree to receive emails from St. Florian Parish." I didn't even find out what the prize was, but I figured if I won a free fish fry it would be worth being swindled onto a church email list.
The cafeteria was huge, and there were so many tables in it that I didn't bother to count them. Most were about half full, and strangers were sharing fish frys together, filling in wherever they found a spot. The food line was pretty short, likely having less than 15 people in it, and it probably took about three minutes to get up to the counter. My meal ticket was stamped with number 184. As I tossed it in the bucket, it was my hope that someone would hand me an "I Ate A Fish Fry" sticker, but I had no such luck.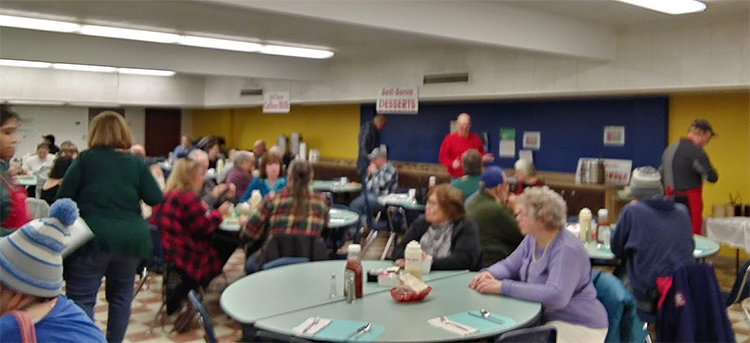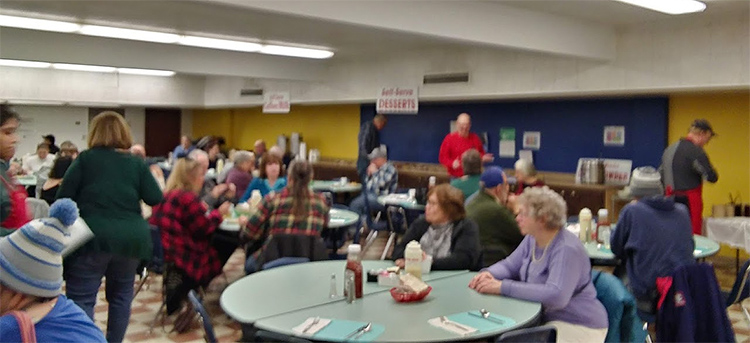 Not only is the fish at St Florian all you can eat, everything else is too. Well, everything except the dessert. If you are still hungry after your first plate, leave your old plate at your table and come get a new one. Fried and baked cod, fried smelt, french fries, and parsley potatoes were being served at the counter. There was a huge bowl of lemon slices there too. I took some of everything except the baked cod. Next came the salad bar, which had all the usual fixings. All I took from it was coleslaw. Then there was a long counter that had homemade clam chowder, desserts—including pie, cake, bars, and jello—and coffee and milk. I took some chowder and milk. Rye bread was on the table. Beer, soda, and water were also available for purchase.
Having the fish be the best part of a fish fry is ideal, and St. Florian has this going for it. The fried cod was the high point, and it is what held the meal together when the other components came up short. A light and golden batter with a faint beer flavor covered the fish. The fish itself was of a fine quality, its only drawback being that it was perhaps a little too much on the moist side. The tartar, which was in a bottle on the table, wasn't particularly captivating, although there wasn't anything wrong with it. It was a pretty standard mayo-based tartar with relish.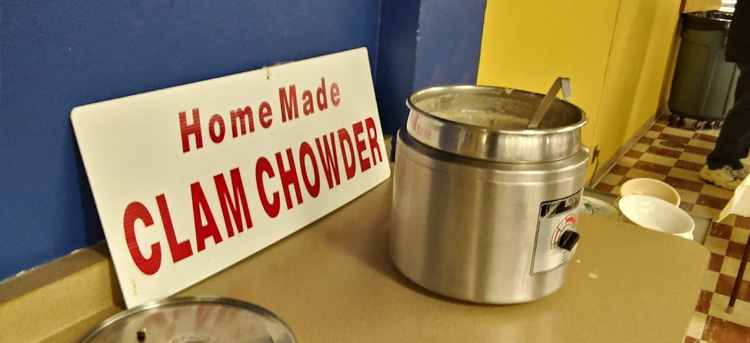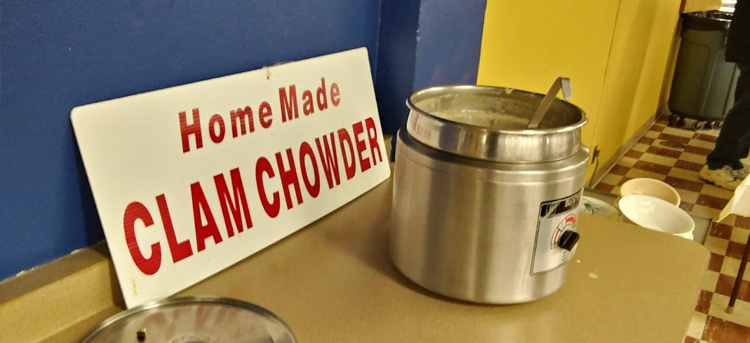 When it's not Lent, St. Florian serves chicken tenders alongside the cod, but during the season, they replace them with smelt. If little Johnny and Susie were planning on skipping the fish and dipping chicken tenders into barbecue sauce, that's not happening. Tough luck, kids, you are eating smelt. The smelt was flavorful and covered with a crispy coating that held together well and allowed them to be eaten by hand, just like any chicken tenders would. There is a robustness to the flavor of smelt, and some will say it tastes too fishy. This repels some, but I welcome it.
The parsley potatoes were not unlike the kind that you were served in your high school cafeteria while growing up. They were on the smaller side and the parsley didn't seem particularly fresh. The french fries were a bit thicker than your average fry, were a bit on the softer side, and were only slightly salted. The coleslaw seemed to be store bought, and it would be news to me if it wasn't. The same goes for the bread, which was a run-of-the-mill light rye. I made sure to stir up the pot of chowder before ladling myself some, but it still was pretty thin and soupy. It was a bit peppery, but not particularly memorable otherwise.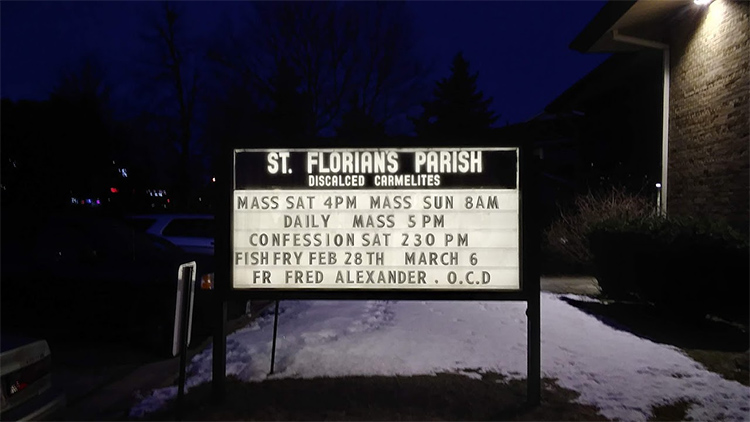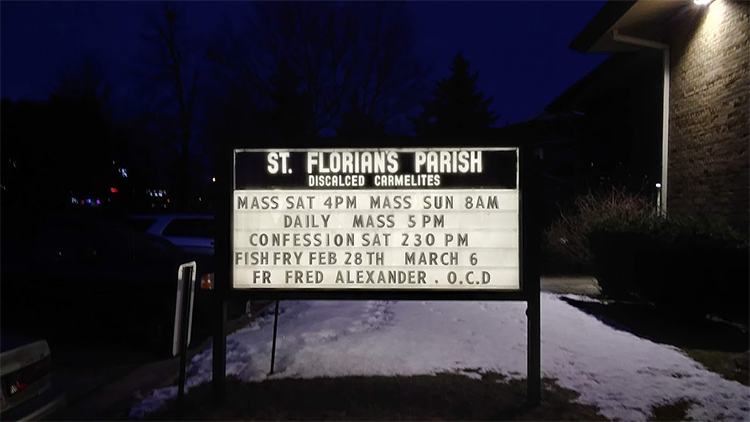 Although I didn't go up to get a second plate, I did top off the meal with a piece of cherry pie. Besides the obvious draw of getting dessert with your fish fry, there are a few other reasons why St. Florian Parish may be worth checking out, even though a lot of the meal felt like filler. First, the cod doesn't disappoint and you can have as much of it you want. Second, they have all-you-can-eat smelt. Third, a salad bar is included. Fourth, all of this is for $12. Finally, you probably won't have to wait for a few hours like you might at some restaurants during Lent. You may have to wait longer than I did—someone even mentioned that the food line often stretches to 50 people long—but St. Florian appears to run an efficient operation, so the line should at least keep moving. This fish fry might not be for everyone, but if these characteristics grab your attention, steer your vehicle toward those bell towers in the sky.
Takeaways: The St. Florian Parish fish fry is served in the cafeteria in the basement of Cristo Rey Jesuit High School; if you don't know how to get there, look for the bell towers off of Miller Park Way, and then follow the fish smell after parking; it is all you can eat of everything but dessert; doors open at 4 and the fish goes on at 4:30; appetizing beer-battered cod; if it's Lent, you are getting smelt instead of chicken tenders; you can put your name in a drawing and win something; it's time for "I Ate A Fish Fry" stickers; they have a salad bar; they have homemade chowder, but it really didn't grab me; you can have all of this for $12; fish frys are available for takeout; as I was driving away I spotted a marquee outside of the parish offices that listed Mass and confession times, the name of the friar, and of course, when upcoming fish frys are.