In an alternate timeline, 42 Lounge—Milwaukee's first and, by general consensus, best geek-themed bar—could have been a massive, 35,000 square-foot nerd embassy marooned way out in Waukesha. The possibility was close to becoming a reality—like "blueprints had been drafted" close. However, the deal fell through, which left wife-husband owners Lynn and Anthony Nilles to augment their approach and open their dream bar in a 125-capacity space on Mason Street in downtown Milwaukee in 2013. After two prosperous years, a devoted (and growing) clientele, unique events that outgrew the flagship facility, and—truth be told—a cacophony of other geek-centric drinking establishments cropping up since 42 Lounge opened, the owners will finally see their original vision become a reality when 42 Ale House officially opens on metro Milwaukee's South Shore tomorrow.
"This place is actually a lot more the original vision. When we opened [42] Lounge, this is what we wanted," Anthony Nilles says. "Knowing that these other places are opening up, and knowing that bigger players are probably going to start paying more attention to places like ours that are opening up, we need to get ahead of that a little bit. We need to open up a place that's a little more legit in terms of being the full experience."
The couple originally considered simply moving 42 Lounge to a larger site downtown, at one point weighing the option of the space on nearby Jefferson Street that was most recently occupied by Blackthorn Pub & Grill. However, when the Nilleses saw the space at 3807 South Packard Avenue in St. Francis (not to mention the price, compared to downtown properties), plans shifted from relocation to expansion.
The spacious, lake-adjacent property was the former site of Attebury's and UBeer. Between the primary dining/bar area that focuses on tabletop gaming and the party room that's conducive to console gaming and a variety of other activities, 42 Ale House's capacity is 247—almost double that of 42 Lounge. That's not even including the massive patio, which can comfortably seat an additional 75 patrons. Additionally, the growth extends to the beer list, as Ale House earns its name with 24 beers on tap (up from none at 42 Lounge) and 25 canned or bottled options. The selection ranges from respected craft beers from Founder's and Alaskan to Wisconsin staples from Milwaukee Brewing Company, O'so, and Potosi, as well as a diverse selection of ciders, including the Nilles-touted Seattle Cider.
"We're really trying to make this a lot more beer-focused, and are trying to keep a lot of the craft cocktail stuff over at the Lounge," Anthony Nilles says. "We want both places to feel like 42, but each one also has to have a little bit of its own identity. You want the building to take on a personality."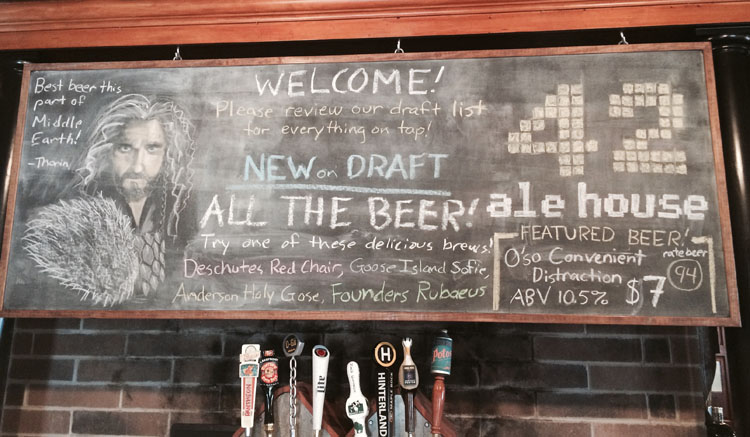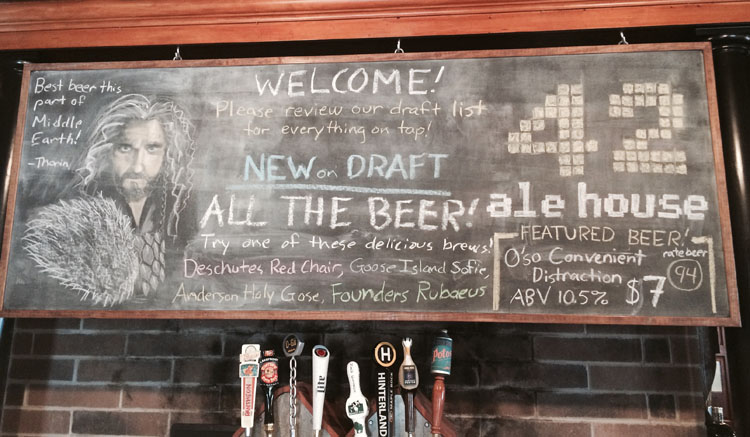 Further extending the identity of 42 Ale House is the brew pub's ability to offer food. Due to space constraints and the lack of a kitchen, 42 Lounge customers' dining options were limited to food delivered from nearby businesses. Conversely, the St. Francis establishment has a full kitchen, which will offer homemade, slightly nerd-tinged takes on bar classics. An array of woodfire pizzas on homemade crust will be on hand, as will burgers that are ground and pattied in house, as well as standard appetizers like wings, cheese curds, and tater tot nachos. A number of gluten-free options will also be on hand.
"We're doing really simple pub food, but we're trying to do it in the best way possible," Anthony Nilles says. "And the horrible puns for drink names are totally going to be extending to the food. We've already been thinking of the most awful names we can come up with."
Some particularly cringeworthy wordplay on the Ale House menu is Pretzel Bytes, Galactus Burger (a BBQ bacon burger befitting of a Marvel villain), and Piccolo (a fried pickle ode to a Dragon Ball Z character). Though the geeky touch is utterly apparent throughout the business—from obscure entree names to $1,000 worth of board games on booth-bordering shelves, to the less-than-subtle presence of BioShock, Zelda, and Teenage Mutant Ninja Turtles artwork on the walls—the owners want the bar/restaurant to be accessible to a vast cross-section of customers. Anthony Nilles says he hopes locals will give 42 Ale House a shot, and that 42 Lounge's devoted customers (and other nearby nerds) will make the trip to Milwaukee's outskirts so that 42 may continue to grow in numbers, and the region's geek flag will continue to fly.
42 Ale House opens Friday, May 8. For hours, menu, and details on special events, consult the 42 Ale House Facebook page.