It's been a long road there, but Bay View is now home to a restaurant unlike any other in the neighborhood and, arguably, the entire city. In summer 2015, Twelve12 Hospitality Group—which owns and operates Crafty Cow in Oconomowoc—set out to open a split property that combines a restaurant and bar with a deli and provisional shop on the corner of Kinnickinnic Ave. and Lennox St. As it turns out, transforming a former retail shop into a swanky lounge and eatery, turning a long-vacant hardware store into a functioning delicatessen and corner store, and knocking down part of a wall to connect them isn't as easy as it sounds.
Following months of construction snags and various other hurdles, the ambitious overhaul was deemed complete…or at least good enough to allow in guests. In September, just in time for the Bay View Bash, Bumstead Provisions (2671-75 S. Kinnickinnic Ave., 414-481-2555) finally opened, more than a year after it was projected to. Is the restaurant-slash-bar-slash-deli-slash-market-eventual Chris Farley art gallery worth the wait, or will Bumstead's intention to give something to everyone just leave everybody wanting more?
The space: As mentioned, Bumstead is really two spaces merged into one. The northern end is a modestly-sized dining room, complete with a gorgeous-though-small bar, church pew seating, and a small scattering of tables constructed from wood that was reclaimed from the antique shelving of the adjoining property. At this point, the off-white segment is fairly sterile, and still conjures images of the, like, three-month period it was a ReThreads. Fortunately, there isn't much wall space to fill, as much of the property is lined with windows that grant a prime view of a bustling parcel of Bay View.
Up a few steps, there's a passage to the provisional shop, which still holds to its Rockwellian illustration of a neighborhood hardware store, even down to the ladder affixed to the top of the shelving. Except the penny candy, jacks, and loose screws stocked on the shelves so many years ago have been replaced with an impressive selection of craft beer six-packs and bombers from brewers like Stone, Deschutes, and Three Floyds, an array of liquors, and locally-sourced honey and tea. On the opposite side of the shop, a shimmering and pristine deli counter offers up 17 varieties of pre-made sandwiches, cheeses, meats, along with other items to go.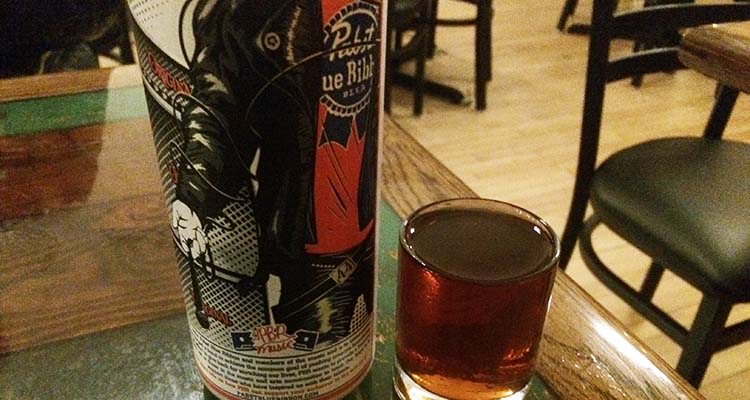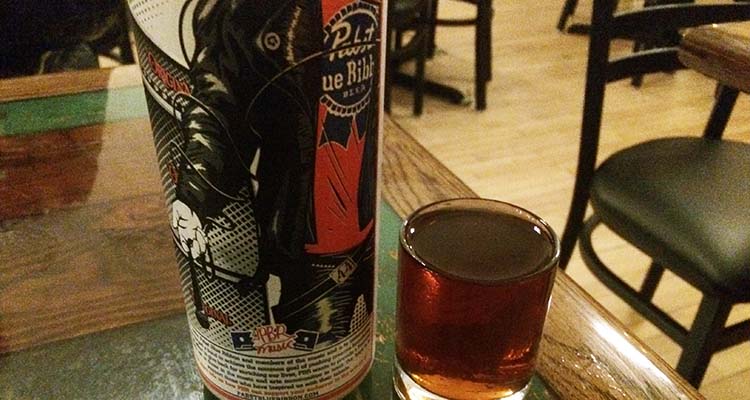 Milwaukee Record's food/drink: Before exploring the store, we placed a drink order for one of Bumstead's innovative in-house boilermakers, which offer patrons a shot glass-sized cocktail to compliment a traditional serving of a beer or cider pairing. We eschewed the allure of both the Modelo and mini margarita, as well as the Vander Mill pint that came with a minute Moscow Mule in favor of the "Wisconsin Made" ($7). The pairing features a Schlitz tall boy (which had a PBR subbed in due to a shortage) and a small Old Fashioned.
We sipped the potent shot slowly, noticing it was more similar to what the rest of the country considers a Whiskey Old Fashioned to be than the super-sweet Wisconsin varietal, though there were gentle notes of cherry and bitters that occasionally cut through the chest-burning semi-spirit. With so many contemporaries charging $5 for a Pabst and a shot of whiskey, the extra $2 is worth indulging in the unique role reversal. If full-sized beverages are more your flavor, there are 16 draft lines (which is bordering on amazing for a space Bumstead's size), 18 wines, and 12 specialty cocktails that range from subtle sidesteps of time-tested cocktails, all the way to a Duck Fat Old Fashioned ($9.50).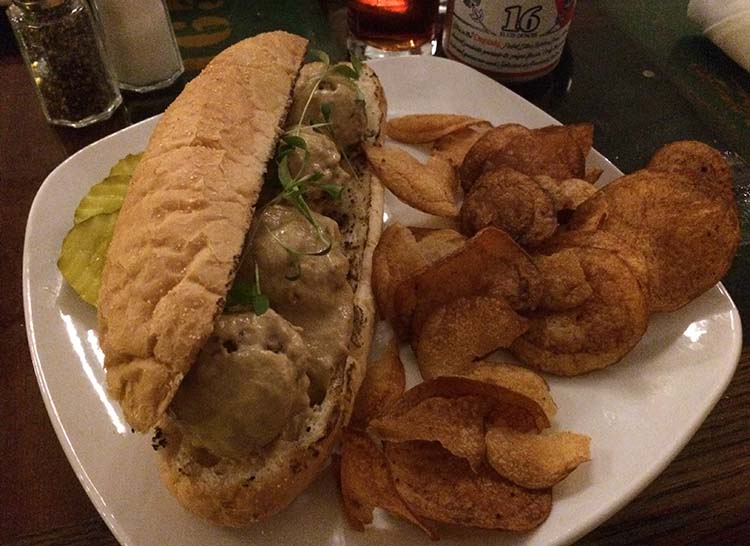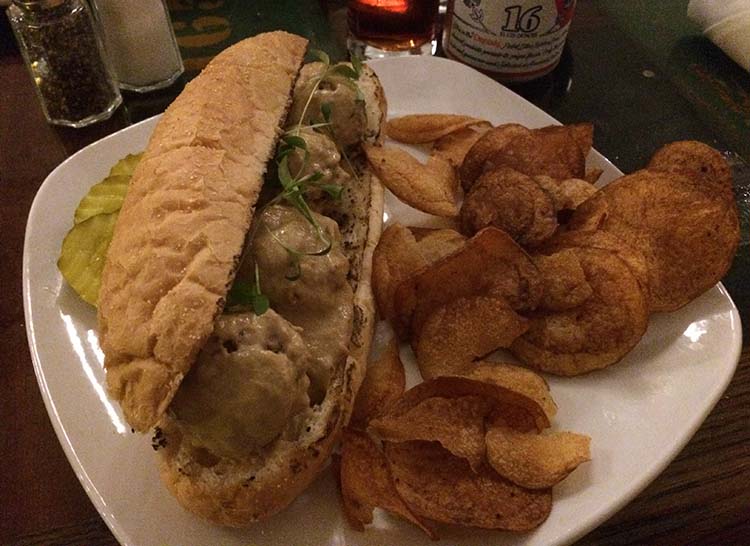 The utter randomness of the drink list extends to the—hand-assembled and clipboard-bound—menu itself. Despite its fairly limited size, selections careen wildly from a Giant Pretzel ($13) to Pork Belly Cinnamon Buns ($7.50) to Half Pig Head ($36) to Scallops ($21), all the way to gourmet popcorn. More than anything, though, Bumstead—aside from its apparent grudge against ducks, given the fowl incorporated in various offerings—seems to lean on its sandwiches, priced between $9 and $15.
We resisted the temptation of the Lobster Cheesesteak ($15) and the Wisconsin Lamb Gyro ($12.50) in favor of one of the more understated duck dishes, the Duck Bacon Swedish Meatball Hero ($12). The quartet of succulent savory duck bacon and pork meatballs came doused in a rich mushroom gravy, and was pressed between a soft, fluffy, and almost cloud-like toasted hoagie roll. It came with a side of house chips and "pickled cucumber" (aka "pickles"). It's worth noting that in all the duck fat- and foie gras-infusing and pork belly implementation, Bumstead's current menu is woefully unequipped to satisfy vegetarian and, especially, vegan customers. Hopefully they remedy that soon.
The verdict: In trying to do so many things at once, Bumstead Provisions is devoid of identity. You'll go crazy trying to figure out exactly what this business is. Meanwhile, it's on its way to becoming the place some people go to drink, others go to get late night donuts or a charcuterie plate, and folks can rely upon for their go-to liquor store or a place to pick up a brick of fancy cheese on the way to a party. It's nothing and everything. Enigmatic as it is, Bay View bars, restaurants, and retailers are all in a slightly better place now that Bumstead Provisions has arrived.