Bobcat Goldthwait has done it all. Over the course of his 40-year career, the comedian and actor who much of the world knows best as "Zed McGlunk" in the Police Academy film franchise has also fashioned quite an impressive career as a writer and director. Goldthwait's voluminous body of work includes beloved cult features like Shakes The Clown and World's Greatest Dad, powerful documentaries like Call Me Lucky, ample television credits on both sides of the camera, a wide variety of voiceover roles, and a cavalcade of stand-up specials he's directed for fellow comedians like Patton Oswalt and Marc Maron. Though he's accomplished quite a lot, Goldthwait hasn't forgotten his comedy club roots.
Following an extended pandemic-prompted pause, Goldthwait has returned to stages all around the country to continue his career on the stand-up circuit. The legendary comic will come to Milwaukee from Thursday, April 28 through Saturday, April 30 for a total of five shows at The Laughing Tap. Prior to this week's performances at the intimate Walker's Point comedy club, Milwaukee Record asked Goldthwait about getting back on stage again, his recent (and upcoming) projects, and the story behind his tattoo of the Hamm's Bear.
Milwaukee Record: I guess this is a very broad thing to ask, but what's it like being out there doing stand-up again?
Bobcat Goldthwait: It's two things. One thing I realized after having a couple years off is that I like doing comedy, which I thought I didn't. And the audiences are different. I think there's more instances of people acting up, you know? But you can't get people to act right on an airplane, so you can't assume you'll get them to act right where there's a drink minimum. [Editor's note: there's no drink minimum at The Laughing Tap.]
MR: So how have the shows been going so far? Weren't you up in Appleton last year or something?
BG: No, I was in Appleton just before the COVID shutdown. But I did well in Appleton. I do well anywhere where it's still the '80s. I'm on the road, but I've also been writing. During the pandemic, I finished a script and I also edited a documentary I made with Dan Gould that we were shooting just before the pandemic hit. We do shows sometimes together—the two of us on stage together. And I edited a movie about that. It's called Joy Ride. You can stream that most places. It's a movie about stand-up, but it's also about our friendship. Well, I shouldn't say "friendship." It's more about us being frenemies, and our history, and our relationship with comedy. I think it came out pretty well. People seem to like it.
MR: Looking ahead to the weekend of shows you have coming up in Milwaukee, it's at least the '90s or the early 2000s here, so I'm sure it'll go well. But what's the last time you can recall being here?
BG: Oh, well I live in Illinois. So I was there when the Joe Pera show was being filmed because my daughter is a costume designer and she was the costume designer on the last season of Joe Pera [Talks With You]. I was in Milwaukee visiting my daughter. And I'm not going to confirm or deny, but there's a guy that looks like me that's an extra this season.
MR: Oh wow! I watched the whole season and didn't notice you.
BG: Well, you're not looking for me, so…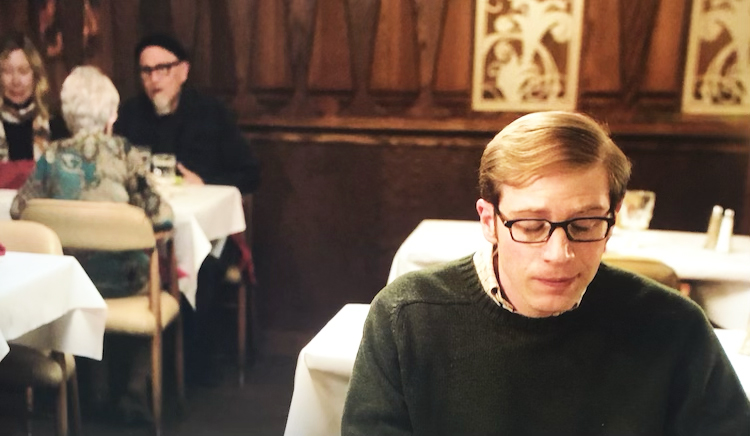 MR: Now it'll be all I look for. But when is the last time you were on stage in Milwaukee?
BG: I can't recall. I did Summerfest a bunch of times. That would probably be the '90s. I haven't played a club there in years, but I hear The Laughing Tap is a really great room. They reached out to me about the same time I was reaching out to them, so it worked out pretty well.
MR: You don't have to discuss this if you don't want to, but I know you have a unique anecdote about Hamm's beer, which they make here now at Miller. Are you comfortable speaking about the beer's relationship or the family's relationship to you?
BG: Well, Ted Hamm—who is the heir of the Hamm's beer company—his company financed World's Greatest Dad and God Bless America, two movies I made. They were on the fence about giving me money, so I had the Hamm's Beer Bear tattooed on my chest over my heart. And I came into the office and was like, "Hey, are we gonna do this?" and I showed him the brand new tattoo. They didn't laugh. It was pretty funny. Then I was back in my car and I got a call and they go, "Ted thinks you're fucking crazy. We'll give you the money." So that's how I got God Bless America financed.
MR: That's awesome! Talk about going the extra mile. And what if they would have said no after all that?
BG: Oh, that would've made it an even better story. It's good not to have anything serious tattooed on your body.
MR: Is there anything else you'd like to mention or anything else you're working on that you're able to discuss?
BG: I'm working on a few scripts. And it would be really good to—hopefully this summer or fall—go make one of the new movies that I wrote. I say this and I mean it: I don't make a living making movies. I make a living so I can make movies. And I hope I can get back and make one of my movies this summer.