In case you missed it, Milwaukee got a brand new statue last week and it's one that's sure to become an area icon. The new 6-foot-tall, 400-pound work of art standing outside of the flagship Sobelman's Pub & Grill honors none other than the Bloody Mary, a massive and aggressively-garnished cocktail that helped make the Menomonee Valley burger joint a national focal point.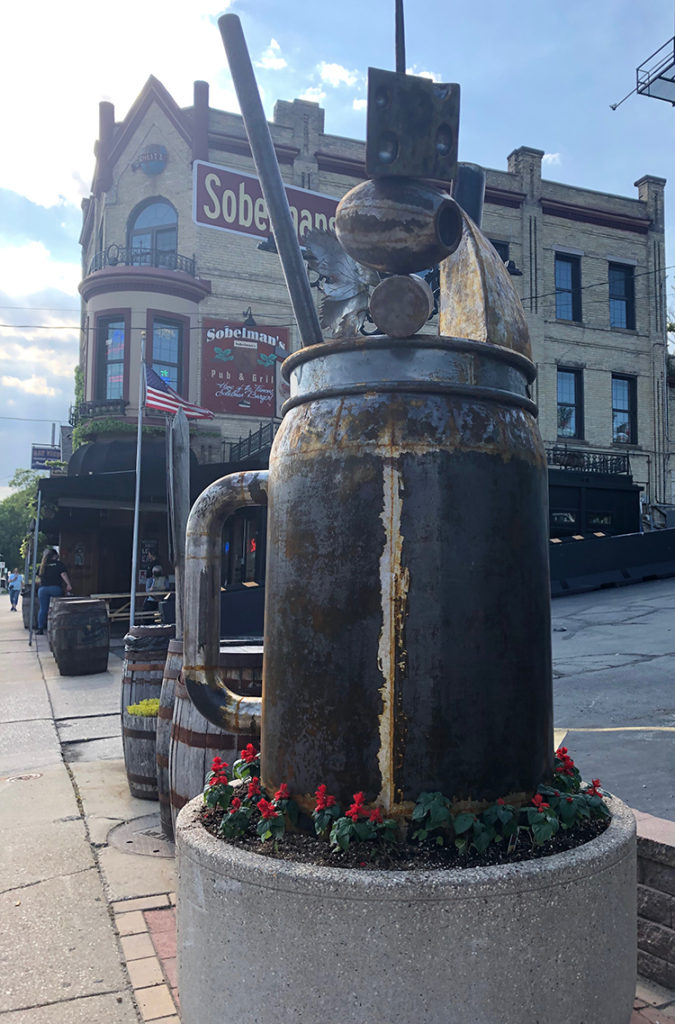 The new sculpture was commissioned by Sobelman's owner Dave Sobelman and was made by a local blacksmith named Kent Knapp. The jury is still out, but we're going to guess this unusual sculpture that's dedicated to a brunch beverage is going to become a local landmark of sorts. Not only is it likely to inspire countless Pinterest posts and Instagram images as long as it's standing outside the business at 1900 W. St. Paul Ave., the currently-unnamed sculpture has already added to the shockingly large number of quirky monuments located in and around Milwaukee.
Art is subjective, of course, so maybe you disagree with our broad "quirky" classification on some of these. Or maybe you have some other local pieces you think should qualify for this list. Regardless, here are some other statues, sculptures, and monuments in the region that we think stand out.
This is great… Bob Uecker statue in highest row at Miller Park. pic.twitter.com/Muureoo2bJ

— Jordan Bastian (@MLBastian) July 21, 2015
Bob Uecker Section 422 Statue
In addition to the more traditional statue of Bob Uecker that's outside of, ahem…American Family Field, "Mr. Baseball" is also honored with a color-coated bronze statue in the upper deck of the ballpark. Since it was installed in the last row of Section 422 back in 2014, the seated Uecker statue has become a part of the stadium experience that's just as unusual, unorthodox, and enjoyable as the man it represents.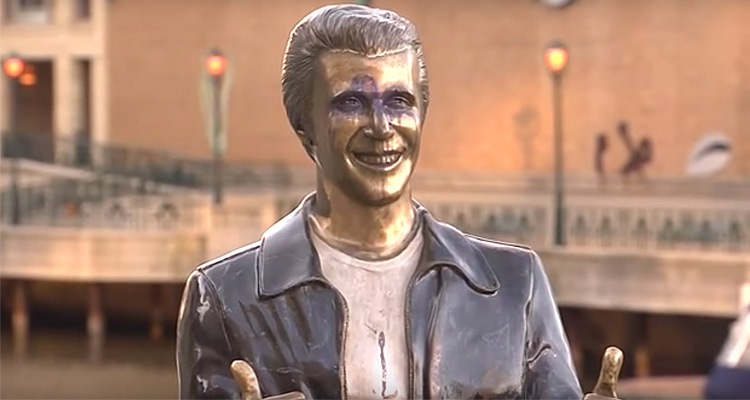 Bronze Fonz
In 2008, Milwaukee's art community was embroiled in something of a controversy when a near-life-sized statue of Happy Days character Arthur Fonzarelli (a.k.a. "The Fonz") was to be installed in Downtown Milwaukee. Some thought it was an innocent homage to a popular TV show that was based in the general vicinity of Milwaukee. Others thought it was "a big slap in the face" to a creative community that was perpetually struggling for local support. In the end, artist Gerald P. Sawyer's "Bronze Fonz" wound up on the Riverwalk. Some people disliked it, others loved it, and most of us landed somewhere in between. Like it or not, it's still an inarguable local landmark 13 years later.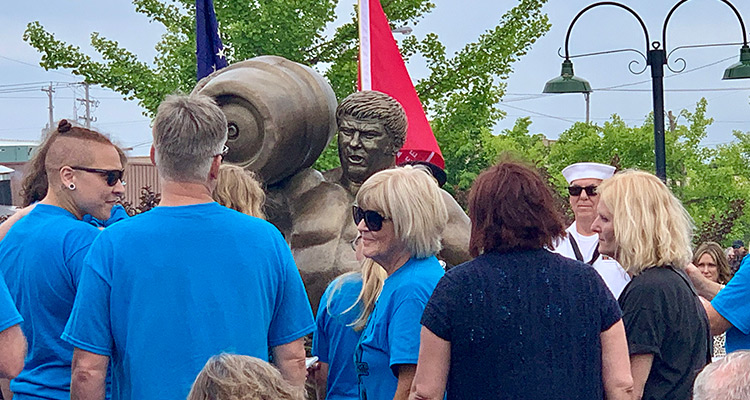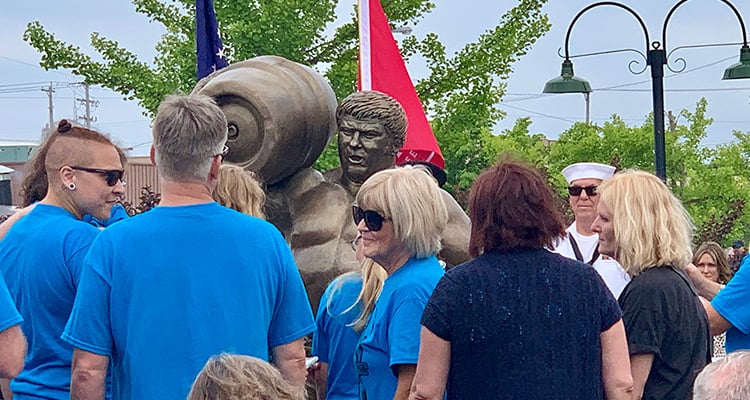 Da Crusher Statue
Reggie "Da Crusher" Lisowski is known as "The Man Who Made Milwaukee Famous." Over the course of his 40-year professional wrestling career, the South Milwaukee native and World War II vet was the pride of a region, an influence to untold numbers of aspiring wrestlers, and a WCW Hall of Famer with a heft of title belts to his name. Da Crusher died in 2005, but his legacy lives on with a full-sized bronze statue of his likeness in his hometown. Da Crusher statue was officially unveiled in June of 2019 during the inaugural CrusherFest. The statue on the corner of 11th and Milwaukee streets in South Milwaukee is the result of a crowdfunding campaign (launched by Chris Smith) that eventually raised a whopping $40,000.
Since it was installed, Da Crusher statue survived a vandalism attempt by some turkeyneck with a face tattoo. Later, Milwaukee Record's own Matt Wild performed a dramatic reading of a tribute to Da Crusher in front of the suburban statue. CrusherFest was canceled last year on account of COVID-19, but seems likely to return this summer.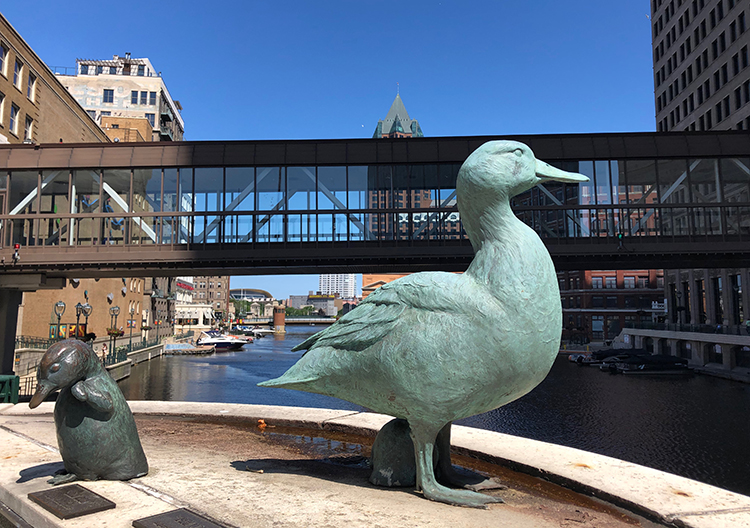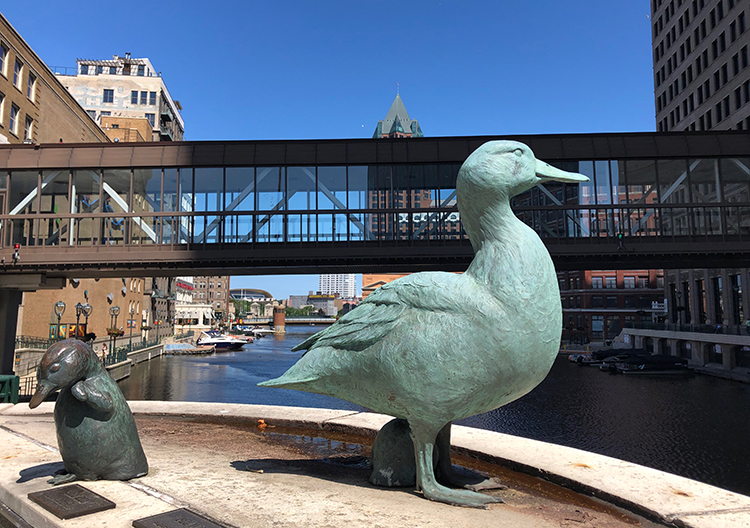 Gertie The Duck Statue
In the spring of 1945, Milwaukee (and a readers far beyond our city limits) were captivated by the feelgood post-World War II story of a mallard duck who had nested under the Wisconsin Avenue Bridge. The duck (dubbed "Gertie") laid nine eggs, and the city kept a watchful and protective eye on Gertie and her soon-to-hatch offspring. Six of those nine eggs hatched and the feathered family became local legends that inspired two books, a popular toy, AND a sculpture. In 1997, a 4-foot tall bronze sculpture by artist Gwendolyn Gillen was installed on the same bridge where Gertie famously took her perch more than 40 years prior.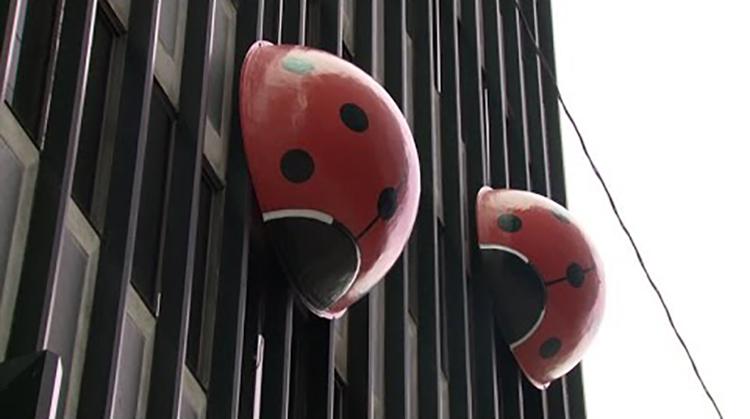 The "Ladybug Building"
In July of 1999, three gigantic ladybugs—each one about six feet tall and three feet deep—were adhered to the side of 622 N. Water Street. The unconventional installation was the brainchild of John J. Burke, who managed the Milwaukee Building. The fiberglass bugs were designed by Burke and installed on his property by a three-person crew in the span of a single day. Reportedly, Burke's decided to add the insects to his building's exterior because he "just thought they were cool." You can read more about Burke and his ladybugs here.
Three Stooges Fermenting Tank Sculptures
In 2011, Lakefront Brewery took painted portions from its three former fermenting tanks (Larry, Curly, and Mo) and transformed them into sculptures that would be installed outside the brewery. In the 10 years since, they've become part of the wonder and whimsy of the beloved local establishment that's also known for its enjoyable tours, its great fish fry and cheese curds, being the new home of Bernie Brewer's Chalet, and producing award-winning beer.