Welcome to Food/Drink Week at Milwaukee Record, brought to you by Milwaukee's new favorite import, Bofferding. From May 13 through May 20, belly up and enjoy a fresh smattering of restaurant visits, beer articles, booze videos, deliciously arbitrary rankings, and some good old fashioned adventure food journalism.
If there's one thing we enjoy, it's fried chicken with mashed potatoes and gravy, green bean casserole, tacos, pizza, fish, ham, onion rings, broccoli, and fudge. Okay, that's 11 things. The point is, all-you-can-eat buffets are really great. You can get generous piles of all your favorite random comfort foods, along with a few pieces of honeydew melon and 37 kinds of delicious mayo-based goo from the salad bar. It's the best. In a manner of speaking.
Anyway, as fans of buffet-based eateries, we were excited to see Milwaukee recently get its very own Layton Avenue location of buffet mega-chain Golden Corral Buffet & Grill. South Side enthusiasm has been high and lines have been long, so we held off on making our maiden voyage into the GCB&G until a sunny day this past week. Having never been in a Golden Corral anywhere before, it would be a bit of an adventure. In a manner of speaking.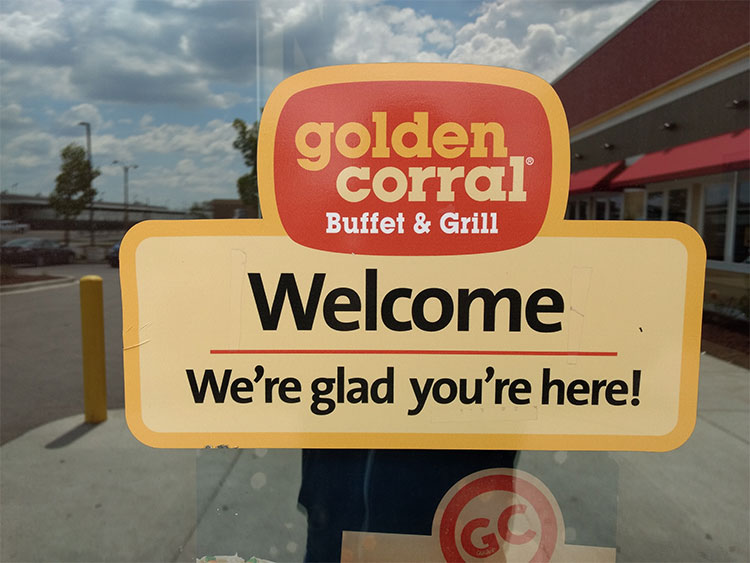 As with most buffets, the scene was split up into sections. There was the salad bar section, featuring a variety of colorful and fresh produce, along with lots of fluffs and salads full of raisins and craisins and the like. Plus, they had deviled eggs. *shrugs shoulders* The dessert section at the end had all kinds of tasty baked goods, along with ice cream and a chocolate fountain (more on that later)!
However, we didn't go to Golden Corral for salads or desserts. Or soups—they also had three different soups, but we didn't get any of that. We were there for the meat and potatoes of the buffet line, in both the literal and figurative senses. We wanted everything available at stations labeled "Comfort Food Corner" and "The Grillhouse" and "Here's a Whole Bunch of Meat" and "Meat Meat Meat Potatoes Meat." We sampled everything they had in the buffet's ample midsection and walked away (slowly and carefully) with the fullest bellies in the universe.
In case you ever make the trip to 300 W. Layton Ave., here's a little study guide for you to peruse. After tasting everything on the meaty portion of the Golden Corral lunch buffet, we went back to the lab to nap and to assign rankings to each of the 57 items according to their overall scientific whatever. Without further ado, here are those rankings and a few short stories just to break things up a little. Bon appétit.
1. Awesome Pot Roast
2. Chocolate Fountain (on Dessert Bar)
3. Machaca Pork
4. Kettle Cooked Cabbage
5. French Fry
6. Onion Ring
7. Skillet Cornbread
8. Deviled Eggs (on Salad Bar)
9. Sausage Gravy
10. Biscuit
11. Smoky Cheese Potato Bake (Contains Pork)
On the way to Golden Corral, we got a call from a friend who said she spent all night sitting around a bonfire and the baked-in smell was still with her at work at 11 the next morning. Three to four people eating at Golden Corral have the same issue.
12. Brussels Sprouts
13. Charro Beans
14. Ham
15. Steamed Broccoli
16. Steamed Cauliflower
17. Green Bean Casserole
18. Poultry Gravy
19. Brown Gravy
20. Mashed Potatoes
21. Fried Fish
While we were eating the fried fish, Hootie & The Blowfish's "Let Her Cry" was playing over the speakers. We remembered hearing that song in seventh grade and thinking it was really deep and emotional. Speaking of deep and emotional, why is there cheese sauce on our pants?
22. Sauteed Carrots
23. Baked Fish
24. Fried Chicken
25. Sauteed Zucchini
26. Bourbon Street Chicken
27. Bacon
28. Mmm Mmm Meatloaf
29. Taco Meat
30. Queso Sauce
31. Macaroni & Cheese
32. Sausage Patty
33. Grilled Chicken Leg
34. Corn
35. Cheeseburger
The cheeseburger wouldn't have been this high on our list except that the roll it was on was really tasty. Lady Gaga's "Paparazzi" was playing and a little boy with curly hair was staring at us as we ate it. Parents, maybe don't let your kids watch what we're doing here.
36. Tortilla Chips
37. Taco Shell
38. Hushpuppies
39. Mexican Rice
40. Grilled Chicken Breast
41. Pork Steak
42. Baked Beans
43. BBQ Chicken Breast
44. Scrambled Eggs
45. Baked Sweet Potato
46. Baked Potato
47. Pepperoni Pizza
48. Cheese Pizza
49. Cheese Sauce
A little girl in the next booth was staring while we ate a taco and she had a look on her face like, "Hey, yeah! I should eat buffet tacos at 11:48 a.m. on a Wednesday for work." No.
50. Popcorn Shrimp
51. Grilled Chicken Livers
52. White Rice
53. Hash Browns
54. Pancake
55. Fried Okra
56. Green Beans
57. Rice Pilaf
After we were reasonably full, we took a quick look at the desserts, for educational purposes. The chocolate fountain was too much for us to pass up. There were signs everywhere stating that nobody under the age of 10 was allowed to use the chocolate fountain alone. As we are now of-age, we confidently grabbed a skewered chunk of pineapple and slowly dipped it into the cascading ribbons of velvety chocolate. As we pulled the masterpiece out of the fountain, our lives flashed before our eyes as the pineapple started to slide off of the skewer. Some fancy maneuvering kept our delicious treat out of the bottom of the fountain and kept us out of Golden Corral jail. Now we know why "desserts" is "stressed" spelled backwards. Next time, we'll just stick to the meat and potatoes.