This Sunday, the Green Bay Packers will square off against the Chicago Bears. In the process, the Packers will face a starting quarterback they've never played against before. Justin Fields is the latest Bears starter and is also the second starting quarterback Chicago has used already in this young season.
Quarterback inconsistency isn't a new thing for the Bears. In the last 20 years, there have been an astonishing 25 quarterbacks who have started a game for the Chicago Bears. During that same time frame, the Packers have started just six. So as we prepare to welcome yet another new Windy City QB to the longest rivalry in all of professional sports, let's look back at AND RANK all the Chicago Bears starting quarterbacks from the past 20 years.
25. Todd Collins
Somebody had to be last, and that person is Todd Collins. The longtime Buffalo, Kansas City, and Washington reserve quarterback ended his career on a sour note as Jay Cutler's backup in Chicago in 2010. In two games (one start), he completed just 37 percent of his passes. He had a total of 68 passing yards, no touchdowns, and five interceptions. Miraculously, his record as a Bears starter is 1-0.
24. Henry Burris
In 2002, rookie Henry Burris appeared in six games under center for the Bears (only one as a starter). In that span, he managed 18 completions in 51 attempts and threw three touchdowns compared to five picks. He lost his only career start and never played in the NFL again.
23. Jason Campbell
During his time as QB1 in Washington an Oakland, Jason Campbell showed himself to be a competent starter, twice throwing for more than 3,000 yards in a season. Those flashes of greatness—well, flashes of goodness—didn't follow him to the Windy City in 2012. There, he appeared in six games (including one start), throwing for 265 yards, with two passing touchdowns and a pair of interceptions.
22. Jimmy Clausen
Following two abysmal seasons with the Panthers, Notre Dame standout Jimmy Clausen returned to the Midwest in 2014 to back up Cutler. Unfortunately for Bears fans, he was called upon a few times that season and in 2015, tossing a pair of touchdowns and interceptions, and amassing just 407 yards through the air in six games (two starts—both losses).
21. Andy Dalton
If this list included non-Bears seasons, Andy Dalton would probably have the number one spot. But alas, it only counts performances with Chicago, so the longtime Bengals quarterback and three-time Pro Bowler is buried near the end of this unflattering list. In three games this season (two starts, but only one full game under center), the veteran had a 1-1 record, completed 74 percent of his passes for a total of 270 yards, and tossed a touchdown (as well as one interception). His Week 2 injury provided an opening for rookie standout Justin Fields to take over as starter, so it seems like—barring a Fields injury or ineffective spell—Dalton won't be able to ascend these ranks.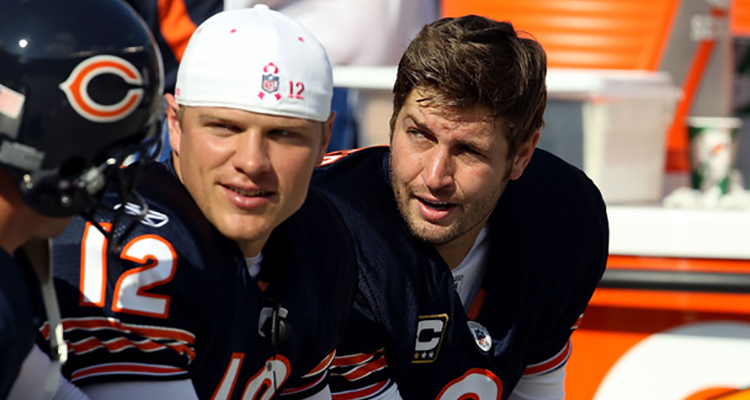 20. Caleb Hanie
We feel bad saying it (especially about someone who climbed to the pro level for a few seasons), but Caleb Hanie was pretty bad. He spent two years mercifully hidden on the depth chart in Chicago before the Bears finally needed his services in 2011. During six games that season (four of those as a starter), Hanie went 0-4 with three touchdowns and NINE interceptions. During the playoffs, he also relieved Cutler late in the NFC Championship Game and threw the unforgettable interception to B.J. Raji that punched Green Bay's Super Bowl ticket.
19. Jonathan Quinn
In 2004, a 29-year-old journeyman backup named Jonathan Quinn started three games for the Bears. It did not go well. Quinn was winless in those three games. Between those starts (and two other games he appeared in that season), he had 413 passing yards, a touchdown, three interceptions, and was out of the NFL by season's end.
18. Justin Fields
After coming in for an injured Andy Dalton in Week 2, the aforementioned heralded rookie playcaller is off to a pretty encouraging start. Just five games into his professional career, Fields has already outperformed seven other Bears starters since the year 2001 and will likely jump up a few more spots before the season is through.
17. Craig Krenzel
Remember earlier when we said Jonathan Quinn didn't do very well as the starting quarterback for the 2004 Chicago Bears? Well, the same can be said for Craig Krenzel. In five starts (six games total) that season, the rookie completed 46.5 percent of his throws for a paltry 718 yards and three touchdowns. Despite those numbers and the six interceptions he threw, Krenzel somehow led the Bears to three wins while under center.
16. Mike Glennon
People always talk about how overpaid Mike Glennon was by Chicago, but a lot of folks forget he was also pretty terrible too. After signing a three-year, $45 million deal with the Bears in 2017, the career backup went 1-3 in four starts wearing navy and orange. In the process, he managed 833 passing yards, four touchdowns, and five interceptions. He was released after his first season in Chicago, with the Bears paying a total of $18.5 million for Glennon's services in those four brutal games.
15. Chad Hutchinson
Contrary to popular belief, Chad Hutchinson was a real quarterback and not a create-a-player avatar on Madden or something. In 2004 (the same year Krenzel and Quinn took a crack at being the Bears' starting QB), Hutchinson started five contests, winning just one. Though he wasn't great by any measure, he still managed more passing yards and more touchdowns than the other '04 alternatives.
14. Chase Daniel
Usually, Chase Daniel has a pretty good gig. Since 2010 (and continuing on through this very day), the quarterback has made millions and evaded injury as either the No. 2 or third-string quarterback for six different NFL teams. However, this lucrative job got less enticing in parts of 2018 and 2019, when Daniel had to actually play in a total of eight games with the Bears (three of those as the team's starter). A win, 98 completions, 950 passing yards, and six touchdowns later, Daniel's stint with Chicago is the most accomplished portion of his playing career. We wonder if he thinks about those games these days when he's holding a clipboard in sunny Los Angeles as a member of the first-place Chargers.
13. Kordell Stewart
For a brief time in the mid-'90s, Kordell Stewart was the focal point of the football world. Long after his heyday as the hybrid offensive force in Pittsburgh, however, "Slash" was the starter for the 2003 Bears. Before losing the job seven games into that season, Stewart went 2-5 at the helm. Over a total of nine games, he managed 1,418 passing yards (and 290 rushing yards), 10 total touchdowns, and 12 picks.
12. Brian Hoyer
After admirable fill-in work with the Browns and Texans the previous two seasons, the Bears were surely hoping for similar returns when they brought in Brian Hoyer to backup Jay Cutler in 2016. It went…fine. In six games (five starts) with the Bears, Hoyer went 1-4 with six touchdowns and no interceptions.
11. Matt Barkley
Another 2016 Bears backup who had to start a few games, former USC quarterback Matt Barkley actually put up numbers that are far better than his 1-5 record as a starter would indicate. In his seven total games with Chicago, Barkley had 1,611 passing yards and eight touchdowns. His 14 interceptions during that span, however, might help explain that 1-5 record.
10. Brian Griese
Following seven years as the starting quarterback for the Broncos, Dolphins, and Buccaneers, Brian Griese was brought to Chicago to back up Rex Grossman in 2006. Following a season with limited activity (wherein Chicago went to the Super Bowl and lost to Indy), Griese was called upon to start six games in Grossman's absence in 2007. He went 3-3 during that span, and he tallied a total of 2,023 passing yards 11 touchdowns, and 14 interceptions in 13 total games with Chicago.
9. Chris Chandler
Near the tail end of a career that spanned parts of three decades, oft-injured veteran Chris Chandler was probably ready to wind down as Jim Miller's emergency fill-in on the 2002 Bears. The universe had other ideas. That season and the following year, the banged-up backup was tasked with playing in 17 games (including 13 starts). He managed more than 2,000 passing yards, seven touchdowns, and 11 interceptions before leaving Chicago in 2003 and calling it a career a year later.
8. Nick Foles
Before it's all said and done, Foles could wind up higher on this list. However, the former Eagles Super Bowl-winning quarterback and current Bears third-stringer seems unlikely to add to his stat sheet with Fields and Dalton ahead of him on the depth chart. Still, Foles and his decent half-season showing in 2020 earns him a higher spot than those guys on this list at the moment. Despite his misleading 2-5 record as a Bears starter, Foles threw for more than 1,800 yards and had 11 total touchdowns in parts of nine games last year.
7. Josh McCown
It's almost weirder if Josh McCown didn't play on your team. Yes, Chicago was one of the journeyman QB's nine stops during his 17-year career. Between 2011 and 2013, McCown played in 11 games (seven of those starts), wherein he threw for 2,243 yards and 15 touchdowns compared to just five picks.
6. Shane Matthews
With a Bears career that concluded after the 2001 season, Shane Matthews barely qualifies for this list. However, he does…and the undrafted quarterback's on-field accomplishments earn him a surprisingly high spot here. Over the course of 20 games on the field in a Bears uniform (15 starts), Matthews threw for 3,461 passing yards and 19 touchdowns. He also had 18 interceptions.
5. Jim Miller
Though Jim Miller had all the fanfare and flashiness you might expect from a guy named "Jim Miller," the longtime Steelers and Bears backup got the job done when called upon. Chicago called on Miller exactly 32 times between 1999 and 2002, and he responded with 5,867 passing yards, 34 touchdowns, and a 15-11 record as a starter during that span.
4. Kyle Orton
In each of his three seasons with Chicago, Kyle Orton led the Bears to a winning record in games he started. In total, good old neckbeard went 21-11 as a Bears starter, with 30 touchdowns and more than 5,300 yards through the air. Those numbers aren't gaudy, but much like Miller, Orton got the job done.
3. Rex Grossman
He took the Bears to the Super Bowl. Only one other quarterback in franchise history can say that. That alone helps Rex Grossman crack the top three. Coincidentally, that 13-3 career year in 2006 is pretty much the entirety of Grossman's credentials. Aside from that 23-touchdown campaign, "Sexy Rexy" never threw more than seven TDs in a single season with the Bears.
2. Mitchell Trubisky
Yeah, really. Mitch "Please, call me Mitchell" Trubisky is the second best Bears quarterback of this no longer very young century. The former franchise savior-to-be, guy drafted before Patrick Mahomes, and present day Bills backup is miraculously in the top five in many Bears passing categories despite never really being able to pull it together. Yikes.
1. Jay Cutler
It's sad, but it's true. In fact, Jay Cutler isn't just the best Bears quarterback of the past 20 years…he's the best quarterback in Bears history by a pretty wide margin. He's the franchise leader in wins for a starting quarterback, attempts, completions, passing yards, and touchdowns. Sorry, Bears fans.