Milwaukee rarely lacks options for celebrating the end of the year. From the bottle service pub-crawls on Water Street to the packages in the 'burbs that allow guests to get shitty in a ballroom and stumble back to the safety of a hotel room, everyone in Milwaukee has an excellent opportunity to celebrate the passing of the second year past the Mayan Apocalypse. On Saturday, December 27, The Time Lords' Ball will continue the fine Turner Hall tradition of offering a raucous rave-up to blow off a little steam after a few days around relatives. The party will feature Doctor Who-themed drinks, professional photographers to catch cosplay awesomeness, and an unlimited drink option for those folks who want to get the feeling of erasing a divergent timeline without hijacking a time travel device. Milwaukee Record spoke with Anthony Nilles, owner of geek bar 42 Lounge and mastermind of the event about its origins, Milwaukee as a geek city, and which Doctor he wants to show up at the party.
Milwaukee Record: How did the Ball come about?
Anthony Nilles: We try to throw parties every other month or so at 42 Lounge. The parties usually hit capacity and often have a line down the block. We hate making people wait outside and really wish we could get everyone in to have fun, but those pesky fire codes get in the way. So we started thinking about having an event at an off-premises venue that could hold more people. The Pabst Theater Group have been tremendous supporters of ours since day one, working with us on several projects, so it seemed like a natural fit to try this out at one of their venues, Turner Hall.
MR: How did you decide upon the theme?
AN: Doctor Who events have consistently been among our most popular. The 50th anniversary was a record-setting day for us, and even weekly viewings, in season, have solid turnouts, so we know there is a lot of interest in the subject matter. Beyond that, Doctor Who fans tend to be very committed. They wear themed outfits year round, go all-in on cosplay, and know all of the memorable quotes. We knew immediately that if we were going to try and do a super-sized party that Doctor Who was going to be our theme.
MR: How big of a Doctor Who fan do you need to be to have fun?
AN: You don't need to be a fan at all. Doctor Who is the theme, but anyone that has ever been to our parties before—Cosplay Raves, Pirates vs. Ninjas, Mad Scientist, etc—should know exactly what to expect from us. For those that have never been to one of our parties they should expect DJs playing dance music, amazing lasers by Nightcloud, stagecraft and visuals by VJ Brye, and delicious cocktails made from 42's recipes. It's a perfect party for people who just want to have fun, make friends, and not take themselves too seriously. Of course if they are DW fans, there is the added bonus of being able to dress up and mingle with other Whovians.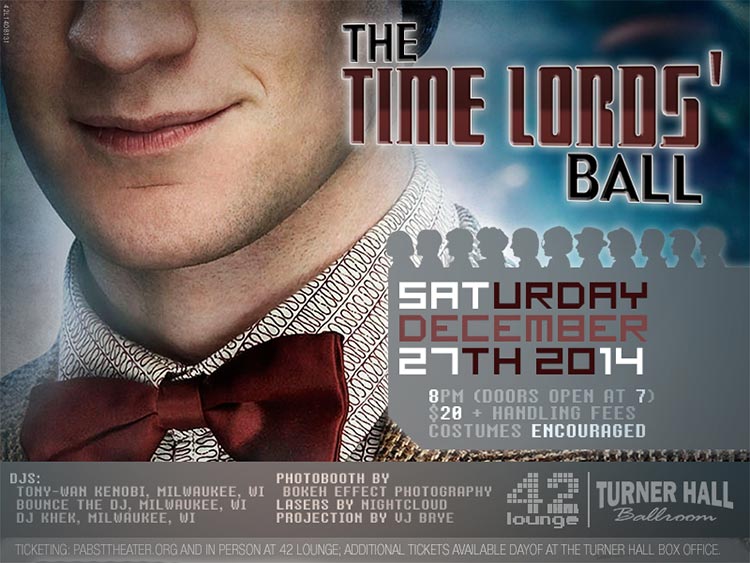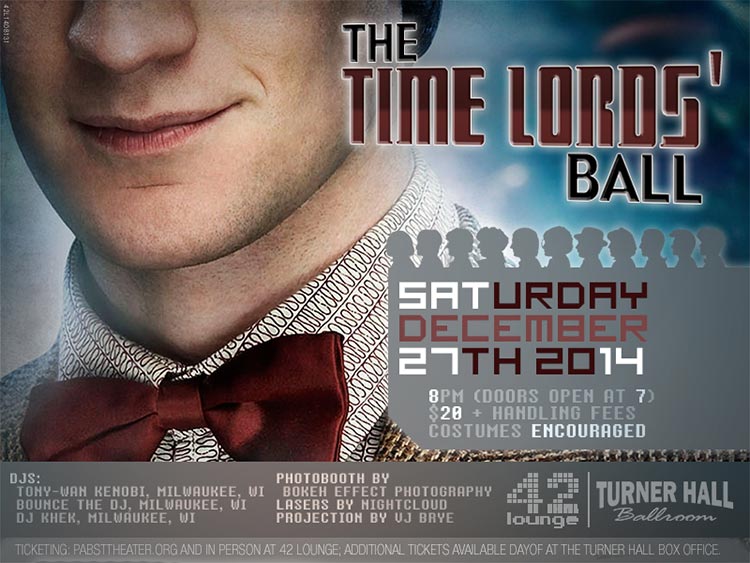 MR: What events coming up at 42 lounge for 2015 are you excited about?
AN: In 2015 we are moving in to our third year! It's amazing how fast time has passed and how many amazing people we have met. I think a lot of people saw us mature in year two. Our events were more focused, planned out, and repeats from the previous year were executed at a higher level. I see the same evolution continuing into year three, and we have brought on additional behind-the-scenes staff that are 100-percent project-focused. Old favorites like the Renaissance Faire Field Trips, Extra Life Gaming Marathon, and Cosplay Rave are sure to return, while we continue to develop new ideas such as bar vs. bar tournaments at CMP Tactical Laser Tag, and a full booth with a 132-inch projection screen at the Midwinter Gaming Convention in January. We also hope to do more off-premises events, and have other plans for growing the bar that we aren't ready to talk about quite yet. But I assure you our commitment to both the community, and to making Milwaukee a more geek-centric city, is unwavering.
MR: If one Doctor could show up to the party, which one would you choose?
AN: Hardcore Whovians are going to be unhappy with me, but I would probably pick Matt Smith. I got into Doctor Who only after we opened 42, so he is my first Doctor. But beyond that, Matt Smith joined the group Orbital on stage for a Doctor Who techno remix at the Glastonbury Festival in 2010. There are clips on YouTube that show just how cool it was. As a DJ myself, I really was able to appreciate that on a lot of levels.
The Time Lords' Ball takes over Turner Hall Saturday, December 27. DJs Tony-Wan Kenobi, Bounce, and Khek will provide the music; themed drinks like the Sonic Screwdriver, Bad Wolf, and Timey Wimey will provide the alcohol. General admission tickets are $20; an unlimited bar package add-on is $35.