If you find yourself walking, biking, or skipping through Milwaukee's majestic Lakeshore State Park from now until August 1, you'll see some birds. No, not real birds (though you'll see plenty of those, too)—twenty-two five-foot-tall plastic sculptures of birds. Here they are:
The chunky and colorful creations are the work of European-based art collective Cracking Art, who were commissioned by Milwaukee-based space-activating nonprofit Black Box Fund. The sculptures are part of Cracking Art's so-called REbirth traveling exhibit, as well as Black Box Fund's Out Of The Box series. A bunch of events in Lakeshore State Park round out the project.
Reader, I was prepared to hate these bird sculptures. Hate, hate, hate them. When I saw Urban Milwaukee's Jeramey Jannene tweet (ha) a picture of them last night, I had a knee-jerk reaction:
Nice. I always thought this gloriously open and naturally beautiful expanse of Lakeshore State Park needed some stuff https://t.co/5551PxoQ1B

— Matt Wild (@ByMattWild) June 14, 2021
My tweet said it all: Why on earth would you take a gloriously open and naturally beautiful expanse of Lakeshore State Park and junk it up with…stuff?
On their own, the Cracking Art birds are pretty neat! Here's a pair across the street from the Milwaukee Public Market: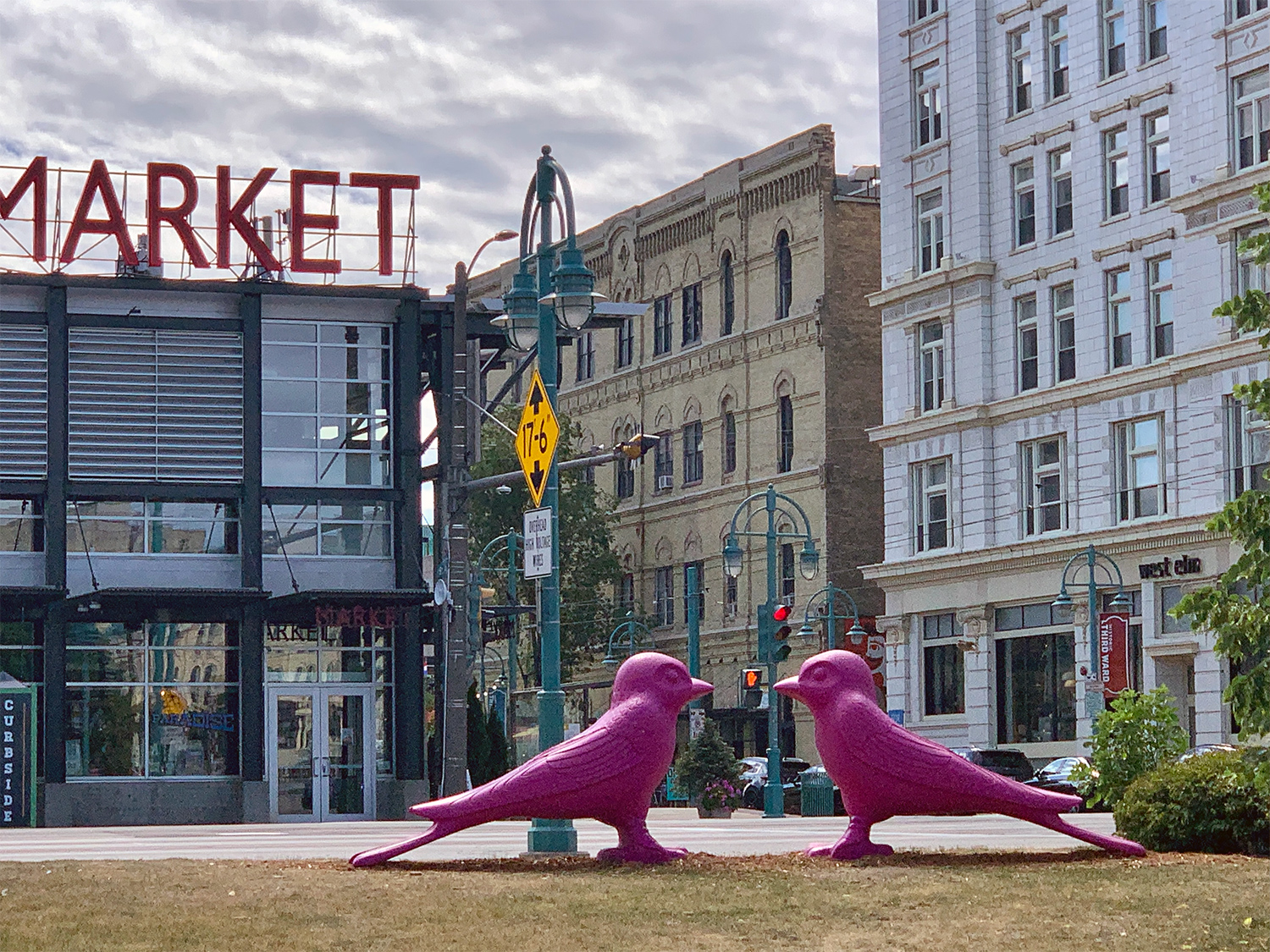 Downtown? Cool! But in Lakeshore State Park, a stunningly gorgeous and not-at-all-junked-up island of open fields and prairies and actual birds? WHY?
So I biked out to the park this morning. I planned to snap some pictures, scoff at the people surely taking selfies alongside the infernal flock, and then return home to write a withering takedown. "Lakeshore State Park finally has some stuff in it," the headline would read, or maybe "What is this crap?" A bunch of people would probably get pissed, but oh well. THE TRUTH MUST BE TOLD.
Well, it turns out I kind of like them. Dammit. What's become of me?
First of all, the birds are confined to a relatively small chunk of land on the park's north side. Cross the bridge and you're pretty much there. All the open fields and prairies remain. Lakeshore State Park is still the best. The birds are hardly The Birds.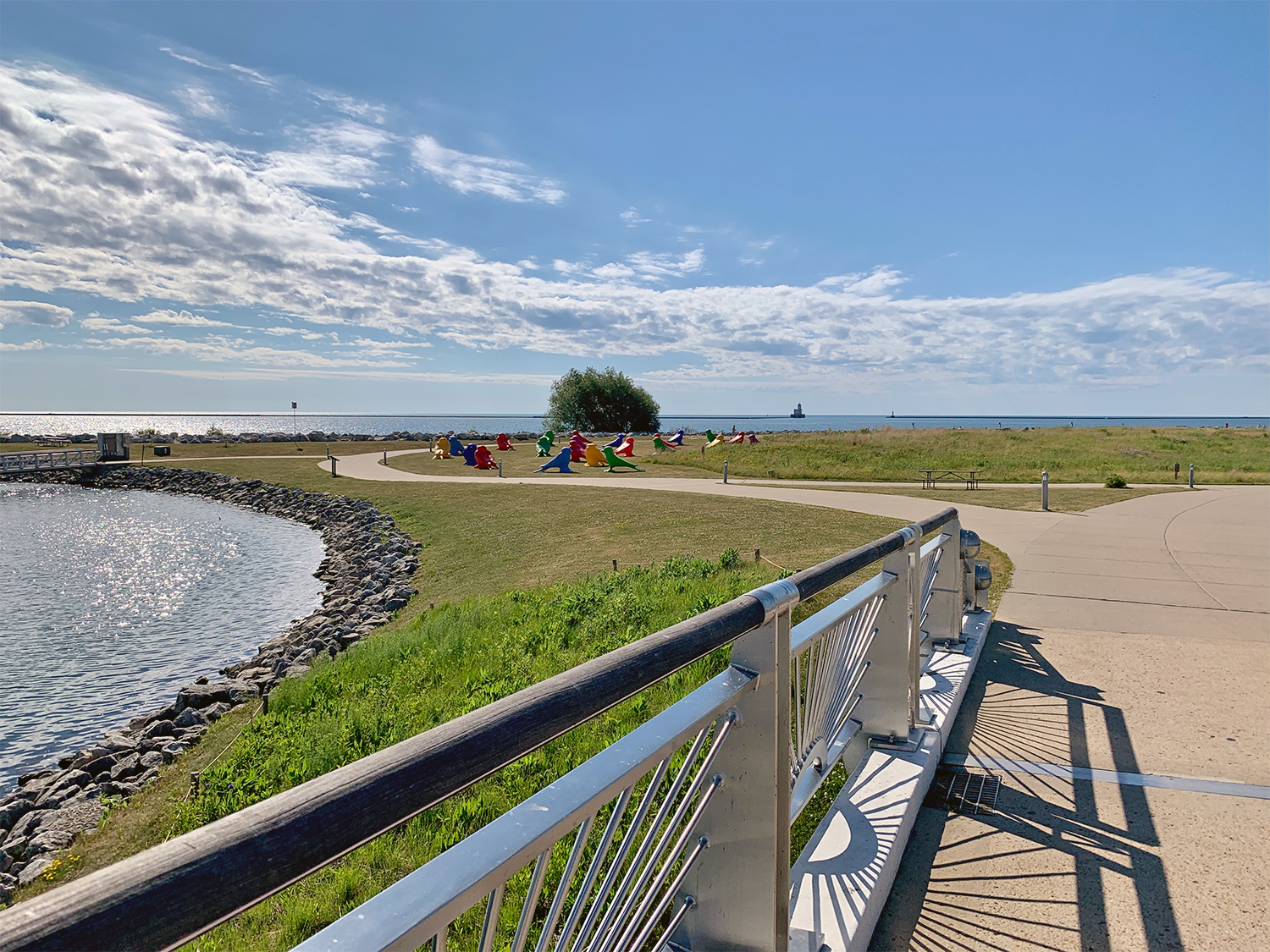 Next, there's something undeniably fascinating about looking at the bird sculptures while listening to the chirps and calls of actual birds. Seriously, it's pretty cool! Also, here's a red-winged blackbird who was totally hanging out with his giant plastic cousins. (The sculptures are swallows, btw.)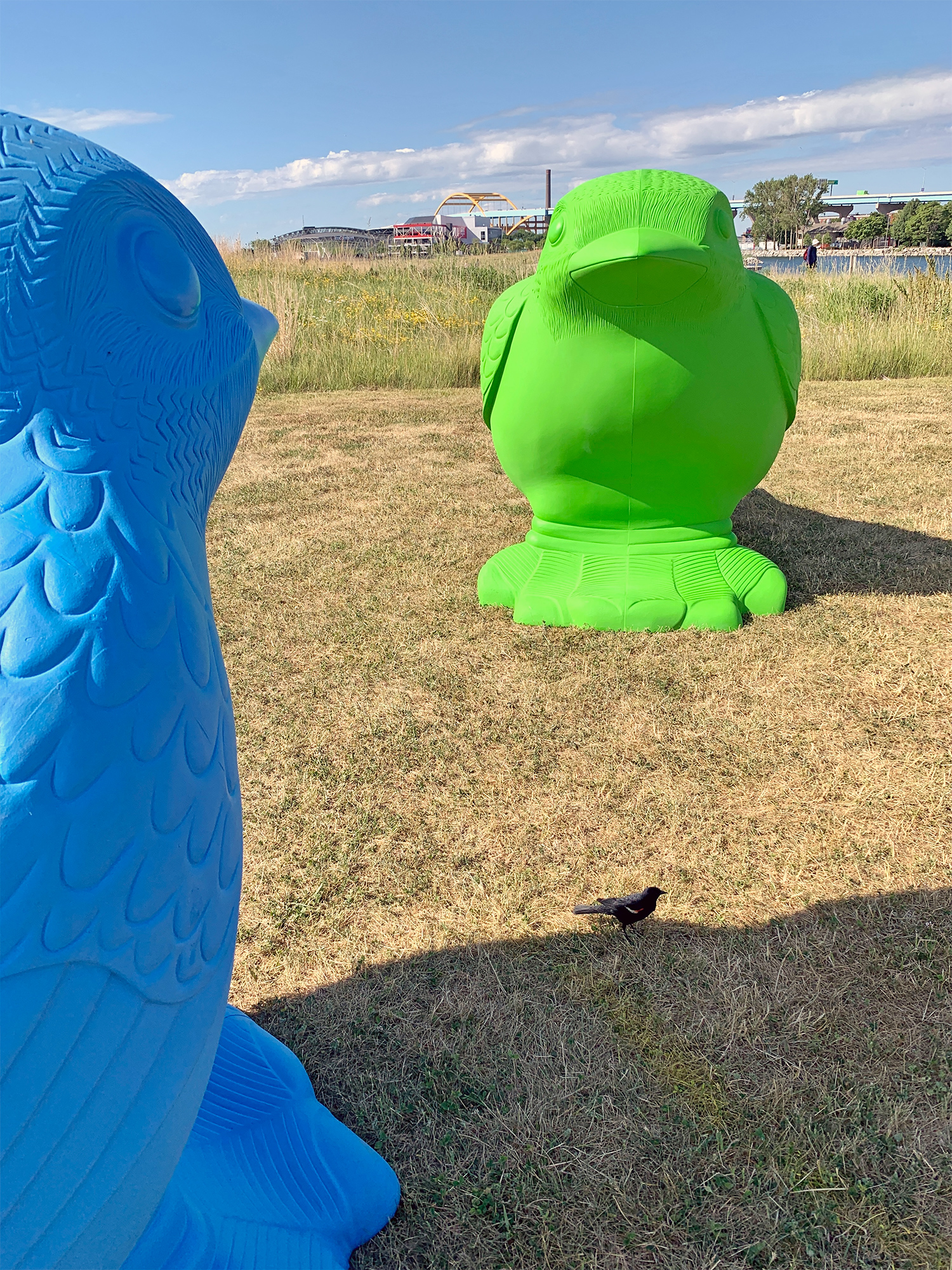 And finally, there were a lot of people taking pictures and selfies with the birds this morning—and, well, that's pretty great. Like my initial doubts about the Light The Hoan thing, my doubts about the birds were instantly dashed when I saw people enjoying them. I guess I could get all wound up about yet another natural (albeit human-made) resource being turned into yet another Instagram-friendly checkpoint, but I dunno. We're emerging from one of the worst years in recent memory. We can finally touch and hug and hold our loved ones again. Our time on this planet is short. Milwaukee has been having some incredible weather lately. What's the harm in some birds?
So yeah, I'm not going to waste my time hating on these plastic birds. Like everything else, I'll love them while they're here, and remember them when they're gone.

Exclusive articles, podcasts, and more. Support Milwaukee Record on Patreon.
---
RELATED ARTICLES
• Exploring the beauty (and the fishing spots) of Lakeshore State Park