Milwaukee loves donuts. Dozens of bakeries in the city and its surrounding suburbs help people get a sweet start to their day with long johns, crullers, jellies, powdered, cream-filled, cake donuts, and more. If you're looking for the "hole story" on Milwaukee-area breakfast pastries, let our Dollars For Donuts column be your guide.
If you're reading this article and you've had a donut in the past 80 years, there's a very good chance that you've had a Grebe's. Irene Grebe began baking sweet treats for the community in 1937 in order to make a little extra money for the Grebe family. Her husband, Walter, was a musician and his band had a very popular radio show on Milwaukee's WTMJ. Unfortunately, health issues forced Walter Grebe to give up the radio gig, making finances tight. It wasn't long, though, before the Grebe family was far more popular for bakery than for music.
Irene Grebe started small, selling her homemade butterhorns to the area PTA and other small organizations, but word spread quickly and the family opened several area bakery and deli outlets into the 1940s. When Walter James "Jim Sr." Grebe took over operations in the '50s, he looked beyond their own retail locations and started selling their products wholesale to area supermarkets and convenience stores. This progression created growth that lasted well into the 1980s. It also led to bigger and better partnerships with other companies throughout the Midwest, which got them involved with dairy products, salads, and even a catering company.
Today, Grebe's Bakery is run by a fourth generation of Grebes. Their products are now available at over 300 locations in the Midwest, but we made a point to stop by their primary location at 5132 W. Lincoln Ave. in West Allis.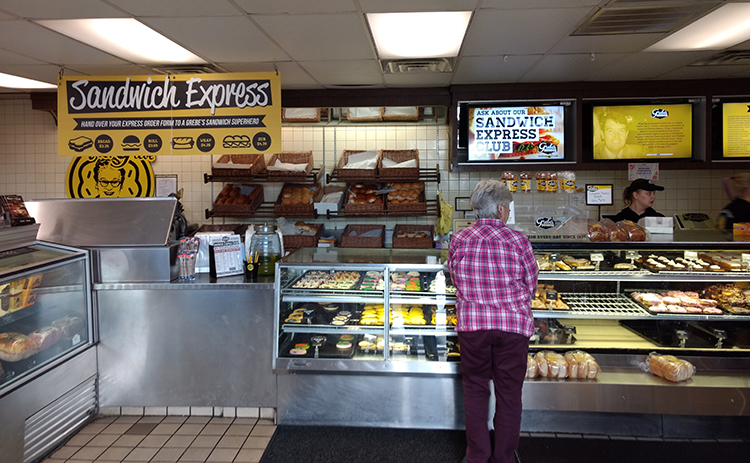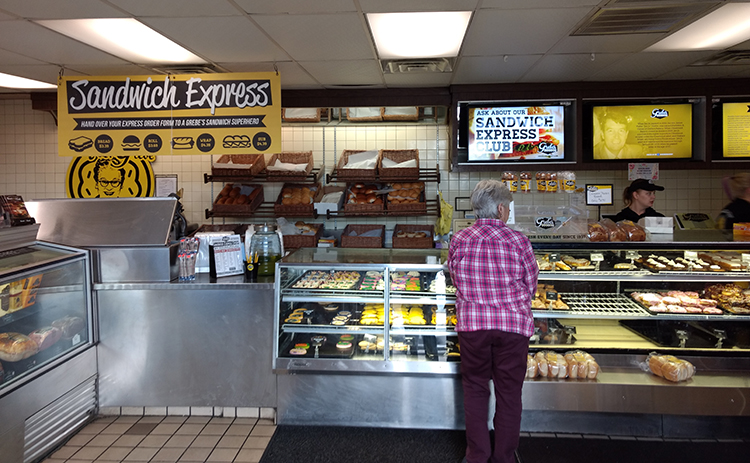 Bright exterior signage, flashing lights, and a large portrait of Irene Grebe ensure that anyone looking for Grebe's will find it with ease, and anyone who just happens to drive by might just be convinced to stop in for a cruller. Once inside, we were treated to some great smells, friendly smiles, and a free donut hole! The interior is just as classic as could be. There's a huge donut case, but also a "Sandwich Express" deli station.
Grebe's selection of donuts and other sweet breakfast pastries is extensive, but the offerings are more traditional than what you'll see at newer bakeries and donut shops. Varietals like glazed, iced, and custard-filled are what you find here—and all freshly made. Rainbow sprinkles and peanuts are the fanciest toppings on Grebe's menu, and that's just fine with us.
Our half dozen donuts came to $5.40—a steal for this kind of quality. The belle of the ball was certainly the brownie cruller. It changed our whole perspective on what a cruller could be. All of our donuts felt nice and light, yet still rich and satisfying.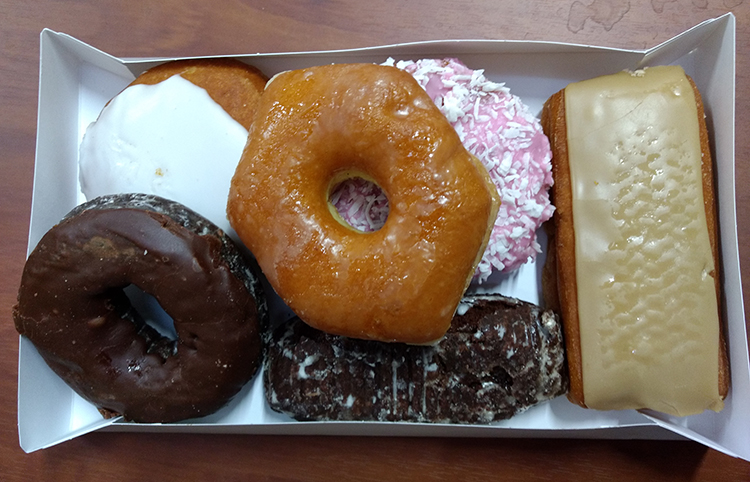 The chocolate iced chocolate old fashioned and the standard glazed raised were about what you'd expect, but basically perfect interpretations of some old standbys. The maple iced long john (or "maple bar" if you're from out west) and the iced cake donut with coconut felt like the relatively wacky picks of the bunch. Both were solid offerings and just sweet enough. The white iced raspberry filled was not our favorite, but jelly donuts are almost never our favorite, so we certainly don't hold it against them.
While it's not difficult to find Grebe's donuts in any number of places around Milwaukee, there's something special about visiting the main shop on Lincoln Avenue. If you're in the neighborhood and craving a donut, we recommend making that stop.