While food trends come and go, and we'll be the first to admit buzz words like "artisan", "gluten-free" and "farm-to-table" have been misused and abused so often lately that the terms have been rendered all but meaningless, the concept of fresh, healthy, and sustainable food will never go out of style. Though the common diner has only recently welcomed terms like "organic" and "raw food" into their lexicon, a vegetarian or vegan diet is nothing new. Just ask Dawn Balistreri, who has led a vegan lifestyle and actively juiced for the past 20 years. Last fall, the entrepreneur took steps to bring some of the vegan, organic, and raw staples on which she's subsisted for decades to a public setting. Last month, Balistreri opened Urban Beets Cafe & Juicery (1401 N. Martin Luther King Dr., 414-336-5096) on the north end of Milwaukee's downtown, just blocks from the proposed site of the Milwaukee Bucks' new arena.
It isn't as if vegan cuisine is new to Milwaukee, but virtually no other establishments—with the notable exception of Beerline Cafe, which opened within walking distance of Urban Beets last October—in a city known for its irrefutable affinity for cheese and sausage have gone out on a limb far enough to offer an exclusively organic menu that's absolutely devoid of meat. Even fewer have done so with a business model fashioned for speed and convenience in a cafe format. With Urban Beets recently casting itself headlong into relatively uncharted territory, we paid an early visit to gauge whether the cafe and juice bar with an ardent commitment to clean consumption had a place in Milwaukee dining.
The space: Nestled into a quaint pocket formerly occupied by Java Dave's on the corner of MLK Drive and Vliet Street, the cozy cafe's interior seems to be focused on function over all else. A counter (constructed from reclaimed wood and old fruit boxes) and limited prep space run pretty much the entire length of Urban Beets' only true wall. Windows line the others, letting ample daylight into the room. While the lack of decoration and high ceilings give Urban Beets a semi-sterile and minimalist feel, minor decorative accents like framed pictures, hanged lighting, and a weathered cabinet-turned-silverware station painted light blue lend a dash of warmth to the interior.
While the shop's size (and the curious absence of music during our visit) seems to suggest patrons make their orders to go, Urban Beets is outfitted with a tight grouping of five two-top tables and four stools arranged along the easterly window. It's a fine place for a bite over one's lunch break or a quick coffee klatch, but probably too intimate for a business lunch or—as we learned while overhearing two women talk about a serial killer for the majority of our visit—intense personal conversation. As an over-the-counter cafe (with impeccable service, we might add), Urban Beets, rightfully, seems to be less concerned with its ambiance and more focused on using its oh-so-limited space to prepare quality foods and beverages. It's also worth noting the downtown-adjacent establishment delivers.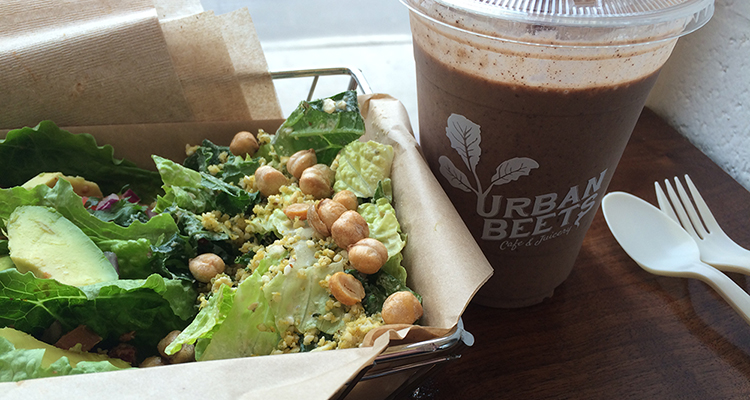 Milwaukee Record's food/drink: While we pondered our entree order, we put one of the employees to work on a smoothie. Urban Beets' arsenal of seven smoothies and shakes (all $6.50 for 16-ounce servings) includes expected offerings like the strawberry shake and a combination of banana, orange, and mango called "Super C." Along with standard beverages, the selection also ventures into less traditional territory, with French Toast (almond milk, avocado, yeast, dates, cinnamon), Be Better Beet (strawberry, beet, goji berry, dates, chia seed), and our order, the Cacao Mocha. The Cacao Mocha blends espresso and cacao nibs with cashew milk, dates, and banana. While the espresso and cacao stole the show (as could be expected), the banana served as a natural thickening agent, giving the smoothie a rich consistency that was reminiscent of a chocolate shake…with far less guilt incorporated.
Partway through our smoothie, the entree we eventually decided upon arrived. We bypassed the Raw Thai Wrap, the Cranberry Walnut Chickpea Sandwich, and the Save The Tuna Sandwich on the cafe's diminutive-but-diverse menu in favor of Amazing Raw Tacos ($6.95). The trio of "tacos" came wrapped in fresh and crunchy leaves of romaine lettuce. The filling was a savory slurry of nuts, sunflower seeds, carrots, and roasted tomatoes topped with pico de gallo—bolstered by the inclusion of diced jalapeño—and sizable hunks of avocado. The filling was smokey with a saltiness akin to taco seasoning that perfectly countered the refreshing romaine "shells" and cilantro. Our tacos came with a side order of either vegan potato chips or salad. We went with the salad, and were quite happy with the Caesar we'd received, with its crunchy flax and soy nut topping and dressing that tasted remarkably similar to its creamy and anchovy-including brethren. 
The verdict: The young cafe is a convergence point where taste, sustainability, and affordability come together in a (relatively) healthy way. Set in a small and subtle storefront on the edge of downtown, Urban Beets doesn't appear to be in the business of drastically changing the tastes of a region whose identity and economy are—for better or worse—still tied to beer, cased meats, and dairy. However, the vegan cafe, juice bar, and raw food haven is a welcome and well-meaning addition to Milwaukee's burgeoning dining scene.