As recently as five years ago, the culinary landscape surrounding the Humboldt Bridge had a much different look. Ironically, an unthinkably long construction project on the causeway connecting Riverwest and Milwaukee's Lower East Side was largely responsible for dismantling a handful of surrounding bars and restaurants. By the time the near three-year project was completed in late June of 2010—seven months after it was projected to be done—Bayou and Good Life were goners, with Red Room and Maglio's short-lived pizza joint soon to follow.
These days, BelAir Cantina's first of what projects to be 19,000 locations by year's end anchors the Lower East Side enclave. Stubby's, by way of its more-than-respectable beer selection and killer patio, has seen success along the Milwaukee River. Fink's is fueling conversation with evocative art and filling glasses with elegant cocktails. The fairly new Baba Ghanauj is quietly making a name for itself one delectable falafel sandwich at a time. (Seriously. Go there.) Shit, there's even one of those places where people do yoga in a room that's as hot as Satan's nutsack.
In short, the bridge-side business forecast is favorable. Yet with what's now an abundance of establishments wherein one can take in calories before sweating them out in the downward facing dog position, there's a sudden sense of competition on and around Humboldt Boulevard. Can the thriving area possibly support another restaurant? Last month, Michael Allen sought to find out when he soft-opened Beerline Cafe (2076 N. Commerce St., 414-265-5644) a block off Humboldt in the Beerline B neighborhood. With an emphasis on fresh vegetarian cuisine, a "fast-casual" dining experience, and environmental consciousness, Beerline Cafe had the makings of a place Milwaukee Record didn't want to waste any time before trying.
The space: Beerline is built into the lower level of a building, down a few steps and with its entrance facing away from bustling Commerce Street. We actually missed it altogether on our first pass. Eventually, we spotted the Beerline Cafe signage mounted on some reclaimed wood behind the cafe's exterior windows. Inside, we were stunned by how small the establishment was. There are a few rows of seemingly refurbished tables, surely in line with Allen's intention of becoming the fourth Wisconsin and first Milwaukee restaurant to earn three-star certification from the Green Restaurant Association. The flooring—or lack thereof—is cement, as are the gray walls that feature a simple hexagonal pattern throughout. However, bright and clean counters and wall space, plants, as well as a windows running the eatery's entire western side add some subtle-yet-vital life to the otherwise cold and sterile cafe.
The service: Still thrown off that the same place whose 30-plus menu items we'd fawned over online earlier that day could come from such a small kitchen, we ventured to the counter and foolishly asked if there was more seating in back. Even after immediately revealing our idiocy, the staff was courteous and professional. We ordered at the counter, and the woman working made sure ask if we wanted either the vegan or gluten-free iterations of each item we'd ordered. This environmental and vegetarian bent is no gimmick at Beerline. Perhaps it was a combination of the simplicity of our order and the pre-dinner hour timing of our visit, but our food came out remarkably fast.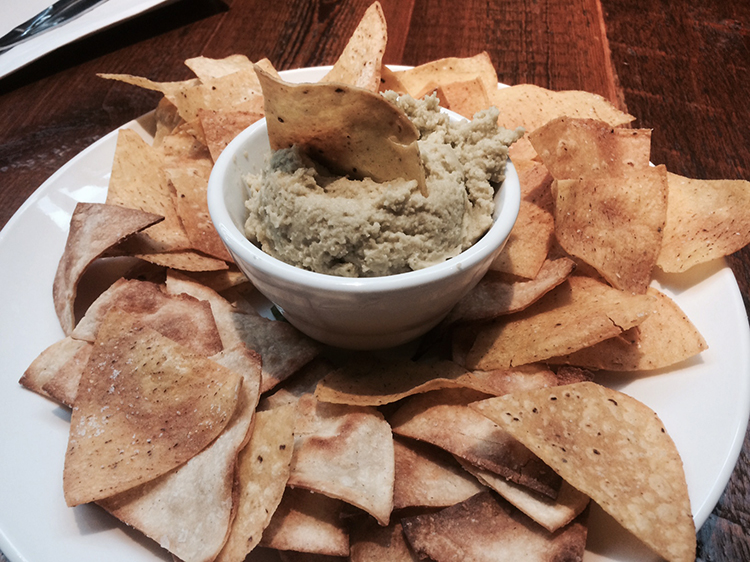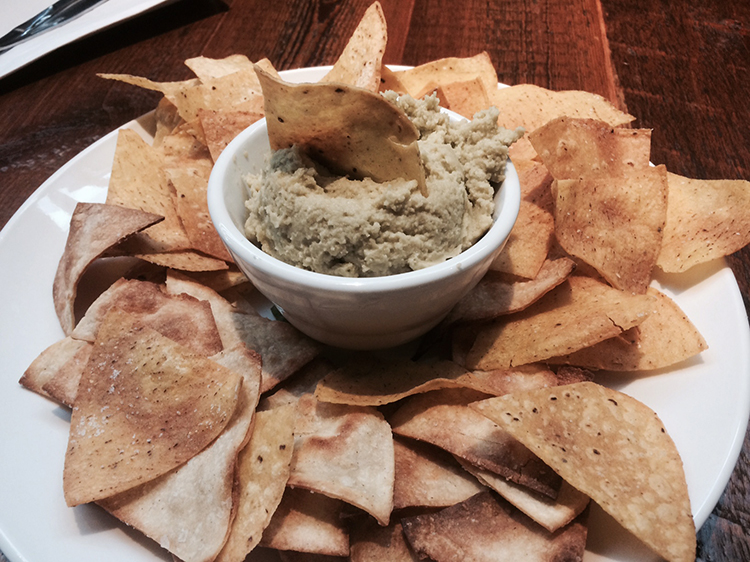 Milwaukee Record's food/drink: Given the wide range of menu items and the astoundingly low prices (the most expensive entree is $8.95, with most hovering around the $5.50 range), we broke our usually frugal format and tried an array of options. We started with an order of Avocado Hummus ($3.45), a bed of generously salted and perfectly crispy house-baked tortilla chips and a liberal scoop of garlic hummus blended with avocado to provide a rich thickness not typically ascribed to the spread.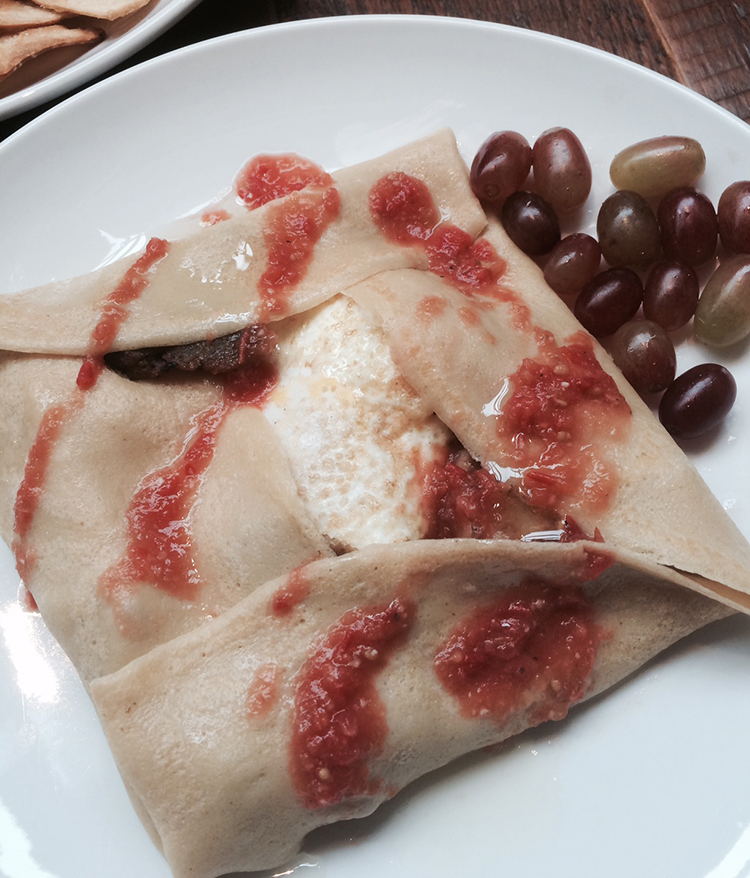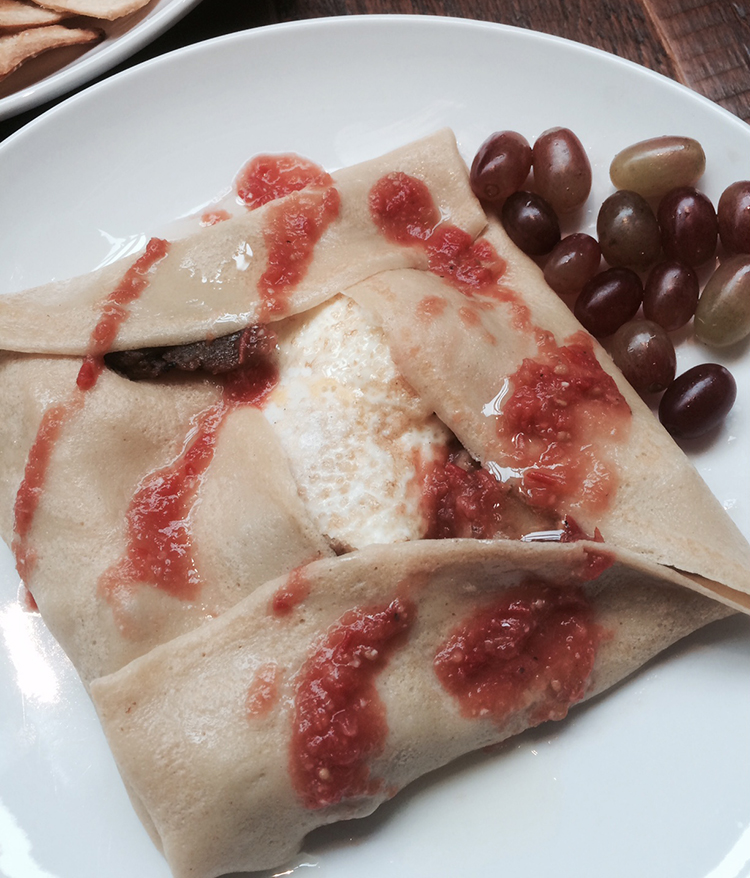 Partway through our ultimately futile attempt to scale the mountain of chickpeas and chips, our Classic Breakfast Crepe ($5.95) was set before us. Of the dozen specialty savory and sweet crepes, this was among the more standard selections. Basically, it was rosemary potatoes, two fried eggs, "bacon" (shaped from seitan), and a light dash of salsa swaddled in a floppy and light crepe blanket. It was classic, indeed, almost to a fault. The starchy potatoes and moist, secondary crepe covering left us feeling as if an ingredient or two were missing. We sampled our guest's Caprese Crepe ($7.85) and left wishing we'd ordered the fresh amalgam of organic tomato slices, lush spinach and basil, mozzarella, and delectable pesto she was enjoying.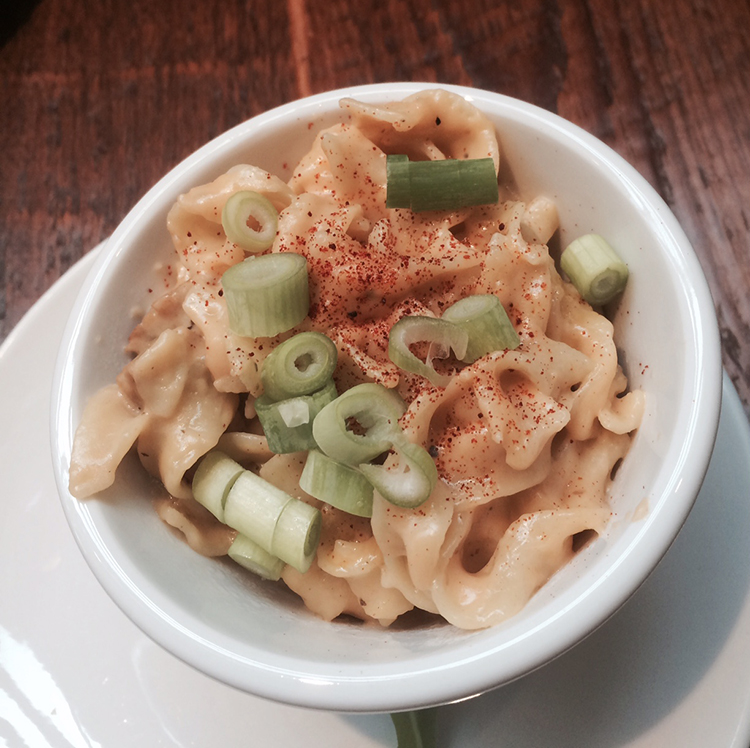 Fortunately, our a la carte excursion had one more stop. The Mac & Cheese Special ($3.45) was a homey, cheat-day delight. As simple as it was—noodles with cheddar cheese, veggie kielbasa, and green onion—it hit the spot. Save for its soy-based protein, it was no frills. This is the macaroni your particularly environmentally conscious mom would make. Again, the richness (and, we supposed all the other food that preceded it) made completing the cup of carbs a chore, not that we didn't want to polish off each morsel.
Beerline also offers paninis, fresh fruit dishes, and four robust salads. Open every day from 6:30 a.m. to 10 p.m., there's also a limited beer selection (domestic and local craft) and wine. Oh yeah, and lending to the "Cafe" part of the name, there's a full arsenal of coffee and espresso drinks, proudly forged from Stone Creek beans.
The verdict: Amid a recently bustling Lower East Side culinary landscape and in a city that's exponentially more prone to incorporate vegetarian and vegan elements into its menus than it once was, Beerline Cafe is a subtle-yet-ardent frontrunner of sustainable and responsible dining. Miraculously, it does so without sacrificing taste, adding price or heaping on pretentiousness.