A man in an NBA Jam-themed Milwaukee Bucks T-shirt walks into a pizzeria. As he pays for his order, the cashier compliments his shirt. The man says thanks, but then the cashier squints at the shirt, scrutinizing the Khris Middleton portion of the garment.
"Middleton is way underrated though," the cashier says with mild disappointment.
The man looks down, squints, and has to agree. He leaves the pizzeria still loving the shirt, but he knows it just lost a little bit of its charm.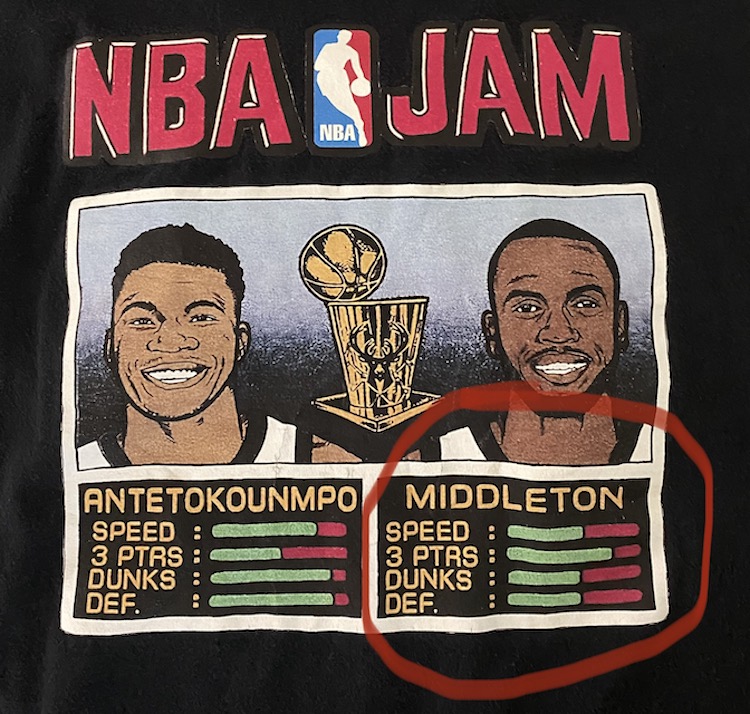 We know this scenario has played out at least once. Maybe even at places other than a pizzeria, fans are noticing that the sharpshooting three-time All-Star has been slighted on NBA Jam-inspired apparel. The man's knack for drilling threes is on point, but when it comes the shirt's evaluation of things like Speed, Dunks, and Defense, Middleton seems middling. Why is he shown so much less love than teammate Giannis Antetokounmpo? Let's get to the bottom of this screwjob.
For context, the shirt's design is an ode to the team select menu of NBA Jam, a two-on-two hoops game that debuted in arcades in 1993. Developed by Midway, Jam's popularity boomed in 1994 as it was ported by Acclaim to home consoles like Super Nintendo and Sega. Remembered for the soaring superhuman dunks by stars such as Charles Barkley and Shawn Kemp, and announcer catchphrases like "He's on fire!" and "Boomshakalaka!" as well as gameplay that was fast, fun, and simple, Jam has remained relevant in pop culture for almost 30 years.
Homage has cashed in on Jam's staying power. Established in 2007, the Ohio-born clothing line thrives on nostalgia, giving tributes to an array of movies, shows, video games, and sports. The brand's NBA Jam template has been applied to notable football and wrestling duos, as well as pairs from Saved By The Bell (Zack Morris and AC Slater) and The Office (Jim Halpert and Pam Beesly, or if you prefer, Kevin Malone and Chili).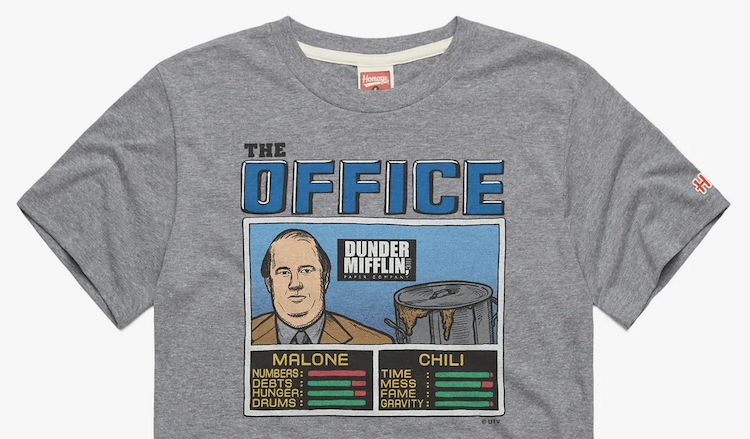 All of this is great information, sure, but none of it explains why Middleton got shafted on these damn T-shirts. Let's try to justify our anger with research and facts. Using a quantifying utensil in the form of a wooden ruler we got in the late '90s for art class, we measured the attribute bars on the shirt at 2 ¼ inches in length. Middleton's Speed, extending in green, is but 1 ¼ inches long. That's only in the 56th percentile, as we found out by dividing the green length by the total length and rounding up the resulting 0.5 repeating.
The Dunks and Defense attributes show an even worse anti-Khash bias on the part of Homage. At a mere 1 3/16 green inches from left to right, the swingman's skills in slamajamas and guarding rank in the 53rd percentile. These percentiles would be on the same scale as the 1-99 metric used in an NBA 2K or Madden game. But unlike the annual protests of the new Madden ratings, this is important. We don't take Middleton-disses lightly.
Using a reference point in the form of numbers in a video game, in the NBA 2K23 ratings, James Khristian Middleton earns a 71 for Speed, a 73 for Overall Defense, and a 65 for Drive Dunking. With the 2K franchise selling about 118 million copies to date, we've gotta think they have a crack staff of number-crunching eggheads pinpointing those more pro-Khash stats.
We're not mathematicians, but in layman's terms, Middleton's green bars should be going farther to the right. It's just not fair. Sure, we thought of applying slivers of finely cut, green-colored tape to make the bars appear longer and more accurate, but that seems weird and insecure. It's like wearing a hairpiece or something. Let's look at other Homage duos in basketball to support our claim that this is total bullshit.
Urge to scream, rising! So, the Bucks actually beat the Suns in six games to win the NBA title in July 2021. Yet somehow, the Suns duo of Devin Booker and Chris Paul are absolute basketball gods and Middleton looks mediocre. Did the Homage designers happen to see the Bucks-Suns Finals?
Giannis was the greatest player on the court/planet, earning Finals MVP, but Khash averaged 24 points a game and balled-out in Game 4, scoring 40 points on 46% shooting. Middleton also totaled nine steals in the Finals, while Booker (five) and Paul (four) combined for nine takeaways, so those Defensive ratings are flagrant fouls. But what are we supposed to do? Buy some lame-ass Booker/Paul Jam shirts, apply some slivers of finely cut, red-colored tape to make the green bars appear shorter and more accurate? Then donate a bunch of those shirts to a thrift store in Phoenix? That's simply not in our budget.
Exactly how deep is this rabbit hole of disrespect for k_mid22? (That's his Instagram handle. You could message him that we got his back on this Jam shirt debacle, or on second thought, it's probably better to leave the man alone.) We researched the Jam shirt duos of the other three teams Milwaukee eliminated on their title run in 2021.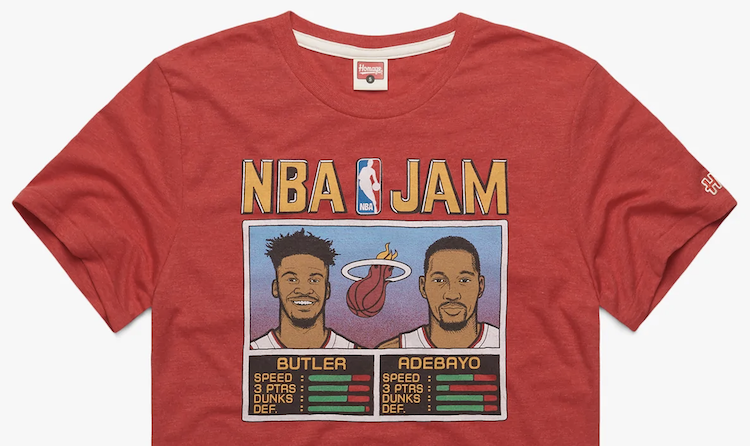 Miami's elite pair of Jimmy Butler and Bam Adebayo are treated kindly for a couple dudes who got swept in the first round. The Bucks redeemed themselves after getting bounced by the Heat in the prior postseason in much the same way we'd like to see redemption for K-Mid on the next edition of Jam attire.
What about Brooklyn's twosome of Kyrie Irving and Kevin Durant—the latter with his comically oversized Sideshow Bob feet? Yikes, Durant's perfect rating on defense is absurd. Like, it's so bad that it's the opposite of Boomshakalaka. Durant is one of the best at getting buckets in NBA history, but he's not an elite defender. Since being drafted in 2007, Durant has never been selected to an All-Defensive Team. Again, we've got to wonder, why does Homage pay homage to everyone except Khris Middleton? Hell, the pot of Chili from The Office is exalted like the second coming of Christ while K-Mid gets scorned.
Finally, in the Eastern Conference Finals against Atlanta, who was led by two more guys Homage likes more than Middleton, Giannis hyperextended his left knee in the second half of a Game 4 loss. The Greek Freak missed Games 5 and 6, but the Bucks clinched a trip to the Finals without him. As you might have guessed, Khash put the team on his back and scored 26 in Game 5, along with 13 rebounds and 8 assists. Then Middleton dropped 32 points in the decisive game to knock out the Hawks, not dreaming for a second that his achievements would someday be diminished on novelty swag.
Perhaps the most exasperating evidence we found on the Middleton screw job was from an unofficial, 2017 remake of NBA Jam: Tournament Edition. Rather than green bars, NBA Jam TE rated players numerically. And as you can see…
All this is to say, the cashier at the pizzeria was right. Now, we're not demanding a public apology from Homage or asking them to recall and reprint every shirt that has besmirched the skills of Khris Middleton—although if they did some soul searching and chose to do that on their own, sure, we'd be cool with that. But for the good of future shirts, we are asking Homage for more Khash appreciation as the Bucks pursue a second Larry O'Brien Trophy in three years.
Oh, and if you're taking requests for more designs, we've got a soft spot for these two.