This weekend, thousands of video game enthusiasts, cosplayers, tabletop competitors, collectors, and pinball wizards will descend upon Sheraton Hotel in Brookfield for three days of fun centered around a shared love of gaming. The 17th annual Midwest Gaming Classic allows those in attendance to enjoy new games on modern systems, as well as an opportunity to experience obscure cartridges made for forgotten consoles. Gamers will also have a chance to relive some time-tested classics.
One such 16-bit standby is NBA Jam, a venerable basketball game produced by now-defunct manufacturer Midway Games in 1992 (and Acclaim in console versions in 1993). The game—made for arcade, Sega Genesis, and Super Nintendo formats—featured a two-on-two match-up of NBA players making aggressive and acrobatic dunks executed from impossible heights, little regard for traditional league rules like over and back and fouling, and the unrealistic opportunity for a player to set the ball aflame with enough consecutive baskets. The game helped thrust phrases like "He's on fire!" and "Boomshakalaka!" to the mainstream.
NBA Jam was an important vehicle to help continue the sports gaming push that 8-bit mainstays like Tecmo Bowl and R.B.I. Baseball set into motion years before, and it served as a useful tool to introduce both the game of basketball and NBA players to a new audience—even if neither were exactly realistic portrayals. Though watching a pixelated player leaping out of frame on his way to jamming a flaming ball through a hoop is an utterly inaccurate expression of the game of basketball, NBA Jam got one thing exactly right: the Milwaukee Bucks were really, really shitty.
With rosters differing a little between arcade and console formats due to players signing the rights to their names and likenesses to other Sega or Nintendo properties, legends like Michael Jordan were left entirely out of NBA Jam, and Charles Barkley, Shaquille O'Neal, and Hall Of Famer Dražen Petrović (who died just after the 1992-93 season) were left off the console versions entirely. However, the disappointing duo of Theodore "Blue" Edwards and Brad Lohaus represented the Milwaukee Bucks in every format for one simple reason: there was nobody else who could.
The arcade version used rosters from the 1992-93 season, a campaign in which the real life Bucks finished 28-54, which was good (or bad?) for the third worst record in the Eastern Conference and the fifth worst in all of basketball. The 1993-94 squad would go on to finish 20-62, tied for the second worst in the NBA. Fan favorites like Terry Cummings and Jack Sikma were gone. Mike Dunleavy moved down the bench and into a suit in the role of head coach. Future Hall Of Famer Moses Malone was nearing his 20th season as a pro and he would hit free agency in the summer of 1993. Danny Schayes was deep into his 30s and, uh, he was Danny Schayes. If Midway had access to a crystal ball, Eric Murdock, Todd Day, and shit…even Lee Mayberry would've gone down as more worthy representatives, but all three were entering their second or third season. At the time, future All-Star Vin Baker was just an unproven rookie from the little-known University Of Hartford.
Instead of taking a risk on a rookie or featuring a past-prime center who was knocking on the door of retirement, Midway played it safe and gave the honor to Edwards and Lohaus. The former was a small forward who was drafted by the Utah Jazz, who traded him to Milwaukee before the 1992-93 season after three so-so seasons in Salt Lake City. His first year in a Bucks uniform would be the best season of his career. Edwards started every game but one, and he would go on to average 16.9 points, 2.6 assists, and 33 minutes per contest.
Lohaus was a Midwest-born power forward who was taken by the Celtics in the second round in 1987 after four promising years at the University Of Iowa. Boston quickly traded him to Sacramento, where Lohaus spent a season before the Timberwolves took him in the 1989 expansion draft, and proceeded to trade him to Milwaukee midway through that season. The 6'11" journeyman never started more than 41 games a season for a team he played for, including at any point in his five-year Bucks career. Essentially, he was a backup forward-center who was known more (if known at all) for his defense and rebounding ability than his scoring prowess.
The NBA Jam adaptations of these players—the default star of a bottom-feeding team on the cusp of receiving the first pick in the draft lottery after a historically bad season, and the shooting-averse career bench player on his fourth team—mimicked reality. In the game, Blue can display flashes of glory with apt dunks and modest speed, but he can't shoot or defend. Lohaus can play above average defense, but is one of the game's slowest players. Every team except Milwaukee has at least one player who excels in one category. Many teams have guys who are great at two or three things.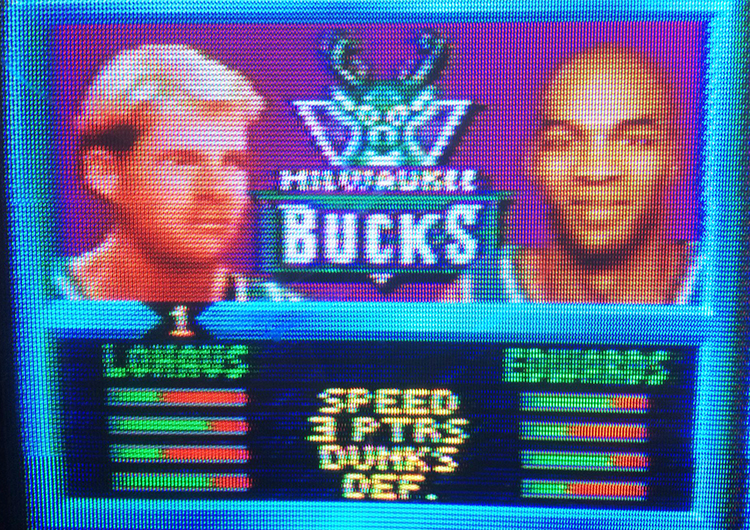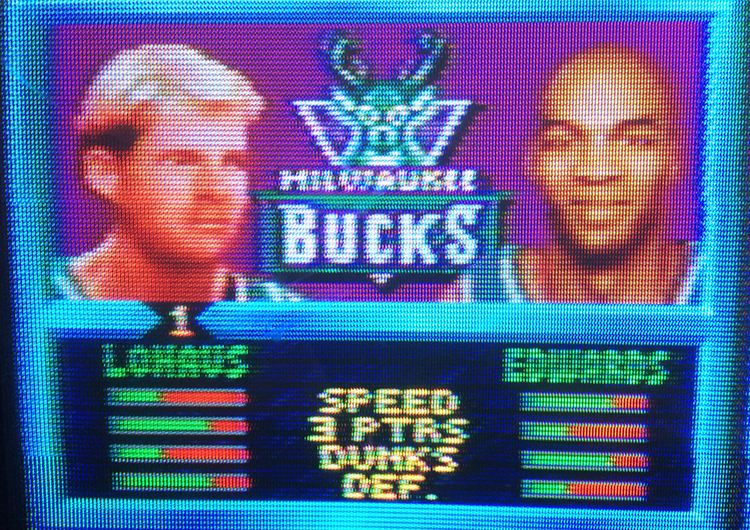 Even without Jordan, the Bulls have Scottie Pippen and a serviceable replacement in Horace Grant. Barkley's absence from the Suns' roster just made room for another great in guard Kevin Johnson. Sharpshooting Nick Anderson spelled Shaq nicely as Scott Skiles' Magic teammate. Even the lowly likes of the Washington Bullets had All-Star Tom Gugliotta, and the T-Wolves boasted the inflated abilities of Christian Laettner, who'd just hit the most memorable shot in college basketball history. Even bad teams like the Mavericks, post-Larry Bird-era Celtics, Kings, and Heat all feature at least one player who even casual basketball fans over the age of 30 remember fondly today—even if the Heat's players are better known for being a professional DJ (Rony Seikaly) and hooking up with Sarah Palin (Glen Rice) than anything they did on the court.
Conversely, both Edwards and Lohaus would be gone after the 1993-94 season. Blue would be traded to Boston before returning to Utah for a season and subsequently being taken by the then-Vancouver Grizzlies in the 1995 expansion draft and quietly finishing his unheralded career on the bench in Miami. Lohaus, too, would play sparingly for the Heat, then take his marginal talents to provide depth for the Spurs, Knicks, and Raptors before finally retiring in 1998.
In 1994, Midway and Acclaim released NBA Jam T.E. ("Tournament Edition"), which featured a much better Bucks team that included the since-established likes of Baker, Murdock, and Day. Milwaukee's new No. 1 pick, Glenn Robinson, was also on the "Rookies" team, and he help signal brighter days ahead for a team that had trouble finding two dudes to represent the franchise just two years earlier. By essentially being forced to use a pair of players who lacked star power or any lasting identity with the team, the Milwaukee Bucks will continue to go down in history as the absolute worst team on one of the best sports video games ever made. Should you find yourself in front of NBA Jam this weekend or any time thereafter, don't select the Bucks. You're better off just picking the Supersonics because Shawn Kemp rules.