A version of this article originally appeared on our Patreon. Want to support Milwaukee Record and get exclusive articles and podcasts? Click HERE. Thanks!
April 20 marked the beginning of the 2023 Milwaukee Film Festival. The annual citywide celebration of motion pictures serves as a means to showcase the work of filmmakers from all over the world, but it's also a platform to highlight the abundance of talented actors, directors, writers, and crew members who live and create right here in Milwaukee.
Prior to the start of this year's edition, I decided to begin my own Milwaukee Film Festival experience a couple days early by screening a 1946 movie with Milwaukee connections that I recently learned existed. As you may have gleaned from reading the headline, the film I watched was none other than Two Guys From Milwaukee.
This buddy comedy is about a Balkan prince who wants to live just one day as a normal American guy. He, Prince Henry XI meets an affable New York City cabbie named Buzz and, in an attempt to conceal his identity, claims to be from Milwaukee. As chance would have it, Buzz also has roots in Milwaukee. And that's just the first 10 minutes! Instead of doing a traditional recap about a film released almost 80 years ago, I'll give some locally-focused background and some personal observations about this film.
"I'M AN INDIVIDUAL, NOT PART OF A SERIES."
Early in the film, prior to learning the true identity of "Hank Smith from Milwaukee," Buzz talks shit about the prince. While focusing on the fact the prince is the 11th such monarch with the name Henry, Buzz says "I'm Buzz Williams: the first and the last. I'm an individual, not part of a series!"
Sports fans might know that to be untrue. Many years later, another Buzz Williams made his mark as a college basketball coach for, get this, Marquette University.
BUT WHY MILWAUKEE?
Prince Henry decided on Milwaukee as his place of origin by doing that thing where someone is asked a question, then looks around the room to think of a lie. It's crazy that happened in mainstream media before the 1980s. "What part of the country are you from?" Buzz asks the prince while the two are enjoying boilermakers at Happy's bar. Scanning the room, Henry's gaze lands upon a beer sign and he answers, "Milwaukee."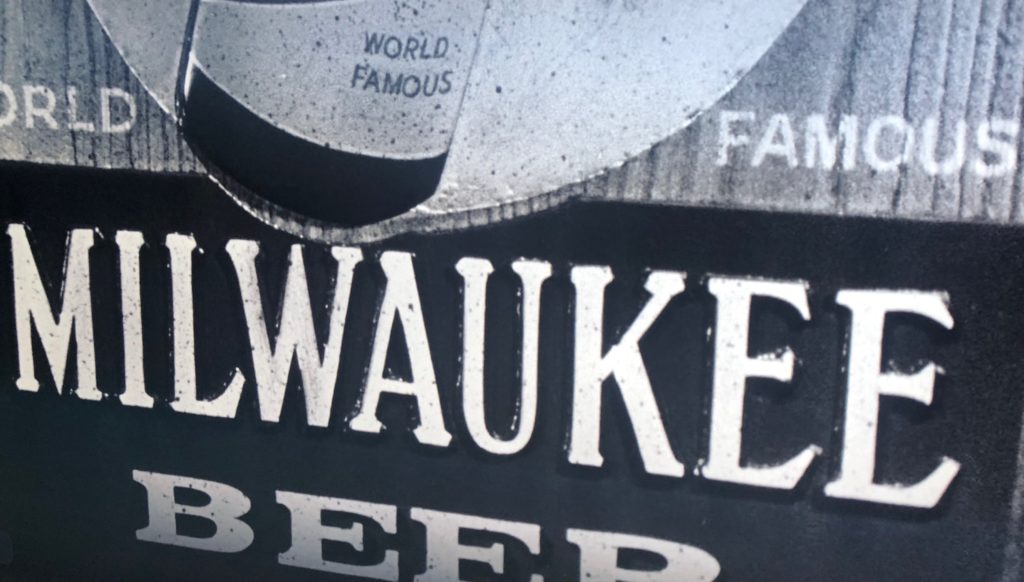 As far as the reason Milwaukee was decided upon as the titular city that's repeatedly referenced throughout a film that takes place in New York…well, both of the film's leads have ties to Cream City.
Though born in Canada, Jack Carson (who played Buzz) moved to Milwaukee when he was four years old and considered the city to be his hometown. His co-star, Dennis Morgan (who played Prince Henry), was born in the small northern Wisconsin town of Prentice before pursuing higher education at Carroll College in nearby Waukesha and starting his career as a radio announcer who eventually called Green Bay Packers games.
BUT REALLY…WHY MILWAUKEE?
Local connection aside, there's some speculation this Brooklyn- and Manhattan-set picture has such a Milwaukee-focus because of a perceived slight from Morgan during the release of his 1944 film, The Very Thought Of You. Apparently, Morgan didn't come to the Milwaukee premiere, which inspired Milwaukee Journal Green Sheet editor Larry Lawrence to write a letter to a Warner Bros. higher-up. What better way to make up for that than by putting Milwaukee in the title of a subsequent movie and then mentioning the city like 25 times in 90 minutes?
SOME FUNNY MILWAUKEE QUOTES
Speaking of Milwaukee mentions, I wrote down a handful of memorable lines from Two Guys From Milwaukee that acknowledge the city. Those include:
"I have 24 hours with which to be just a plain guy from Milwaukee. Then the pumpkin turns back to a prince."
"As much as I'd like to be a plain guy from Milwaukee, I can't. It was a nice 30 hours and nine minutes."
"I came from a long line of monarchs who, well, you know how it is in Milwaukee."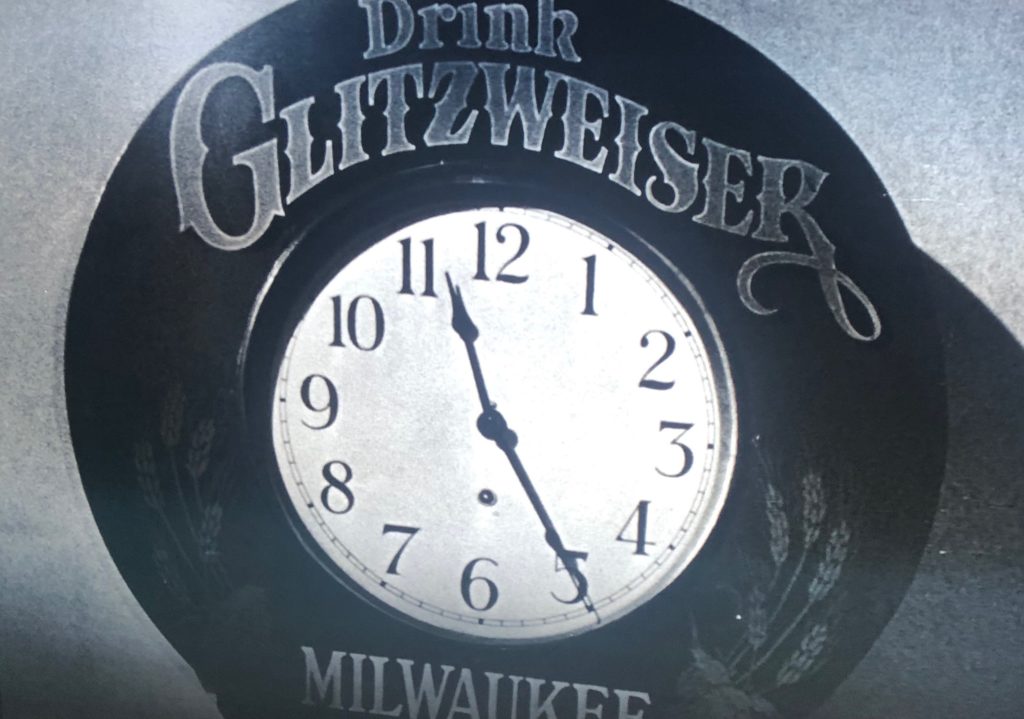 BEER PLAYS A PROMINENT ROLE
That last quote relates to a hungover Prince Henry saying his dad, like him that morning, also used to wake up wearing his clothes from the previous night. That's just one of the beer-related references in the film. The pair drunkenly drive back to Buzz's sister's house in Brooklyn after a rowdy night on the town drinking $30 worth of whiskey and a fictional beer called "Glitzweiser" together. For what it's worth, $30 in that time is about $465 in today's money.
In learning the Balkan royal likes himself some Glitzweiser, the owner of the fake Milwaukee-based brewery offers Henry a $5,000 endorsement deal, which he initially turns down. Later, he's offered a job at the very same brewery. Does he take it? I don't want to ruin the movie, so you'll have to find out for yourself.
THIS MOVIE HAS LEGIT STAR POWER
The film's stars (who were supposed to be the Warner Bros. answer to Paramount's pairing of Bing Crosby and Bob Hope) aren't household names today, but Carson does have a star on the Hollywood Walk Of Fame, and Morgan worked in film and television for close to 80 years. If those two are not inspiring that 99-cent purchase from Amazon, maybe brief, wooden, and contractually-obligated cameos from the likes of fellow Warner properties Lauren Bacall and Humphrey Bogart will. They appear in the movie's last two minutes when Henry is on an airplane to, you guessed it!, Milwaukee.
MIXED REVIEWS
Even though Two Guys From Milwaukee didn't land any Oscar nominations or garner much in the way of critical acclaim, Milwaukee went absolutely batshit crazy for the movie when the film's stars (wisely) came to their former place of residence for a premiere in the summer of 1946. The city rolled out the red carpet for Carson and Morgan. Reportedly, an estimated 100,000 people lined Wisconsin Avenue between the lakefront and 12th Street to see the stars make their way to the premiere.
Personally speaking, I honestly think Two Guys From Milwaukee actually has a handful of good jokes, before-its-time dialogue and delivery, and some legitimately funny physical humor. Some 77 years later, it truly wasn't half bad. In fact, we've seen far worse movies that were made much more recently. Heck, Two Guys From Milwaukee might even be better than a few things I saw at this year's Milwaukee Film Festival. The local film community has come a long way lately, but way back in 1946, two guys with Milwaukee ties also did their part to make the city proud.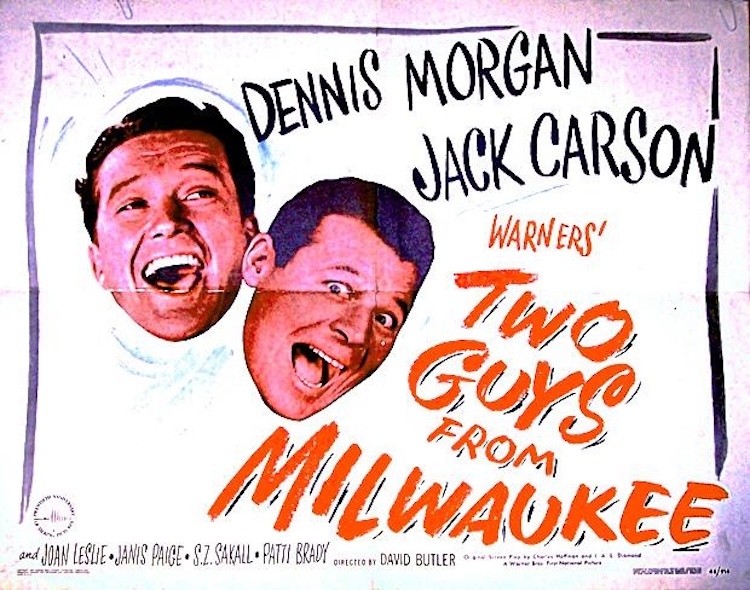 Then two years later, Carson and Morgan revived their roles in a sequel called Two Guys From Texas. We'll leave that story for Austin Record to cover.