Although some cheerleading teams can be hotbeds of drama, you won't find much of that with the Brewcity Beerleaders, the squad for the Brewcity Bruisers, Milwaukee's all-female roller derby league. "The girls are so great. Everyone is so nice," fourth-year Beerleader Deb Gilbert, a.k.a. "Debauchery," says. Aliases are a tradition in the world of roller derby, and among the Beerleaders.
Angela Waranka, a.k.a. "Karma Suture," a four-year Bruisers veteran, feels that the Beerleaders help empower women in the community by promoting self-acceptance. "The Beerleaders are a fierce and confident group of women who are proud of who they are," Waranka says. "They encourage everyone around them to be their best selves."
Bridget Obendorfer, a Beerleader since the group's inception in 2005, says diversity and focus on body positivity helps the Beerleaders stand apart from cheerleading squads for typically male sports, where rigidly held beauty ideals largely still apply. "We have members of all shapes, sizes, and age groups and we really don't have that cheerleading stigma," Obendorfer says. She officially retired from Beerleading after 10 years, but occasionally helps the group with choreography. The Beerleaders welcome women and men ages 21 and up, and the group holds tryouts every August.
The squad practices at Anytime Fitness on Milwaukee's East Side. During a November practice, the group sat in a big circle. The level of camaraderie among the group members was evident as resident craftswoman "Goldie Schlager" handed out personalized pink accessory kits she'd made for each Beerleader, and the group practiced dance routines to '90s hits such as Tag Team's "Whoomp! There It Is" and "Boom Boom Boom" by Outhere Brothers.
"We're one big happy family—although a dysfunctional one," Beerleader team captain Patti Anne Hachmeister, a.k.a. "Leggs McGhee" says. This is McGhee's second season as team captain (she was co-captain last season) and her fourth season as a Beerleader. She couldn't be happier to lead the group.
"Derby came into my life when I didn't realize I needed it most. I was in a bad place," McGhee says. "Now, they can't get rid of me."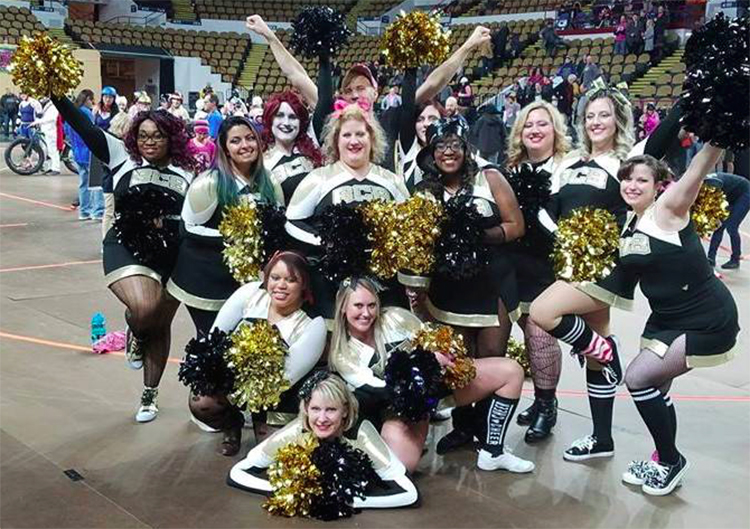 Third-season Beerleader Ayiesha Domino-Brown, a.k.a. "Fabs Domineaux," says the Bruisers are very supportive towards the Beerleaders. A longtime derby fan, she wanted to help the non-profit organization. "I thought, 'I guess I can dance,'" she says. Domineaux's daughter is active in the Micro Bruisers, Milwaukee's junior derby league.
The Beerleaders love their glitter and to joke around, but don't be fooled—they are serious when it comes to their performances and overall team commitment. In their infancy, Beerleader dance moves were inspired by alcohol rather than choreography, but they've come a long way since then. According to Debauchery, many of the Beerleaders have dance and gymnastics backgrounds, which she says "helps give [them] a more professional image."
In their early days, the Beerleaders only performed cheers. Obendorfer, who was interested in joining a local dance team after being active in high school and college groups, started attending meetings in an effort to "formalize" the Beerleaders in 2005 and add dance routines. She helped choreograph the group's very first dance: "Supersonic" by J.J. Fad.
Performing at the UW-Milwaukee Panther Arena caused the group to become more family-friendly. "The Beerleaders started out as a joke—drunk girls trying to cheer at the bouts," McGhee says. "Now we have the respect of the league."
Waranka feels the Beerleaders are an integral part of the roller derby league, providing motivation to the Bruisers at bouts and interacting with derby fans. "They are always willing to step in and help out in so many roles of the league, whether it be volunteering at an event, or helping run committees," she says.
To help foster a positive relationship with Milwaukee communities, Beerleaders are required to volunteer for at least two events per season. In the past, Beerleaders have helped out with benefits like Toys For Tots, Stuff The Bus, a Thanksgiving food drive, and Candy Cane Lane. The Beerleaders participate in the city's annual St. Patrick's Day Parade and the Milwaukee Pride Parade. The group is very open to community service ideas.
"We will show up anywhere they let us shake our pom-poms," McGhee says.
Catch the Beerleaders in action at one of the upcoming Brewcity Bruisers bouts: January 13; February 10; March 17; April 7; April 21; May 12; June 1-3 (BrewHaHa Weekend); and June 23.